Canon's Height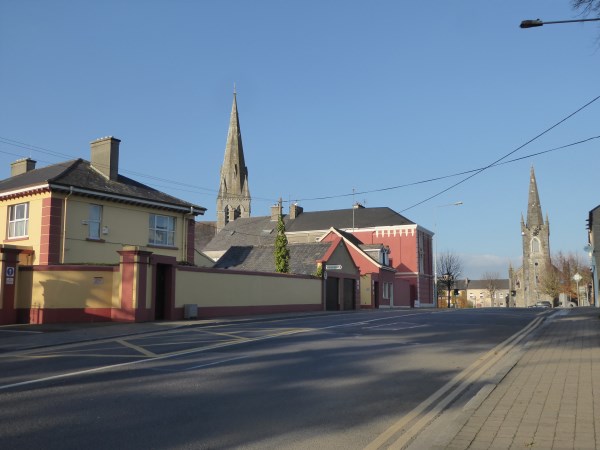 <<<<<<<
Kerryman Christmas 1994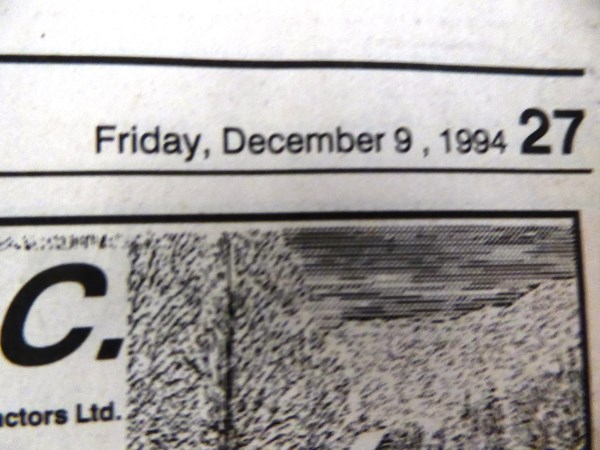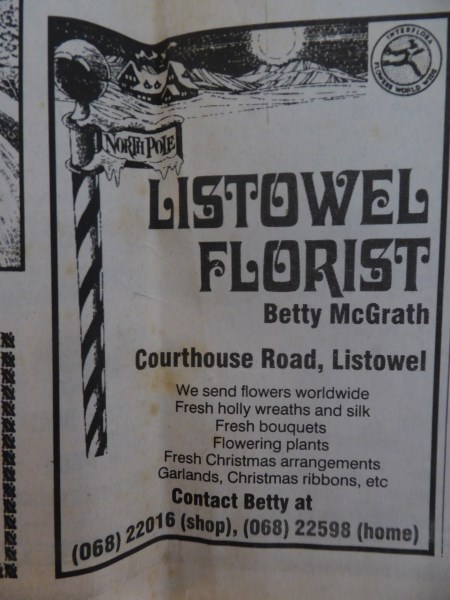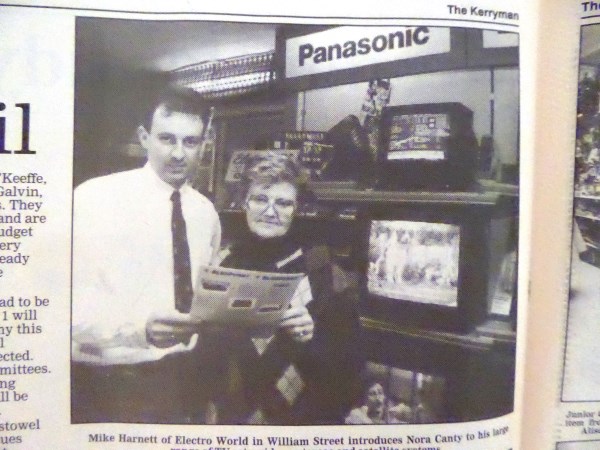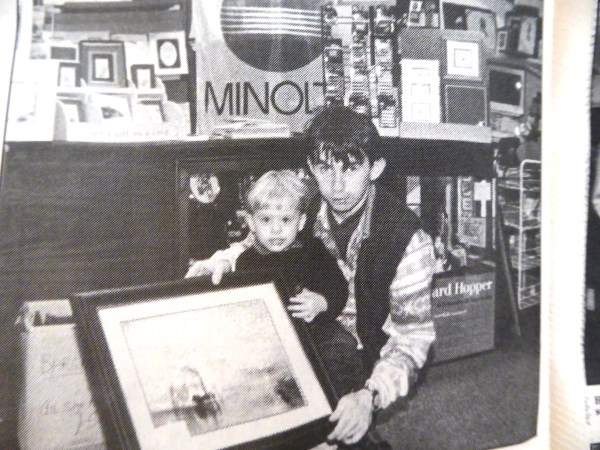 <<<<<<
Christmas candles
From Patrick O'Sullivan's A Year in Kerry
In olden days the Christmas candle was the big white one pounder. Anything smaller was regarded with something bordering on contempt., unworthy of the title "Christmas" candle. They were unfavourably described as "little traithníns of things". Tháithnín being the Irish for a wisp of straw or a blade of grass. When the electric candle arrived in the mid sixties the newcomer was dismissed as being nothing like a rale candle at all." I vividly remember all those "rale candles" shining in the windows of the farmhouses as we made our way to midnight mass on Christmas Eve, the nip of frost in the air and the sky "alive with stars."
<<<<<<
A Christmastime Thought
Maura Brennan Esmonde is one of the faithful blog followers we lost during 2018. Maura was always one to send a joke or a quote or an uplifting or thoughtful poem.
Here is the first poem she sent me for Christmas 2013. In her memory I'm posting it today
TWAS THE NIGHT BEFORE CHRISTMAS,
HE LIVED ALL ALONE,
IN A ONE BEDROOM HOUSE MADE OF
PLASTER AND STONE.
I HAD COME DOWN THE CHIMNEY
WITH PRESENTS TO GIVE,
AND TO SEE JUST WHO
IN THIS HOME DID LIVE.
I LOOKED ALL ABOUT,
A STRANGE SIGHT I DID SEE,
NO TINSEL, NO PRESENTS,
NOT EVEN A TREE.
NO STOCKING BY MANTLE,
JUST BOOTS FILLED WITH SAND,
ON THE WALL HUNG PICTURES
OF FAR DISTANT LANDS.
WITH MEDALS AND BADGES,
AWARDS OF ALL KINDS,
A SOBER THOUGHT
CAME THROUGH MY MIND.
FOR THIS HOUSE WAS DIFFERENT,
IT WAS DARK AND DREARY,
I FOUND THE HOME OF A SOLDIER,
ONCE I COULD SEE CLEARLY.
THE SOLDIER LAY SLEEPING,
SILENT, ALONE,
CURLED UP ON THE FLOOR
IN THIS ONE BEDROOM HOME.
THE FACE WAS SO GENTLE,
THE ROOM IN SUCH DISORDER,
NOT HOW I PICTURED
A CANADIAN or U S SOLDIER.
WAS THIS THE HERO
OF WHOM I'D JUST READ?
CURLED UP ON A PONCHO,
THE FLOOR FOR A BED?
I REALIZED THE FAMILIES
THAT I SAW THIS NIGHT,
OWED THEIR LIVES TO THESE SOLDIERS
WHO WERE WILLING TO FIGHT.
SOON ROUND THE WORLD,
THE CHILDREN WOULD PLAY,
AND GROWNUPS WOULD CELEBRATE
A BRIGHT CHRISTMAS DAY.
THEY ALL ENJOYED FREEDOM
EACH MONTH OF THE YEAR,
BECAUSE OF THE SOLDIERS,
LIKE THE ONE LYING HERE.
I COULDN'T HELP WONDER
HOW MANY LAY ALONE,
ON A COLD CHRISTMAS EVE
IN A LAND FAR FROM HOME.
THE VERY THOUGHT
BROUGHT A TEAR TO MY EYE,
I DROPPED TO MY KNEES
AND STARTED TO CRY.
THE SOLDIER AWAKENED
AND I HEARD A ROUGH VOICE,
"SANTA DON'T CRY,
THIS LIFE IS MY CHOICE;
I FIGHT FOR FREEDOM,
I DON'T ASK FOR MORE,
MY LIFE IS MY GOD,
MY COUNTRY, MY CORPS."
THE SOLDIER ROLLED OVER
AND DRIFTED TO SLEEP,
I COULDN'T CONTROL IT,
I CONTINUED TO WEEP.
I KEPT WATCH FOR HOURS,
SO SILENT AND STILL
AND WE BOTH SHIVERED
FROM THE COLD NIGHT'S CHILL.
I DIDN'T WANT TO LEAVE
ON THAT COLD, DARK, NIGHT,
THIS GUARDIAN OF HONOR
SO WILLING TO FIGHT.
THEN THE SOLDIER ROLLED OVER,
WITH A VOICE SOFT AND PURE,
WHISPERED, "CARRY ON SANTA,
IT'S CHRISTMAS DAY, ALL IS SECURE."
ONE LOOK AT MY WATCH,
AND I KNEW HE WAS RIGHT.
"MERRY CHRISTMAS MY FRIEND,
AND TO ALL A GOOD NIGHT."
The poem was written by a marine
<<<<<<<<


Folklore and Truth


Every so soften I include in a blog post an item from the Dúchas collection of folklore. This lore was collected by school children from their elders. Much of it is old wives tales, superstitions and gossip and really needs to be taken with a pinch of salt.
I posted this item last week;
This account of the Famine in Listowel was contributed by a W. Keane to the schools' Folklore collection and is now in the Dúchas collection.

The old mill by the river in Listowel (once N.K.M. factory) was built out of the stones of the part of Listowel knocked by Sir Charles [?] in 1600. The time of the famine the mill was full of corn and soldiers were placed on guard to mind it. Leonard was the man in charge of the mill. They used the bags of wheat inside and there were soldiers outside the door and the people used to go down to get the wheat and they used be fighting the soldiers. Finally the wheat went bad and had to be thrown out in the River Feale.
Cars used go out every day from the workhouse in Listowel to collect dead bodies & they used be carried to Gale Churchyard. But as Gale church was too far from Listowel they got a field near the town on the road to Ballybunion now known as Teampulleenbawn where they buried the bodies in pits or else with coffins with sliding bottoms, & used the coffins all over again. There were auxiliary workhouses: St.Michael's College, Listowel, was an hospital; Stalls in Clieveragh known now as "The Barn" was a workhouse & "The Model Farm" on the Ballybunion Rd. "The Model Farm" is so green amid a stretch of poor land. The people say that it was the sweat of the paupers carrying manure on their backs that made it green. You'd get £33 for a pig.

And then I got this via email.
With regard to the Leonard man at Listowel mentioned above (Maurice Leonard was the mill-owner) and the wheat denied to the starving people in Famine times, TF Culhane wrote on Page 111 of his book, 'Home Thoughts from Abroad,' that the Listowel mill-owner, Maurice Leonard, was remembered as having given 'six thousand barrels of flour' to the starving during the Famine years.
I'm happy to put the record straight.
<<<<<<<
Thoughts


My most recent week of thoughts for the day is at the link below
<<<<<<<


Book launch


On Sunday Dec. 9 2018 at 7.00p.m. in The Listowel Arms, Vincent Carmody will launch another title to add to Listowel's canon.
Listowel , a Printer's Legacy is the story of printing in North Kerry from 1870 to 1970
In the nineteenth and twentieth centuries printed posters and pamphlets brought us news of auctions, plays and other entertainments, upcoming fairs and markets and a host of other information.
This book is an important part of our social history. Sunday evening promises to be a great evening with Billy Keane as MC and Gabriel Fitzmaurice, Seán Kelly, Bryan MacMahon and Kay Caball speaking.
I photographed Vincent at his door on Thursday December 6 2018, chatting to a fellow local chronicler, Michael Guerin.