Takes more Than a Sign to stop Him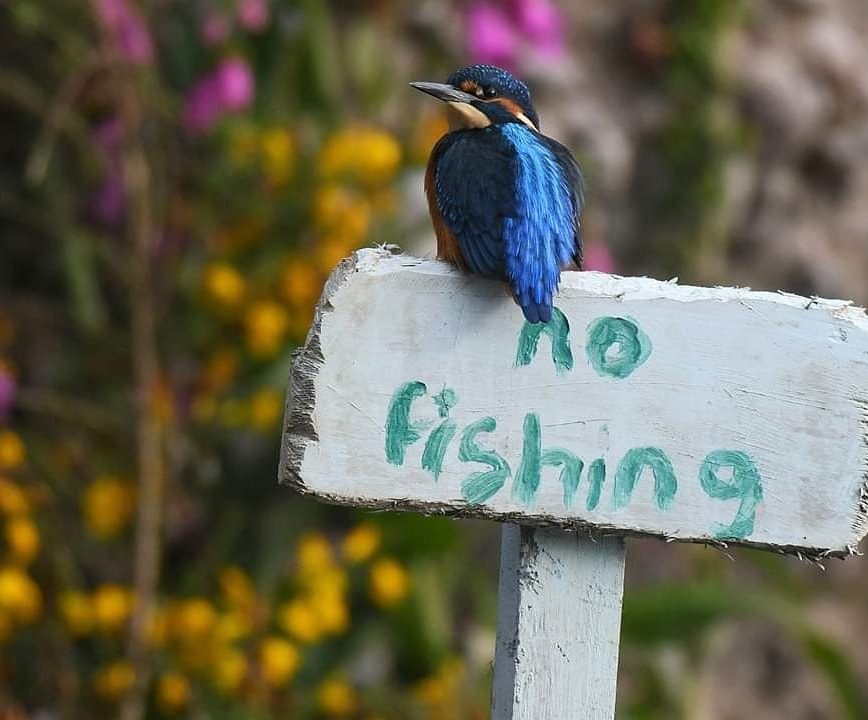 Photo: Chris Grayson
This lad is not called a Kingfisher for nothing.
<<<<<<<
A sobering thought from John O'Flahery's great book about Listowel Races
First jockey to be killed in Listowel. The year was 1896.
The man in question was a 21 year old jockey from Fedamore, named Michael Prendergast who was tragically killed during the last race on the second day when his mount "Castlequarter", crashed into a corner post after jumping the last fence.
The accident happened when Prendergast was trying to drive Castlequarter inside the eventual winner, Tantalus, as they approached the final corner post. As they neared the post, Castlequarter swerved to the right and would have gone inside the post if Prendergast had not snatched him up. This momentaery delay cost him his life, for, when he straightened his horse, he found that the gap had almost been closed by Tantalus and his rider.
Courageously, Prendergast tried to squeeze through the tiny space, but, instead, he only succeeded in driving the horse on to the post with shattering force. He was propelled from the saddle and struck the ground violently with his head, knocking him unconscious.
He was removed to Feale View Hotel, the home of the Hon. Secretary, Michael O'Connor, with blood streaming from his ears. Despite being attended to by a number of doctors, he died without regaining consciousness, at 7.00p.m. on Friday August 29. His young wife, whom he had married only a few months before, was at his bedside.
The terrible accident, which prematurely ended a very promising career, was all the more pathetic, because, up to then, Prendergast had been enjoying an outstanding meeting, during which he had notched up three winners, including the two feature races.
Perhaps the accident might not have happened at all had the stewards not disqualified the winner of the first race that day, Antelope, because he had come inside one of the posts. In trying to avoid the same fate, Prendergast earned the unenviable distinction of being the first jockey to be killed at Listowel. Incidentally, his mount, Castlequarter broke his neck in a fall at Croom the following year.
<<<<<<
Down Memory Lane
Eileen Sheridan sent us this good one.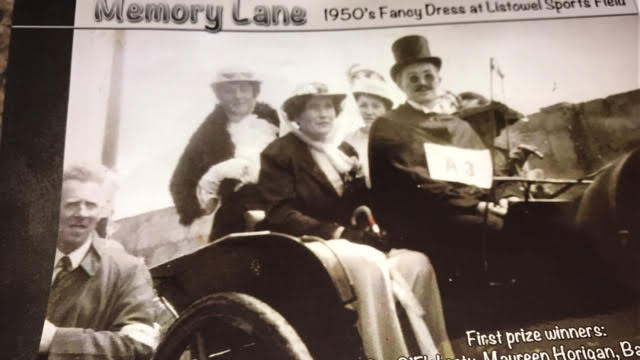 Front row.
Babe Joe Wilmot,Tadgh Brennan, Maisie McSweeney
Back row
Maureen Horgan Ethel Ryan
At the side Jerry Flaherty
<<<<<<<<<<
The Sign is done. The Harp strings are painted and while he had the ladder up,
Martin gave the Lion's face a cat's lick. Passing pigeons are a menace.