Family History Lesson from the Kissane Clan Gathering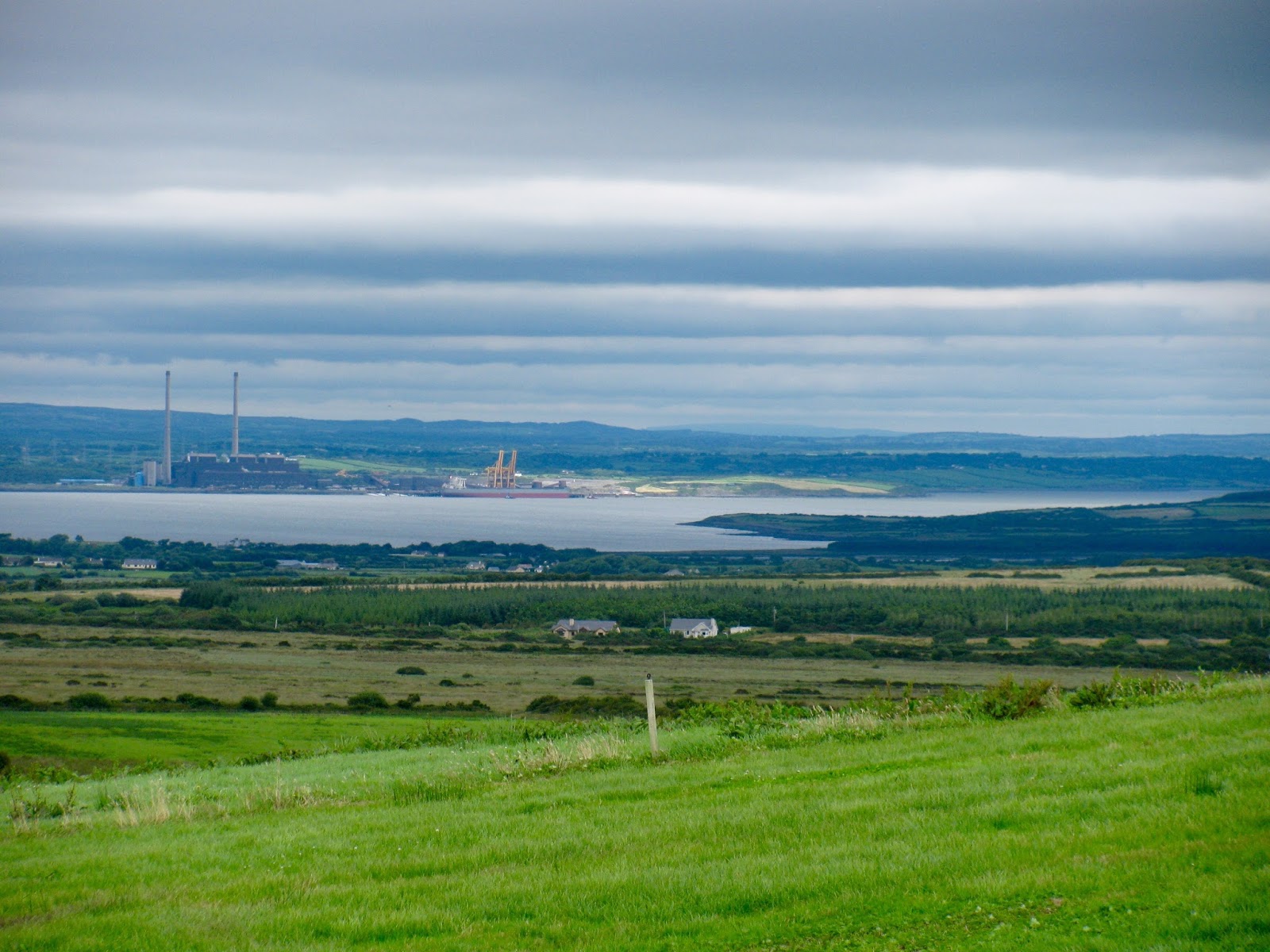 Every family should have a family historian. Few families are as lucky as The Kissanes of Kilcox for they have their very own amateur genealogist in Eily Kissane Walsh. Not only is Eily a thorough researcher and a dogged chaser after family lore, but she is unstintingly generous with the information she has gathered and she shares it with her clan in a entertaining and informative way.
Last year she mounted an exhibition of family photographs telling the story of her ancestor, Richard Kissane and his descendants. This year she took the descendants of brothers John and Richard Kissane on a walking tour of the old homestead, pictured above in Bridget O'Connor's photo.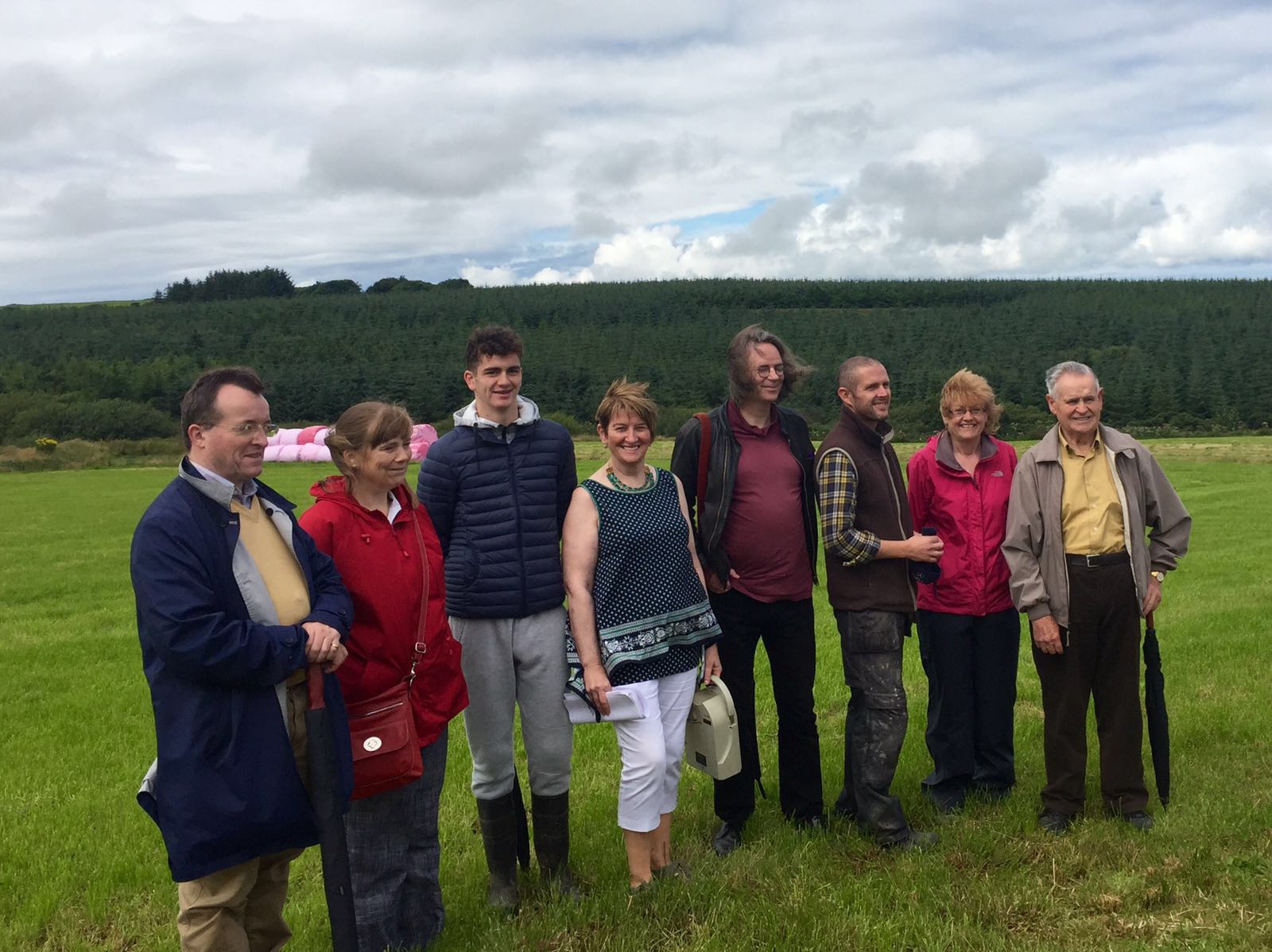 Above is a small section of the participants in the Walk and Talk with Eily Walsh in the centre.
Here is an account of that day from one of the participants;
On Friday August 5 2016 I did the 'Walk & Talk tour of the Kilcox Kissane farms with Eily Walsh. It was amazing!
From the top of Scralom hill we were looking right down onto the farms of Richard, The Elder, and that of his brother John, The Elder. I was thrilled to be walking in the footsteps of my Kissane ancestors.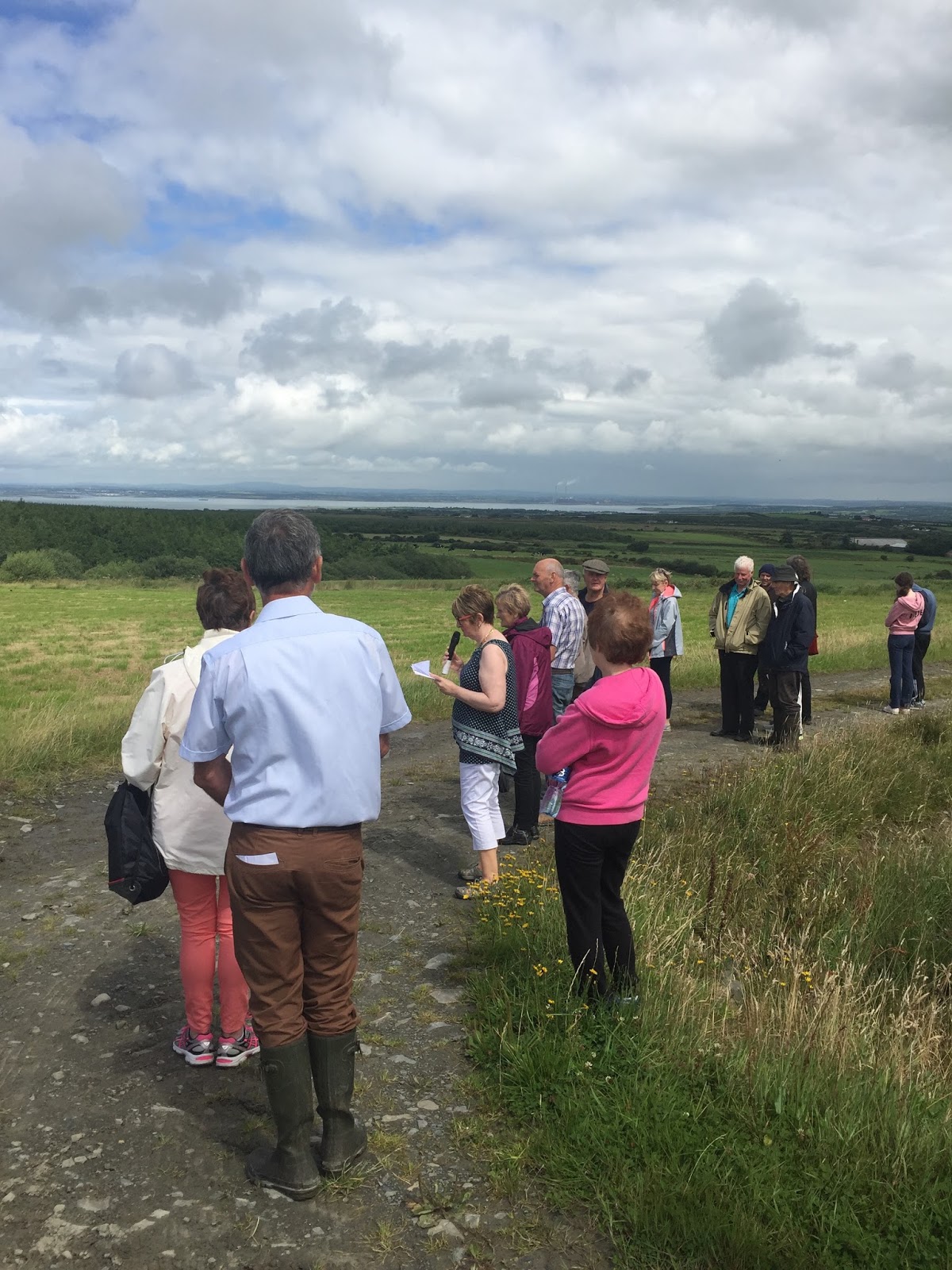 Eily covered a huge span of history from the late 1700's to modern times. She was so informative! She was able to tell us exactly who our ancestors were & what they did for a living. Her niece Meghan Kissane, Dick's daughter, had a map of the farms printed out for each of us, naming each field by the name it was known back in the day.
No stone was left unturned.
Eily spoke at 5 viewing points along the way. The sights were breathtaking. We could see 3 counties, Kerry, Clare & Galway. We were also entertained by Meghan who recited an aptly chosen poem, 'The Boglands' by William A Byrne.
The purple heather is the cloak
God gave the bogland brown,
But man has made a pall o' smoke
To hide the distant town.
Our lights are long and rich in change,
5
Unscreened by hill or spire,
From primrose dawn, a lovely range,
To sunset's farewell fire.
No morning bells have we to wake
Us with their monotone,
10
But windy calls of quail and crake
Unto our beds are blown.
The lark's wild flourish summons us
To work before the sun;
At eve the heart's lone Angelus
15
Blesses our labour done.
We cleave the sodden, shelving bank
In sunshine and in rain,
That men by winter-fires may thank
The wielders of the slane.
20
Our lot is laid beyond the crime
That sullies idle hands;
So hear we through the silent time
God speaking sweet commands.

……………..
Eithne, Eily's daughter, sang in Irish 'Táimse im' chodhladh is ná dúistear mé', i.e. 'I'm asleep and don't waken me'.
Tráthnóinín déanach i gcéin cois leasa dom
Táimse im' chodhladh is ná dúistear mé
Sea dhearcas lem' thaobh an spéirbhean mhaisiúil
Táimse im' chodhladh is ná dúistear mé
Ba bhachallach péarlach dréimreach barrachas
A carnfholt craobhach ag titim léi ar bhaillechrith
'S í ag caitheamh na saighead trím thaobh do chealg mé
Táimse im' chodhladh is ná dúistear mé
……..
This is a lovely Aisling poem. The poet is asleep and he wants to continue dreaming forever because in his dream he sees Ireland as a beautiful woman who will free Ireland from the yoke of English rule.
Eithne sang this plaintive song as she stood in front of the 'Cillín'. This is an ancient burial ground on the farm. It is one of 400 in Kerry which date back to pre-Christianity. The Cillín is a breathtaking sacred place surrounded by trees and framed by the lovely river Shannon. Cillíns were ancient pagan burial places which were used in Christian times as the resting place for unbaptised babies, people who died by suicide, or anyone who was deemed to have died 'in sin".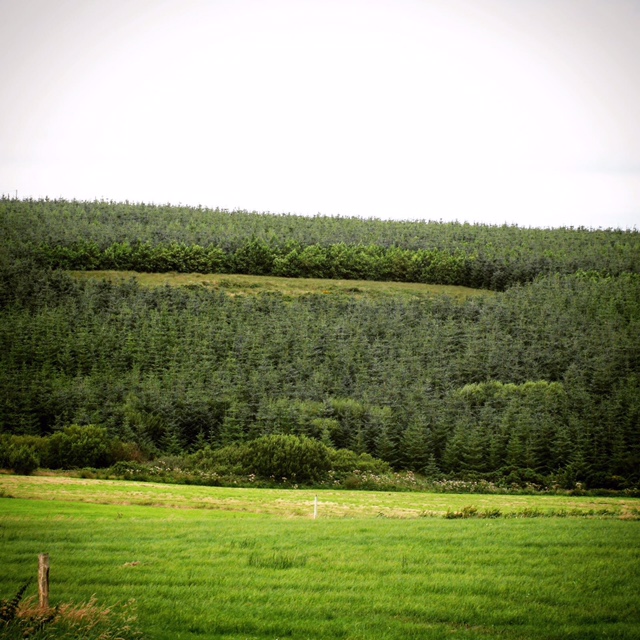 You can see the cillín beautifully preserved within the circle of trees.
The whole experience was very moving.
To top it off we had a picnic in the lands of our ancestors! It was absolutely perfect.
Eily plans another gathering in 2017. It will, no doubt, be equally informative and entertaining.
Thank you, Eily and everyone who helped make this year's event such a success.
<<<<<<<<
A Work in Progress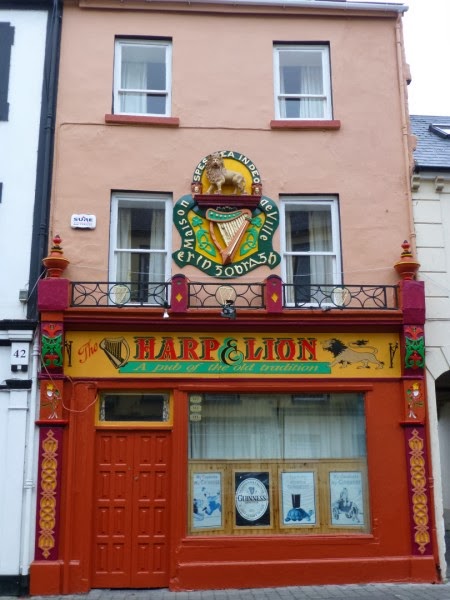 The same shopfront in August 2016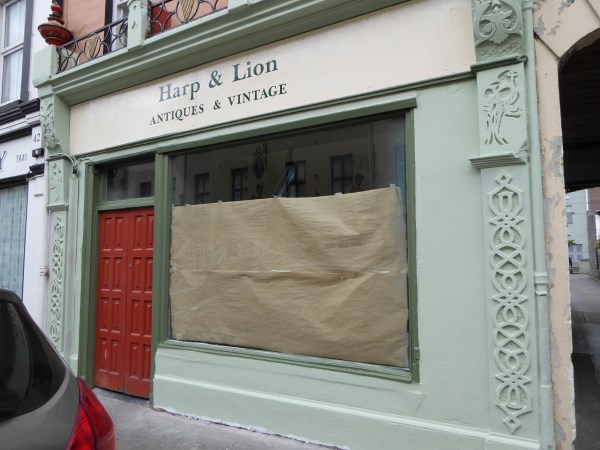 This painter obviously relishes a challenge. He is starting with a clean slate. He has hours of painstaking work ahead to repaint this iconic Listowel shopfront.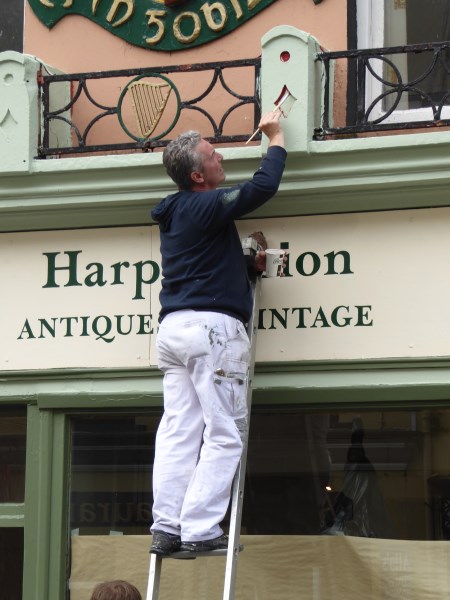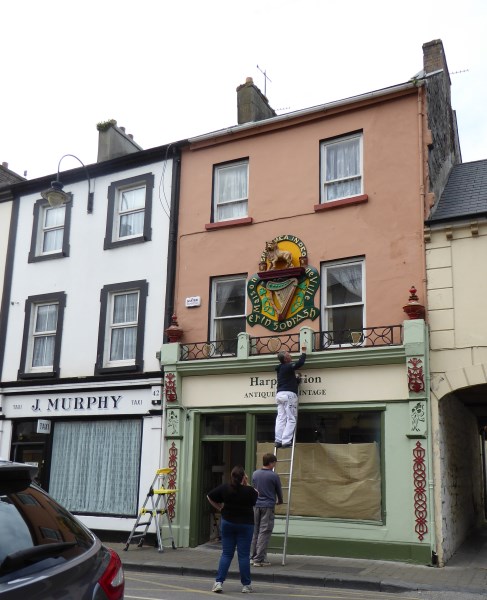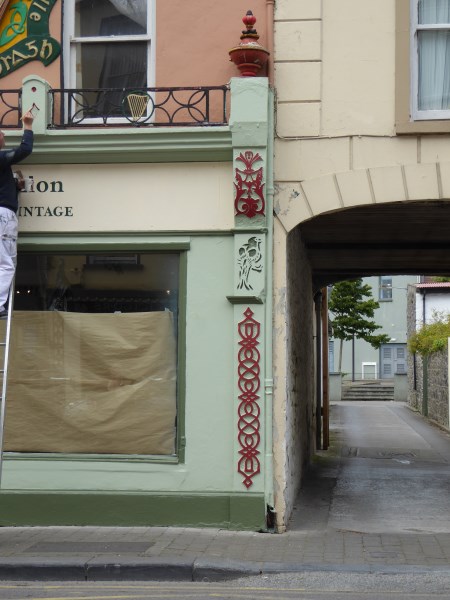 <<<<<<
Busking for M.S.
The weather delayed fundraiser took place in town on Friday August 12 2016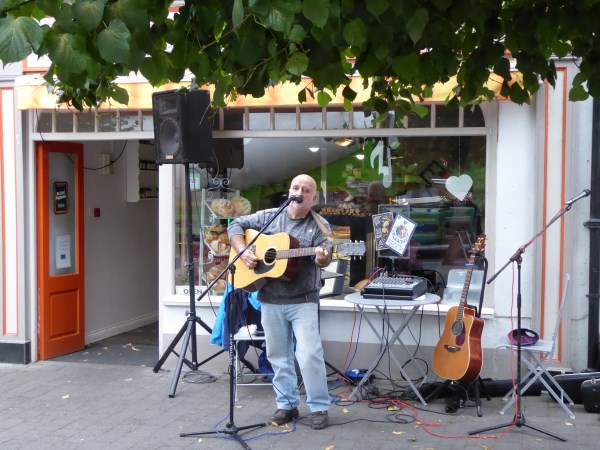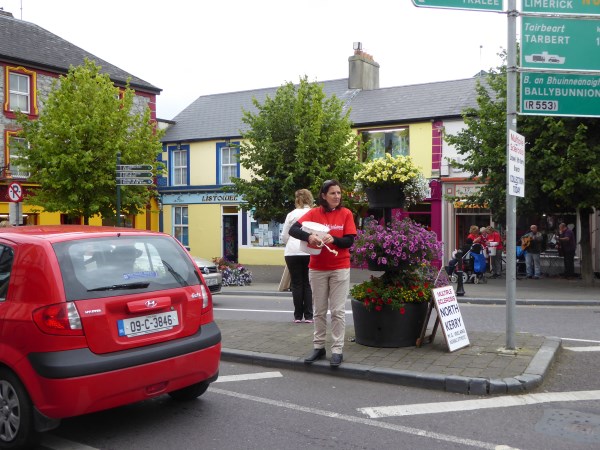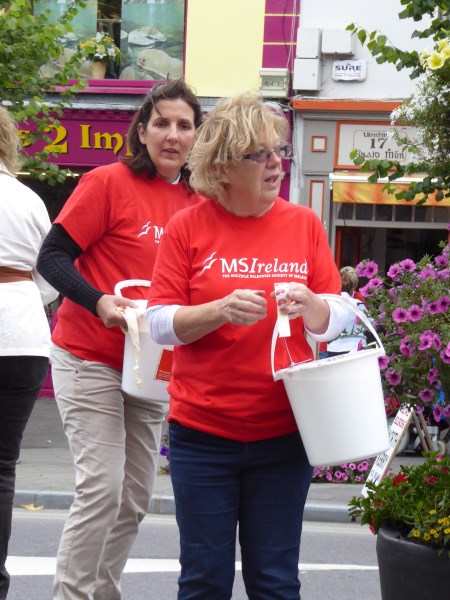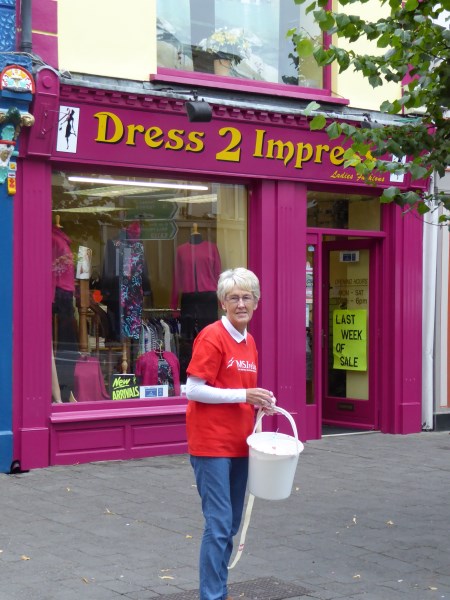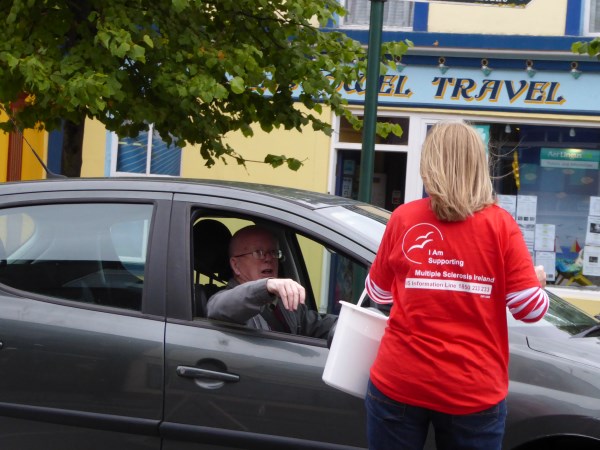 Junior Griffin was making his contribution from his car.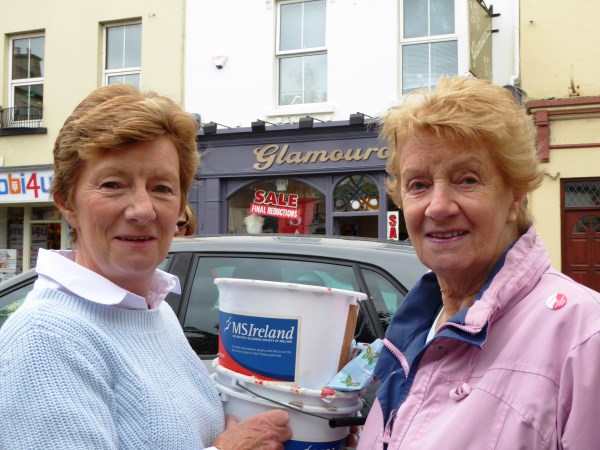 They could be sisters! Barbara Walsh was out collecting for the local branch of the M.S. Society when she ran into her mother.
<<<<<<
Then and Now