Knitwits Christmas Party in Scribes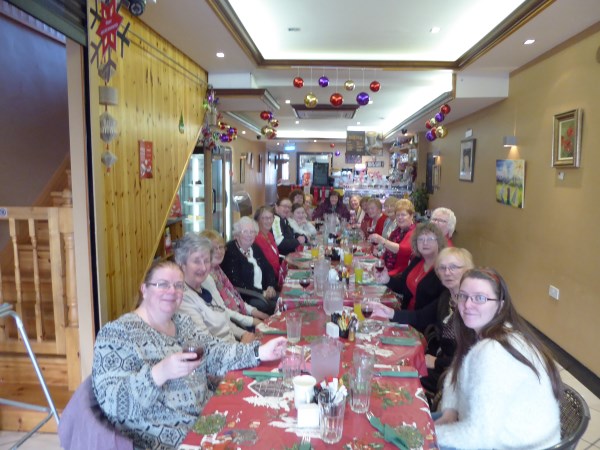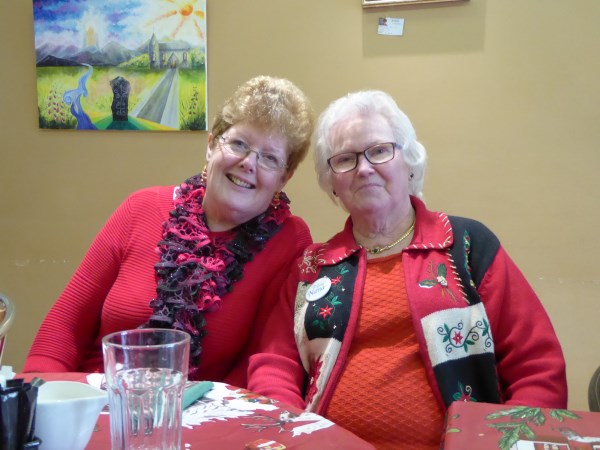 Una Hayes and Maureen Connolly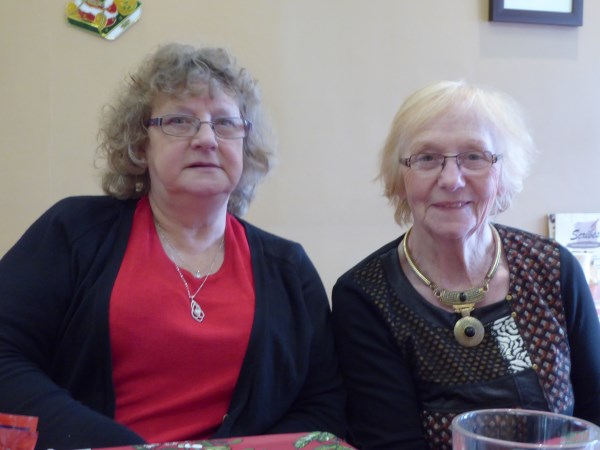 Patricia Borley and Mary Boyer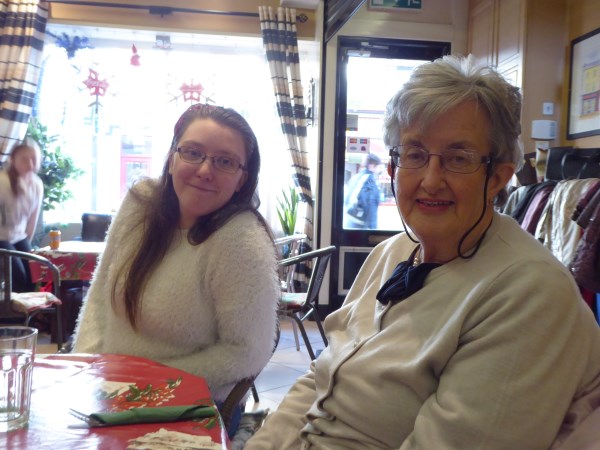 Katie Heaton and Anne Moloney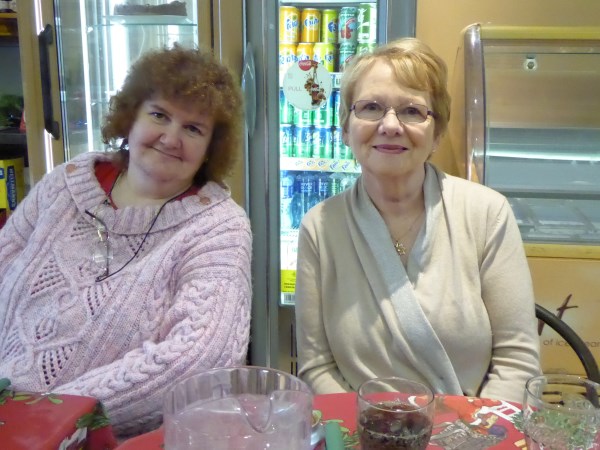 Helen O'Connor and Pat Barry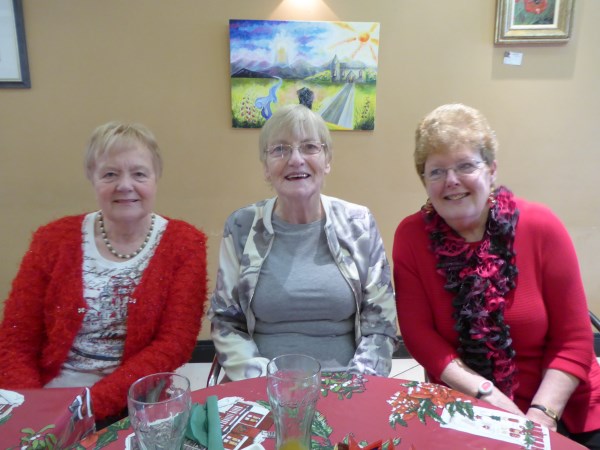 Peggy Brick, Kathleen McCarthy and Una Hayes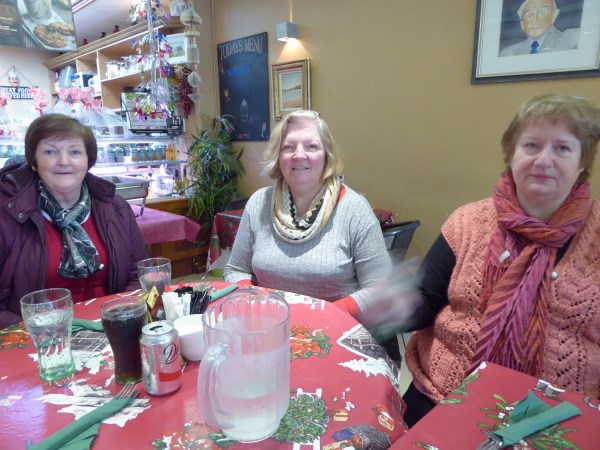 Jane Anne Sheehy, Eileen O'Sullivan and Eileen Fitzgerald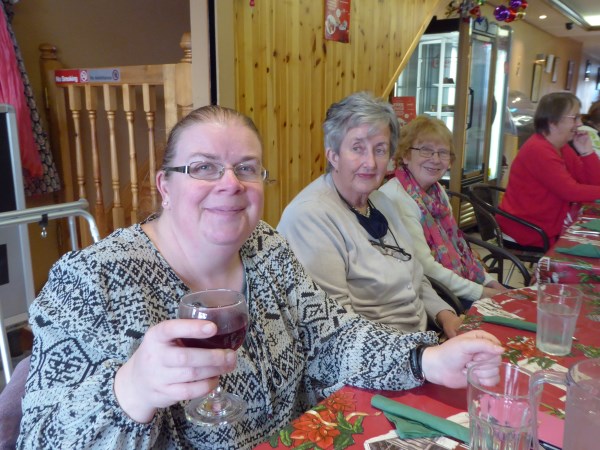 Maria Leahy, Anne Moloney and Joan Carey
<<<<<<<


New Kids on The Block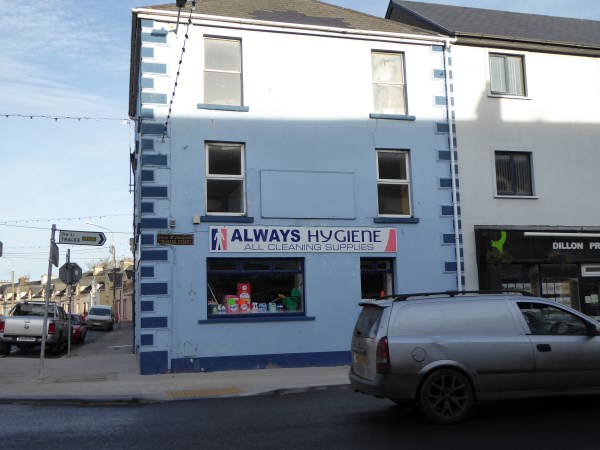 This business has opened at the corner of William Street and Charles Street in the premises that used to be Jerome Murphy's


<<<<<<<


Sunday December 11 2016 at the Unveiling of the Tidy Towns' Sculpture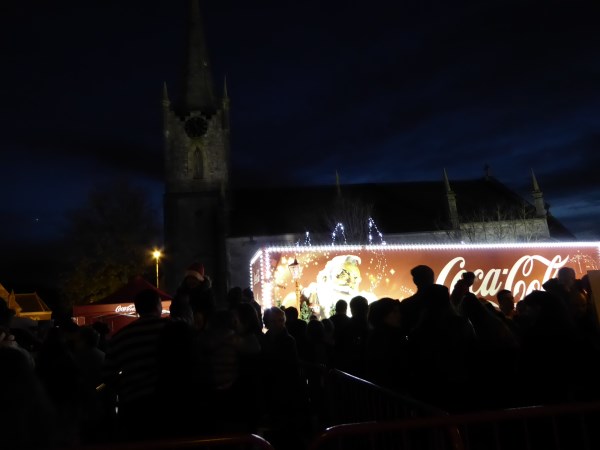 At 5.00 p.m.we turned our backs on the Coca Cola truck and headed across the Square to the island outside The Listowel Arms for the unveiling of the sculpture to celebrate the work of Listowel Tidy Towns Committee in bringing glory to town. Readers of Listowel Connection already knew what the piece looked like but the committee covered it up again for the big reveal.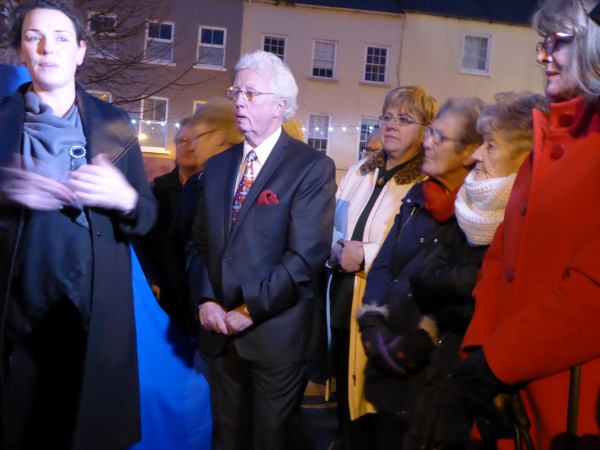 Kerry County Council and the Enterprise office had a hand in funding so Aoife Thornton gave the first speech on their behalf.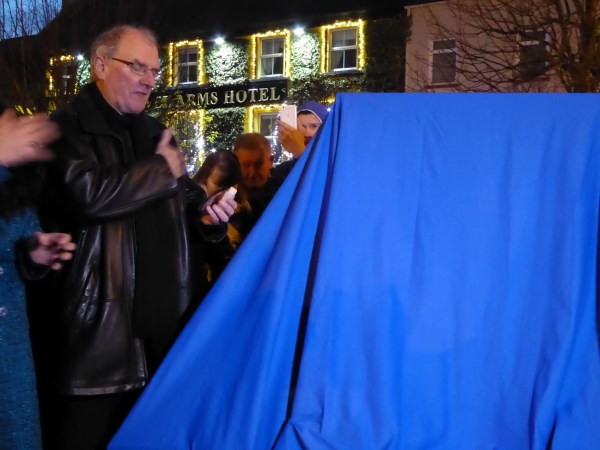 Canon Declan O'Connor, P.P. Listowel blessed the piece and blessed the work of the Tidy Town committee.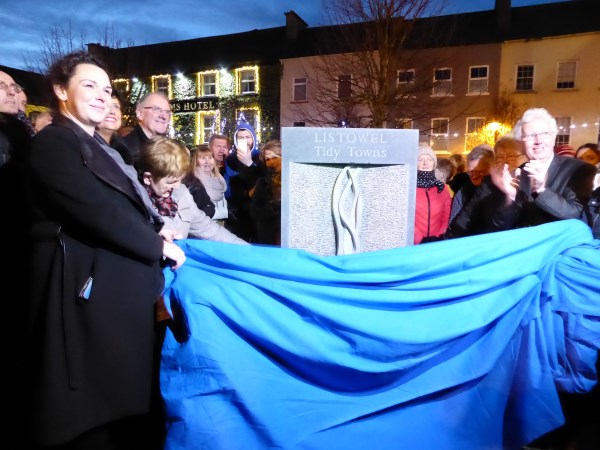 Ta da! There it is.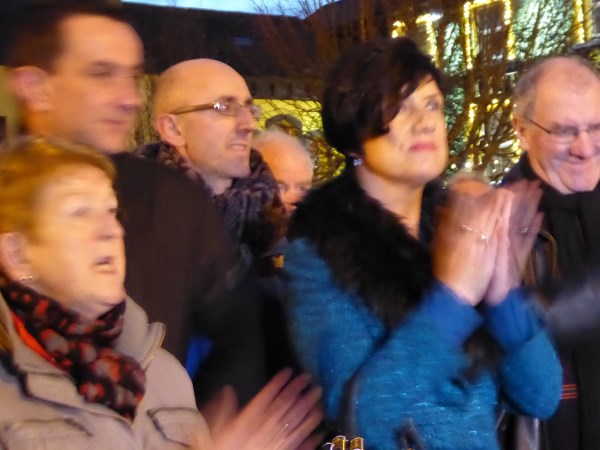 The artist, Darren Enright stood proudly among the onlookers as his work was praised.
<<<<<<<


That was then; this is now


When another sculpture was unveiled in The Square in December 2010 we had snow on the ground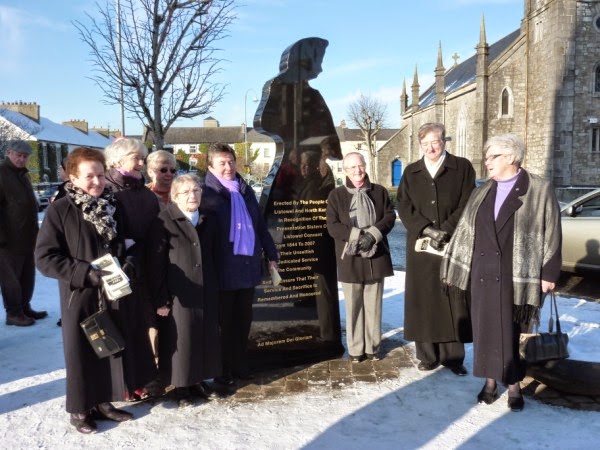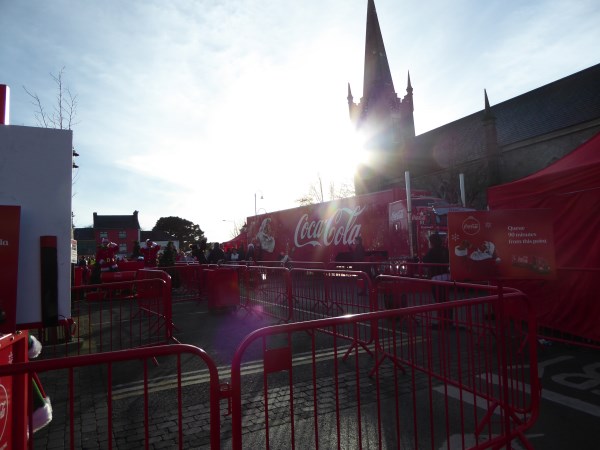 This year the sun shone and we had temperatures of 13 and 14.
<<<<<<<<
A Few More People I photographed on November 25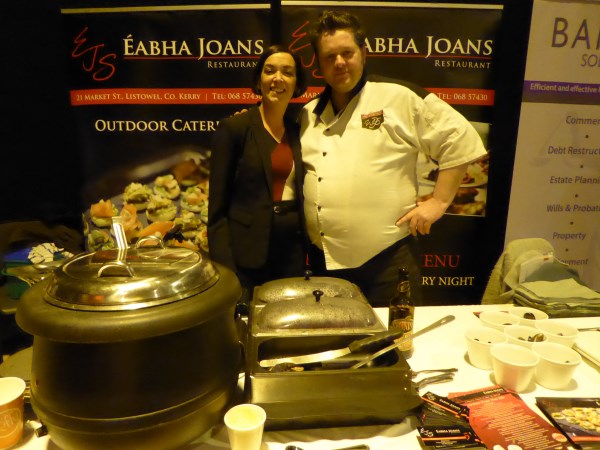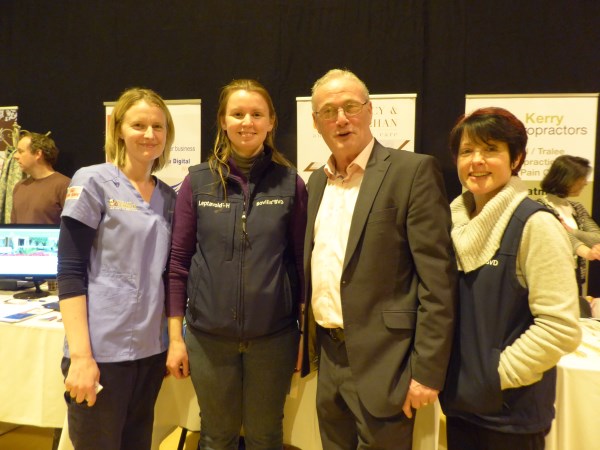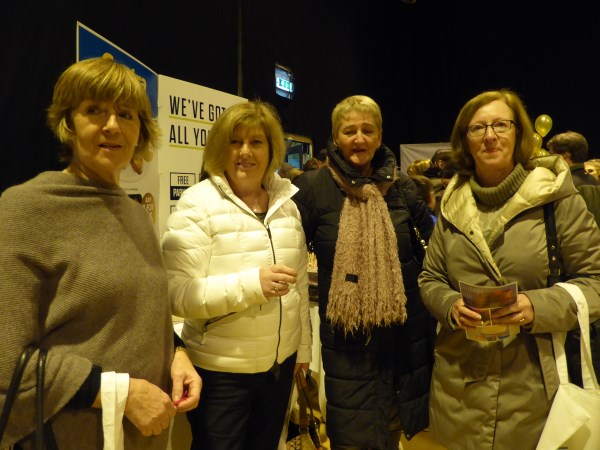 <<<<<<<<<<
North Kerry Wren Boys by Wm. Molyneaux in Shannonside Annuals
Part 4
We had great times with the
same Wren, so we did. One St Stephen's
Day I was out with Coolkeragh. They were
a good crowd. We were travelling on,
whatever. I don't know that anyone of us
knew the names of the people where we were at all.
But still is was a good place.
Well, any torn down house or anything, we'd say to ourselves that we
wouldn't go in there at all.
So this
house, anyway, we crossed it. It was a
small little pokeen of a house. Myself and the player were talking. We said to ourselves we wouldn't go in there
at all-you know. There would hardly be
no one there at all- poor looking. "Cripes," says I (as if I had the knowledge)
" "I imagine," says I, "but I see an old woman walking around
the house, and now that old woman might
only get insulted. We want nothing from
her," says I, "but she might get insulted if we didn't go into with
the Wren." "Well, by God, that's
right, Williameen. "We go in
then."
In we went. This poor little woman was inside. A very small little house entirely. She had a few coals down. I went up to the fire, myself and the player. He was Willie Mahoney over in Coolkeragh and
a good player he was. The Dickens, I
went up. I was inclined to
"hate" the tambourine over the coals.
There wasn't as much fire there as would heat it. Stay, I told him play away. He played away. He played, I think, a hornpipe. God he was a good player! We were at it for a bit, and with that,
whatever look I gave, there was the poor woman and the tears rolling down her
face. "Stop, let ye," says I
to the crowd. "Stop, let ye, there
must be something wrong here. Will ye
stop!" I turned around to the old
woman: "well, poor woman," says I "there must be something wrong
with you or with someone belonging to you.
And if we knew anything like that," says I, "we were not going to come in at all" says I "if
we knew what we know now…. When we see
the tears in your eyes we wouldn't have come in at all….
At that she started, at the
top of your voice: "Yerra,Wisha, Weenach!oh!oh!OH!..It isn't any dohall I have
at all about the Wran Boys!….Yerra, Wisha…..my husband, Tom….he's inside in
the Listowel 'ospital with a sore leg.
And, and if Tom was here today, wouldn't he be delighted to see the fine
crowd of fine respectable Wren boys that made so much of me as to come in here!
Wait a fwhile 'til Tom 'll come home and if I don't be telling him that…..oh!oh!oh! and she went on
at the top of her voice.
I turned around to the crowd:
"lads," says I, "have ye much money around ye? "agor, we have"
says the captain, we could have up to
about five pounds, (it was early in the day) "Are ye all satisfied to give
this poor woman," says I, "half of what ye have? The day is long" says I, "and
we will make enough to maintain us
through the night." And they said
they were agreeable. The cashier was
just starting to pull out his purse and off she started again: "oh! No!
No! Wait awhile now and I must
turn around and give ye something. She
had long stockings on her, and she stuck down her hand in one of them-down,
down, and then she got hold of something and she started pulling and pulling
til she pulled up a big cloth purse-as sure as I'm telling you there would a
quarter sack of male fit inside it! And
I couldn't tell you what money was inside it.
Up she pulled the bag anyway and reached a shilling to myself. "No, ma'am," says I, "put that in
your own pocket." Then she started
again: "oh! No! No!
No! If you don't take that now,
decent boy! Oh,Yerra Wisha
after what ye had done for me!
Yerra, Wisha, the best friend I ever had in all my life would not do
what ye're after doing for me. That the
Almighty God and the Blessed Virgin Mary may save and guard ye! Bless and
protect ye! And that you and yer crowd might be going around on the Wran,"
says she, " for the next 100 years without a feather ou of ye."
That happened, for a God's
honest fact.
(more tomorrow)
<<<<<<
Home Alone
A Christmas poem from Mary McElligott
HOME ALONE
'What will I do Mrs Claus?"
Santa rubbed his head.
He really was exhausted.
His legs felt like lead.
His head was pounding,
throbbing.
He was frozen to the bone.
Mrs Claus was too busy
cleaning,
To listen to him moan.
He was like this every
year,
I suppose you'd say,
stressed.
She'd listen, support and
encourage,
Take out his long sleeved
vest.
Christmas Eve was looming,
Three more sleeps to go.
Was it his age? She
wondered,
Gosh, t'was hard to know.
Mrs Claus was high
dusting,
Changing sheets and beds.
Five hundred elves was no
joke,
The last time she counted
heads.
One hundred stayed all
year
But in October that count
went up,
Hard work for Mrs. Claus,
To get it all set up.
She cooked and cleaned
their dorms.
She worked out their Rota,
24/7 their job,
Hard, juggling that quota.
She loved it though, being
busy,
Loved caring for the
elves,
They were like their
children,
When they didn't have any
themselves.
Some poor elves were
homesick,
In the North Pole for a
whole twelve weeks.
She often saw tears
flowing,
Down their little cheeks.
She had one big job to
sort.
She did it through the
year.
It was she who got the
elves their gifts,
Brought them their
Christmas cheer.
She made several trips
down south.
There was a great service
from The Pole
But her favorite place to
go,
Was a place called
Listowel.
It was so tidy and clean,
So pretty, down by the
park
And even more beautiful at
night,
What with all those blue
lights in the dark.
She'd buy all their gifts,
Hats, scarves and gloves
for the elves.
She'd pack them in huge
cases,
Leaving a bit of space for
a few bits for themselves.
She loved Christmas Eve,
Santa gone, the elves in
bed.
She'd open up her cases,
Deliver gifts as she'd
quietly thread,
Up and down, between the
beds,
One hundred in each dorm,
Over and back until the
cases were empty,
Finishing up near dawn.
They all get a Christmas
bonus,
50 Euros and of course,
some sweets,
After all it was Christmas
And you'd have to give
them treats.
She'd only just be gone to
bed,
When Santa would land in,
FROZEN..
She'd leave out coke and
cake,
Waiting for him, dozing.
'How was it Santa?' she'd
ask,
'Everything go all right
with the reindeer?'
"Absolutely perfect Mrs
Claus,
Thanks to you. Merry
Christmas, my dear."
<<<<<<<
Friends Reunited
I had a lovely morning meeting with some old friends recently. Some I met by arrangement and some by chance. It was delightful to renew old acquaintance at the end of 2016
I first met these ladies when we were all teenagers. Heres to the next time, Jill, Assumpta, Eileen and Peggy.
Little did we think back in the 1970s that we would sit in The Malton, Killarney in 2016 discussing the merits of free travel.