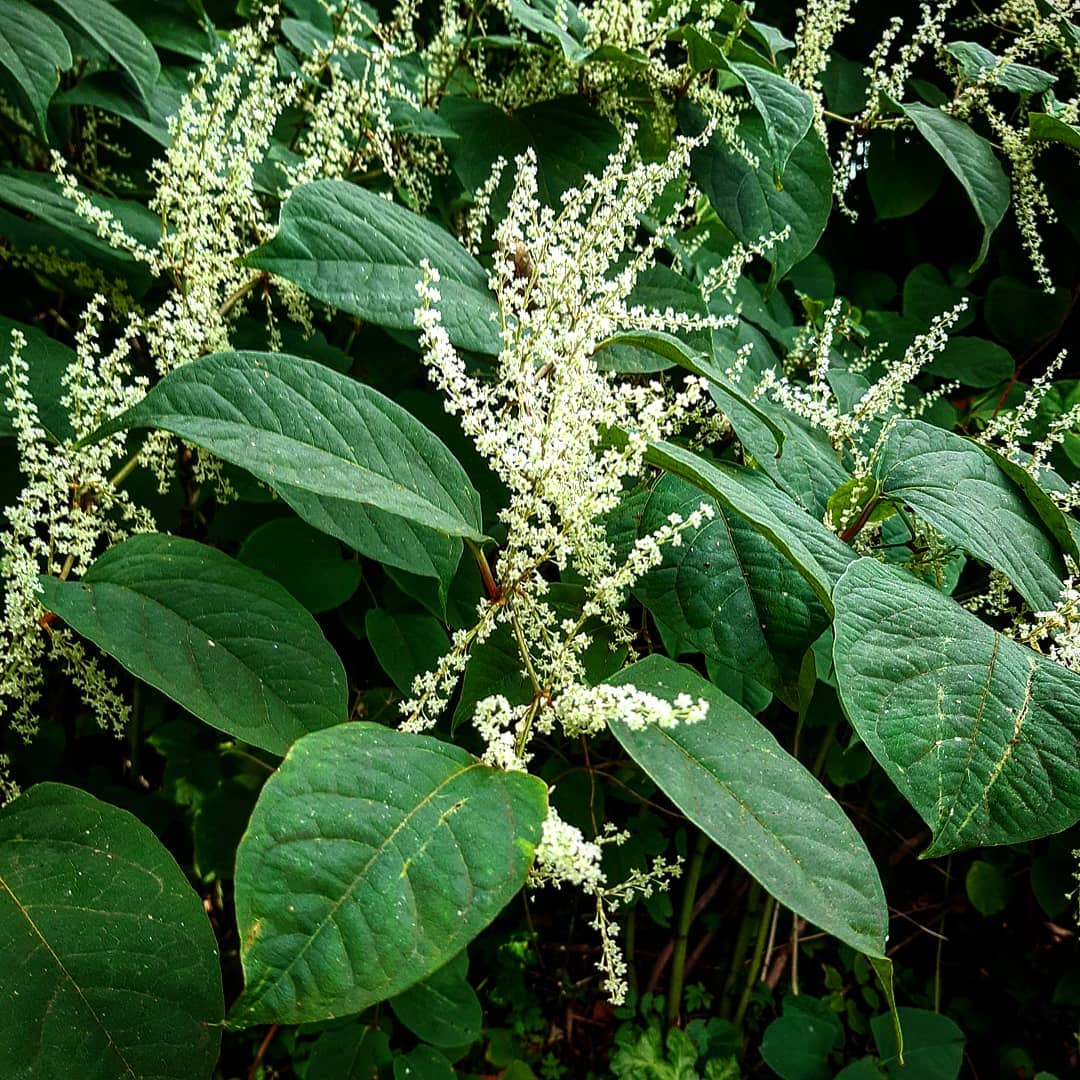 Lovely but deadly! This is Japanese Knotweed. If you see it anywhere, please give it a very wide berth. I am afraid it is flourishing all too widely this year and we will have a big job to rid ourselves of it. Dont cut it or touch it or under any circumstances do anything to propagate it. Don't even try to kill it. It's a job for experts.
<<<<<<<<<<<
Things were Rough in 1890
<<<<<<<<<
Down Memory Lane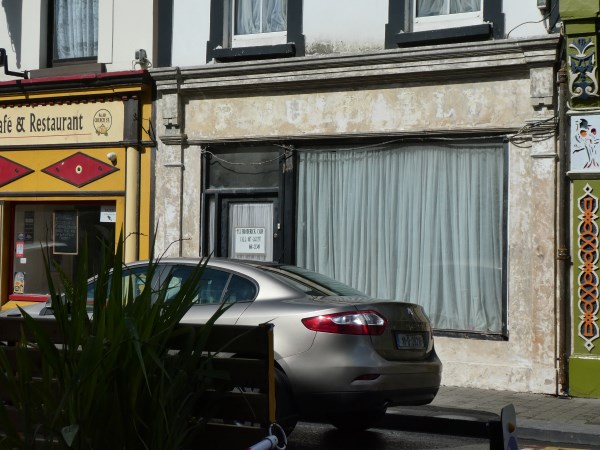 Talk of Lena Mullally and bag of chips after the pictures prompted a few emails.
Jim McMahon wrote:
Mary , it was nice to hear that Lena Mullally was not forgotten. She was one of a number of larger than life wonderful women in Church street in the 40'S and 50's .A whole essay could be written about her but that's for another day. For now sufficient to say she brightened our young lives.

Liz Chute was also in touch.
Séan McCarthy referred to my mother, Betty Chute's café as Betty's Emporium , where that individual would have bought his two bags of chips .
She was a woman before her time and was a successful business woman in Listowel long before it was known of in Ireland.
<<<<<<<<<<
From Waterford to North Kerry…A Rose's Story
Orla's Afternoon Tea in a Box
When I asked Orla Cusack Walsh to tell me the story of how she came to relocate to Kerry, she told me that it all started when she was selected as the Waterford Rose in 1998.
Orla with 2018 Waterford Rose, Kirsten Mate Maher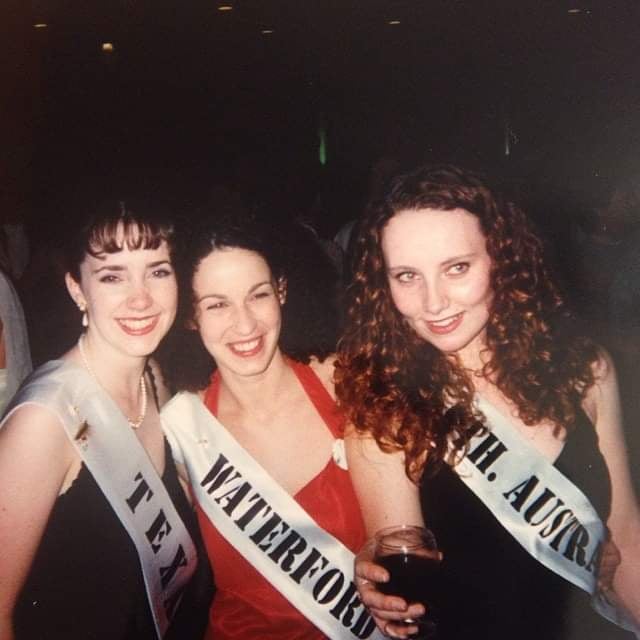 At the Festival of Kerry in 1998

Orla tells the story best in her own words.
In 1998 I had the privilege of representing my beautiful county, Waterford, at the Rose of Tralee Festival. It was my first trip to Kerry as an adult and I was not disappointed. As the garda escort led us along the old road into Tralee, the excitement was electric. What followed was a week of incredible memories, new friends and eventually a husband, two children and 3 dogs!
Orla and family
In 2002 I returned to the festival with Texas '98 Rose, Caroline Wilson. During that trip I met my now husband, Kerry man, Liam Walsh.
Liam had been an escort the previous two years and had been asked back to cover for a day and a night that year. We chatted and met later at the various events and later we joined the former Roses and Escorts for a sing song and a catch up. I sang Katie that night. (It is clear that the song and the name are special to Orla) Caroline and I left in the early hours and hopped into a taxi.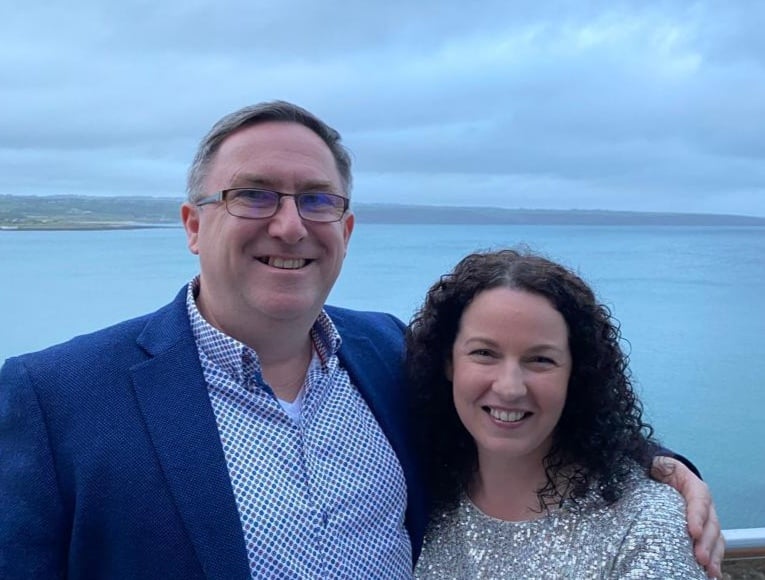 Recent photo of Orla and Liam

A week later Liam called me to wish me a Happy Birthday. He had asked a friend for my number! Months later he told me he had followed me out to ask for my number, but I was gone. I knew early on that he was the man I would marry. He is a gentleman, kind and caring. The rest, as they say, is history.
The happy couple on their wedding day
We were engaged the following August and we married in June 2005 in St Mary's Church, Ballygunner, Waterford. It was important to me to marry there as I laid my bouquet on my brother's grave after the ceremony. It meant we were all there. The sun shone and we celebrated well into the early hours.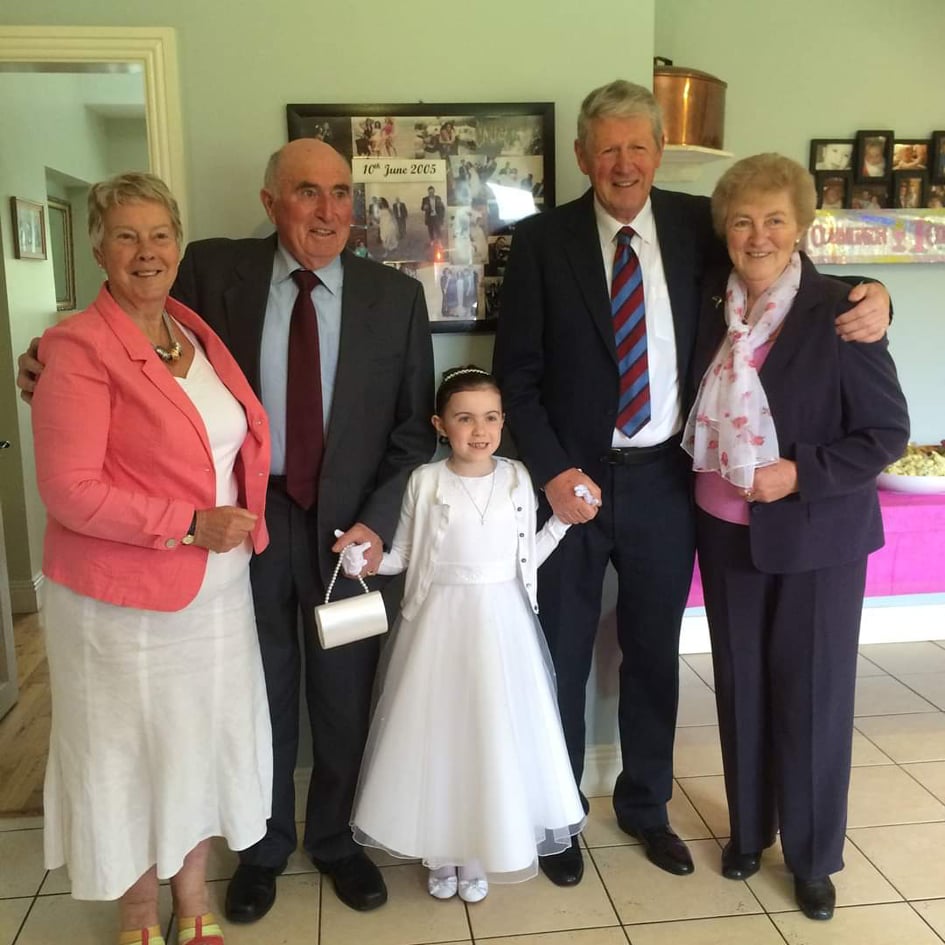 Katie and her Grandparents on her First Holy Communion day
I moved to Lisselton in 2005 and we worked on our home. In January 2008 we welcomed our daughter, Katie, and in May 2010 our son, Dylan.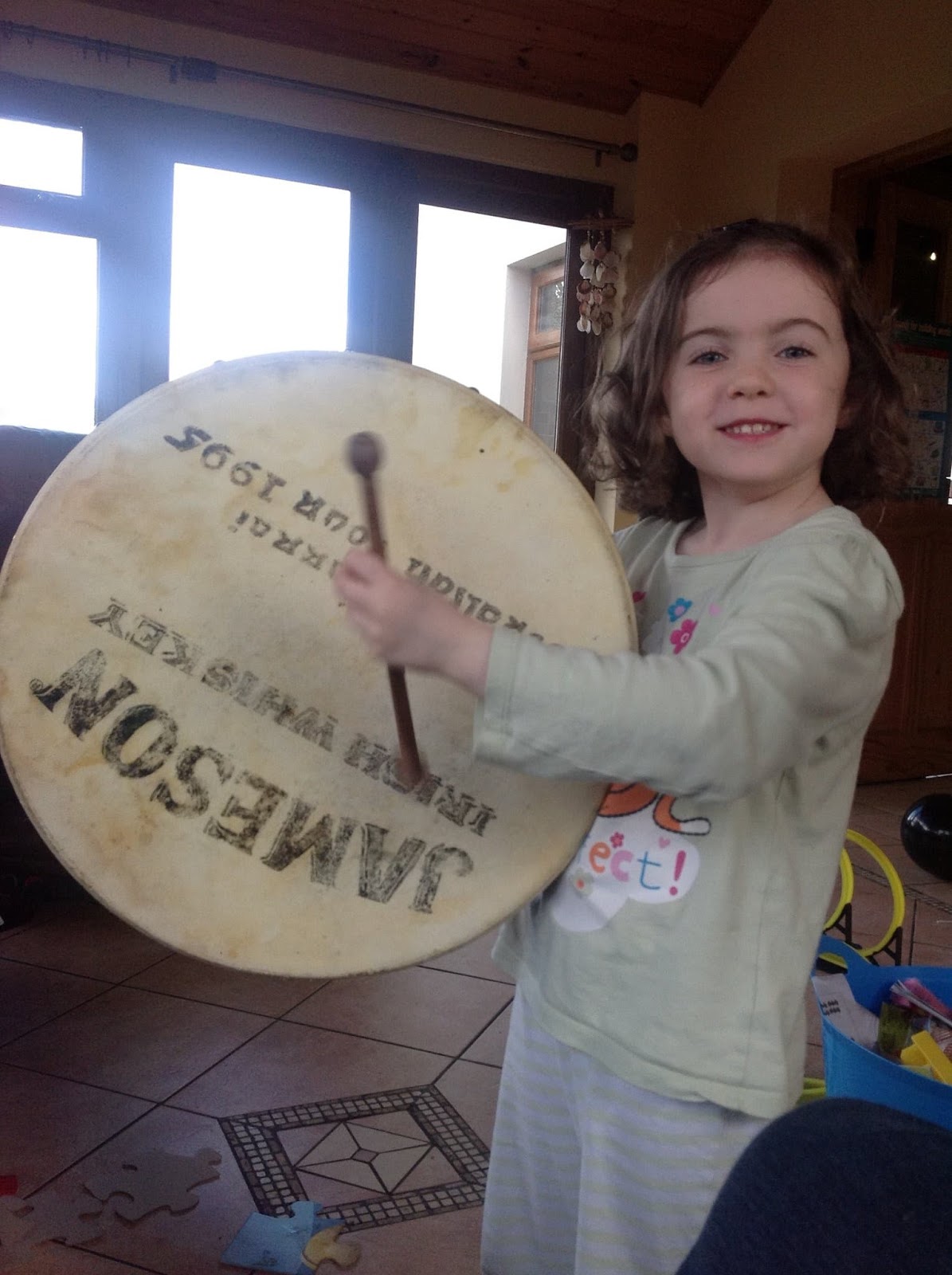 Katie, like Liam, plays the bodhrán. She also plays football with Listowel Emmets and rugby with Listowel RFC. Dylan sings and has been part of the Kerry School of music Junior Choir, Listowel. Dylan also plays rugby with Listowel RFC and does Taekwondo with Master O'Mahony in Listowel.
Katie is in 6th Class in Killocrim NS and Dylan is in 4th class. We are incredibly proud of them and all their achievements.
In 2011 I took redundancy and became a stay at home mum for a time. Liam built his business, St David's Poultry Services, over the years and in May 2019 moved into a purpose built unit designed by local architect, Petra Walsh. Michael O'Muircheartaigh cut the ribbon at the official opening in August, 2019 and 3 weeks later Liam won a well deserved award for his fantastic work in the industry. All his hard work, dedication, and time away from us had paid off.
My qualifications and training are in the culinary and retail areas. I started baking professionally again in 2011 and eventually attended markets and food fairs.
I pottered along for a few years and slowly built my business, Orla's Country Kitchen and Ballydonoghue Cookery School. A few weeks after Liam won his award, I too won an award at the Listowel Food Fair 2019 for my smokey bacon quiche.
It was all coming together.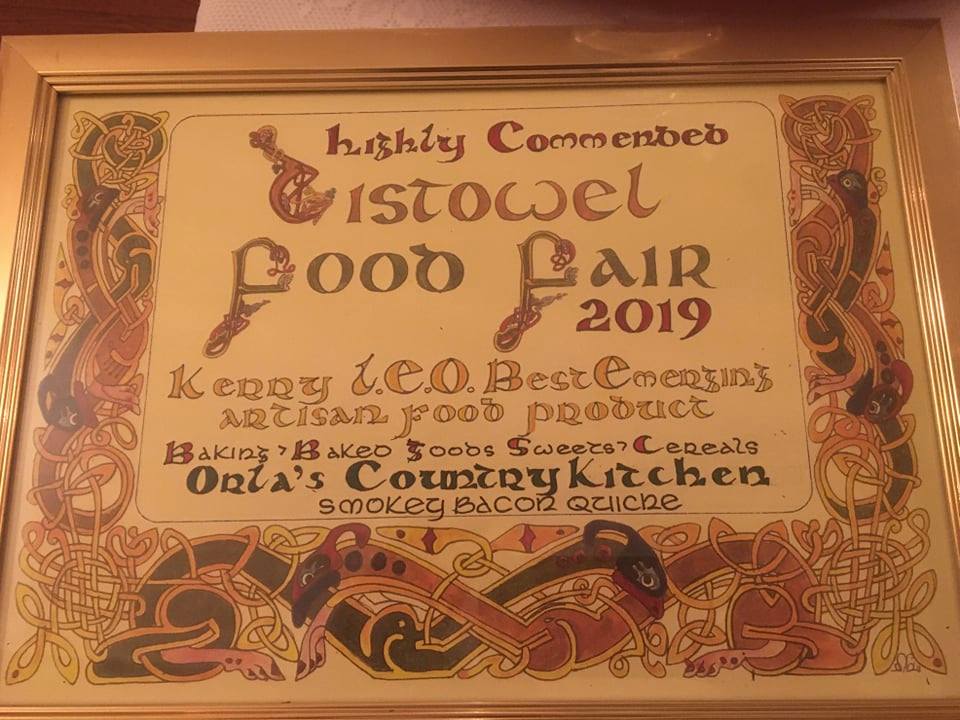 During the lockdown earlier in 2020, Katie and Dylan did cooking videos on Facebook and every week we donated 60 cake slices to Buds Ballyduff Meals on Wheels Service .
We kept this going until July and plan to start again once a month from October.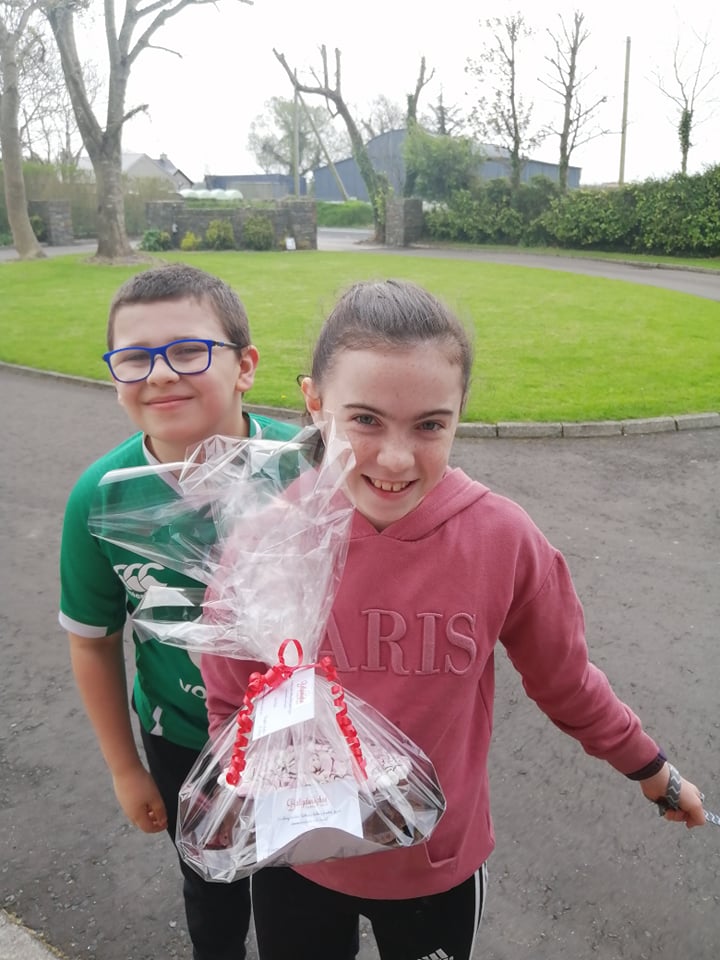 Today my business is growing from strength to strength. My Afternoon Tea in a box is a success and with Christmas just around the corner, biscuit cake Christmas puddings are on the way!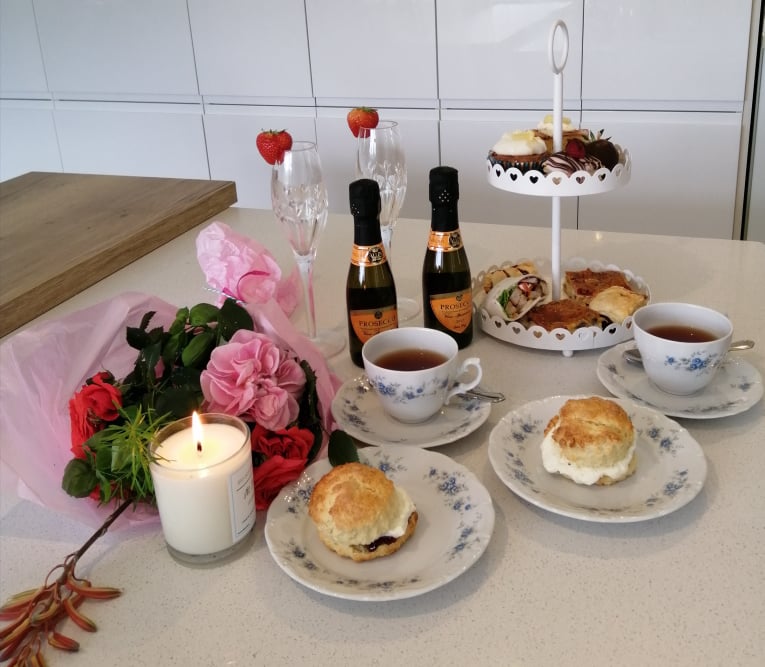 As I write, I feel blessed, as I look back on the years since 1998. The memories of the Rose of Tralee and the reason I now live in Kerry. I'll always be incredibly proud to be from Waterford and will always feel privileged to have represented my beautiful county. I will always be a "blow in" and I'm fine with that, as there's nothing like being a blow in, in the beautiful Kingdom!
When she had told me her story I realised that Orla is, at heart, a family woman. I had asked her for her story and she told me more about her family than she did about herself.
The Rose of Tralee committee are always at pains to point out that it is not like other beauty pageants. The Roses are chosen to embody the best of what it is to be Irish. Orla is an excellent example of all that the festival stands for.
She is a true beauty; a Rose inside and out.