Recharging the batteries
I am going to take my leave of you for a while. I am not leaving town, just taking a rest from blogging for a summer break.
While I am away from the blog I will still be gathering material and taking photographs, so if you have anything you would like to share, be sure to email me.
I'll leave you with a great piece of reading for a summer's morning…or afternoon.
David Fitzgerald of Tralee was 80 recently. He had lost his parents at a young age. By
the time he was 17 both of his parents had died of T.B. As was customary at the
time, all the family papers and records were burned to prevent spread of the
disease. David grew up knowing very little of his family history so, for his
birthday, his family commissioned Kay Caball of Find My Kerry Ancestors to research his family.
Claire Sparrowhawk, who commissioned the research very
kindly allowed Kay to share some of her findings with us in Listowel
Connection.
Here is a shortened version.
David
Fitzgerald was born in Tralee on 11 April 1936. He was the son of Edward Fitzgerald and
Catherine Neligan. Their address on the
registration of the birth was Lr. Castle St., Tralee. Edward's occupation was given as Hotel
Waiter. Catherine registered the birth
herself on 9th July 1936.
We know that Edward and Catherine had two children
– David and Aileen and that they lived over Hilser's Jewellers shop on Castle
St., (now Billy Nolans). Edward worked
as an Hotel Waiter in Benners Hotel, a few doors away from where they
lived. A Hotel Waiter at that time was a
skilled occupation which would have entailed an apprenticeship and Benners was
regarded as an up-market hotel. Very
few local Tralee people, with the exception of the professional or large
business-owner classes, would have been customers. We now know that Edward had worked at the
prestigious Cork County Club, South Mall Cork prior to this, which would have
entailed an apprenticeship and strong credentials for the job in Benners.
Edward
Fitzgerald, David's father was the son of David and Bridget Fitzgerald of
Ballyhooley, Co. Cork. Edward's father,
David, was employed as a Coachman on Lord Listowel's country estate at
Convamore.
In 1901 at the time of
the Census, Edward was one year of age.
He lived with his parents, his younger sister Jane and his grandmother
Elizabeth in one of the estate cottages belonging to Lord Listowel in the
village of Ballyhooley. These were good
quality cottages, designated 2nd class which was above the usual
Irish house of the time. The Fitzgerald's house was one of fifteen cottages
owned by Lord Listowel, they were constructed of stone with slate roofs and had
4 or more rooms. Lord Listowel's own
house – Convamore was designated a 1st class house.
David
Fitgerald had married Bridget Englishby on 6th December 1898.
Census of Ireland 1911
– Fitzgerald Ballyhooly
By the time of the
1911 Census, David was now 11 and he had two sisters, Jane (10), Lizzie (4) and
one brother, John (9) Their parents David & Bridget state that they have
been married for 12 years and have had 5 children, all still living.
Catherine Neligan's Family
Census of Ireland 1901
Michael Nelighan and
Eily Fleming were not married at this time. They married in 1905
……………..
We have no idea what
Edward did immediately after leaving school, we know that Convamore was burned
down in 1921 when he was 21 years of age but by that time Edward (called Ned)
was working in Cork City at the Cork & County Club as a Hotel Waiter.
Edward was active in
the Republican movement 1917 – 1922 in Co. No. 1 Brigade. After the Truce, Edward moved jobs to Tralee,
it is believed to stay out of the Civil War which ensued. In that he was following his Brigade O.C.
Major Florence O'Donoghue, an Irish Historian and Head of Intelligence in the
Cork No. 1 Brigade of the Irish Republican Army during the war of Independence
who remained neutral during the Civil War which broke out on 28 June 1922.
Edward moved to Tralee and married Catherine (Kitty) Neligan
in St. John's Church Tralee on 18th April 1933. On the Marriage Certificate, Edward declared
that his father David's occupation had been Groom and was deceased. It is understood that he had in fact died in
1912. Catherine whose address was Denny
St., at that time gave her father's name as Michael Neligan, Road Steward.
We know that Mary
(Neligan) worked as Head Chef at the Grand Hotel, Denny St., and Catherine
(known as Kitty) worked for a Brown family in a bank in Denny St. The family would have lived fairly
comfortably overhead Hilser's Jeweller's shop in Castle St. while their father
was still working in Benners. Aileen who
was born in the Summer of 1934 and David both attended Moyderwell Infants Schoool
and later David went on to the Secondary School at the Green. Edward would
appear to have suffered ill-health for the last 6 or 7 years of his life which
would have meant hardship for the family.
He would have been treated in the local County Hospital and also in
Edenburn Sanitorium for T.B., which was endemic in the Irish population at that
time. Edward died at the early age of
45/46 in the Bon Secours Nursing Home Cork.

At the time
of Edward's death, his children David was 9 and Aileen was 11.
Their mother
Kitty died when David was 17. She died in Listowel Hospital and was buried
in Rath New Cemetery with her husband on 2nd September 1953.
A reference
to Edward appears in accounts of the
murder of Gerald Smyth, the man who sparked the mutiny in Listowel Barracks in 1920. This murder took
place in The Cork and County Club, South Mall, Cork.
On 19 June 1920, the assembled RIC men at Listowel
barracks hushed as the one armed Lieutenant-Colonel Gerald Bryce Ferguson
Smyth, DSO and Bar, French and Belgian Croix de Guerre, strode arrogantly
before them, his riding trousers tucked into his polished knee boots, his
neatly trimmed mustache elegantly parted as he launched into a blood curdling
speech about the savage methods he expected them to implement against their
fellow Irishmen:
"Police and military will patrol the country roads at least five nights a
week. They are not to confine themselves to the main roads but make across the
country, lie in ambush, take cover behind fences near roads, and when civilians
are seen approaching shout: 'Hands up!' Should the order be not obeyed, shoot,
and shoot with effect. If the persons approaching carry their hands in their
pockets or are in any way suspicious looking, shoot them down. You may make
mistakes occasionally and innocent persons may be shot, but that cannot be
helped and you are bound to get the right persons sometimes. The more you shoot
the better I will like you; and I assure you that no policeman will get into
trouble for shooting any man and I will guarantee that your names will not be
given at the inquest."
When he was finished his tirade many of RIC men present who had themselves been
active in repressing the Sinn Féin revolt since 1918 who were already ashamed
of the duties they had been asked to perform in the name of the King finally
had enough. Constable Jeremiah Mee rose and spoke on their behalf:
By your accent I take it you are an Englishman and in your ignorance forget
that you are addressing Irishmen
He took off his cap, belt and bayonet and lay them on the table as Smyth's
cheeks turned purple with anger.
These, too, are English. Take them as a present from me and to hell with you
– you are a murderer!Constable Jeremiah Mee who led the mutiny of RIC
officers. Mee and 13 others resigned on the spot and walked out to immediately
join the IRA to fight for Irish freedom. Smyth roared at their fellow RIC
comrades to arrest them but his commands were ignored.
Gaughan J. Anthony, Memoirs
of Constable Jeremiah Mee, (Anvil Tralee 1975)A month later on 17th July 1920, as Smyth was relaxing in the smoking room of
the Cork &County Club six armed IRA men burst inside led by Dan
"Sandow" O'Donovan.
"Colonel, were not your orders to shoot on sight? Well, you are in
sight now, so prepare."
Smyth leaped to his feet as the IRA opened fire and riddled him with a hail of
bullets. Smyth managed to reach the passage before collapsing to the floor and
dying in a pool of his own blood. His burial in Banbridge, Co. Antrim, 3 days
later was followed by sectarian riots and a pogrom against Catholics who were
burned out of their homes by Protestant mobs.Grief stricken and driven to avenge
his brother, Major George Osbert Sterling Smyth DSO, MC travelled from India to
Ireland. He became an military intelligence agent with the Cairo gang and was
killed the following October when the unit raided the home of Professor Carolan
in Drumcondra where the famous IRA fugitives, Sean Treacy and Dan Breen who had
fired the first shots of the Irish War of Independence at Soloheadbeg, Co.
Tipperary were asleep in bed. After a furious gun battle both Treacy and Breen
escaped badly wounded. Both Smyth and Captain Alfred Pelli White were wounded
and died of their wounds while Carolan was also killed.
Last edited by Hitch 22; 17th July 2012 at 11:10 PM.
Because of the
content of this speech, Sean O'Hegarty, Acting Commander of Cork No. 1 Brigade,
decided to have Smyth eliminated. The County Club in Cork was frequented by
high-ranking military officers and people loyal to the Government. The staff
were also considered to be loyalists and so the IRA found it very difficult to
obtain information about the club and those who visited it. However, the
position changed when Sean Culhane, Intelligence Officer of B Company of the
IRA's First Cork Battalion made contact with a waiter at the club, Ned Fitzgerald, who supplied
information regarding Smyth and so the IRA were able to mount their attack
Remembrances of Cork City & County Club
….Back in Co Cork, the uncle and aunt belonged to
the Cork and County Club on South Mall. Every Thursday, we would lunch in the
ladies' dining room. Though men could use the ladies' part of the club, no
woman was allowed to enter into the male precincts in the front of the club.
Our door was in a back lane otherwise used for dustbins. The ladies' lobby was
paneled with varnished pitch pine and there was uneven terrazzo on the floor.
On the gentlemen's side there may have been merry laughter and riotous
behaviour, but it was not like that on the ladies' side. The windows were
frosted glass and the dining room walls decorated with pictures of heaving
seascapes. The few scattered couples would acknowledge our presence with a
discreet nod and then continue murmuring to each other in low voices over their
cutlets.After she had finished her messages, the aunt,
my brother and I had tea in the ladies' drawing room where we read Vogue and
the Sphere in front of a fire. The only lively moment was if one of the members
had taken the aunt's parcels home by mistake.
The Cork and County Club, opened in 1829 in a
building designed by the Paine brothers. It had originally been The County
Club, until it united with Cork Club. But they may have regretted this, as at
the end of the 19th century, a committee member from the city accused another
member of cheating at cards – poker to be precise. The fact that the accuser,
Richard Piggot Beamish, owner of the well-known brewery, did not play cards and
had not witnessed the game and that the accused, Joseph Pike was a longstanding
friend and neighbour, did not deter him from reading out the hearsay evidence
at a meeting of the committee.
Joseph Pike, the chairman of the Cork
Steamship company, sued for libel. Beamish pleaded, that as senior committee
member of the club, he had to conduct an investigation. The jury generously
returned a verdict for both plaintiff and defendant! They said the plaintiff
did not cheat, but that the defendant did not mean any harm when he accused him
of it. Though Pike's reputation remained unblemished, it was perhaps rather odd
that his mama should have presented the judge in the case with a handsome
residence in Douglas shortly after the verdict.
A very much more serious event happened on the
night of the July 17th, 1920 when masked men pushed passed the doorman, ran
into the smoking room, where they fired several shots at Col Gerald Smyth who
sitting down with four other men. He leapt to his feet and got as far as the
hallway before dropping dead.
Col Smyth was a much decorated officer during
the 1914-18 war when he had been six times seriously wounded and lost his left
arm while rescuing an injured NCO. Earlier in the year, he had been made the
RIC divisional commissioner for Munster and as such, a month before in
Listowel, he had made a speech in which he is quoted as having incited the
members of the RIC to take reprisals on the local populace. Later he denied
this, saying he had been misquoted in the Freeman's Journal.
Such was the unpopularity of Gerald Smyth that
only half the number of jurors needed for the inquest could be persuaded to
attend and no engine driver would bring a train with his body back to his home
in Banbridge.
In Banbridge, after his funeral, there was a
furious reaction; £40,000 worth of damage was done to Catholic buildings in the
town by rioters and Catholics could not be employed in the factories unless
they signed a document to say that they would not support Sinn Féin.
The Cork and County Club closed in 1989 – I
never did see the gentlemen's part of the club. Oh how I wish I had made a
stand for women's lib by pushing through the green baize door to see the
delights and comforts beyond.
Melosina
Lenox-Conyngham died on October 1st, 2011
<<<<<<<<<
Millenium Arch Rebuilding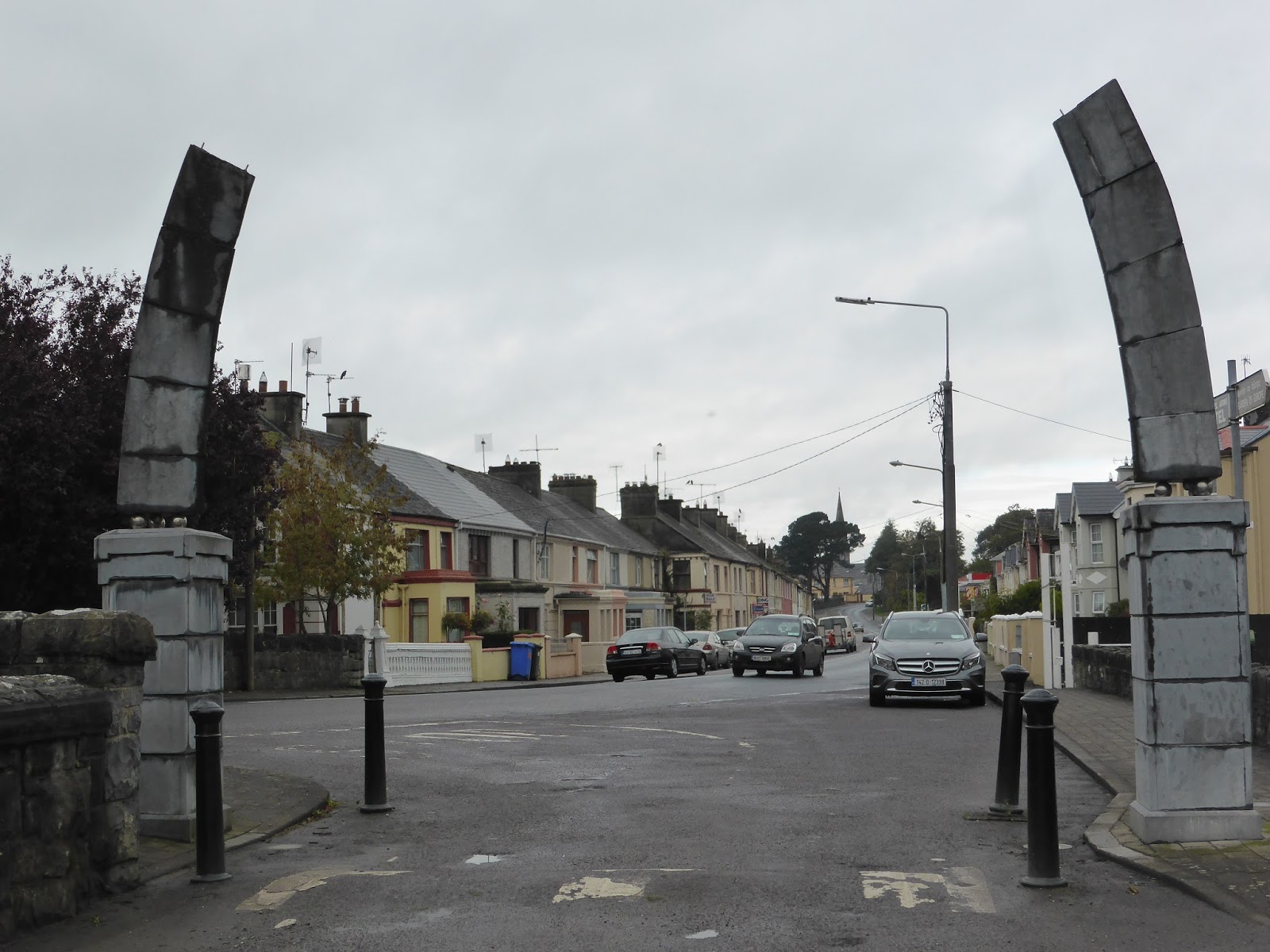 This is how the arch used to look after it was demolished by a storm in 2014. Now, May 2016 reconstruction is under way.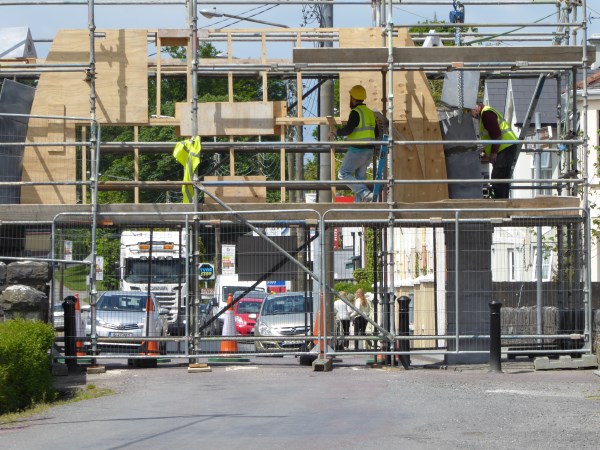 This is the scene at Bridge Road on May 25 2016.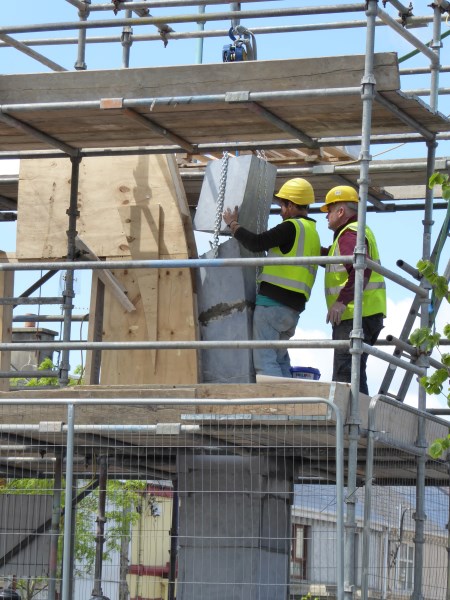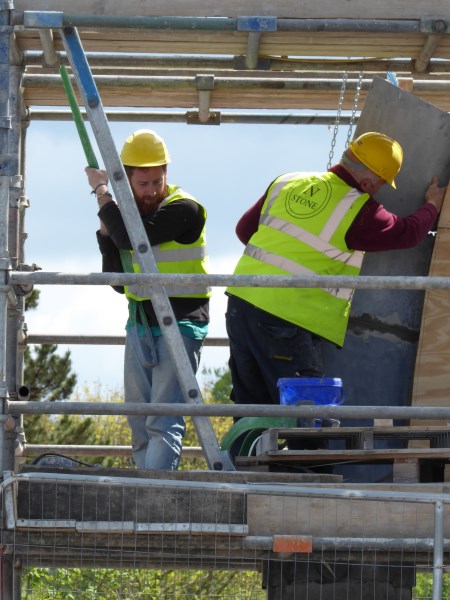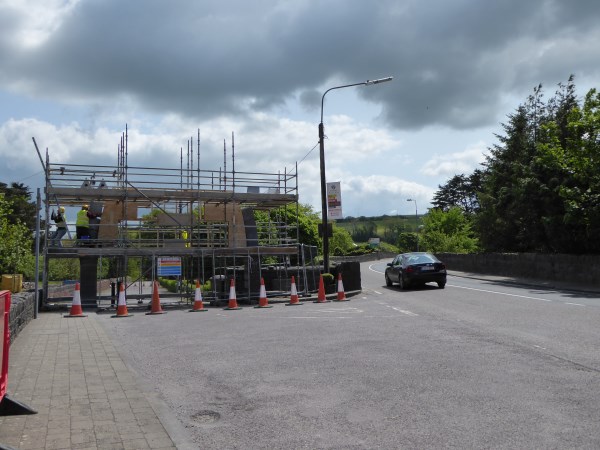 <<<<<<<<
"Lies, damned Lies and Statistics"
One of the fascinating aspects of blogging is the tool that analyises reader statistics. These days Listowel Connection gets between 300 and 600 views each day.
Not only can I see how many people are checking in but I can see where in the world they are located. It is a constant source of wonder to me that more people check in from France and Germany than from the U.K. Obviously Ireland is the location for most page views and not surprisingly U.S is a close second. One day last month 200 people checked in from Russia! The post was May 10 2016 and the title was Battle in The Square.
Another thing I can find out and this throws up the most surprising statistic of all. On one occasion in January 2012 I made a big booboo and I captioned a photograph of my former colleagues in Presentation Secondary School, Listowel as 1978 when, in fact, it was 1988. Feeling very contrite and anxious not to offend my friends I wrote a very short post correcting the error. The title I gave this post was "What's a decade between friends?" This post, believe it or not, has, over time, gained twice as many views as the next most popular post of all time.