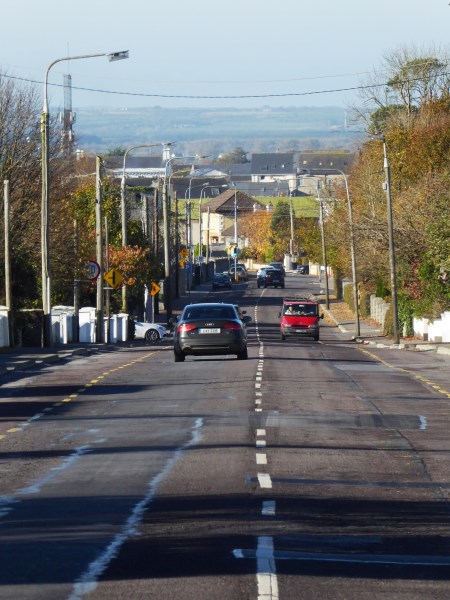 Cahirdown, looking towards town
<<<<<<<<<
Listowel Marching Band 1987
Charlie Nolan shared this great old photo with us.
Wouldn't it be great if someone could name names and tell us the story. I know the marching band brings back happy memories for a few forty somethings.
<<<<<<<
Killarney and Killarney House
Mons. Hugh O'Flaherty striding out beside the side entrance to Killarney House.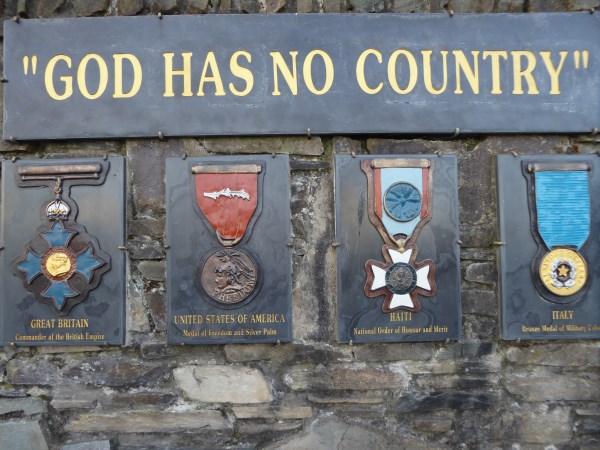 In the garden
In Killarney House you can take a guided tour and learn all the history of the house which was once a stable. You will hear how the McShane family sold it to the state for a pittance and how the state spent millions restoring it to the beautiful national treasure it is today. You are not allowed to take photographs during this part.
Last month they opened 15 new self guided interactive rooms and that is where I took these photos.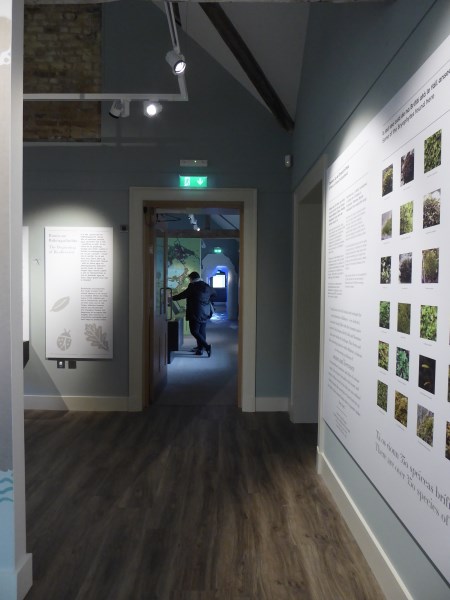 There is lots of information on the ecosystems and the people in the National Park. It is all presented in accessible and varied format.
I took this through a window looking out on the vast lawns and gardens which link up with the gardens at Muckross House.
Family photographs of Lord Kenmare (Killarney House was originally Kenmare House) tell us the interesting story of this family.
Lord Kenmare became Lord Castlerosse and he married Doris Delevigne. If that name is familiar it is because she was a relative of the now famous Cara Delevigne.
All the signage and explanatory notes are in Irish and English. Edward V11 visited Killarney House when he was Prince of Wales. Queen Victoria visited too and more recently Charles and Camilla came here as part of their Irish tour.
<<<<<<<
A Seán Mac Carthy Song
This is a very sad song of a mother who is encouraging her daughter to make the pragmatic but awful decision to marry for money and security rather than for love. This was in an Ireland when parents who knew poverty and hardship themselves appreciated the importance of land and money. Love was a luxury. You were lucky if it grew in a made match but many unions were unhappy unless you could find the mindset to count your blessings and make the best of your lot.
Mattie Lennon shared the lyrics with us.
DARLING KATE
You are fair of face, dear Kate, now you're nearing twenty-one,
I hesitate to spoil your dreams, when your life has just begun.
Your father, he is old, a grah, and I am far from strong,
A dowry from John Hogan's son would help us all along.
Just think of it, my darling Kate, you would own a motor car,
You'd wear fine linen next your skin and travel near and far.
Hogan's lands stretch far and wide, from Rathea to Drummahead;
He owns sheep and cows and fine fat sows; pyjamas for the bed.
I know he's tall and skinny, Kate, and his looks are not the best,
But beggars can't be choosers, love, when you're feathering your nest!
He's been to college in the town; his shirts are always new,
What does it matter if he's old, he's just the man for you.
I know you love young Paddy Joe, him with the rakish eye,
I've seen the way you look at him whenever he goes by.
I will admit he's handsome, Kate, but he doesn't own a car,
Sure, he likes to fight and drink al night above in Sheehan's bar.
Did I ever tell you, Kate a grah, that I was pretty too?
The summer days seemed longer then, and the sky was always blue!
I was only gone nineteen, and your father fifty-three,
But he owned the land on which we stand and he seemed the man for me.
There was a young man lived next door, I loved with all my might,
It was his face that haunted me when your father held me tight;
I longed, dear Kate, down through the years, for the soft touch of his hand.
But young love is no substitute for ten acres of fine land.
You will wear a long white dress and a red rose in your hair,
I will throw confetti, Kate, the whole town will be there;
You will make a promise true, to honour and obey,
I will stand on your right hand, and I'll sell my love away.
Tears are not for daytime, Kate, but only for the night,
You'll have a daughter of your own and teach her wrong fro right;
Rear her strong and healthy, Kate, pray guidance from above.
Then one fine day when she's nineteen—she might marry just for love.