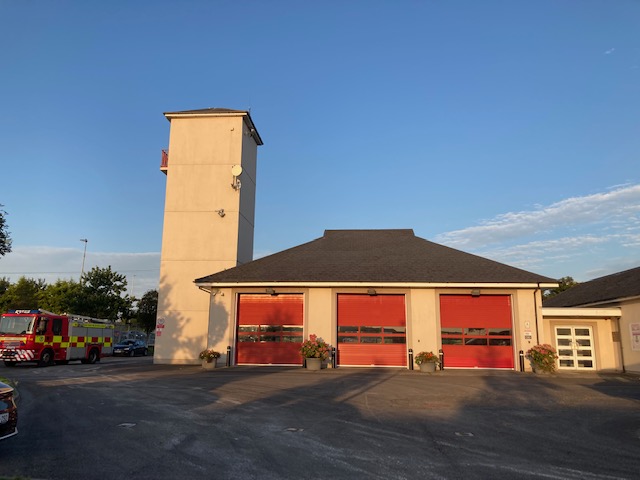 Listowel Fire Station at evening in September 2023
<<<<<<<<
Listowel Food Fair 2023
November 9th to 13th November 2023
<<<<<<<<
Flowers
Lovely Listowel is greatly enhanced in September 2023 by beautiful floral displays.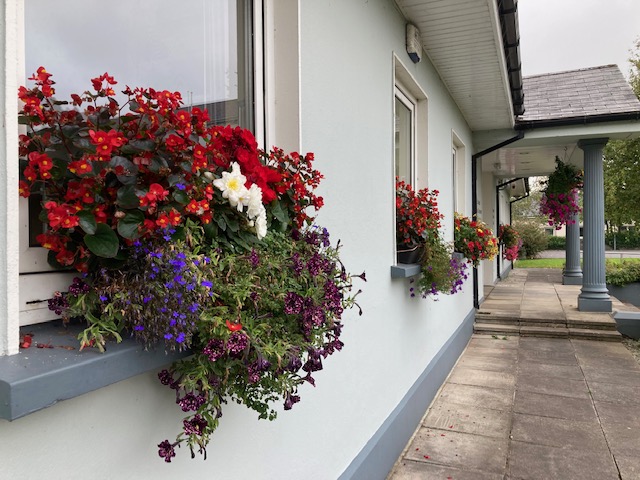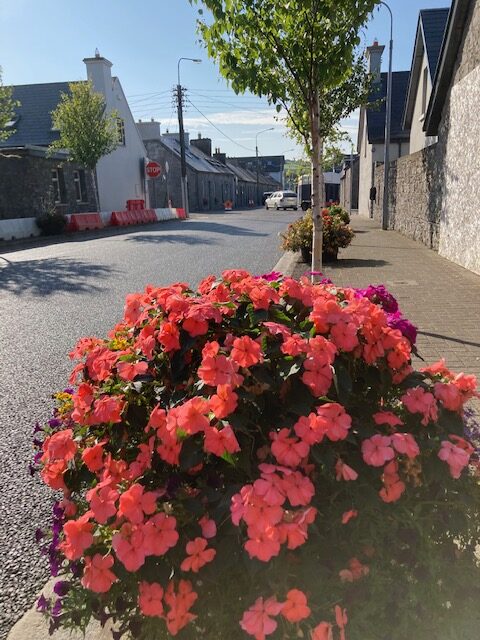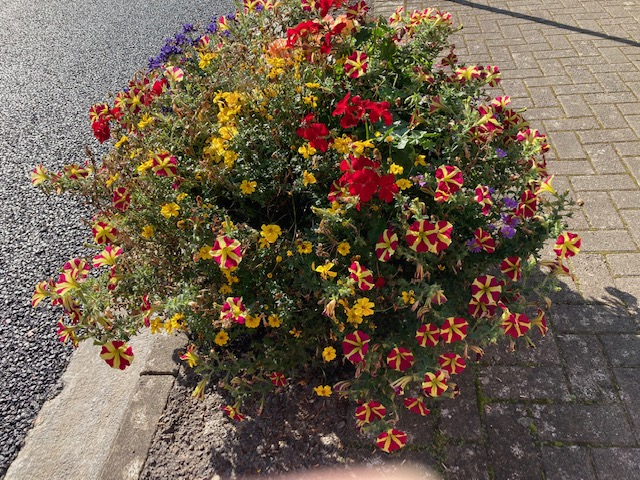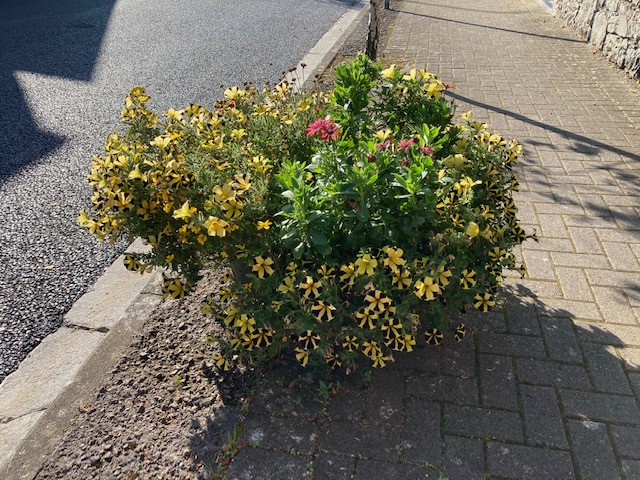 <<<<<<<<<
The Last of the Concerts (for now)
Kerry Sentinel, Saturday, 17 March, 1906; Page: 4
Grand Entertainment at Ballylongford
LECTURE AND CONCERT. On Friday night last a highly interesting entertainment consisting of a lecture on the Irish Brigade, illustrated with lantern slides by Mr Thos F O'Sullivan, Listowel, concert of Irish music was held in Ballylongford and was well attended.
The Rev Fr. Pierce, P.P, presided, and was supported by the Rev Fr. Enright, Sacramento, and the Rev J Dillon, C.C, Ballylongford. At the conclusion of the address, a hearty vote of thanks was tendered to the lecturer on the proposition of Fr Enright, seconded by Fr. Dillon.
The concert opened with the children's chorus "Erin the Tear," which was harmoniously rendered. " An incident of '98" by Misses Bride Shanahan and Bessie Fitzmaurice was warmly received. Hour hath Come by the same young ladies, with Miss Maggie Carmody, was a decidedly attractive and humorous item and richly deserved the applause bestowed on it. Miss Collins and Miss Carmody were responsible for the training of the children in these contributions, which certainly reflected credit on them.
Miss Shanahan sang " Carrigdhoun," and was warmly applauded while Mr Jas Leahy's recitation, " Fontenoy," was extremely popular. The duet " Molly Bawn," by Miss O Grady and Mr R Jones was much appreciated, and the Irish step-dancing of Messrs Hanrahan and Ahern evoked well deserved applause. In addition, Messrs ? Cotter and O Shaughnessy, Listowel, contributed largely to the success of the entertainment, which from start to finish was interesting, attractive and instructive. We understand a somewhat similar entertainment will be shortly held in Ballylongford when the lecture will be delivered by the Rev Fr. Enright, Sacramento.
<<<<<<<<
Another Gold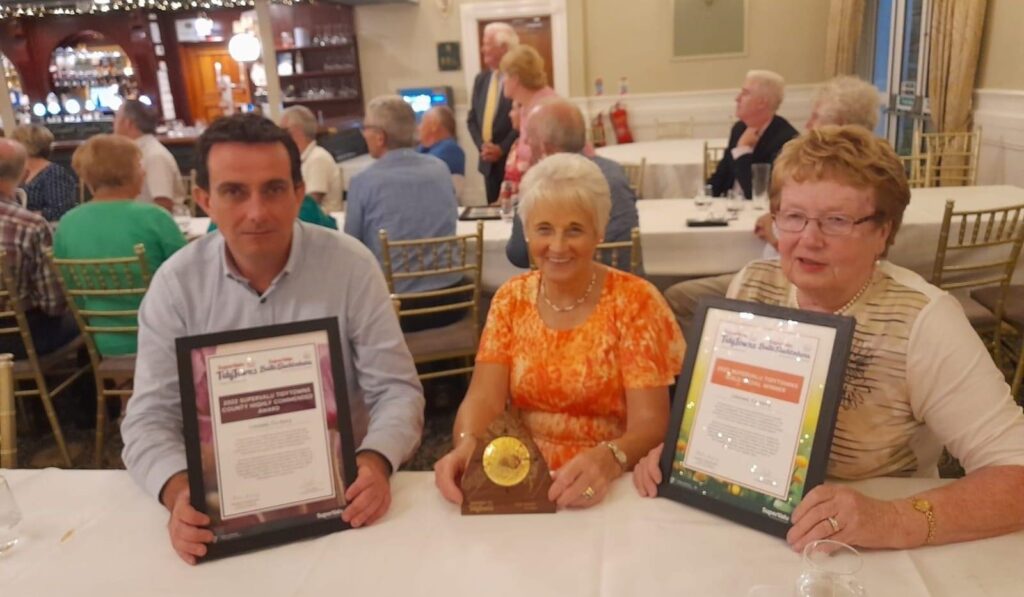 Representing Listowel Tidy Towns in Clonakilty on Monday last, Jimmy Moloney, Julie Gleeson and Breda McGrath picked up a well deserved 13th gold medal. In early October we'll know the national result.
<<<<<<<
Baile Mhúirne
This lovely little linear village on the road to Cork is soon to be bypassed. I dropped into the church on my way past last week.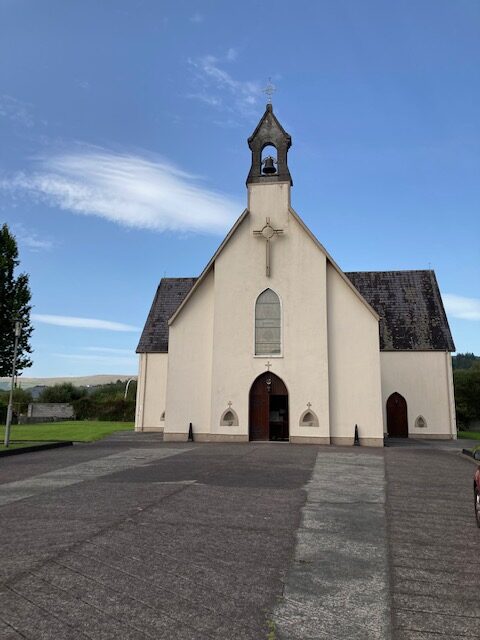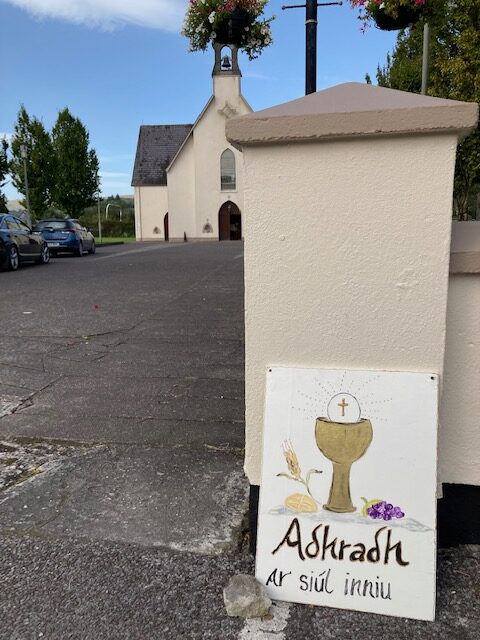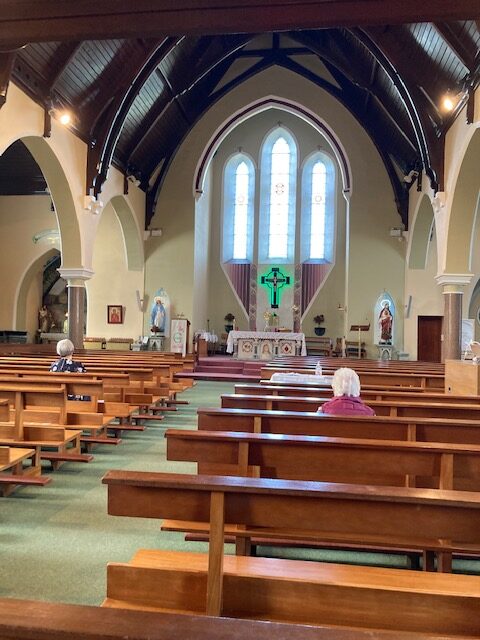 Eucharistic adoration was in progress so I couldn't do too much wandering around. The church was beautifully kept but obviously built in poorer times, with little enough stained glass and no mosaic work.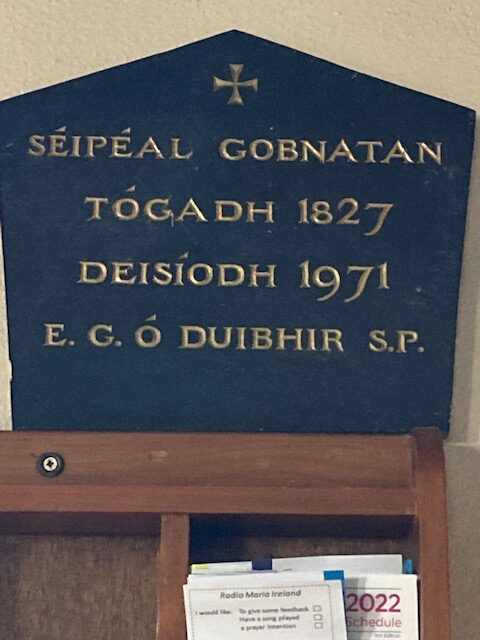 <<<<<<<<
1960's Guide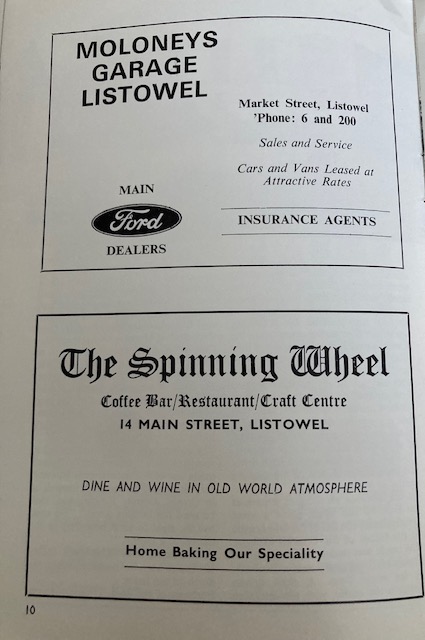 Two businesses now the stuff of memory
<<<<<<<<
A Fact
In 1492 Pope Innocent VII was dying. On the advice of his physicians he drank the blood of three young donors. He was convinced that this would keep him young and healthy. It didn't. He died shortly after.
<<<<<<<<