On Saturday September 20 2014 Listowel Tidy Towns Committee organized an innovative and uplifting event at Listowel Harvest Festival of Racing.
Although there were winners and prizes, it was not so much a competition as a celebration. It celebrated family, rural life and the craft and skill of the needlewoman and the tailor. There was love here, hard work, an appreciation of fine work and fine design but most of all there was family history and beautiful materials and designs that have stood the test of time.
Every outfit had a story and the stories were as fascinating as the garments and accessories.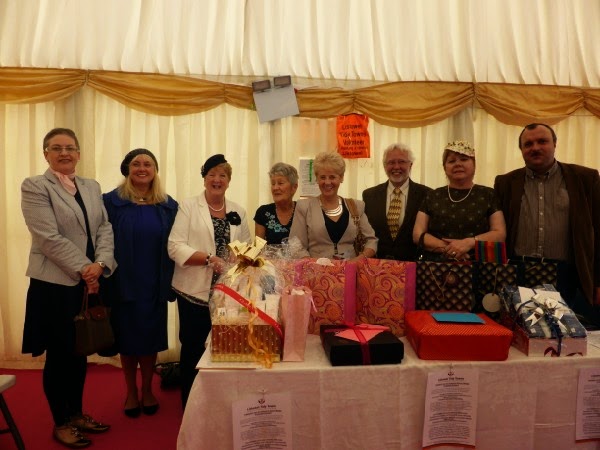 Members of Listowel Tidy Towns Committee with prizes.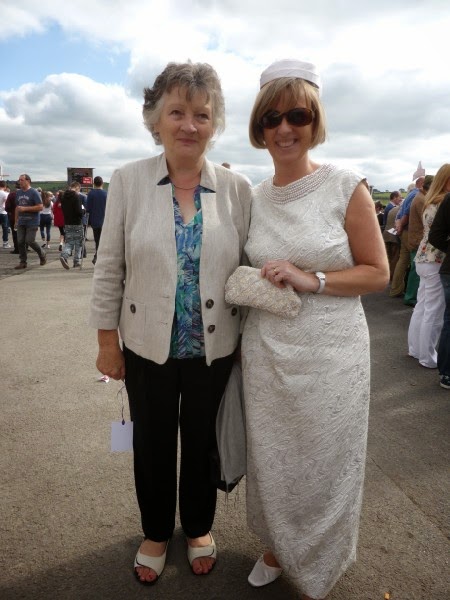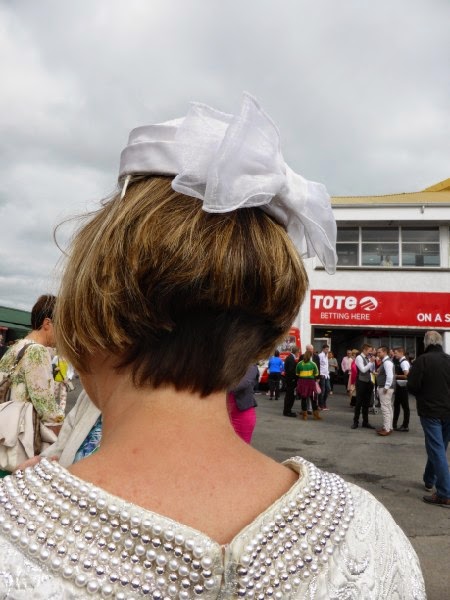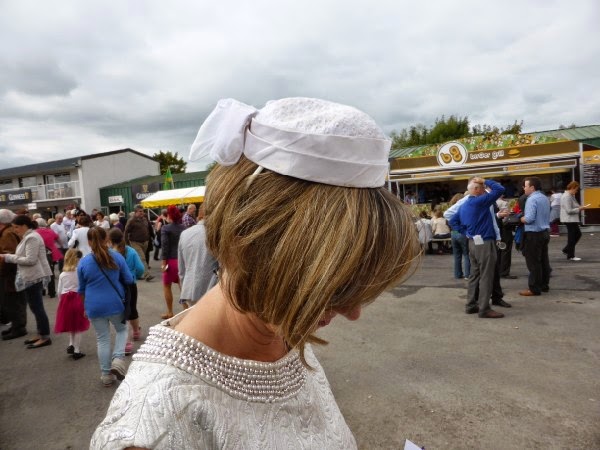 The top picture is Frances O'Keeffe and her daughter, Edel. Edel's outfit was customized by Frances from a dress given to her many years ago by local woman, Suzie Moore R.I.P.
Suzie was a matron in a London hospital. The hospital was to receive a visit from Her Majesty, Queen Elizabeth and Suzie was to be presented to her. She had a beautiful dress made especially for the occasion. The material was a rich silver brocade and hundreds of pearls were hand sewn on to the neckline. It was such a beautiful thing that Suzie, when she returned to Listowel in her retirement, brought the dress with her and gave it to her friend, Frances O'Keeffe. She knew that Frances was a dressmaker and was the person most likely to appreciate this beautiful creation.
Frances kept the dress all these years. It was far too beautiful to cut up but there never was really an occasion for it and besides, it was far too big for Frances or for Edel. When she heard about this event at The Races, Frances realized that it was time to take out Suzie's dress and customize it to fit Edel.
Edel wore the dress with the lovely pillbox hat that her mother wore on her wedding day and she also carried Frances' beaded clutch bag. The outfit was stunning and turned many heads on the day. It was a lovely tribute to a well known Listowel lady, Suzie Moore, and a tribute to Frances' appreciation of fine materials and classic design.
Like so many outfits on the day, it was also a celebration of family.
…………..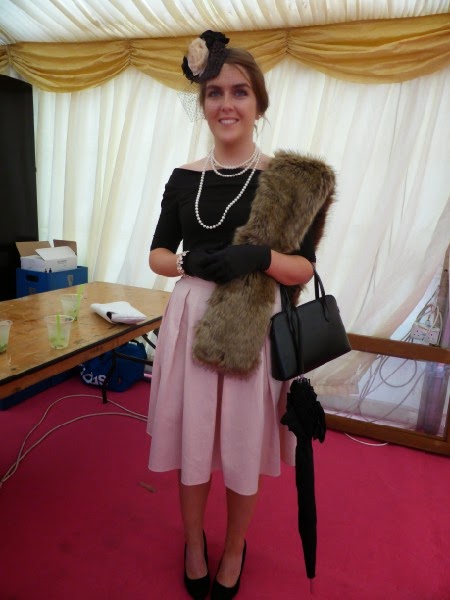 Mary Moylan wore a fifties style outfit. She made the hat herself from the remnants of an old hat and some flowers she took from an artificial bouquet. Her pearls were left to her by her grandmother. Her shoes gloves and bag were once worn by her mother.
She used these accessories to accompany her vintage style boat neck top and dusky pink skirt. Mary's timeless style was a hit with the judges and photographers.
…………..
And the winner is….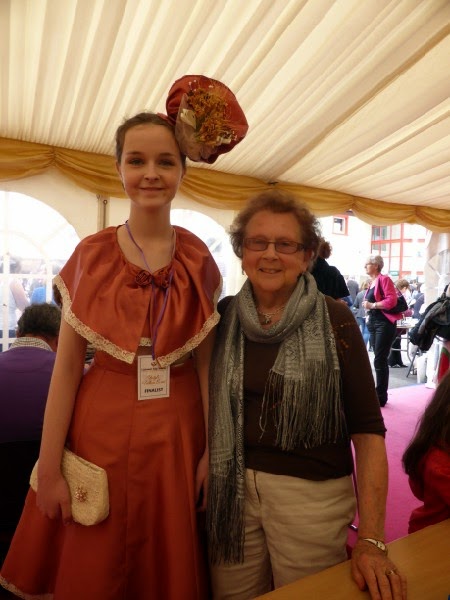 This is Leona de Staic in an outfit up styled by her grandmother, Betty Stack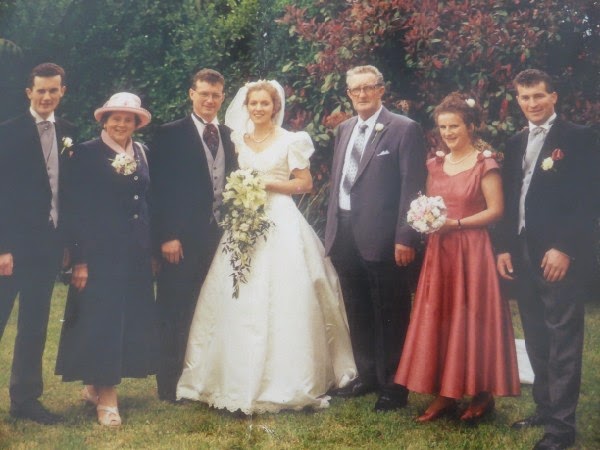 Here is the great "back story".
The bridesmaid in the above photo is Maria Stack. The dress she is wearing was made by the bride, Eleanor. Eleanor is Leona's mother. So now, the dress has got a new lease of life and even swept first prize in the up styling competition. Maria provided the dress and the dried out bouquet. Her mother, Betty, restyled it into a more modern style to fit her granddaughter, Leona. The bouquet went to make the headpiece.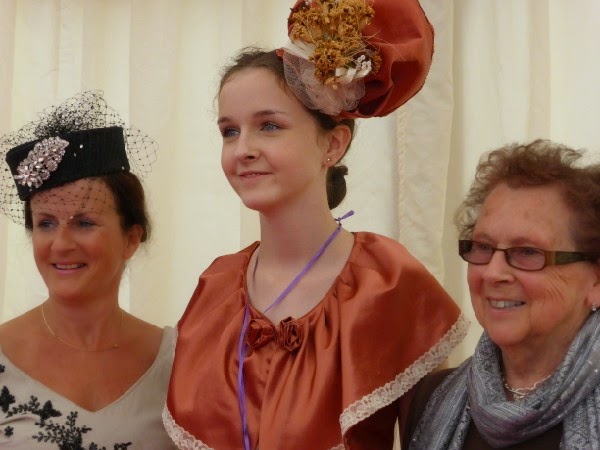 …………
What a stylish family!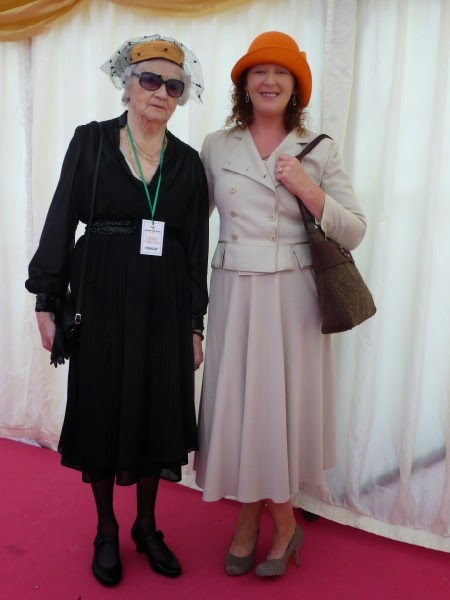 This is Cáit Ní Airtnéide and her granddaughter, both wearing clothes from Cáit's wardrobe. Cáit came second in the competition with this dress which she bought as a young farmer's wife, to wear to her first creamery social. The hat she bought years ago for her son's wedding .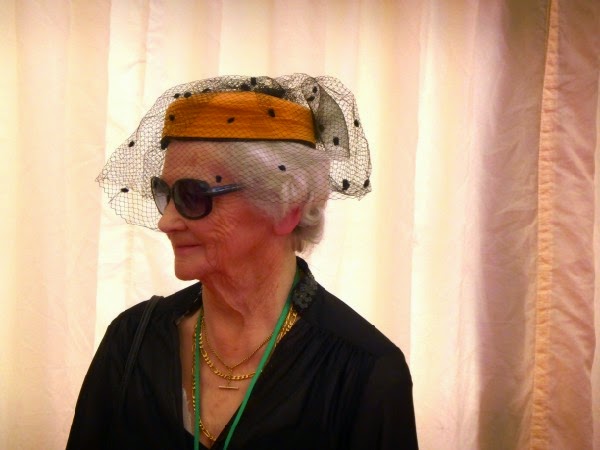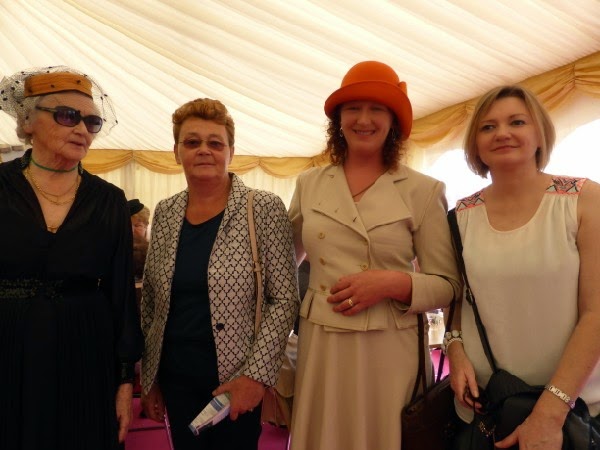 Cáit with some of her very glamorous family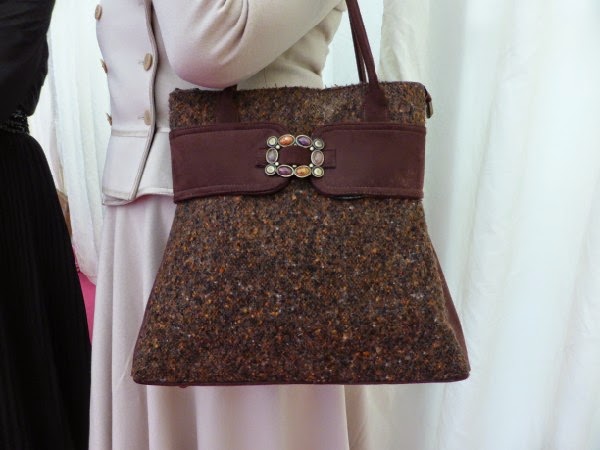 The bag came from Muckross Weavers. The style and quality make it timeless.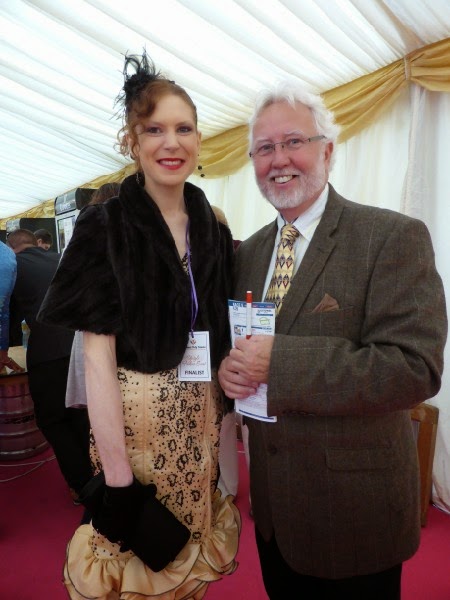 Emer Prendeville bought her lovely dress for her first Writers' Week event.
Kieran Moloney introduced the recycling event on behalf of Listowel Tidy Towns Committee.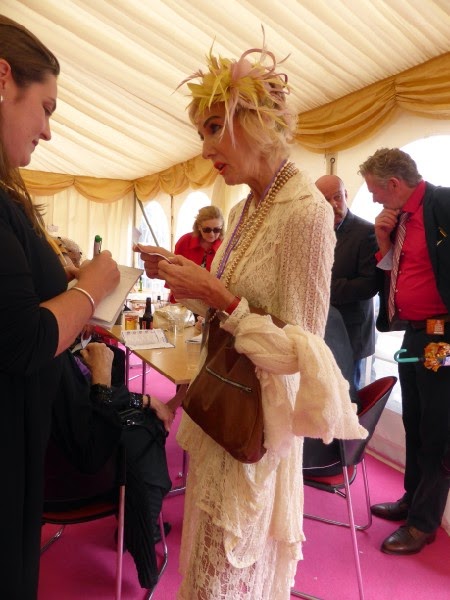 This lady, on her second visit to Listowel Races bought her outfit in a vintage store in New York.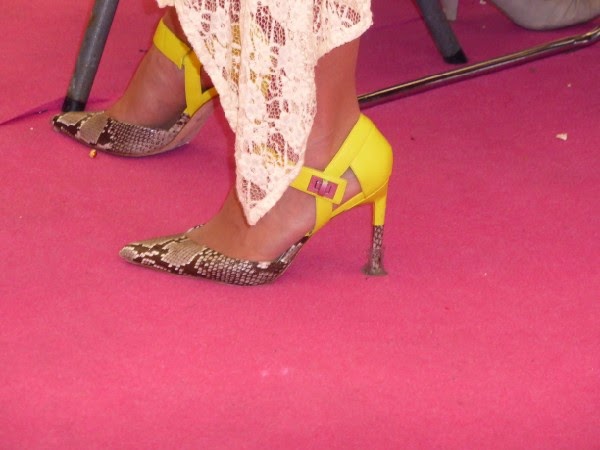 Her shoes were the most eye-catching in the competition.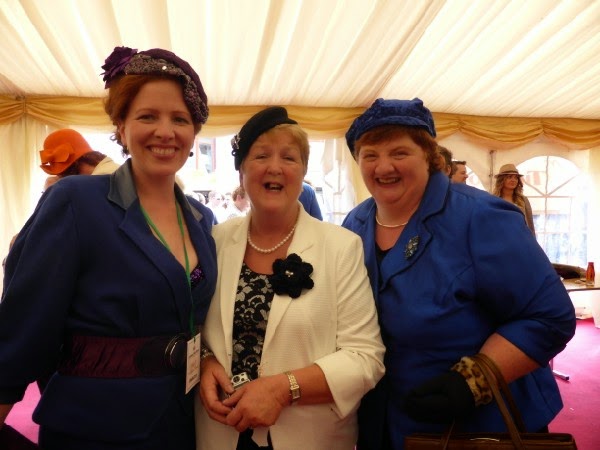 Mary Hanlon and Frances Kennedy posed with this lover of vintage wear who was one of the runners up.
Orlagh Winters, judge and compere, loved this outfit.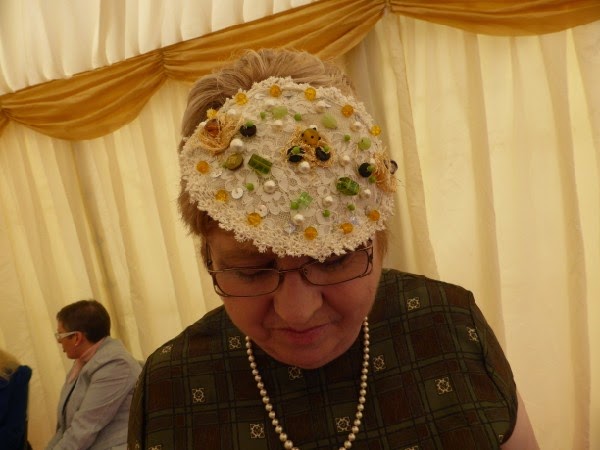 Imelda Murphy made her headpiece out of shoulder pads to which she sewed pearls, beads and other pretty notions.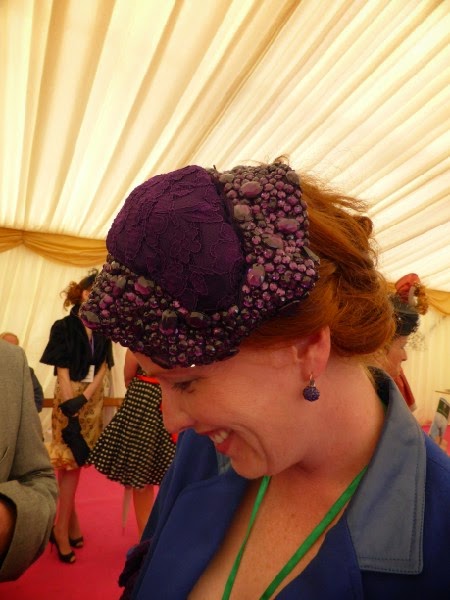 This hat was made from an old top. Some people never throw anything out. The difference between hoarders like me and people like this handy talented needlewoman is that they can restyle the kept things into a beautiful new creation.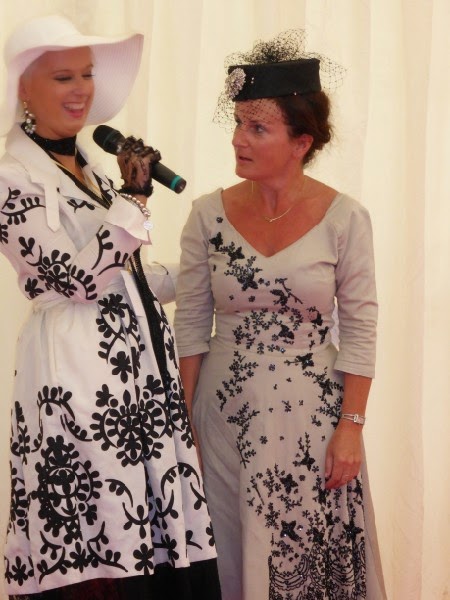 Maria Stack wore an old dress she had in her wardrobe and, of course, she made her own hat.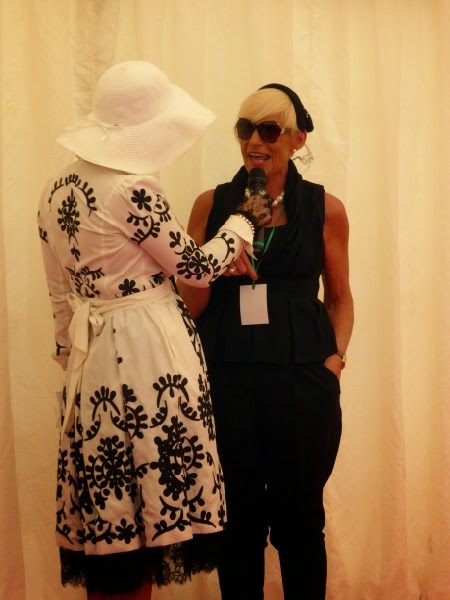 Martina Leahy sourced her outfit on the internet for Listowel's Military Weekend.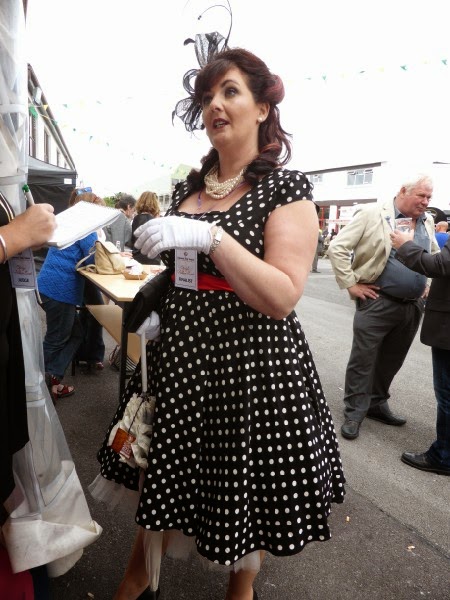 There was an Imelda May feel to this one.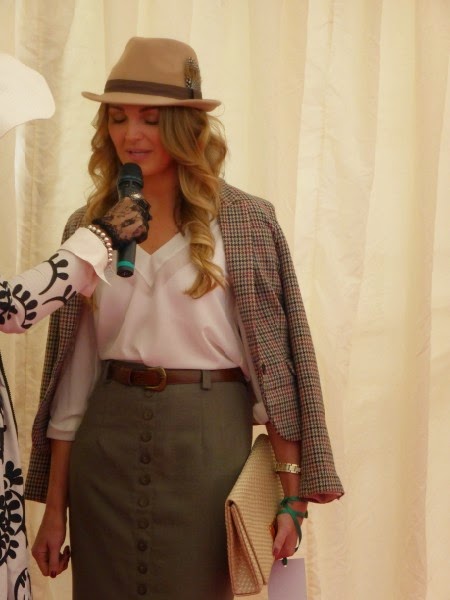 This young lady got a present of a sewing machine for her birthday and used it to customize her mother's old skirt. She teamed it with a modern top and jacket. Swit swoo!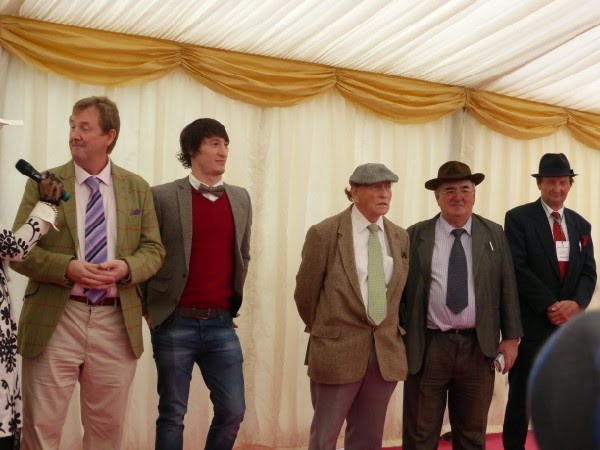 There was a competition for men too. These are the finalists.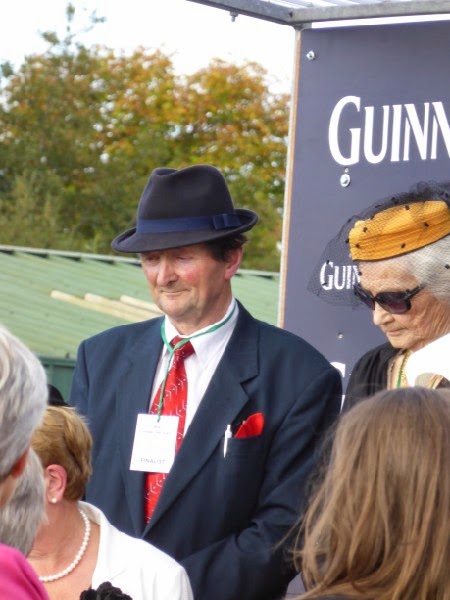 This man won with a very smart conventional navy suit with red accessories.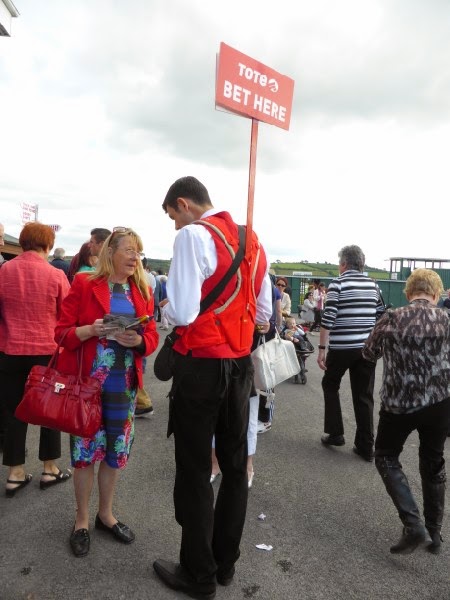 Meanwhile the business of racing and betting went on outside the tent.