One of the best parts of Writers' Week for most local people is the opportunity to meet up with old friends who come home to Listowel for the festival. What better place to meet these friends than at a "local" event. One of these events this year was a tribute by Owen MacMahon to his late father, Bryan. Owen managed masterfully to show us what made Bryan MacMahon 'tick".
Our own local "údar agus oide" was brought to life before our eyes but we also got a glimpse of the great man as father and husband. Owen shared his unique insights into everyday life with a disciplined writer, a man of fixed habits but above all a story teller extraordinaire. Maybe a more fitting title would be " údar, scéalaí agus oide" .
Owen's enormous pride in his father shone through in every anecdote. Bryan MacMahon was a writer deeply rooted in his native place. He respected and honoured his own people: he celebrated them in ballads and stories but he always treated them gently and with a tolerant teacher's understanding of the shortcomings of the human condition.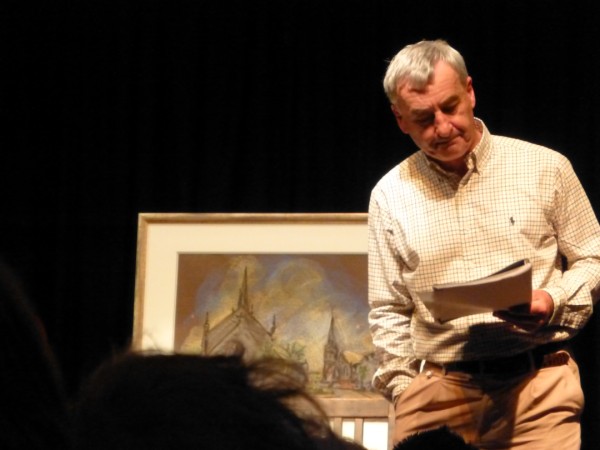 The singing of Karen Trench, Philip Enright and Sonny Egan added to this gem of a performance; for me the theatrical high point of this year's Writers' Week.
<<<<<
I met a group of old Listowellians, pictured below, reunited as they left St. John's after another vituoso local performance from essayist, Cyril Kelly. Cyril has the gift of turning the minutae of everyday life as he lives it, into charming evocative pieces with universal appeal.
His essays are a delight to read on the page but far far more delightful when read in his distinctive musical voice.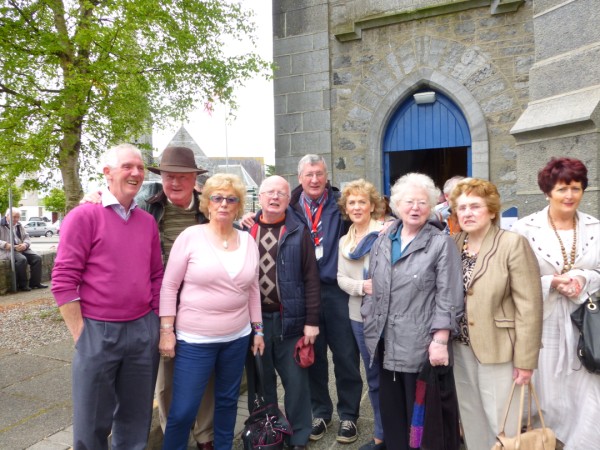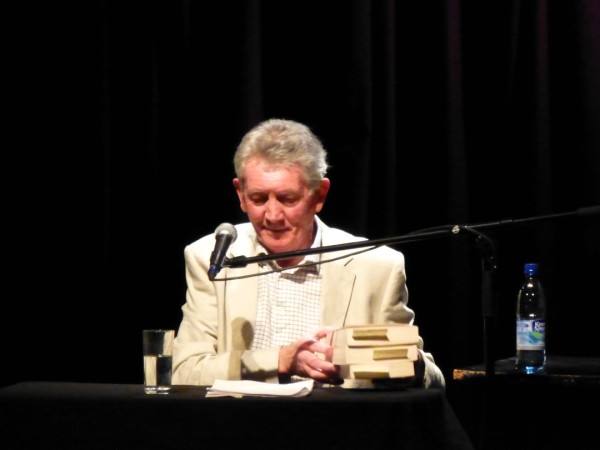 Cyril Kelly reading in St. John's
Vincent Carmody introducing Cyril to the audience.
Cyril gave a second performance on Saturday in Tae Lane Store where he spoke about growing up in the house of a milliner. I'll tell you more about that tomorrow.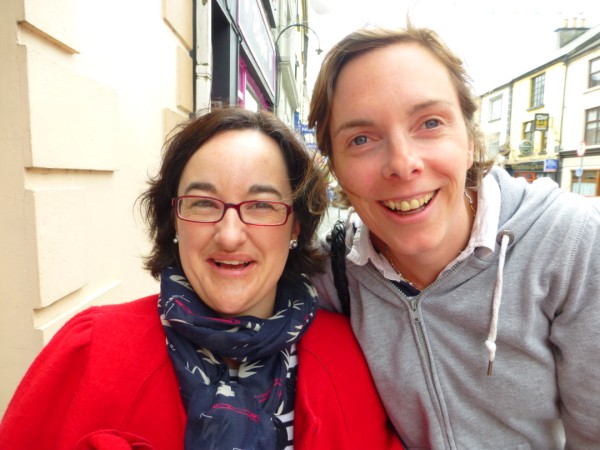 School friends and old neighbors, Máire MacMahon and Anne Cogan met up during writers' Week 2013.
Joan Regan and Jim Cogan take a stroll before the theatre on Sunday night. They saw King of Carnage, an enjoyable light hearted farce, just the ticket for those suffering from literary overload.
<<<<<<<<
This picture of Ballybunion on Friday June 8 2013 comes from
https://www.facebook.com/pages/BALLYBUNION-not-just-a-placemore-a-way-of-life/125749737436255