Lovely Listowel, My Home Town
Every emigrant knows that you can have two homes. It is no disloyalty to the place where you were born to love your now home, the place where you were welcomed and made to feel at home and part of the community, the place where you raised your family, where you worked and lived and made so many friends.
For me, Kanturk was my first home and I give it my love and loyalty always. Listowel is my home now. It is the town that took me to its heart, welcomed me and made me feel at home. It is where I have lived, worked and loved for nearly a quarter of a century in the midst of a generous community that nurtured and took care of me and mine. It is where I now feel most at home.
I was never more proud of my town than I was yesterday, July 25 2019 when the Entente Florale adjudicators came to town.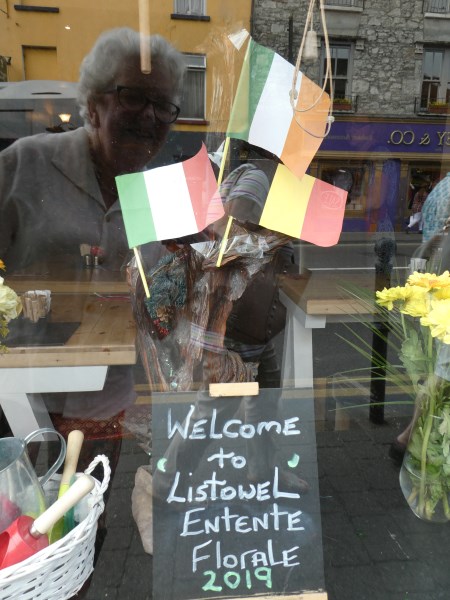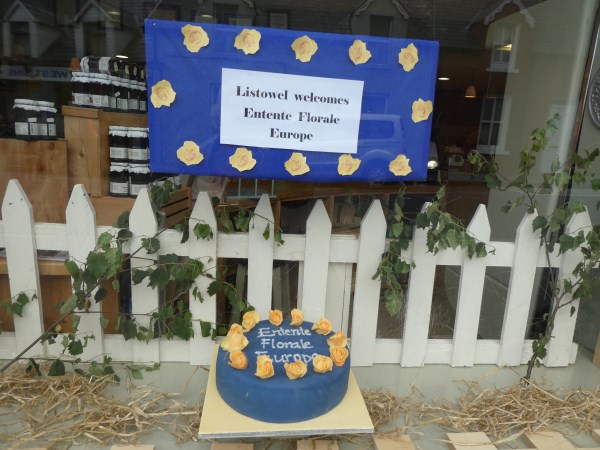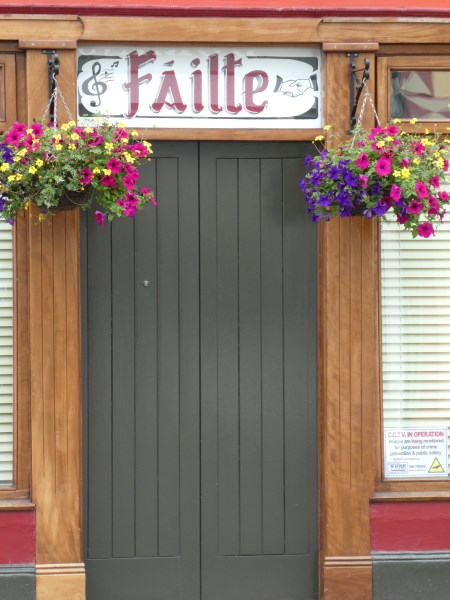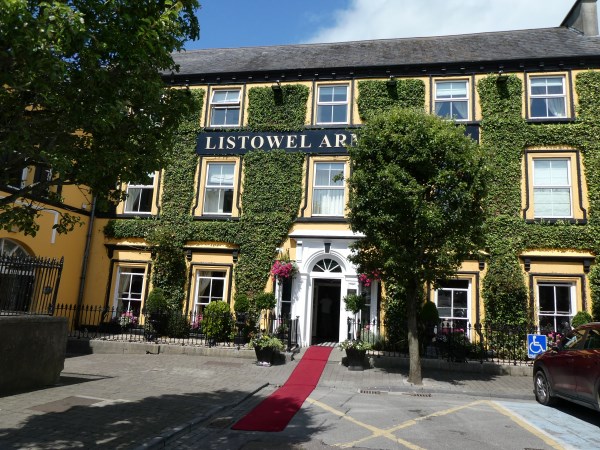 We rolled out the red carpet, we baked the cake, we painted, clipped and washed and the lovely Tidy Town folk picked up every last bit of litter.
Whenever we have important visitors coming to our homes it is usual to do a bit of tidying before they arrive. This might consist of pushing the newspapers under the cushions, hoovering like a mad thing and putting everything untidy under cover. This was not what happened in Listowel yesterday as the finishing tidying was being done for our VIP guests. I was in town with my camera and today I am devoting my whole blogpost to images of my beautiful second home; beautiful, beautiful Listowel in July 2019.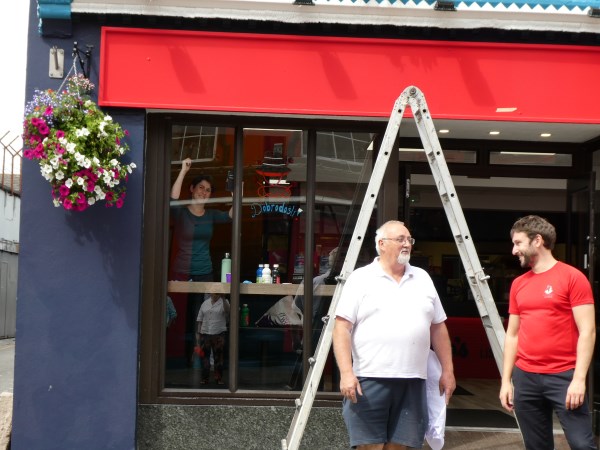 Flower boxes, hanging baskets and window boxes appeared in places where we weren't even aware there was a ledge or a window.
Then the shops came on board and business people arranged window displays with symbols of the participating countries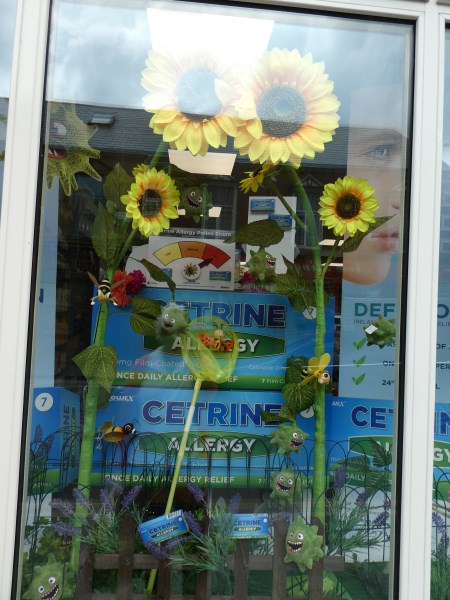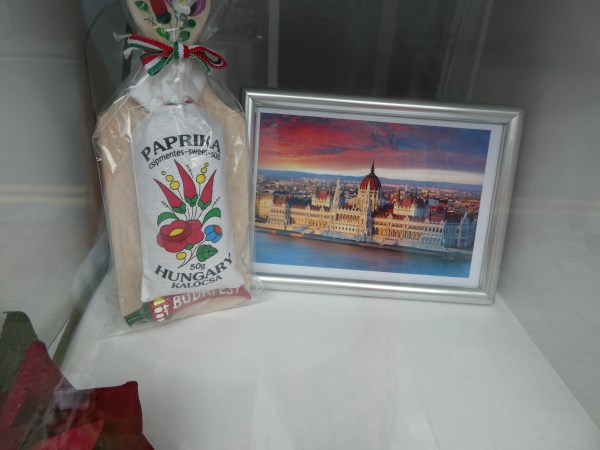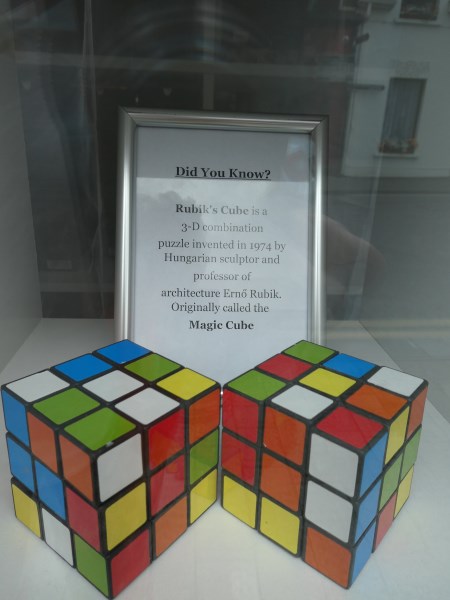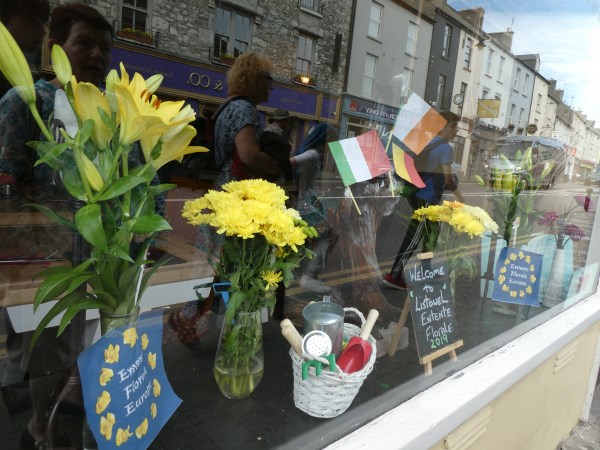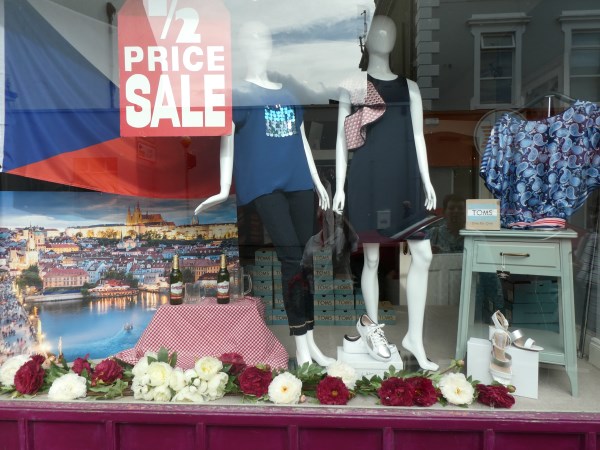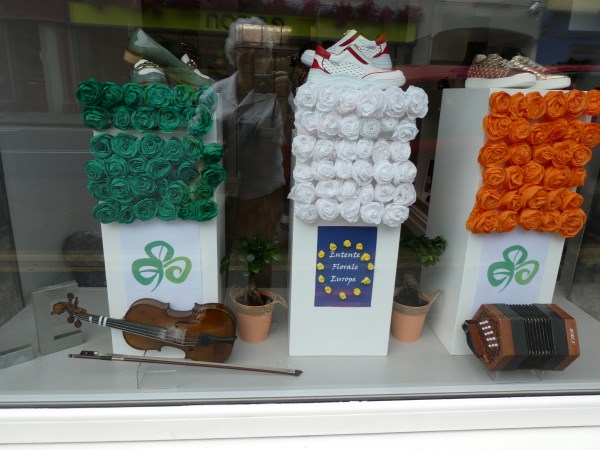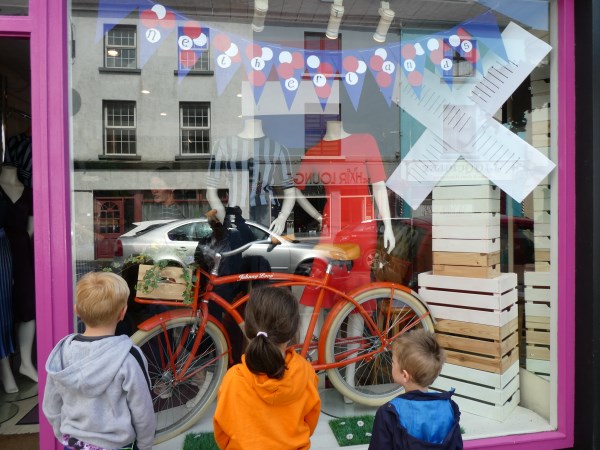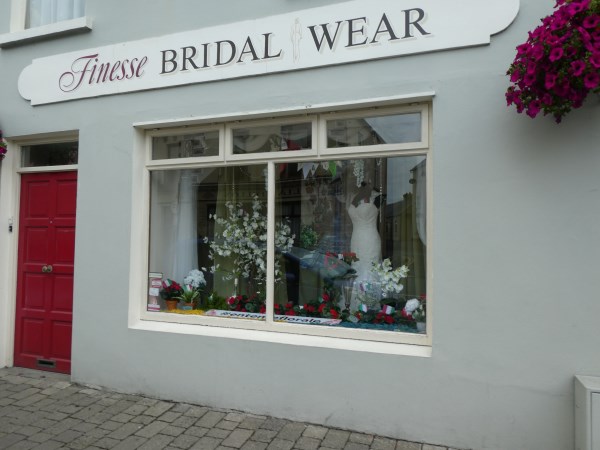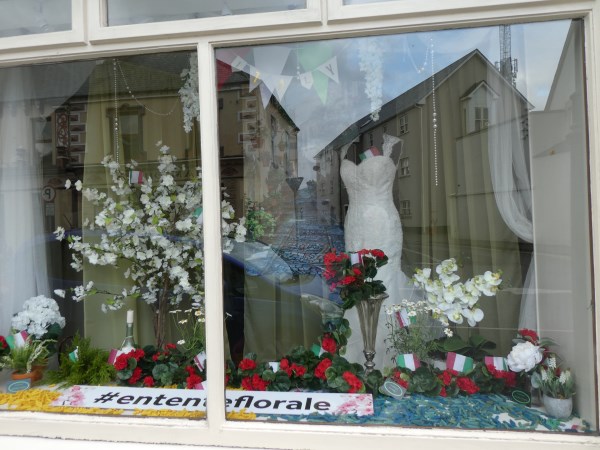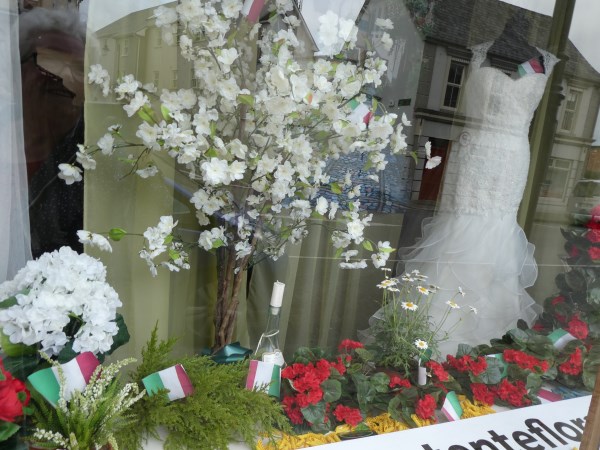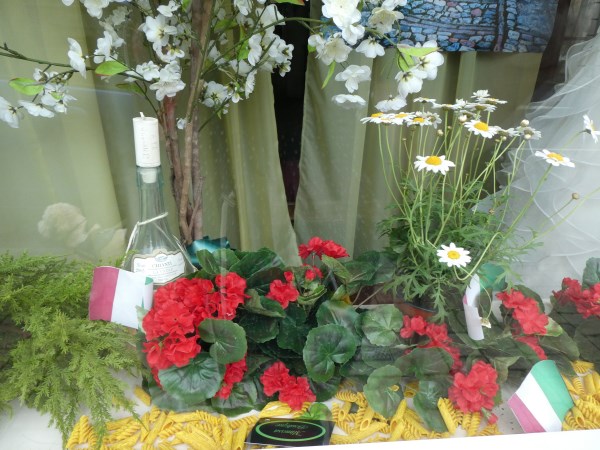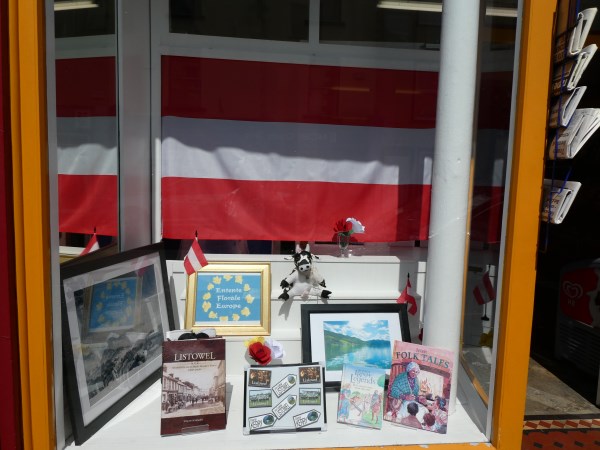 The local Tidy Towners were out in force on the morning of Judgement Day.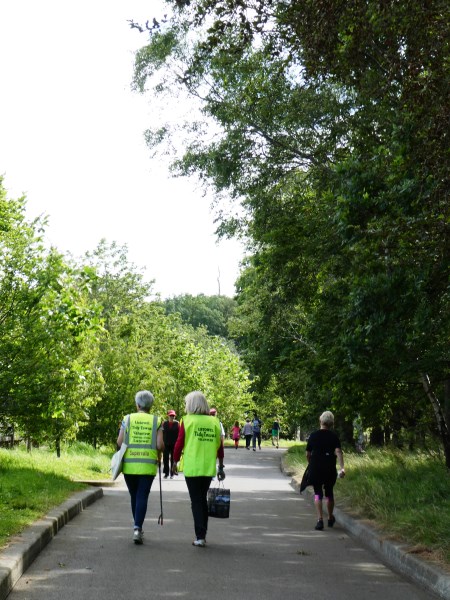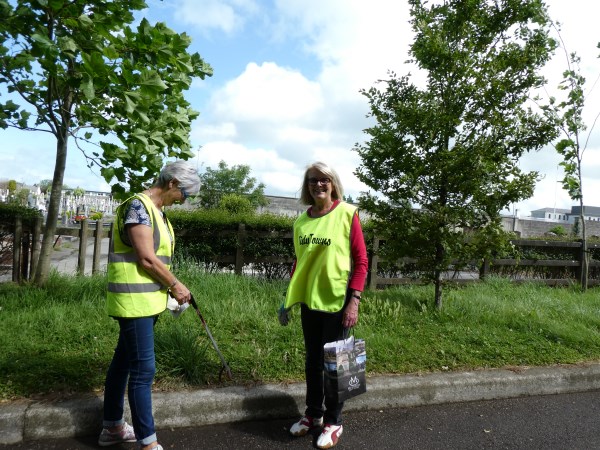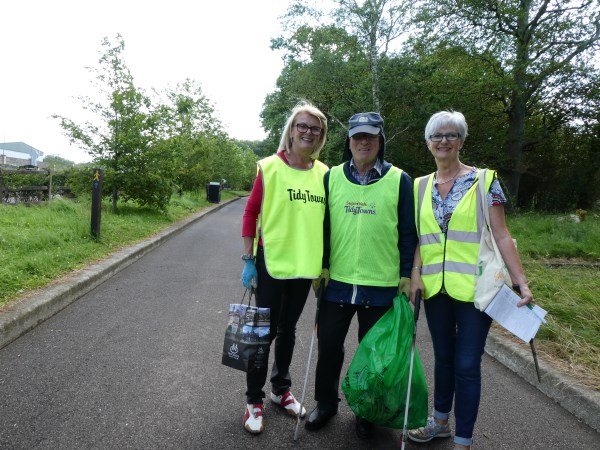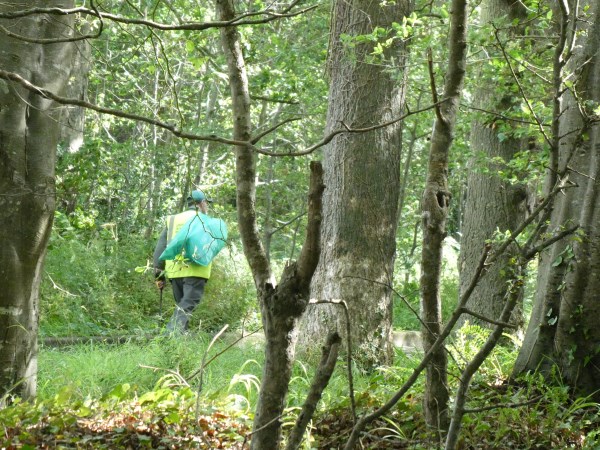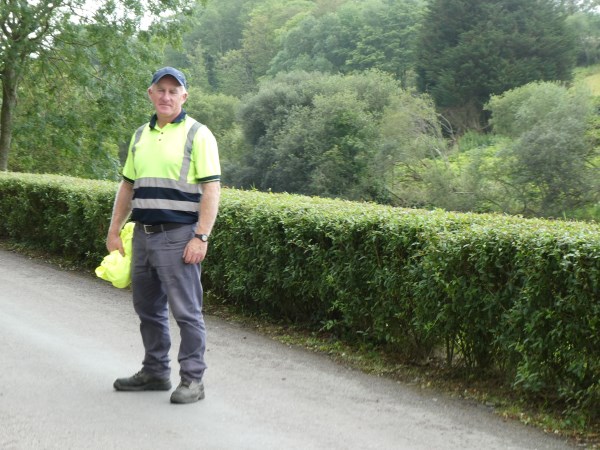 The judges were given a whistle stop tour of a list of pre agreed venues. They gave nothing away, made no comment or appeared to enjoy or be impressed by the display Listowel put on for them. They are impartial judges after all.
I went around slack jawed with my camera in obvious awe at what was on display. I am only giving you a small taste of the showcase Listowel people gave our lovely town on July 25 2019.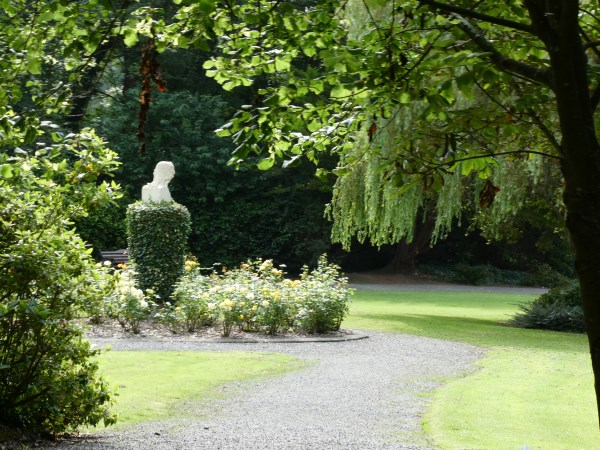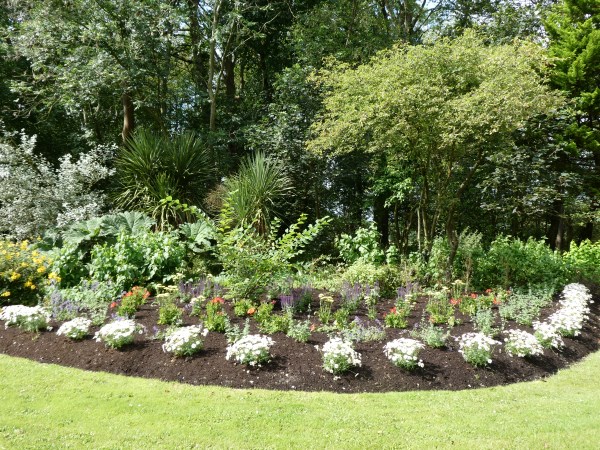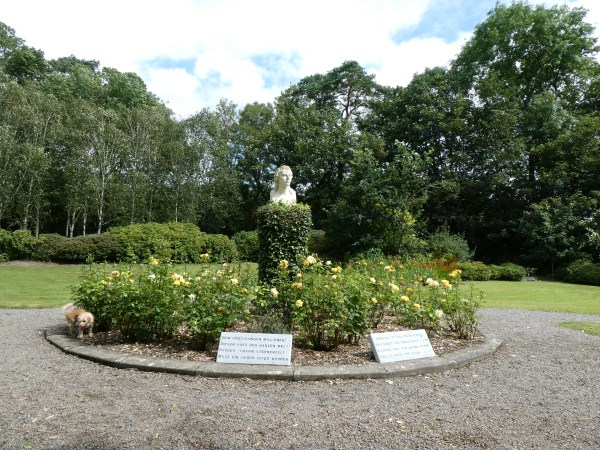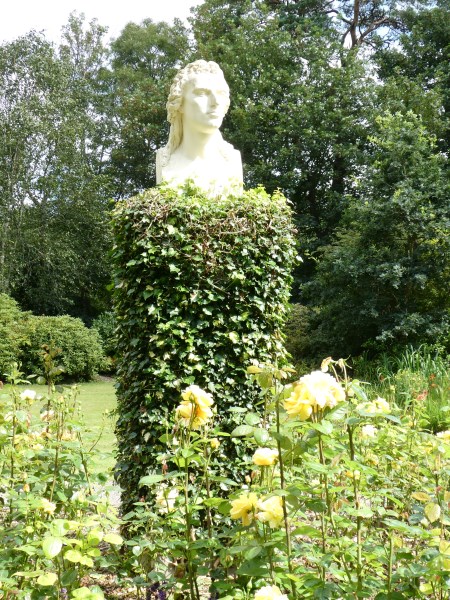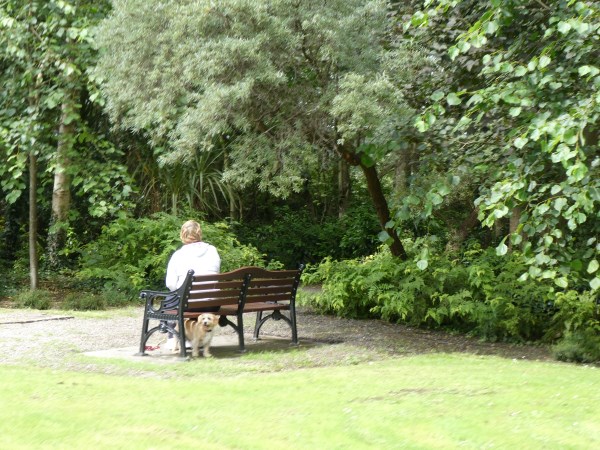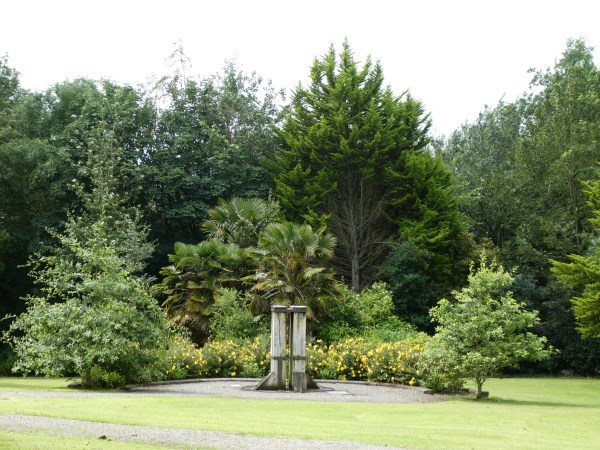 The Garden of Europe with its new planting looked its best ever.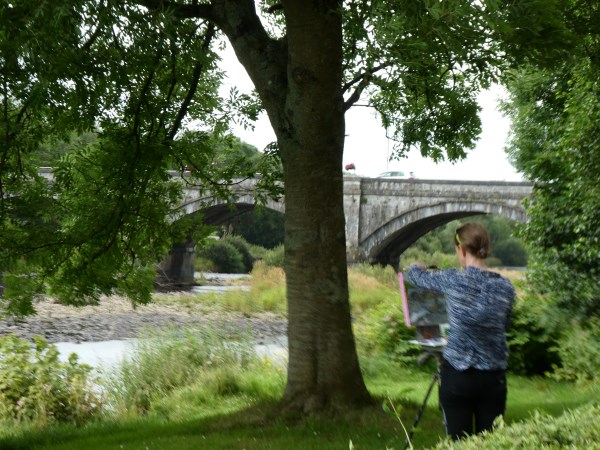 By the river there was some plain air painting going on.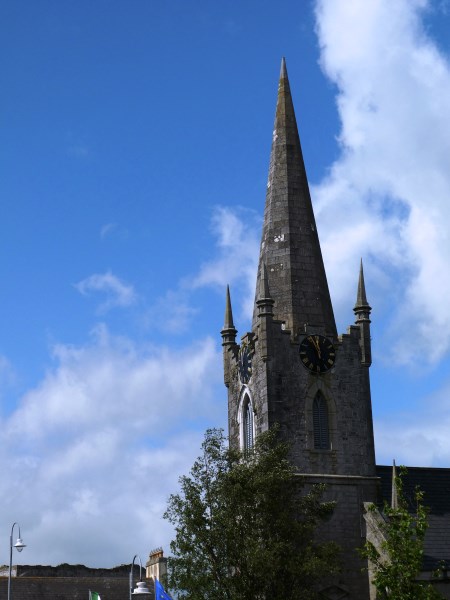 The Square was buzzing. Ballydonoghue Comhaltas was putting on a concert. John Stack's set dancers who were still celebrating their Fleadh Cheoil success at the weekend danced a set and Katie MacNamara's musicians played. Heavenly!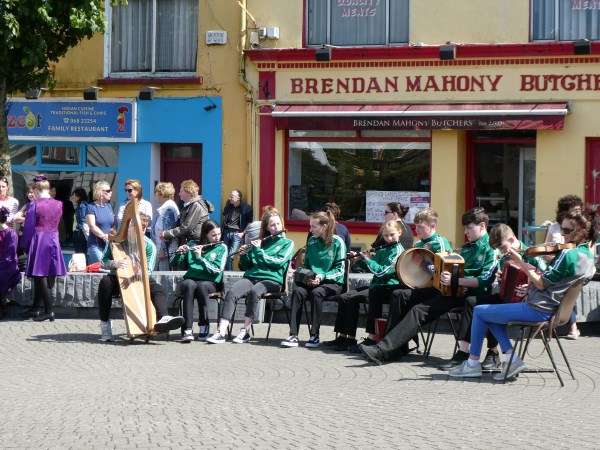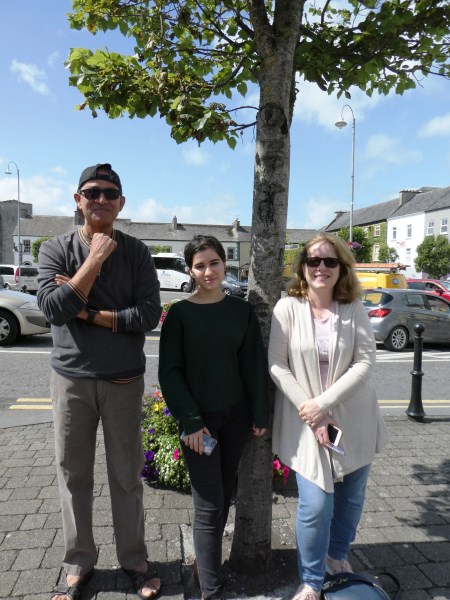 Visitors from Dubai were delighted they hit town on just the right day.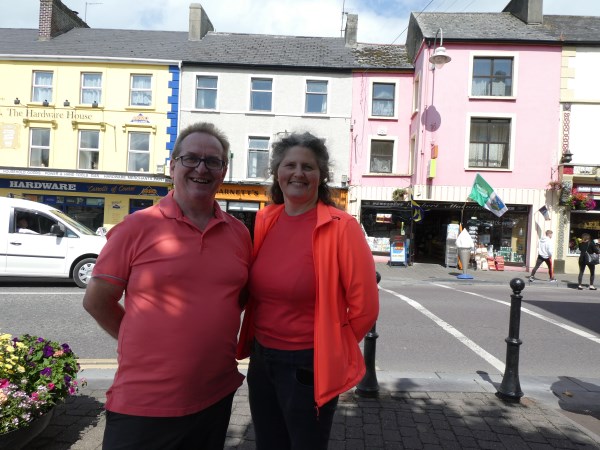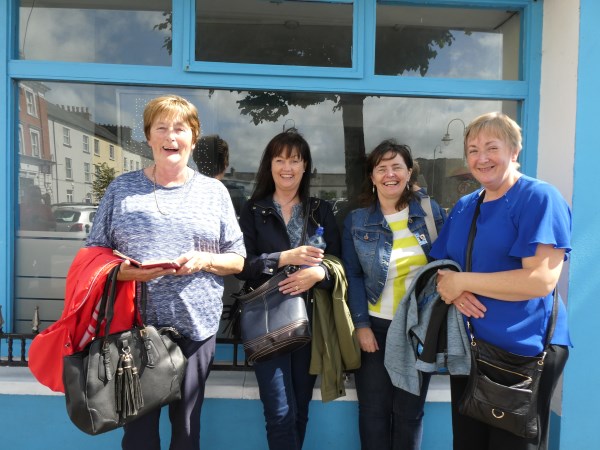 The proud mammies and supporters were holding the coats.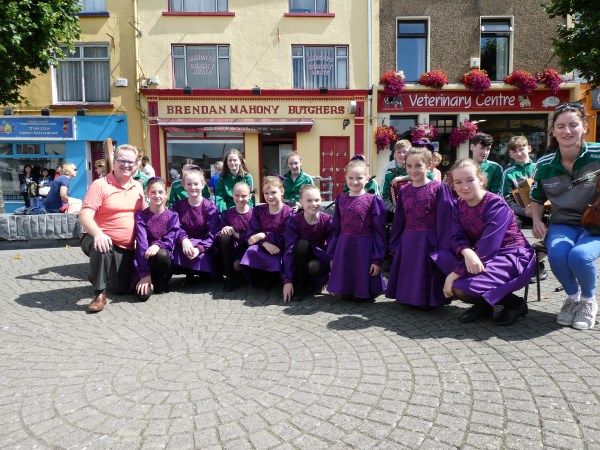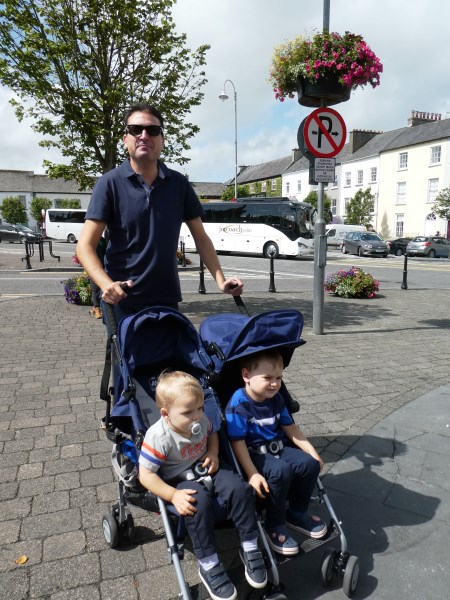 Brian Mulvihill, home with his family from the Caymen Islands was enjoying the spectacle.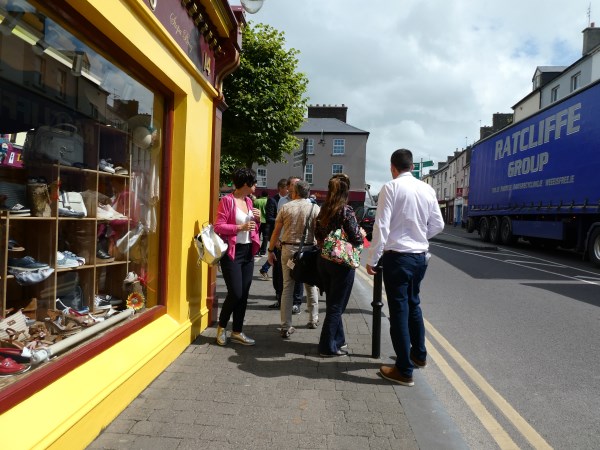 As I approached the Small Square I ran into the judges and entourage. I ignored them in case they thought I was trying to influence their decision in any way. There was a mini market going on here with lots of local crafters and producers displaying their wares.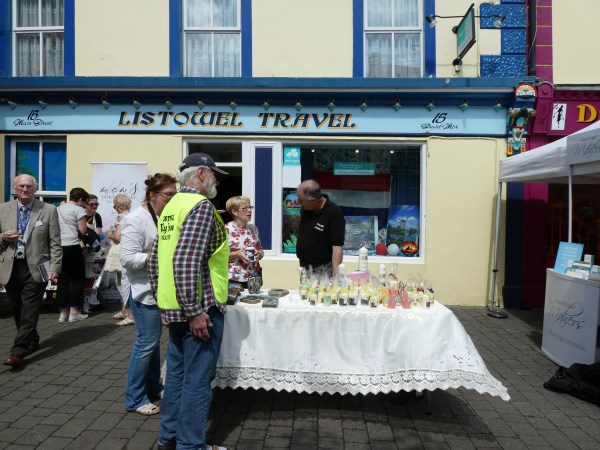 Kissane Candles and the Olive Stack Gallery had a display.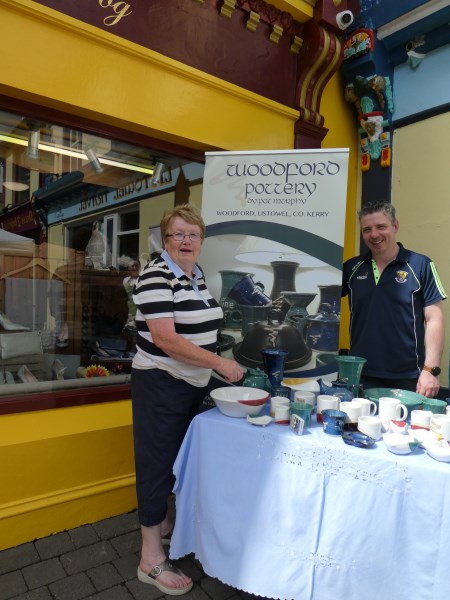 Breda, the less camera shy of the two "Dawn Raiders" who head out at the crack of dawn every morning to pick up litter, was admiring Woodford Pottery display.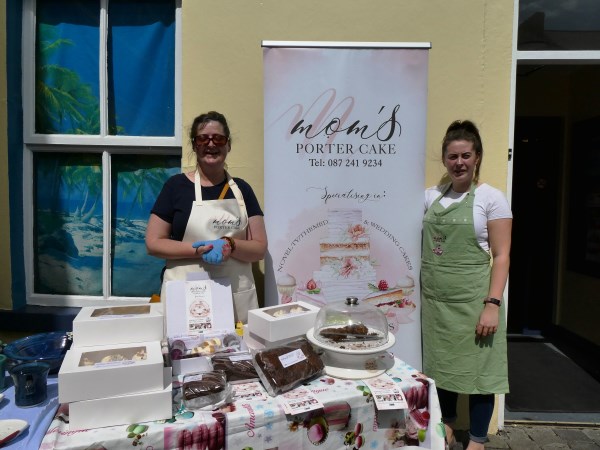 Mon's Porter cake sold out everything she brought.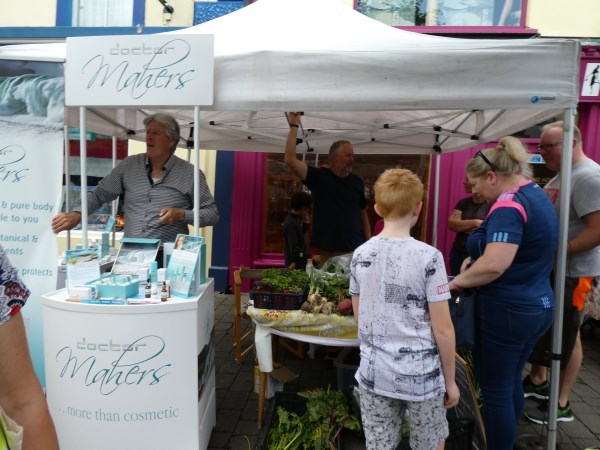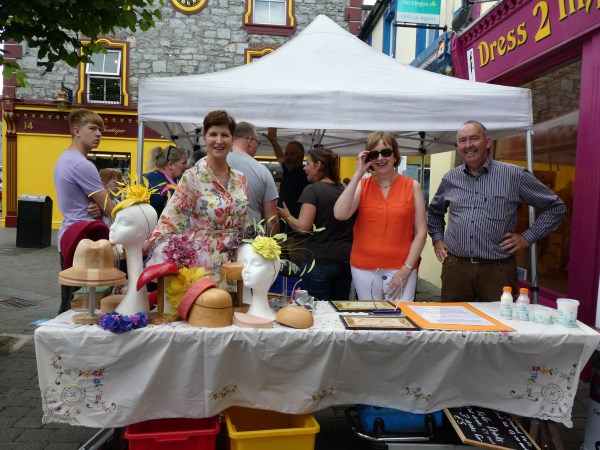 You could buy Kefir, a hat, some veg for the dinner or organic seaweed cosmetics in the Small Square in Listowel yesterday.
The Tidy Towers posed for a quick pic.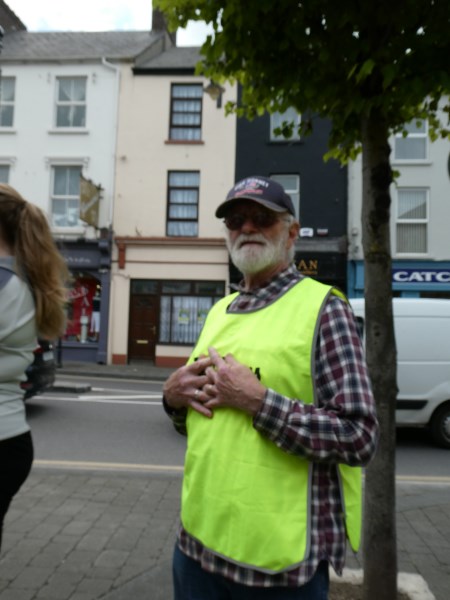 Everywhere a Tidy Towner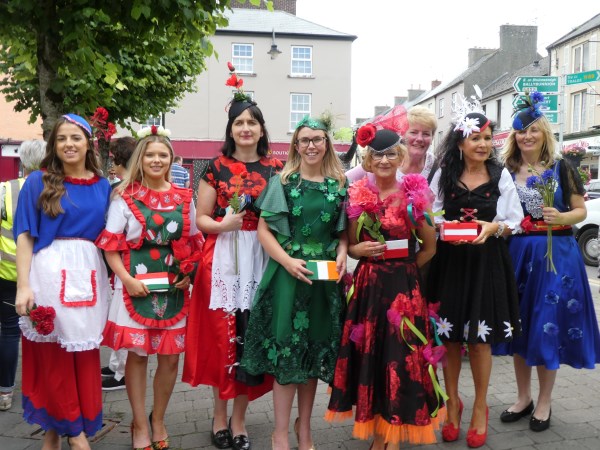 Local ladies dressed in the native costumes of the seven participating countries. I'm told that Olive Stack and her mother made the costumes. What an achievement!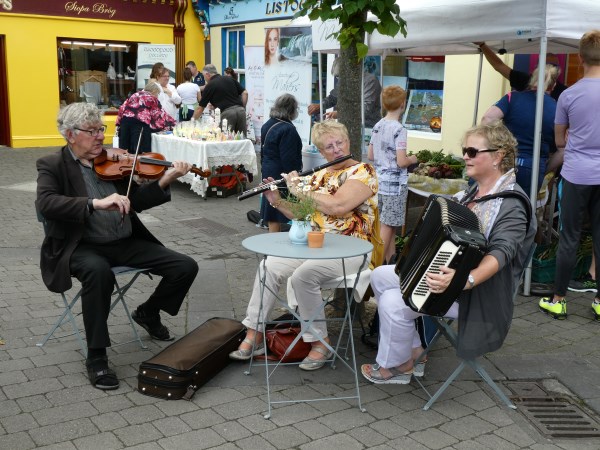 The very best of traditional music by the very best musicians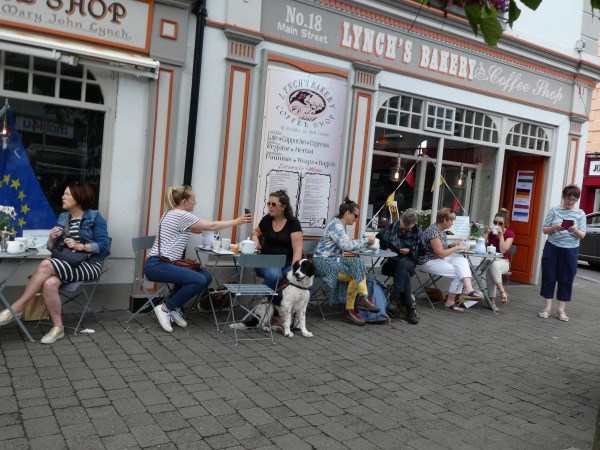 appreciative audience enjoying the sunshine the music and the craic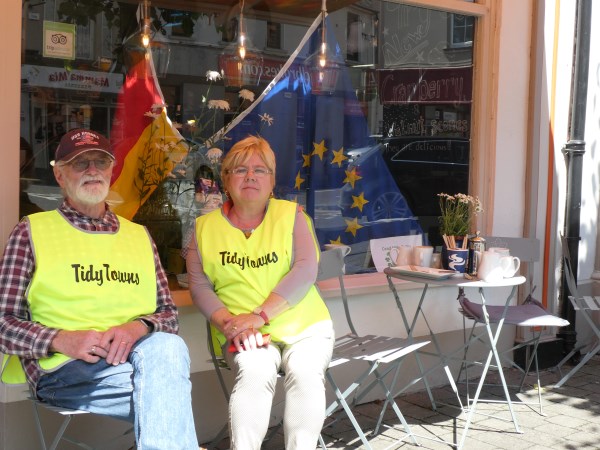 Hard working Listowel people taking a welleparned rest
I went to The Listowel Arms where the red carpet was out metaphorically and literally.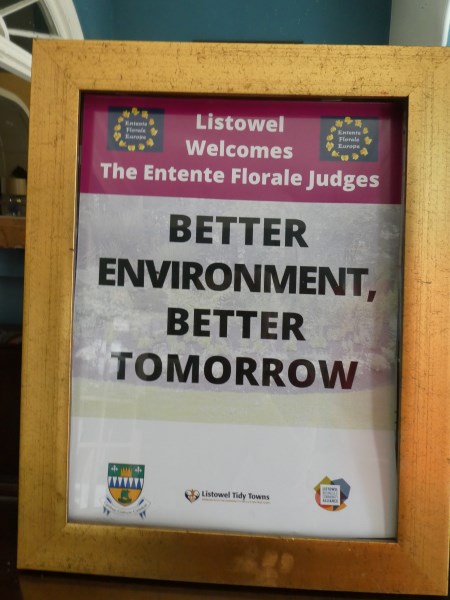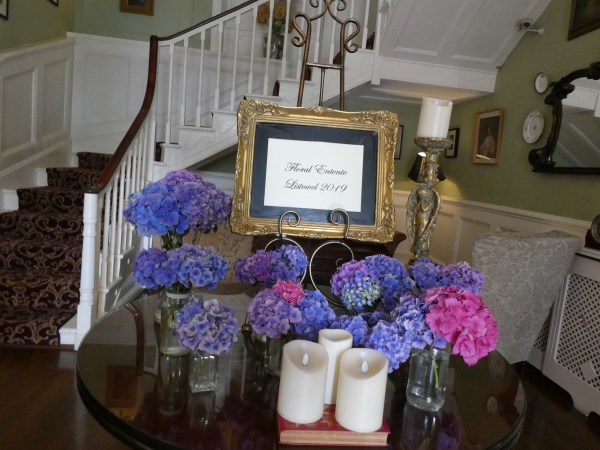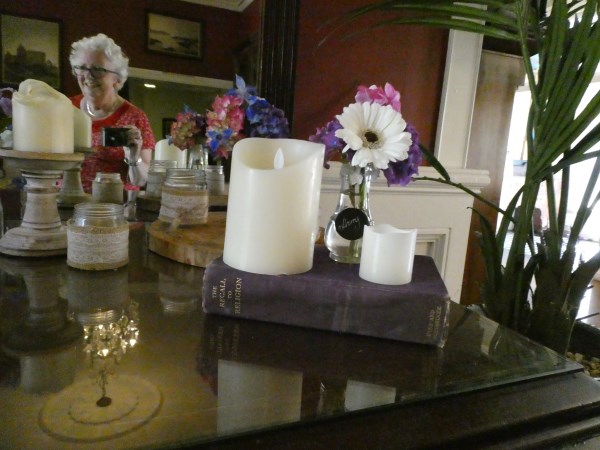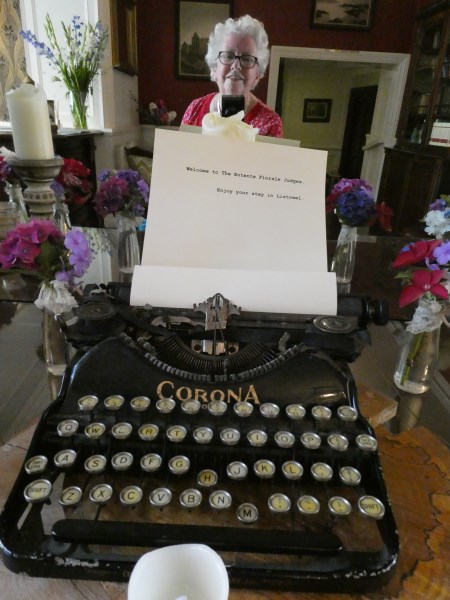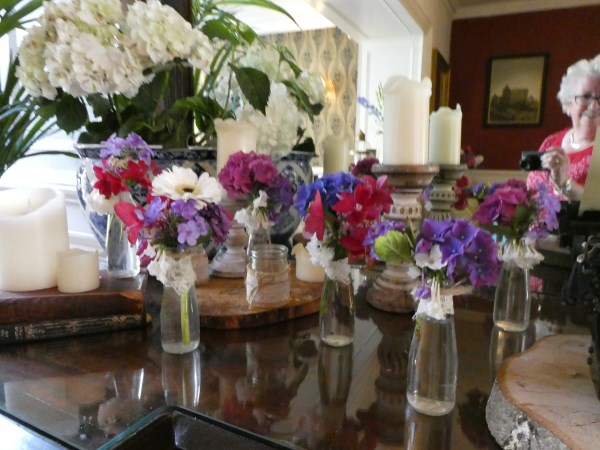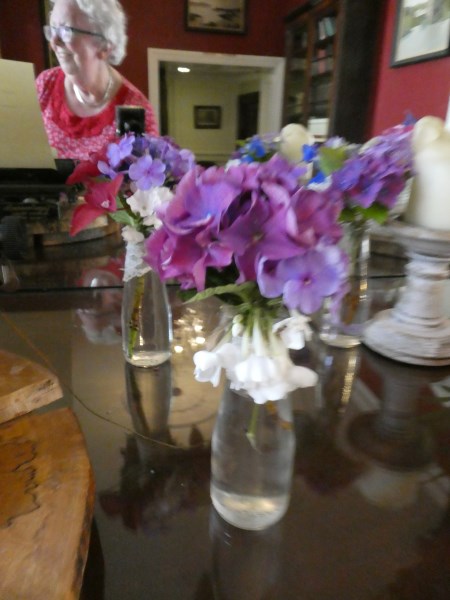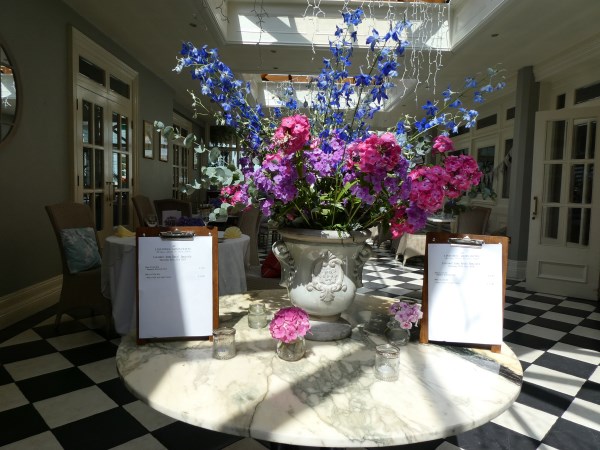 Lots of floral displays here (and mirrors)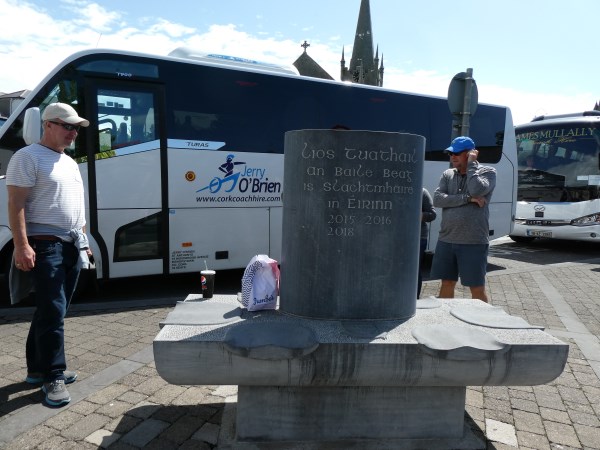 Some American visitors were enjoying a taste of Listowel at the Tidy Town seat.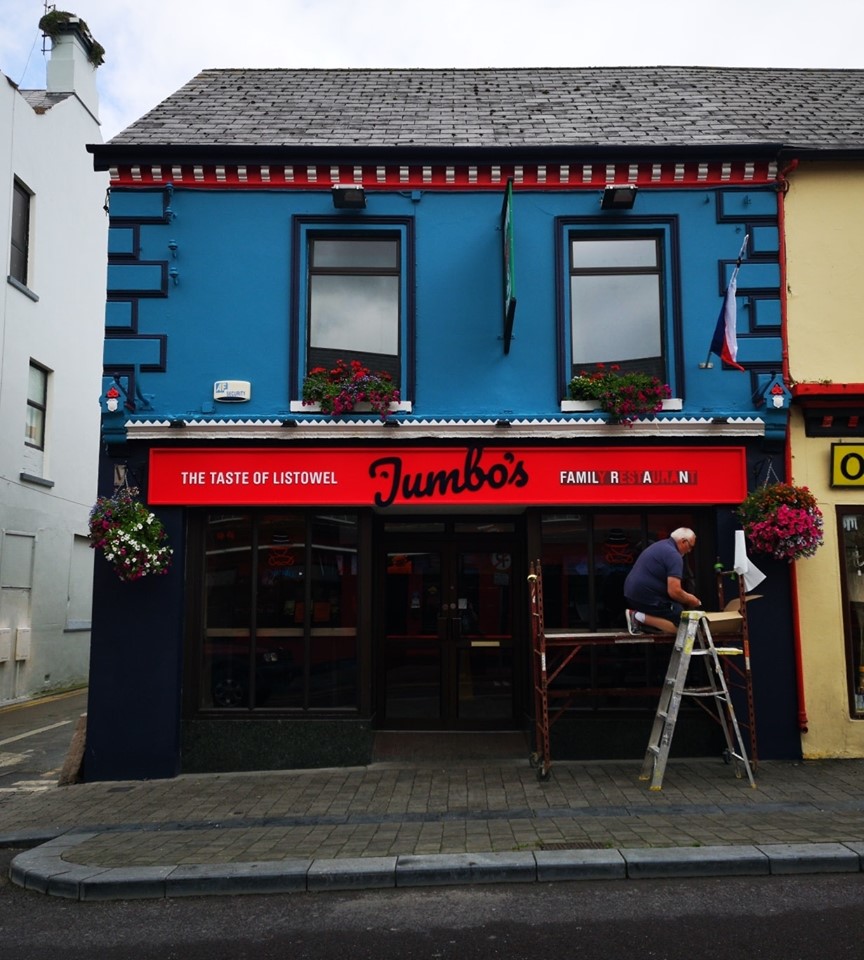 and Martin Chute got Jumbos painted in time.
Well done Listowel…definitely a winner in my eyes.