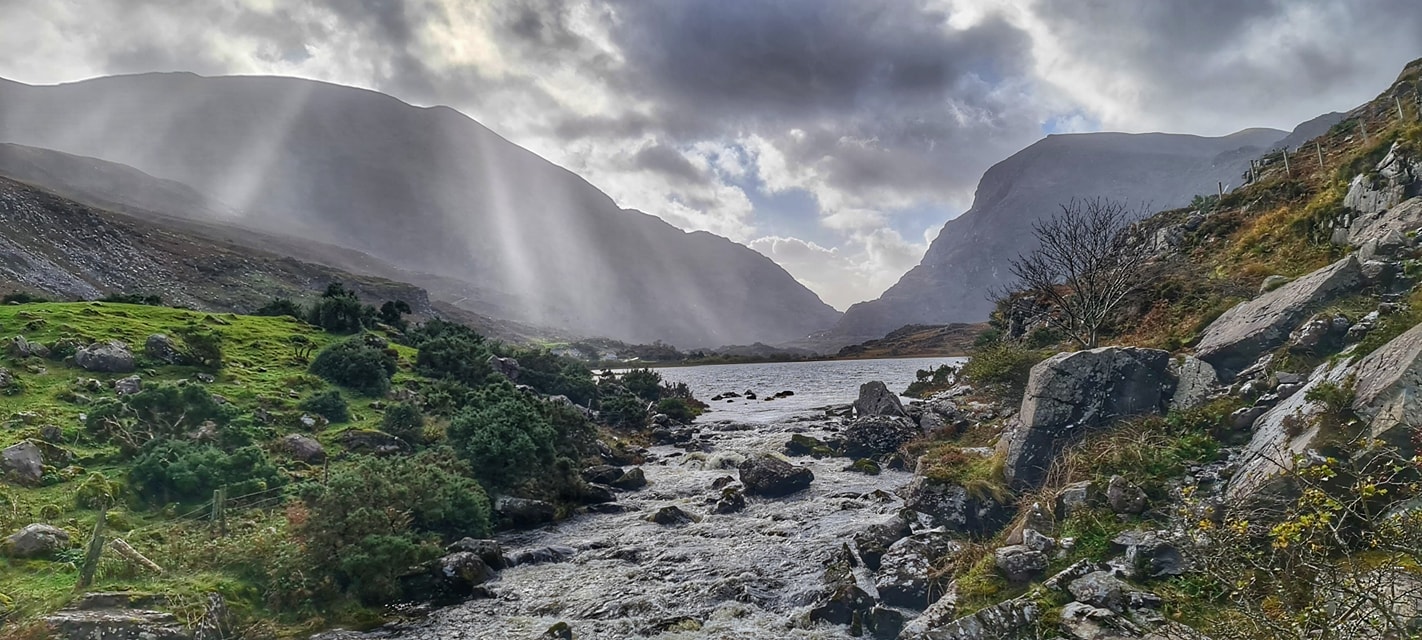 Gap of Dunloe by Chris Grayson. When he posted this on Facebook, he was told that those rays of sunlight are called cosa gréine in Irish.
<<<<<<<<<
A Letter from Australia
Hi
After reading your article "My Little Blip" and the story from Karen in Melbourne, Australia, I am inspired to write to you, as my brother has requested I do many times.
We are Buckley descendants in Melbourne, Australia. We are descendants from Lawrence Buckley (abt 1792-1872) and Honora Harrington-Buckley (1789-1870) whose seventh child John and his wife Johanna Broderick-Buckley-Gleeson went to America aboard the sailing ship "City of New York" along with their 3 children: Laurence, Daniel, John (2nd). They arrived at The Battery, New York City on 18th May 1863. They paid their own way and about that time the cost of steerage was about $ US 30. John (1st)) died in America shortly after and his wife returned to Ireland with the children and remarried Timothy Gleeson.
John (2nd) later migrated to Melbourne, Australia with his wife Matilda Walsh-Buckley and they had 6 children, the eldest being John (3rd).
John (3rd ) had 3 children with his first wife, the youngest being John (4th) and 5 children with his second wife.
My brother, sister and I are the children of John (4th) and we are cousins of Vincent Carmody who wrote the lovely book "Listowel: Snapshots of an Irish Market Town". Through Ancestry.com we managed to find the Buckley cousins in America who are also descendants of Lawrence Buckley.
We would be happy to hear from any of our cousins, Irish or otherwise, who also read the Listowel Connection and particularly anyone who is willing to share photos of our ancestors. We have only a few photos of our Irish ancestors, that we found on the Listowel Connection.
I have attached a photo of our family (minus grandchildren) that was taken in January this year before we went into lockdown for Covid.
We have been following "Listowel Connection" for many years and would be so disappointed if it was to cease. I enjoy looking for familiar names and buildings attached to photos and articles and connecting them up to 'family' in our tree.
Please keep up the great job you are doing keeping everyone connected.
Yours sincerely,
Lyn Buckley
Melbourne, Victoria, Australia.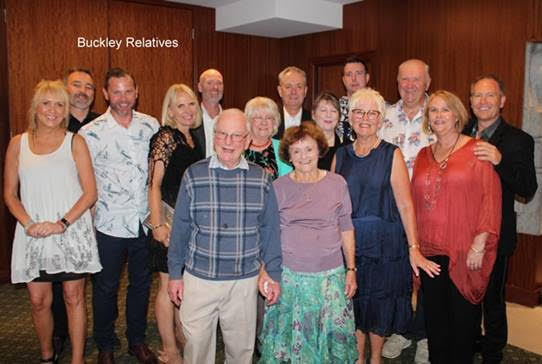 ( If you want to buy the book Lyn references in her email, Vincent tells me that Snapshots of a Market Town is available to buy Click and Collect at Woulfe's Bookshop, Listowel. If you are in the U.S it is now available through Amazon)
<<<<<<<<
Men of the South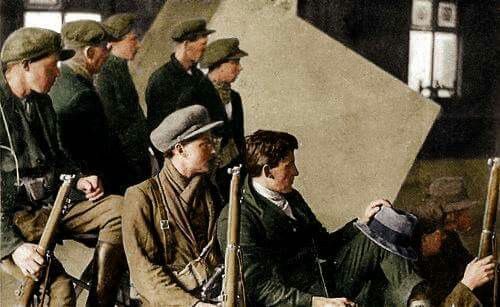 This iconic image was painted several times by Seán Keating The subjects are the No. 2 North Cork Brigade IRA who were then involved in The War of Independence.
Doing some research on my family history during lockdown, I discovered that one of the men pictured was a first cousin of my mother's.
One of the pictures hangs in Aras an Uachtaráin and another in the Crawford Gallery in Cork.
It has also been used in a commemorative stamp.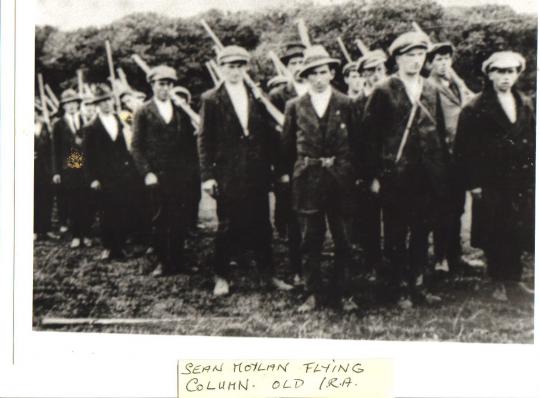 This is an old photo of the Flying Column on home ground. I think the man in the hat is Seán Moylan.
<<<<<<<<<<
Our Own Listowel Jewelry Designer and Silversmith
The immensely talented Eileen Moylan of Claddagh Design makes beautiful things.
I think this pair of wedding rings is one of her most beautiful designs to date. As well as the heart, the rings bear the names of the couple in Ogham.
"Claddagh Design is an Irish jewelry company founded by Award Winning Silversmith and Master Jeweler, Eileen Moylan. Eileen has been designing and handcrafting jewelry for twenty years. She has created thousands of pieces (and has many happy customers worldwide)
Through Claddagh Design, Eileen offers a high-quality Irish product; designed and made in Ireland. Each piece carries the full hallmark of quality from the Assay Office, Dublin Castle. Eileen takes a contemporary approach with her work and draws inspiration from the past. All of her pieces are created in her workshop at the foothills of the Cork and Kerry Mountains."
From Claddagh Design website
As you've probably guessed I'm a big fan of Eileen's work. If I'm looking for something really special and lasting for myself or as a present, Eileen has always delivered something I love.