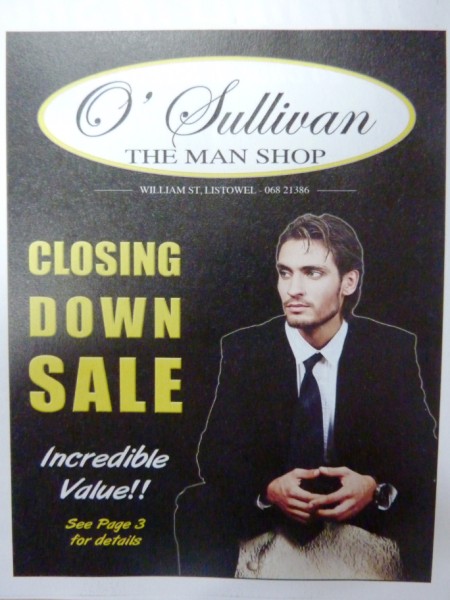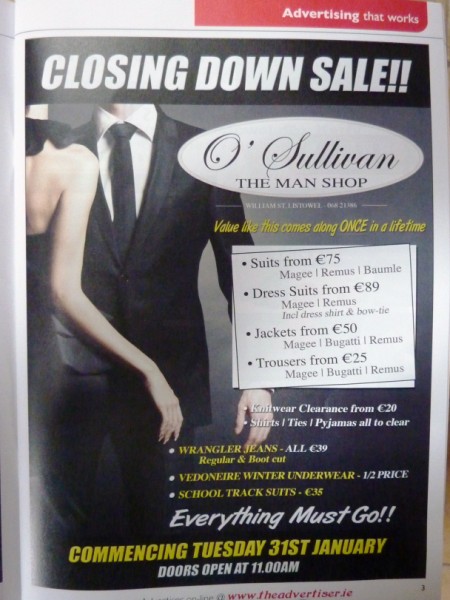 Above are ads from this week's Advertiser.
After 150 years of dressing the men of North Kerry and West Limerick The Man's Shop is closing its doors at the end of next month.
Ned, who is the fourth generation of his family to trade in Listowel is retiring. His four sons have taken different career paths. The tradition of the next generation taking over the family business is being broken in this as in many other businesses in town.
The O'Sullivan's began business in Listowel in Upper William Street in the 1860s. Ned's great-grandfather, Michael O'Sullivan from Ardoughter in Ballyduff began a tailoring business in Pound Lane, now Upper William St. Ned's grandfather, also Ned, moved the business to Market St. to a new premises near where Tarrant's Garage is today. The business was thriving. Eight full time tailors were employed there at one time. Ned's father, Seán, took over the business in the 1960s and he made the move away from tailoring and into off -the- peg and general menswear. The Man's Shop moved into its present location in 1962. Ned left teaching in 1989 and went into the family business. In recent years, as his political commitments became more onerous, the shop has been run by Mark Loughnane.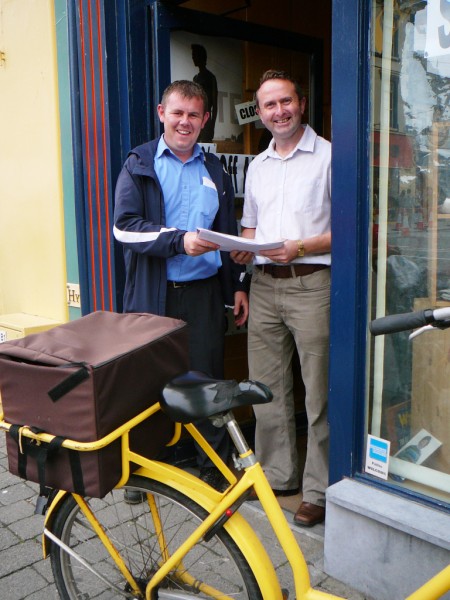 Mark takes a delivery from postman, Pat Hickey, at the door of The Man's Shop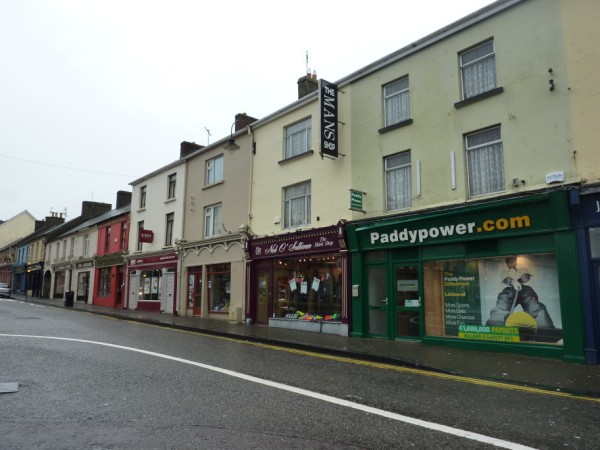 How will this street scape look in a few year's time?
On a completely different note, 2 stories from the weekend's papers.
Two Listowel men caused a bit of an upset at a rugby match in England. According to The Kerryman, David Fitzmaurice and his friend and fellow Munster supporter, Mike Brosnan, lost their way on the way back to their seats at the Munster v. Northhampton match. They found themselves in the Northhampton booth, where they were less than welcome. The Northhampton coach, Jim Mallinder, cleared the boys back to the Munster section. The incident was caught on Sky sports.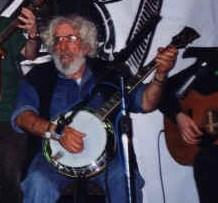 Sunday's Independent had an account of a tribute concert to the legendary Pecker Dunne. Pecker Dunne, it is said, played at more Munster finals than Cork. He is now in poor health and his friend, Mannix Flynn was organizing Sunday night's event to help him out.
There are lots of enjoyable video clips of Pecker on youtube.