Listowel Garda Station in 2019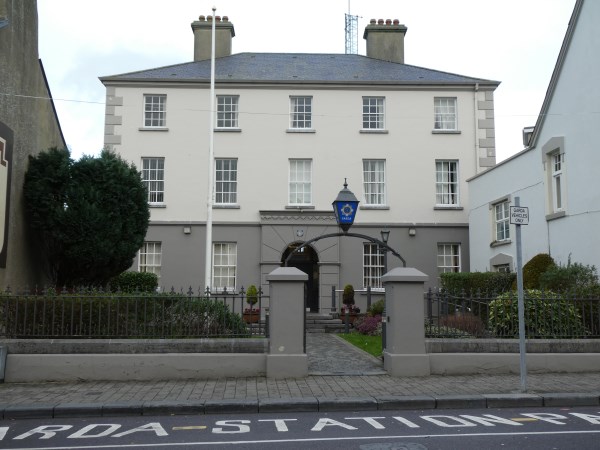 Church Street, Listowel, January 2019
<<<<<<<<<<<<
Mayor's Award for Writers' Week
The great literary festival that is Listowel Writers'Week was recognised last week at the presentation of the Mayor of Kerry's awards,
If ever there was a definition of blue sky thinking, Writers' Week is a living example. The literary festival goes from strength to strength. Now it is expanding outside a short week in summer into a year long engagement with other festivals and events. The visionary committee well deserves this award.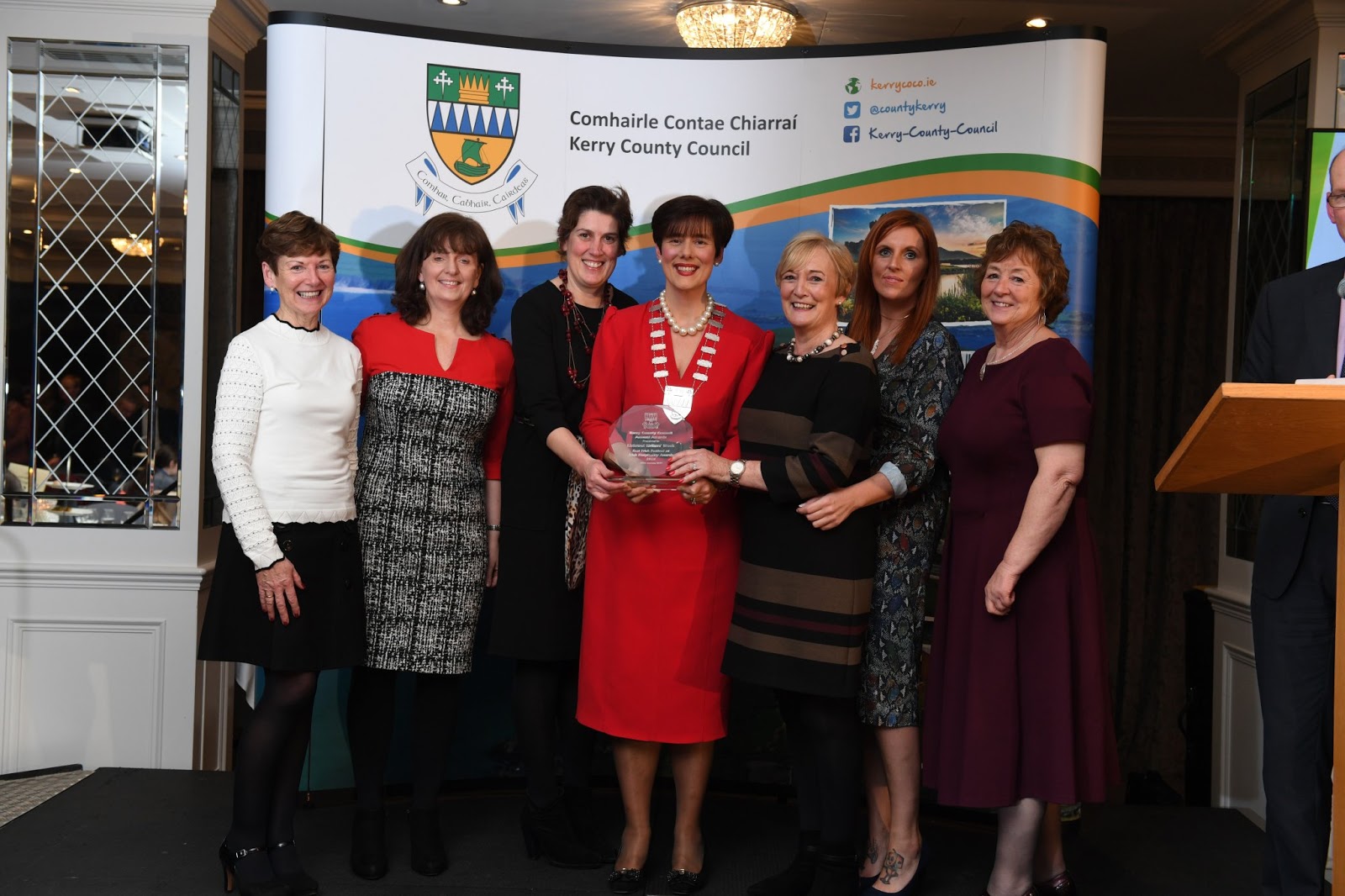 Accepting the award on behalf of everyone in Listowel Writers' Week are;
Left to Right; Eilish Wren, Joanna O'Flynn, Máire Logue, Norma Foley (Mayor)
Madeleine O'Sullivan, Miriam Griffin and Elizabeth Dunn
<<<<<<<<<<
The Late Garda John O'Donnell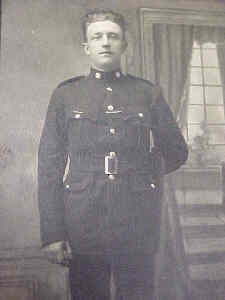 I told this story before in 2012 but I think it's worth telling again.
Garda John O'Donnell who was in his early thirties was stationed in Kanturk, Co. Cork. In the summer of 1940 he was on holiday in Ballybunion with his wife and three young children. He told a relative that he would have preferred to holiday in his native Burtonport but petrol was rationed during the war and he couldn't secure enough fuel for the journey.
On the evening of July 20 1940 he was swimming near Castle Point when a freak wave swept him and other swimmers on to the rocks. John drowned while attempting to rescue two local girls, Vera and Patricia O'Carroll. The girls were eventually rescued by others who were present.
Listowel's Dr. Joseph McGuire was the coroner who presided over the inquest which was held on the following day. The jury commended Mr. Jack McGuire, then a medical student, for his bravery in taking out a life buoy into rough seas in a vain attempt to save John O'Donnell who was being dragged out to sea by the strong current.
In an extra tragic twist, the body of John O'Donnell was formally identified by his brother who was then only 17 years old.
In the aftermath of the tragedy, letters were published in The Kerryman calling for life guards on Ballybunion beach and the presence of a rescue boat and a competent crew to man it.
Garda O'Donnell was remembered in Kanturk, where he had been living for six years, as a quiet, unobtrusive, helpful brave man.
He was posthumously decorated by the state for his bravery.
This courageous man was the grandfather of the very talented artist, playwright and composer Mike O'Donnell.
Dave O'Sullivan found a few newspaper cuttings relevant to the awful tragedy.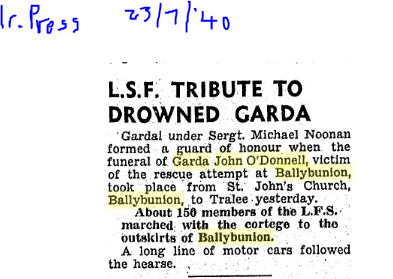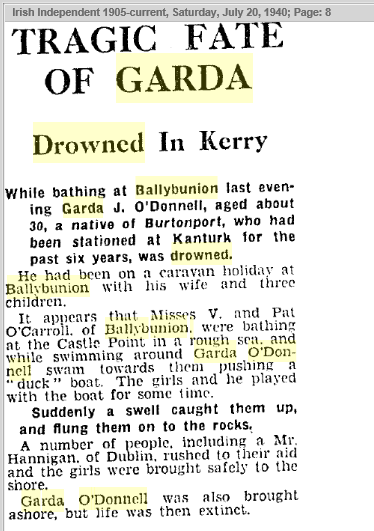 ><<<<
Auction at Gurtinard House in 1868
In June of 1868, Lord Listowel's agent, James Murray Home sold everything in Gurtinard House in an "unreserved auction". The notice was published in the Evening Post of May 23 with a list of items to be disposed of. It makes interesting reading
<<<<<<<


Then and Now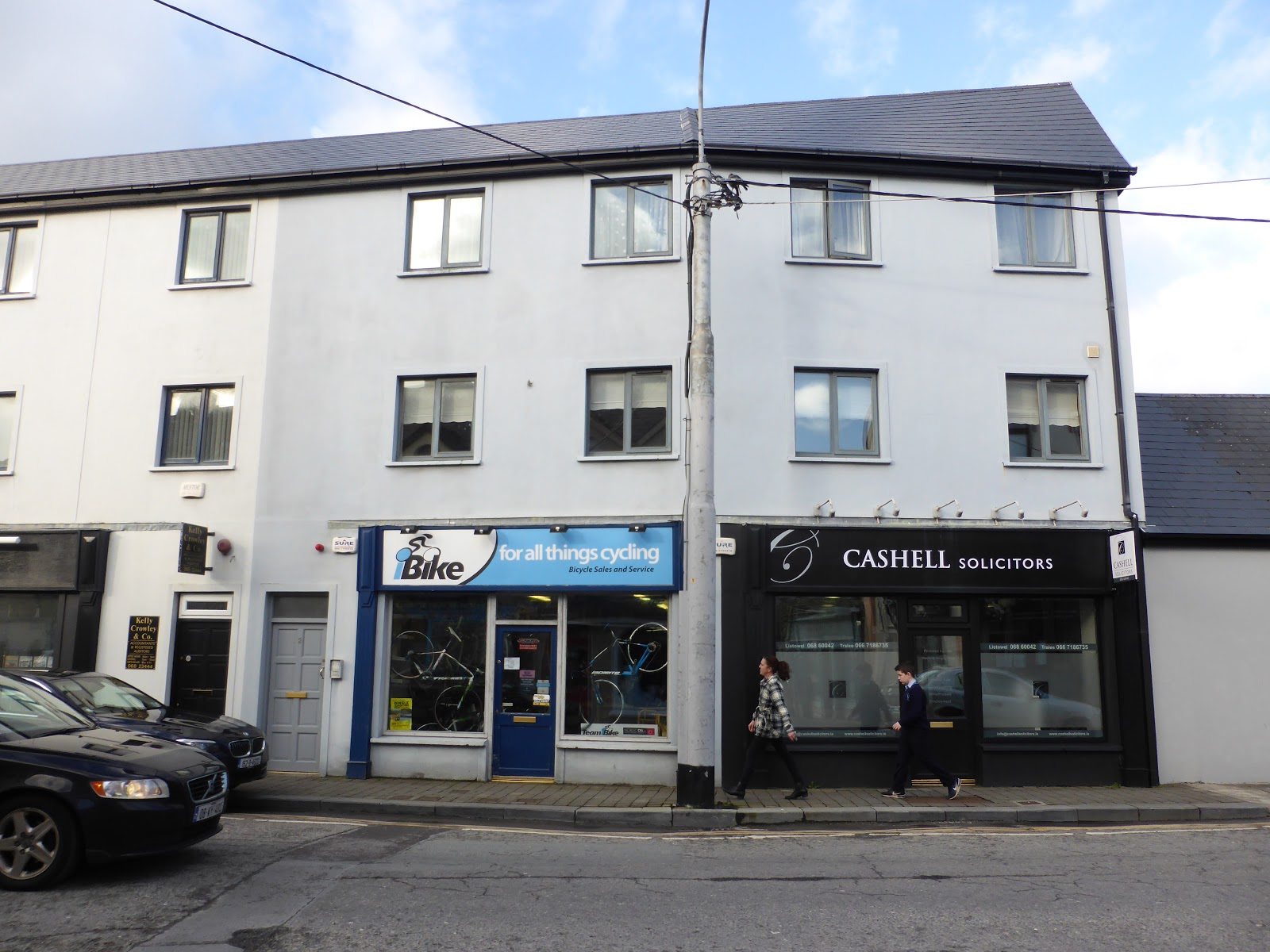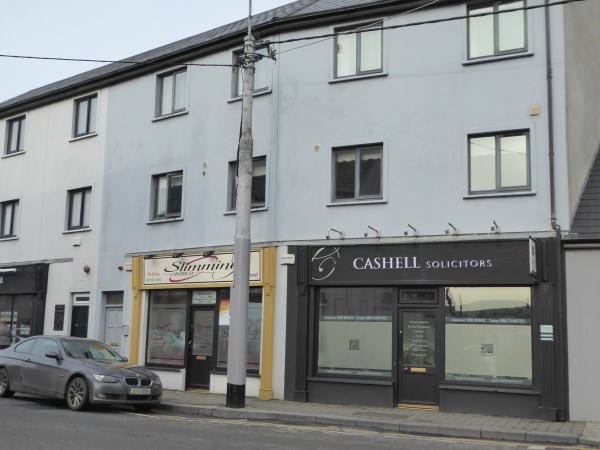 Charles Street, January 2019