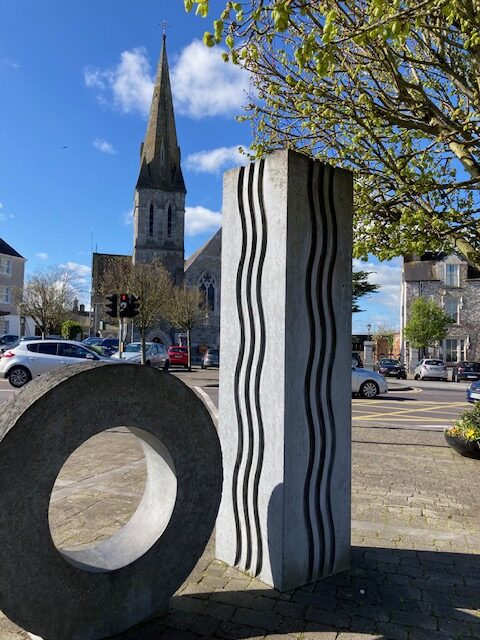 Sunny Sunday in Listowel in April 2023
<<<<<<
Remembering Michael Dowling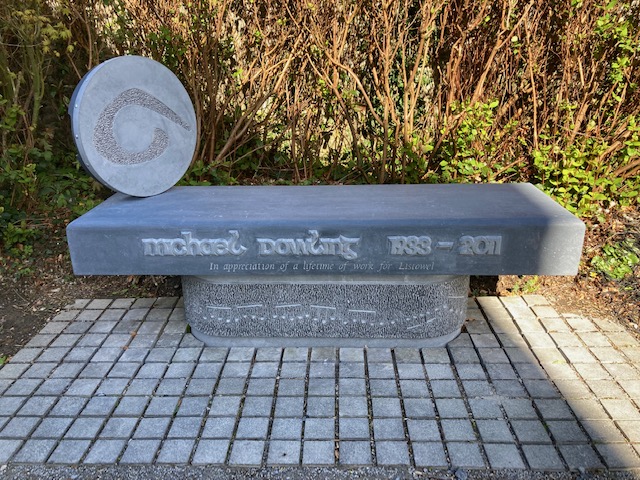 This is the Darren Enright sculpted seat in the grounds of Kerry Writers' Museum aka The Seanchaí.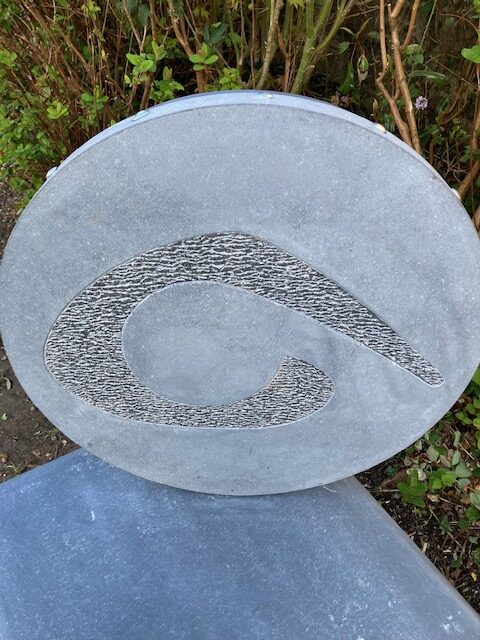 Darren's clever and very apt design features an exact replica of Michael's bodhrán, perfect in every detail, even the studs on the rim.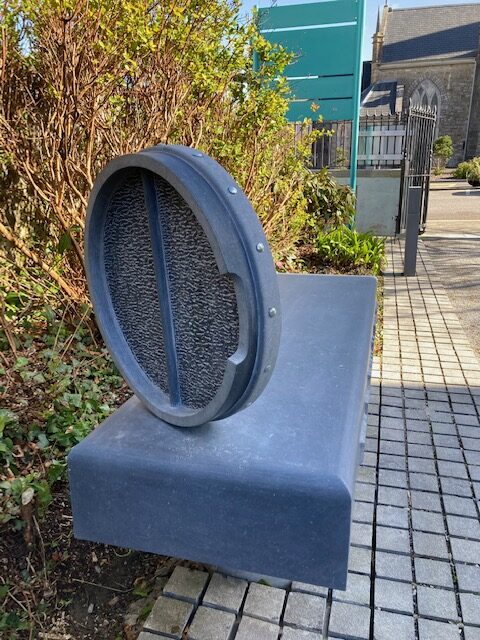 The bodhrán from the back.
Michael's life was selflessly entwined with his Listowel community. Music was just one string to his bow.
Here is Michael front and centre among a group of Kerry Diocesan young people in Knock to see Pope John Paul II in 1979.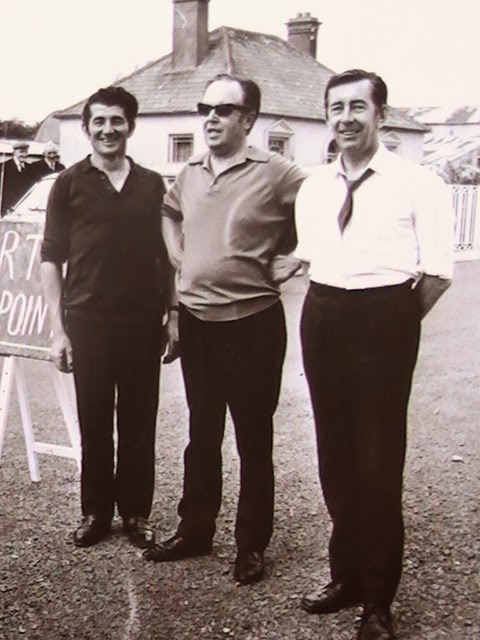 Michael with Derry Tatten and Gerard Lynch on a Gorta Walk in the 1980s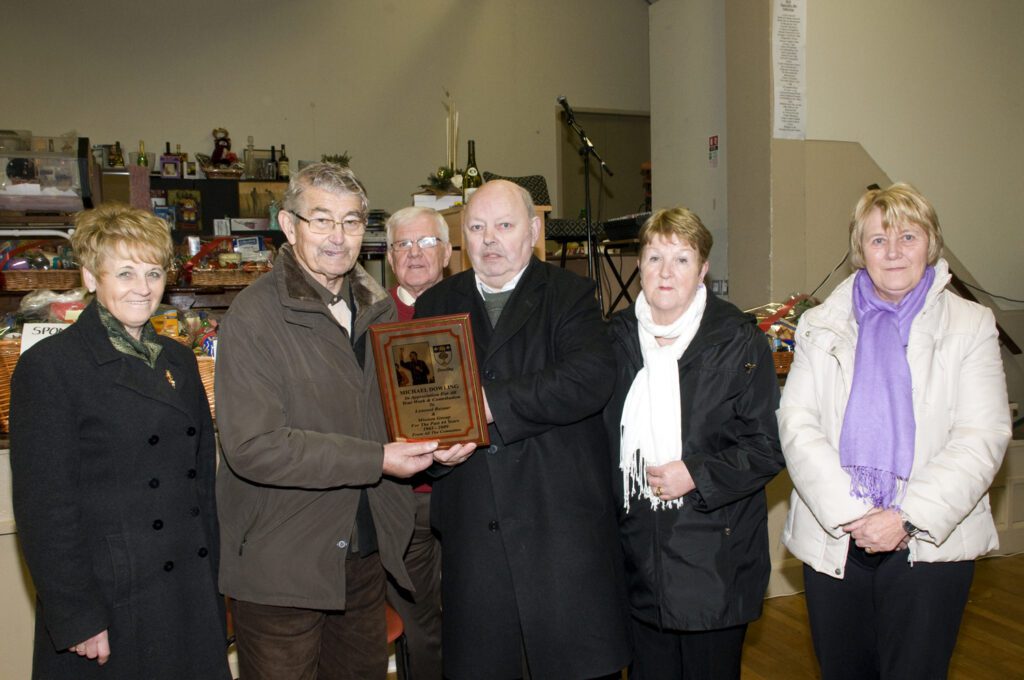 Michael was a great entertainer as auctioneer at these annual bazaars. If you have never been to one of these legendary events you have missed an iconic Listowel treat.
The night consisted of raffles for hampers and vouchers donated by local businesses. While the ticket sellers were wandering among the crowd selling the raffle tickets the auctioneer entertained everyone by selling items which have been donated. These items may be a Christmas cake, a bottle of spirits, a box of biscuits, a picture, or a set of ware. Michael, as auctioneer, would have no idea what was next for sale until he saw it in front of him.
A great source of amusement was Michael's lack of familiarity with intoxicating drink. He was a lifelong pioneer and all wine to Michael was "a lovely bottle of table wine". Before you put in a bid you had to strain to see if you were buying Cork Cream Sherry from the back of someone's drinks cupboard or Chateauneuf de Pape from Galvin's off licence.
He bantered continuously with the audience, commenting on their shrewd judgement in making a purchase or jokingly inviting himself to tea to sample the just purchased cake.
Michael was happy as long as he was raising money for a good cause.
<<<<<<<<<<<
In Vincent's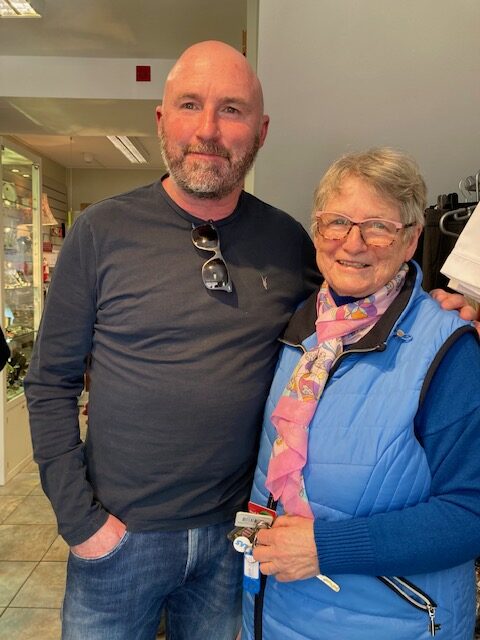 I met the lovely gentle Eileen O'Sullivan in Vincent's recently. She was accompanied by her son who had come to Listowel for a while to look after her.
Eileen had surgery recently, but like the trooper she is, she is making a great recovery. She was delighted to be pampered by her sons but now ready to get back into the driver's seat, literally and metaphorically.
<<<<<<<<<
A Fact
Elvis Presley wore a cross, a star of David and the Hebew letter chi as jewellery. When questioned about this strange mix, he replied
"I don't want to miss out on heaven due to a technicality."
<<<<<<<<<<<