This is not a party political broadcast.
Our local minister had a busy weekend last weekend. you saw my picture of him yesterday in Ballydonoghue opening the exhibition of the artwork of the late Eamie Kissane. Then he launched the Lyre journal.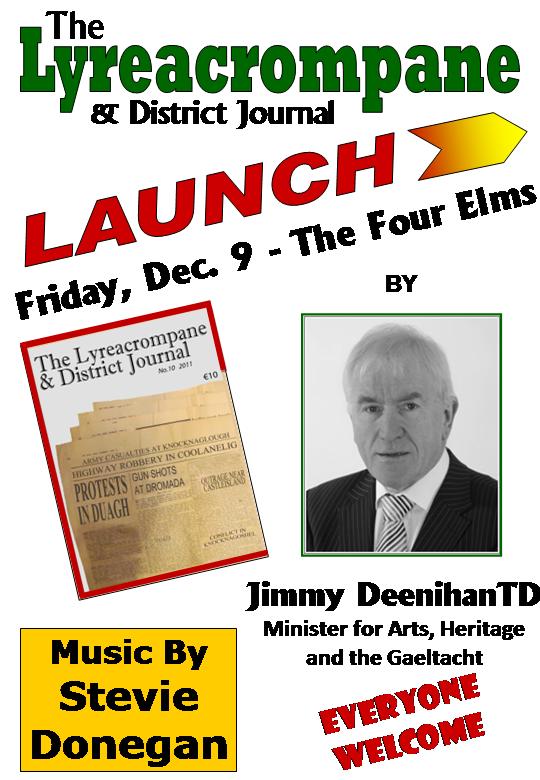 Then, to cap it all, he launched his own long awaited autobiography. He wrote this book as a fundraiser for his pet project, The Lartigue Monorail Restoration Project
I have not had a chance to read the book yet but it has received rave reviews locally and in the media. In a very overcrowded market of sports related books it apparently stands out.
I'll leave you with a sample that I enjoyed. I'm off now to do my Christmas shopping.
Kerry's Minister for tight marking
By Liam kelly
Saturday December 10 2011
JIMMY Deenihan remembers clearly the day he first put a ball over the bar to 'score' a point. The year was 1959, the venue was Paud Sullivan's field, where local lads in Finuge, Co Kerry used to gather to kick football.
And seven-year-old Jimmy finally had the strength give a good root to a ball and send it over the bar of the makeshift goalposts.
"I still recall the sense of achievement I derived from kicking a football over the bar in Paud Sullivan's field in 1959. It was a defining moment in my development as a footballer and I remember running home excitedly to tell my father about it," recalls the former Kerry All-Irelandwinner in his new book 'My Sporting Life' (Red Hen publishing).
Deenihan's boyhood dreams of playing for Kerry and winning the Sam Maguire Cup were eventually realised — and in abundant measure — but not as an attacker.
Miserly
Instead, Deenihan grew up to become one of the tightest-marking, miserly defenders in Gaelic football, denying some of the best corner-forwards to grace the game space and time to score against the Kingdom.
He played in six All-Ireland finals, winning 'only' five medals, captaining Kerry to their four-in-a-row in 1981 and conceding only one point to his direct opponent in those six deciders.
The man who spoiled Deenihan's almost-perfect record was Brendan Lowry, father of golfer Shane — the Offaly man nicked his score during the '81 final, which Kerry won.
Deenihan missed the '82 final due to injury when Kerry were on the cusp of achieving an unprecedented five-in-a-row. Had he been playing, he wonders — and it has often been said to him — would the Offaly forwards have kept themselves in contention long enough for Seamus Darby's smash-and-grab winning goal to happen?
Lowry got three points that day, each score vital to the historic upset of a great team.
Deenihan makes no bones over his belief that Darby's goal was assisted by a little push on Tommy Doyle that crucially opened up the space.
"The defeat by Offaly, which deprived us of the five-in-a-row was devastating. However, the team accepted their defeat with dignity and just walked off the field with their heads understandably down after the final whistle," he writes.
"There were no remonstrations about the nudge on Tommy Doyle by Seamus Darby, or the decision to award Sean Lowry a very soft free prior to Darby's goal.
"Sean was dispossessed fairly in my opinion, by Tim Kennelly, but the referee thought otherwise. Matt Connor duly pointed the free which put just two points between the teams, leaving Kerry very vulnerable in the event of Offaly scoring a late goal.
"Apart from the nudge, which was brilliantly executed and well disguised by Seamus Darby, his strike for goal was one of the most clinical pieces of finishing ever inCroke Park.
"It will go down as one of the most, if not the most, historic goals ever scored in Gaelic football.
"It deprived Kerry of making sporting history which that team undoubtedly deserved. It ensured, however, that a gallant Offaly side won an All-Ireland and that one of the greatest players ever to play Gaelic football, Matt Connor, won an All-Ireland senior medal."
Next year will bring the 30th anniversary of that epic final.
It's ancient history maybe to kids who worship modern-day heroes such as Colm 'Gooch' Cooper and Kieran Donaghy of Kerry, and the Brogan brothers of Dublin, but the GAA and sport, being what they are, the fascination with the green and gold teams of the '70s and '80s will never fade away.
Next September, Deenihan will celebrate his 60th birthday and it reminds us that, while time flies, this proud native of north Kerry has had two careers on the national stage — the first as a footballer and the second as a politician.
Politicians aren't the most popular breed in Ireland at present, but as Deenihan, Minister for Arts, Heritage andGaeltacht, wryly observed in his Kildare Street office on Wednesday: "Playing sport at a high level prepares you for anything that comes your way in life."
I had to wonder: why write his story now, almost 29 years after his senior playing career ended in 1983?
The first reason is simple — all funds will go to a project close to Deenihan's heart, the Lartigue Monorail restoration project in Listowel.
This is a unique piece of railway heritage and relates to a steam-powered monorail designed by Frenchman Charles Lartigue which ran between Listowel and Ballybunion from 1888 to 1924.
It carried passengers, freight and livestock between the two Kerry towns and was the only commercially successful monorail of its type.
A heritage project — a big tourist attraction in Listowel — cost €2m, and with €40,000 still owed, Deenihan hopes that sales of his book will significantly help to defray the debt.
The other reason for waiting so long is simply the time his job as a TD and now minister takes up.
Deenihan wrote it all himself and a notable feature is that every county team he played with and against in minor, U-21 and senior — championship and league — is listed.
"I wanted to include that section by way of a little personal tribute to the players and teams I played with and against in my career with Kerry," he said.
Ah yes, Kerry. The Kingdom. Synonymous with Gaelic football, and a county, which, as Deenihan notes in the book, was savagely sundered by the Civil War.
Primal
And yet, somehow, the primal allegiance to football and to Gaelic games achieved almost miraculous bonds among footballers on the pitch at a time when their political loyalties were bitterly divided.
Speaking earlier this week, Deenihan noted: "I go in then to the most important role that football provided in Kerry, bringing the warring parties together after the Civil War, because the Civil War, for whatever reason, was fought very bitterly in Kerry.
"Con Brosnan took the side of Collins and the Free State, and John Joe Sheehy, Joe Barrett and others took the side of the Republicans, anti-Free State. And the amazing thing about it all, people such as Joe Barrett and John Joe Sheehy were interned, and I've a photograph there where they're all on the Kerry team in 1924."
Deenihan explores the success of Kerry football and advances his theories on the subject, but the basic fact is that love of the game and its importance to Kerry folk is embedded in the county's DNA.
"It means a lot to Kerry people and it means a lot to me, and even though I'm in politics now, I think about football every day and I think for most Kerry people, football crosses their mind nearly every day," he said.
County football began for Deenihan with the Kerry minors of 1970, and ended in 1983 with aMunsterfinal defeat to Cork.
The years in between yielded a rich harvest of memories, not only with Kerry, but also with his home club Finuge, his divisional team FealeRangers, epic tours to the southern hemisphere and of course, All-Ireland memories with a great football team.
There was joy in the All-Ireland victory over champions Dublin in 1975; disappointment in '76 and '77; a realisation that another defeat in '78 would see the end ofMick O'Dwyerand probably county chairman Ger McKenna; the arrival of Bomber Liston who rejuvenated the side, and all the way to the four-in-a-row.
He had great personal battles with top-class forwards such as Cork's Jimmy Barry-Murphy,John McCarthyof Dublin — father of 2011 Dublin All-Ireland winner James — and Brendan Lowry.
Deenihan also made an unwitting contribution to Dublin football by introducingBernard BroganSnr to Kerry woman MarieKeaneStack at the Finuge Carnival in Easter 1976.
Love blossomed and the couple married, and last September three of their sons — Alan, Bernard and Paul — won All-Ireland medals at the Kingdom's expense.
Deenihan has put together his story with the thoroughness and commitment he brought to his football, and has produced an informative and well-researched story enhanced by many relevant photographs.
The thoughtful, broad-based narrative conveys Deenihan's passion for Gaelic football and sport in general. As a former PE teacher and a politician, he is ever-mindful of the importance in enthusing young people with a love of sport for recreation and exercise.LAUNCH schedule for 'My Sporting Life' by Jimmy Deenihan:
Three big launches are planned which are sure to attract great gatherings of old team comrades and former opponents. First up is tonight in the Listowel Arms Hotel (8.30) where Mick O'Dwyer will launch the book.
On Monday, Jimmy Barry-Murphy will do the honours in The Weir Room, of The River Lee Hotel in Cork (7.0) and on Tuesday it's the turn of Tony Hanahoe to headline the launch in The Ceramics Room of the National Museum in Kildare Street, Dublin (7.0).
– Liam kelly