The older folk among my readers will remember the lucky bag. This was a pig in a poke that we, as children, bought with our precious 2p. on the way from school. It usually contained a cheap sweet and an even cheaper "toy", very often a magic fish. A magic fish was a piece of coloured celophane which, when warmed for a few seconds in the palm of your hand, curled up; magic!
Today's blogpost is a lucky bag, only in that it has a bit of this and a bit of that. First up is a really good photo of our local painter and decorator, Sean Curtin.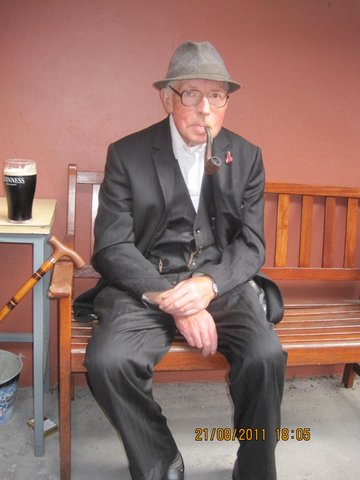 Noreen Keane sent me this lovely study of Sean, a gentleman and one of the "ould stock" of the town now. This picture is worthy of a place in any portrait gallery in the world.
————–
Remember I inferred that Tadhg Kennelly's appearance for Emmetts in the final signalled a possible return to Kerry football. Not so, it seems, according to stories in the Australian media
"Aussies pour cold water on Kennelly's Kerry return
AUSSIE Rules sources have poured cold water on the notion that Tadhg Kennelly will be available to resume playing for Kerry again in the near future.
The Listowel star recently retired from AFL football and came home to play a cameo role in the North Kerry final last weekend.
He told theIrish Independentafterwards that his new job with the AFL would not necessarily force him to live inAustralia, thereby leaving open the possibility of a possible return for the Kingdom.
But a statement on the official AFL website yesterday seemed to indicate otherwise: "It appearsTadhg Kennellywill be calling Australia home for the foreseeable future after the Irishman accepted a role as an AFL Ambassador.
responsibilities
"The 30-year-old has taken on a number of responsibilities with the AFL that will ensure he will stay in Australia and remain heavily involved in Australian football."
The statement outlined that Kennelly will be an assistant coach and mentor for the Australian Institute of Sport-AFL Academy Level Two Squad, working under head coach and formerSydneySwans team-mateMichael O'Loughlin.
It said he will also coach the U-16 NSW/ACT team and assist the U-18 team. And it outlined that Kennelly — "in a seemingly tailor-made role" — will mentor players that come to Australia hoping to play at AFL level, including members of the U-16 World XVIII and South Pacific teams.
Kennelly is the only Irishman to win an AFL Premiership title, winning the Grand Final with the Swans in 2005 and also reaching the final the following season.
He returned toIrelandto win an All-Ireland with his native Kerry in 2009 before immediately resuming his AFL career."
——-
Remember what I said about the lucky bag. This next story is the "magic fish", interesting for a nano second.
Listowel Town Council will embark on a campaign to tackle the problem of dog fouling.
The issue was raised at the recent meeting of Listowel Town Council by Fine Gael councillor
Tim O'Leary. He said the town park, graveyard, and footpaths throughout Listowel are destroyed
by dogs fouling.
Town Clerk David O'Brien confirmed Listowel Town Council is currently receiving quotations for
dog fouling bins, complete with pooper scoopers enabling dog owners to pick up and dispose of
dog excrement hygienically. He hopes the campaign will be launched in the New Year.