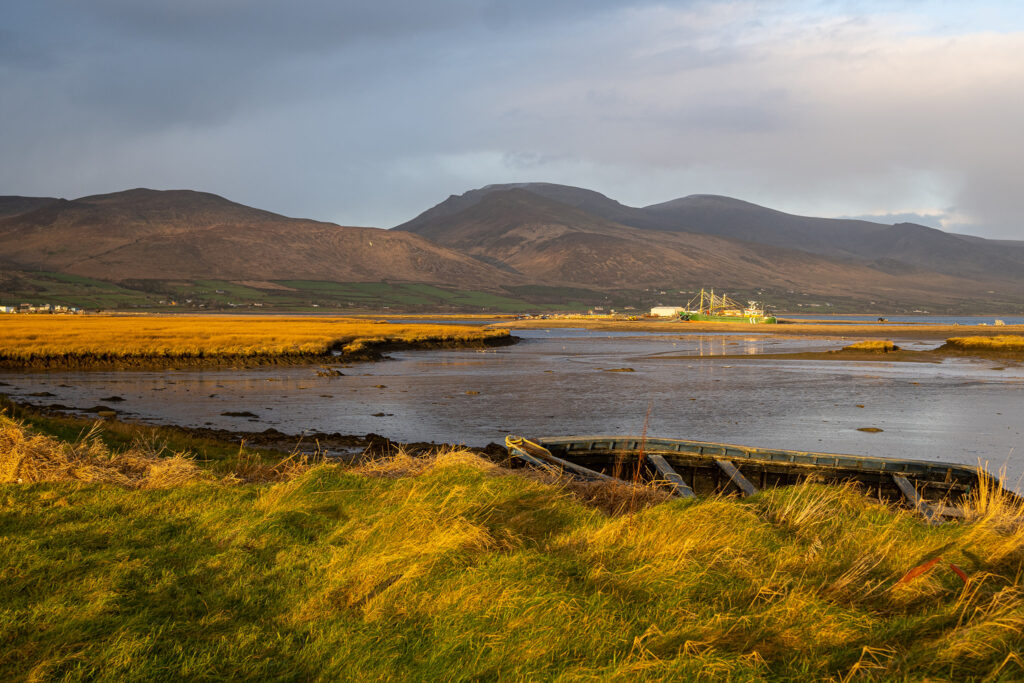 <<<<<<<<<<
Old Tralee Postcard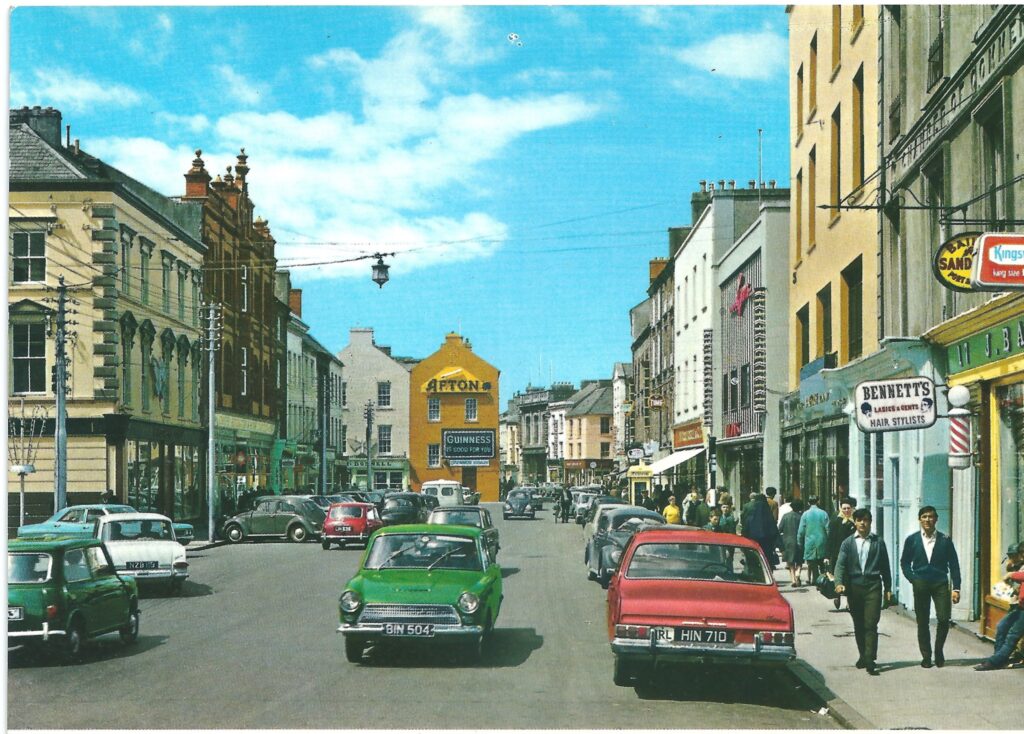 <<<<<<<<<<<<
Vincent Carmody Remembers Great Times in the Cinema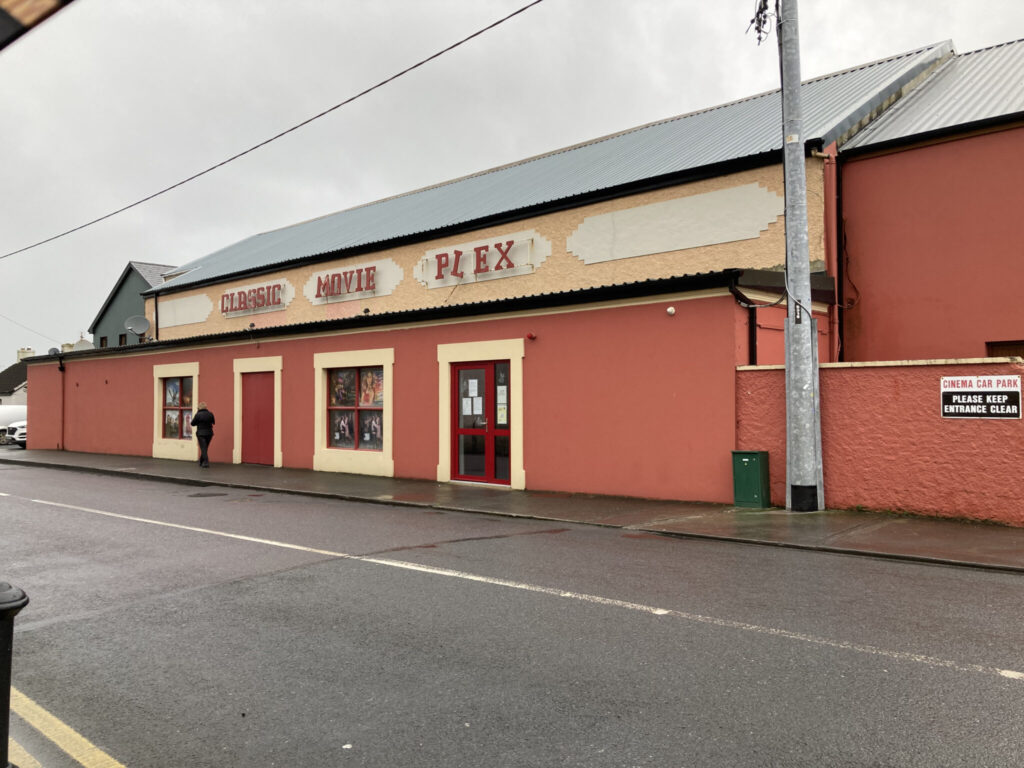 As someone who grew up quite close to the Astor, the cinema site itself, the adjacent railway property, in and around the Sluadh Hall and around the creamery were play areas for those of us from the top of William Street.
A particular thing that we used to do when in the cinema yard was to pick up pieces of the celluloid film which would have been cut from the reels as the projectionist would splice reels together. We would take these clips home and get real enjoyment if any actors faces appeared on the clips. Another thing that would have been discarded were sticks of carbine. They would have been used in the projection room. This room was attached to the end wall of the cinema and was accessed by concrete steps to the upstairs projection room. Underneath was the boiler room.
Pat Dowling of the Bridge Road was the projectionist. He was a mechanic at Moloney's Garage in William Street and was also a member of the Fire Brigade. Jeremiah O'Connor of O'Connell's Avenue was his assistant. Mrs Woulfe of St. Brendan's Terrace was manageress and worked in the ticket office, while Michael Nolan and John Joe O'Connor were doormen.
There was no shop in situ in our time. Sweets would have to be bought at either Jet Stacks, Quills or Kelly's from further down the street.
Admission to the gods (hard seats) was four old pence, middle soft seats, I think ten pence and the more up market balcony around would have cost one shilling and three pence.
The Astor would show the same film, at the most, for two nights, whereas the Plaza would usually have the same film for three nights. Both cinemas would have afternoon matinees and and night show on Sundays. There were some in the town who would alternate visits to both cinemas on different nights. One nightly man in particular, was a pipe smoker and he would have two pipes, smoking one until it got hot, then changing it for the second one.
Advertisements for many local shops would appear on screen prior to the shows. Then usually what was shown next was either a serial or shorts, then trailers of upcoming films. If it was a serial, this would continue over a period of weeks. A great favourite at one stage, was a half hour Scotland Yard mystery case. This was presented by an actor called Bruce Seton, (at that time I was not to know that I would get to know him very well when I worked in the Devonshire Arms public house in Kensington London in the 1960s).
At one time, whoever was booking films must have got a bargain in buying in bulk. For about five Sundays in succession, films starring a cowboy by the name of Whip Wilson filled the screen, so much so, one local wit, put it out that Wilson was lodging at a local B & B.
Being at the Astor on Sunday September 11th 1955, is a date I remember quite vividly. The reason for this, is that in that year, both All Ireland semi finals ended in draws on the two previous weekends. Both replays were re-fixed for the 11th, Kerry playing Cavan and Dublin playing Mayo. I remember that the Kerry match was played first, meaning that it did not finish until nearly four o clock. The Astor management, realising this, wisely put back their starting time to facilitate cinema goers who would have been listening to the match on the radio.
Another standout memory is of attending a showing of Angela's Ashes. I found this a depressing movie, more so, as it seemed to have been filmed in near constant rain and depression. Leaving the cinema shortly after ten o clock that evening, we exited to a lovely bright warm summer evening. It felt great after what we had seen on screen.
Another vivid memory for me is seeing Dead Poets' Society. At the end of the film, Eamon Keane, recognising a fellow actor, Robin William's tour de force, stood and applauded for a full five minutes
On occasions (especially before Walsh's Super Ballroom was built in the 1950s) the Astor was used as a Dance Hall. In the 1940s there were occasional supper dances, with dancing at the Astor and a supper meal been served at the Slua Hall across the road.
I can also recall a variety show sometime in the early 1950s.
I, like many, regret the closure of the Astor, now Classic, as a cinema. However I realise that without a regular substantial audience attendance, a venue like this could not pay its way. Hopefully this fine building will not be pulled down and maybe have a rebirth, as it could be used as a theatre, exhibition space, museum or boutique cinema.
Meanwhile, I salute the late Kieran Gleeson, his wife Teresa and family, for the pleasure which they gave to Listowel cinema goers. I thank them for rescuing the Astor and making it a worthwhile and pleasant location for North Kerry film buffs from January 1987 until its closure in January 2022.
The Astor cinema was built and operated by the Coffey family in the late 1930s. The Coffey family had two cinemas in Tralee. Brendan Coffey ran the Listowel cinema.
<<<<<<<<<<<<<<
From Presentation Magazine 1983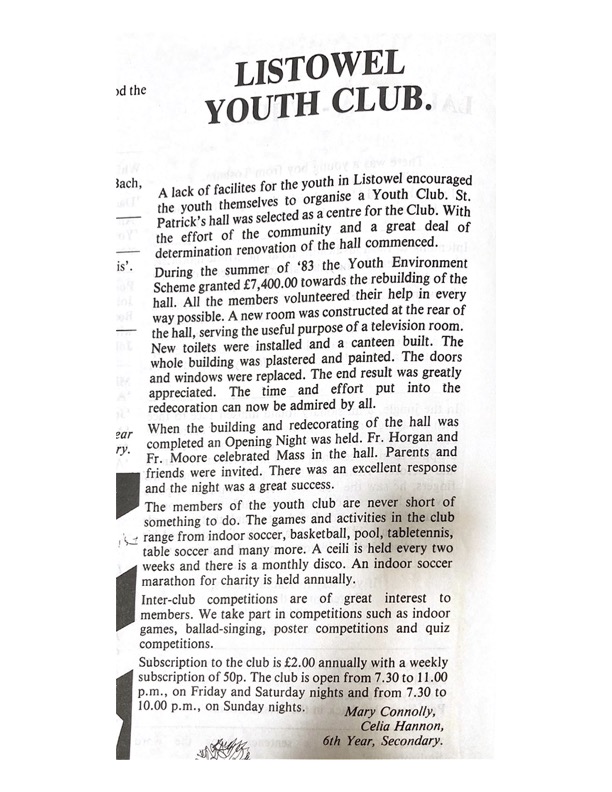 <<<<<<<<<<<<<