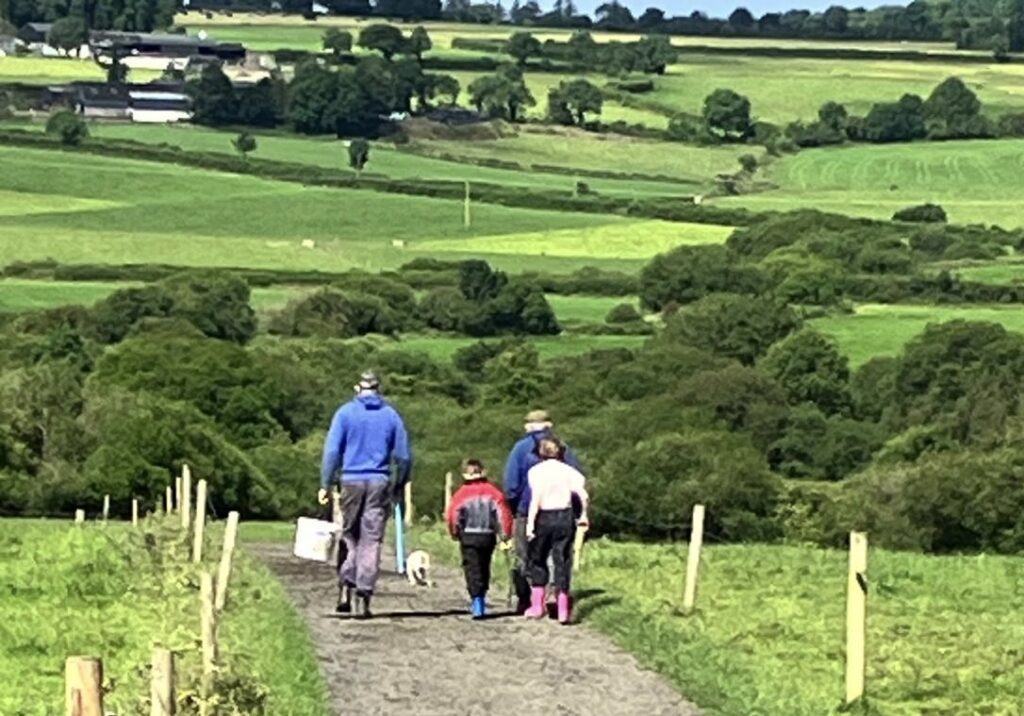 Hi ho, hi ho, a working we will go. Heading out for the calves, Kilbrin,
July 2023
<<<<<<<
Pickleball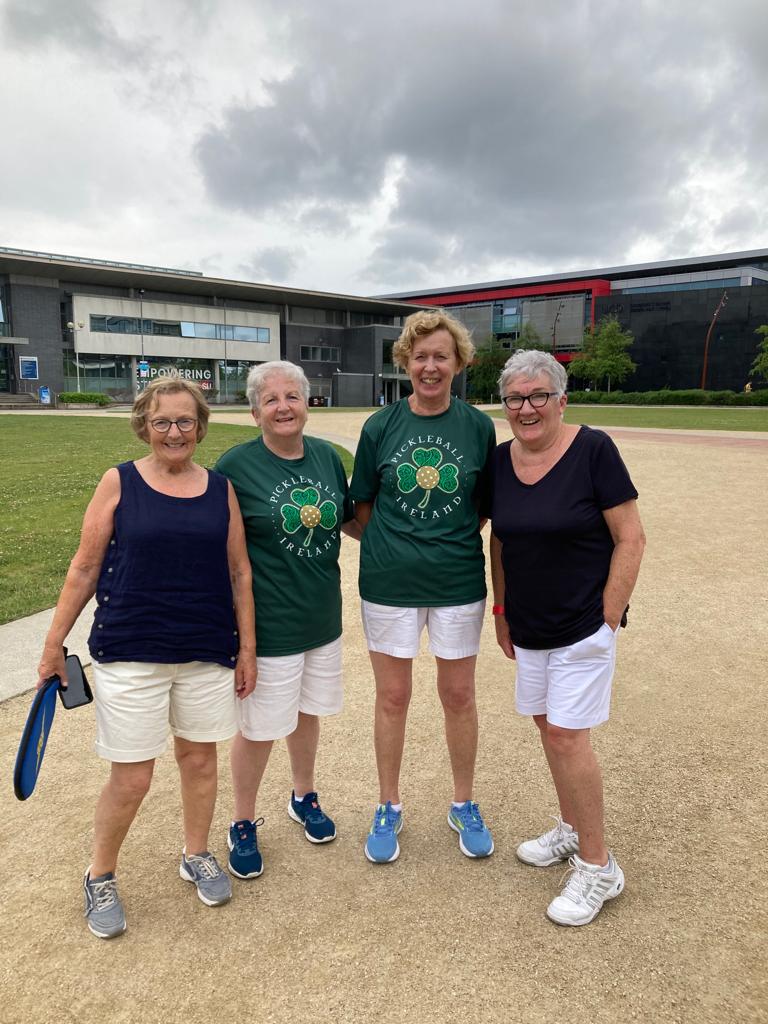 Pickleball is the latest racket game sweeping the ranks of more mature players. This group of Listowel ladies took part in the pickle ball global event in UCD recently.
<<<<<<<<
The Hanging Gale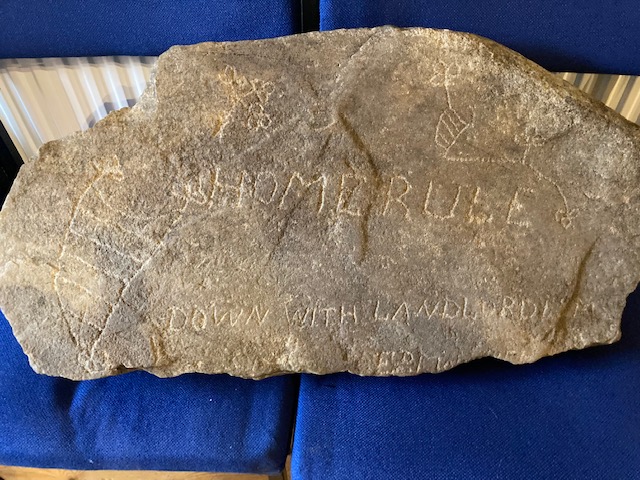 This stone is an example of primitive stone carving. Stephen Rynne brought it to Listowel. It was found in a field in the midlands and it says "Home Rule; Down with Landlordism. We have no idea who did it or when but landlords have been a hated class in Ireland for a long time. Here is an extract from Fr. John ORiordáin's book. He is writing about North Cork but the story was replicated all over the country.

<<<<<<<<
Celtic Art in Listowel
Listowel has produced Celtic artists unlike any other town in Ireland. Michael O'Connor is acknowledged as the foremost illuminator calligrapher. At the top of the list of jewellers working in the global celtic design field is Eileen Moylan of Claddagh Design.
If you have one of these treasures, keep it safely because it will in time be a collector's item
Stephen Walker is a US based jeweller and designer. He is an expert in the area of Celtic Design and he has published several books about modern celtic art. He is the founder of the international conference of Celtic Design.
Here is what he says about Eileen Moylan's work;
"The very nature of Celtic design and traditional Irish jewellery is a reference to the past. The challenge of our modern Celtic Renaissance is to preserve that style and those traditions in a way that goes beyond mere copying. Eileen Moylan's jewelry work is an excellent example of adapting the ancient style for a contemporary audience. Her designs preserve a sense of nostalgia and identity, yet are solidly contemporary. It is artists and designers like her, whose skill and imagination continue to innovate, that insure that Celtic design will continue to produce meaningful treasures into the future."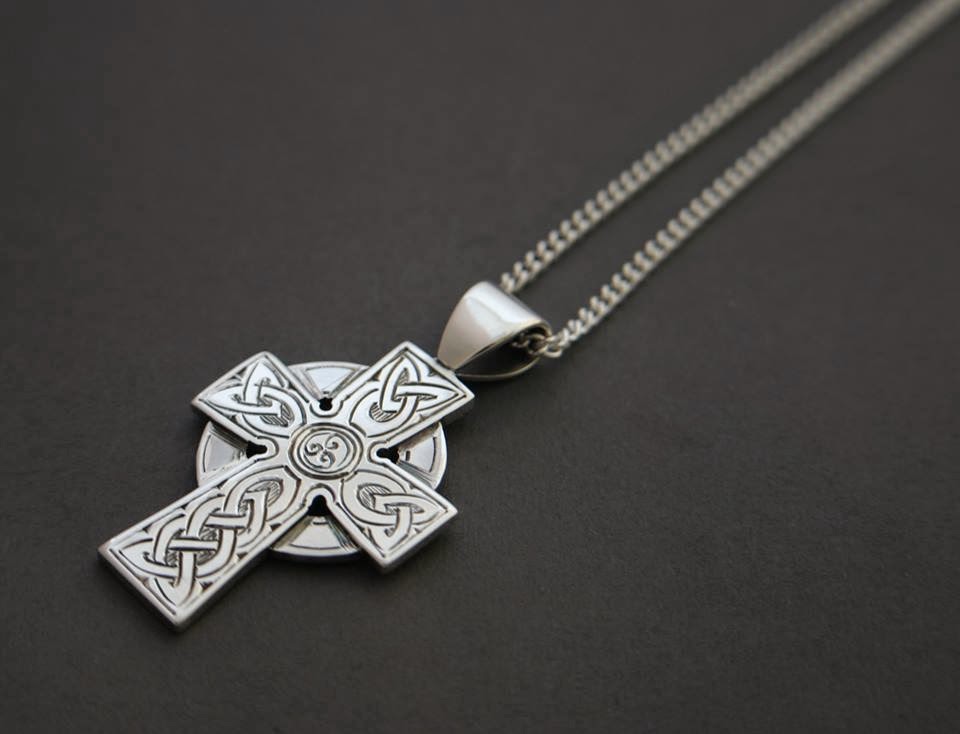 Claddagh Design Celtic Cross
<<<<<<<<<<<
Friday July 7 2013 in Fuchsia Centre
While the occasion was the official opening of the Fuchsia Centre , our party was in Art Chúram.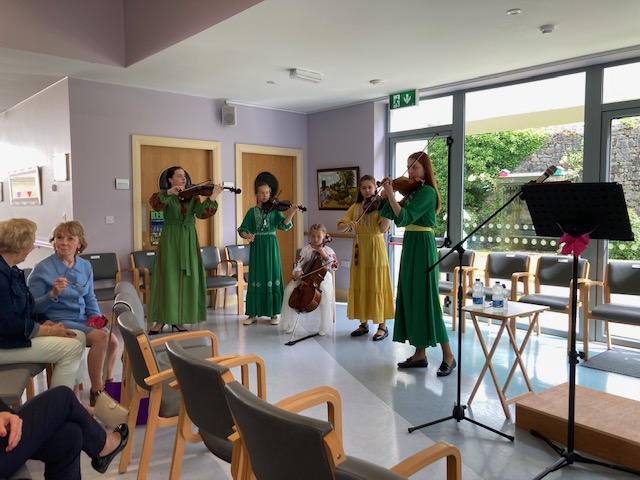 We were serenaded on our arrival by the delightful Ukrainian family musicians.
Thank you Marie Moriarty for sharing and Jim Ryan for helping me to post this clip of these superb musicians playing the national anthem.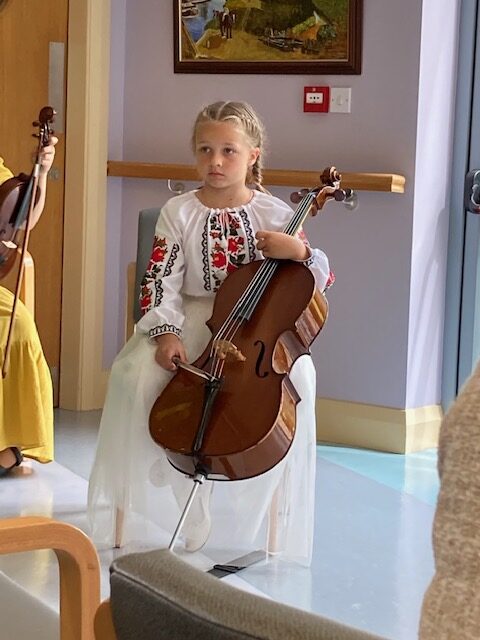 So young and so talented. The Russia Ukraine war is a dreadful occurrence but we are so lucky in North Kerry that it brought these charming and talented musicians into our midst.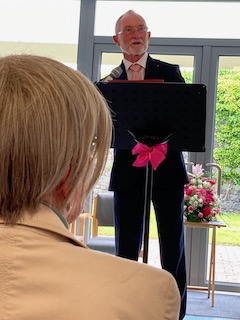 Mike Moriarty was excellent in his role as MC.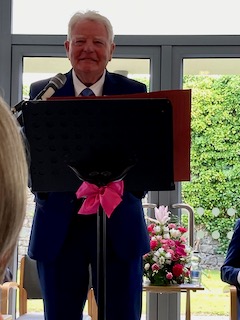 Finbar Mawe eloquently reminded us of all the effort that had gone into getting the project to completion. He remembered all the fundraisers and he had a special mention for people like Brendan O'Sullivan who made a huge contribution to the project but passed away before the official opening.
The quality of speech making on the day was admirable. Speakers were well prepared and stuck to the script.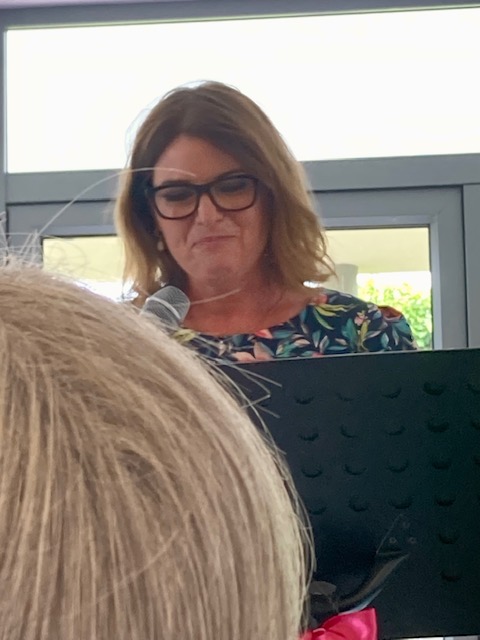 Una Buckley stole the show. She spoke movingly of her family's interaction with Art Chúram.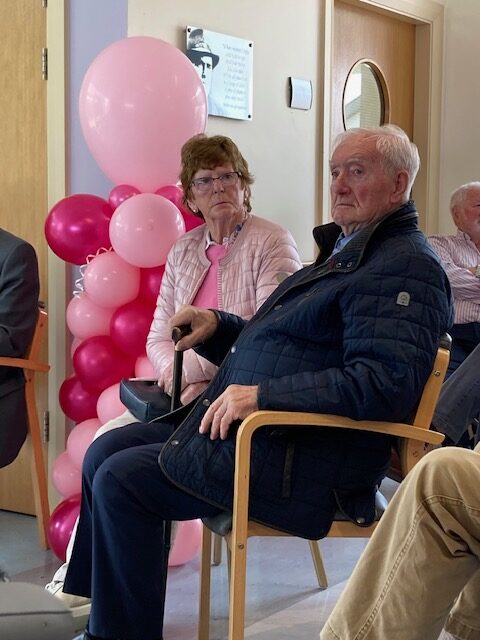 Bobby and Mary Buckley
Una's parents live in the country and now that they are no longer driving, they are dependent on family and friends to get them out and socialising. Una thanked the community nurse who introduced them to Art Churam. Now they look forward to their weekly outing. She spoke of the welcome and respect with which they are always treated. Her father has been known to sing a song or two.
Bobby and Mary are just two of the service users whose lives have been enriched by Art Churam. Una spoke for many families who are so grateful to see their parents engaged and happy.
<<<<<<<<<<<<
Your Help Needed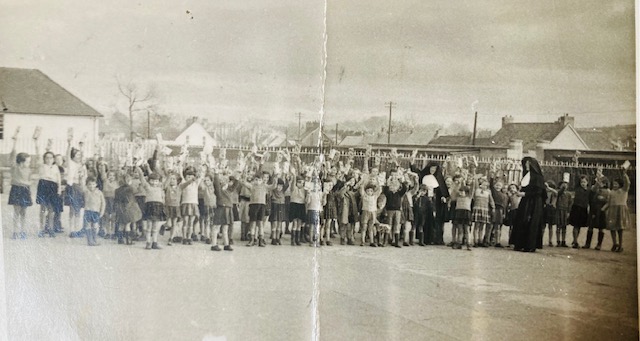 Charlie Nolan found this very old photo of boys and girls in the convent school yard. We have no date . Sr. Claire and her fellow sister are in the old habit which puts it probably in the 1950s.
Maybe someone could enhance the photo. We'd love to identify some few of the pupils.
There wasn't a school uniform in those days but the nuns used to give material and knitting wool to families and they could get a skirt made and a jumper knitted. If you remember wearing one of those skirts or knitted jumpers we'd love to hear from you
<<<<<<<<