Happy Christmas


May you live as long as you wish and have all you wish as long as you live.
(old Irish toast)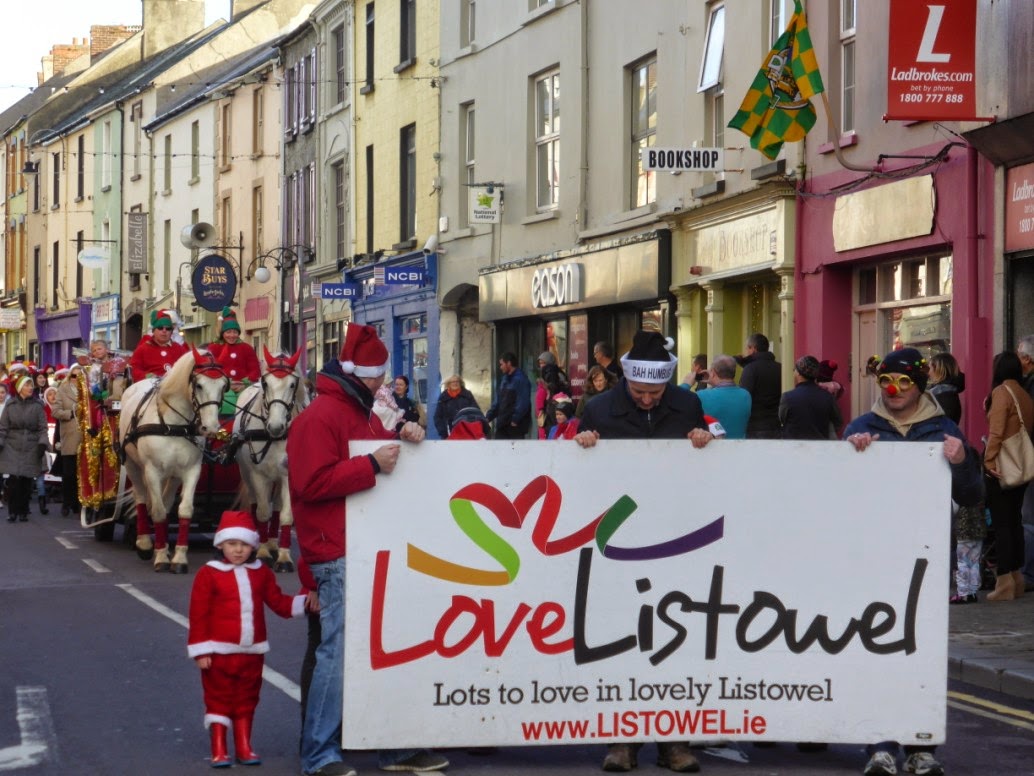 Junior Griffin's poem says it all.
MY
CHRISTMAS WISH
Oh Lord, when we give this
Christmas time,
Do teach us how to share
The gifts that you have given
us
With those who need our care,
For the gift of Time is
sacred~
The greatest gift of all,
And to share our time with
others
Is the answer to your call,
For the Sick, the Old and
Lonely
Need a word, a kindly cheer
For every precious minute
Of each day throughout the
Year,
So, in this Special Season
Do share Your Time and Love
And you're Happy, Holy
Christmas
Will be Blessed by Him above
Junior Griffin
Listowel
<<<<<<<<<<<
Peace on Earth; Goodwill to all men

One hundred years ago some battle hardened soldiers laid down their arms and did the unthinkable; fraternized with the enemy. It is one of the few bright spots in an otherwise gruesome, dirty war.


Here is the Wikipaedia account


The Christmas truce (German: Weihnachtsfrieden; French: Trêve de Noël) was a series of widespread but unofficial ceasefires along the Western Front around Christmas 1914. In the week leading up to the holiday, German and British soldiers crossed trenches to exchange seasonal greetings and talk. In areas, men from both sides ventured into no man's land on Christmas Eveand Christmas Day to mingle and exchange food and souvenirs. There were joint burial ceremonies and prisoner swaps, while several meetings ended in carol-singing. Men played games of football with one another, captured in one of the truce's most enduring images. It was not ubiquitous; fighting continued in some frontal regions. In others the sides settled on little more than arrangements to recover bodies. The following year, a few units arranged ceasefires, but the truces were not nearly as widespread as in 1914; this was, in part, due to strongly worded orders from the high commands of either side prohibiting fraternisation. Soldiers were no longer amenable to truce by 1916. The war had become increasingly bitter after devastating human losses suffered during the battles of the Somme and Verdun, and the incorporation of poison gas.
And here is the link to Mickey MacConnell singing his brother, Cormac's song commemorating the event.
<<<<<<<
William St. Upper; Dec. 2014 by Denis Carroll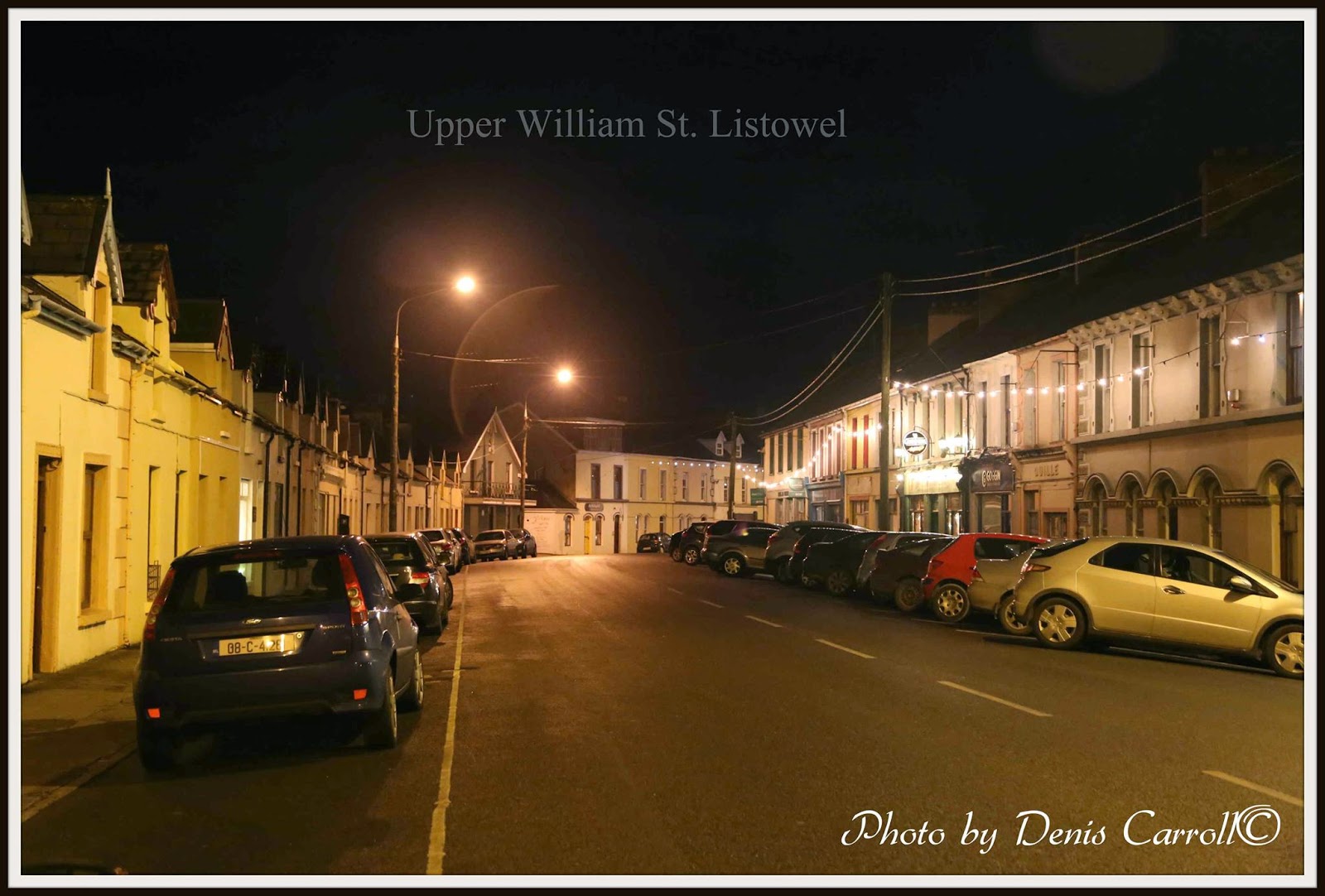 <<<<<<<
Lego, Lego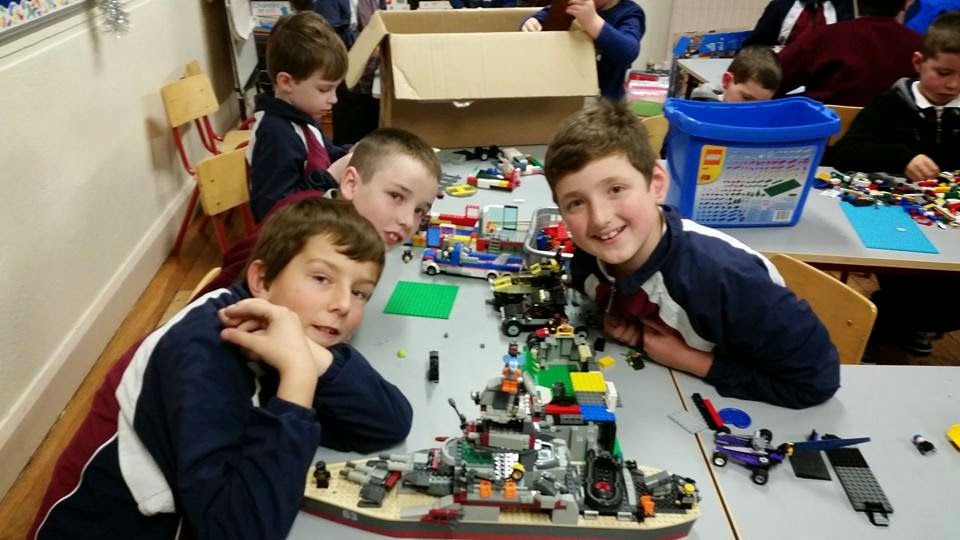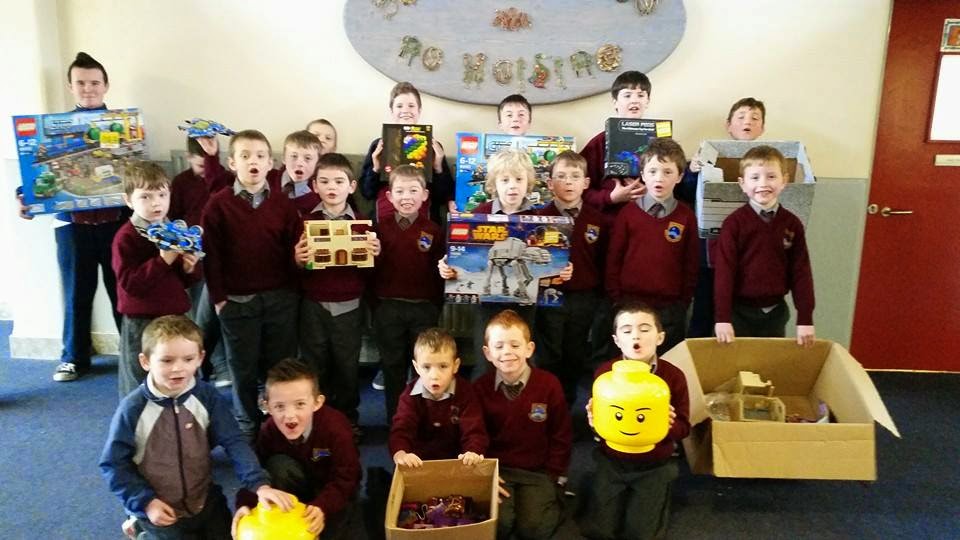 The budding engineers and constructors at Scoil Realt na Maidine love Lego. They love it so much they have a Lego club in the school. The senior boys wrote to RTE to ask if there was any Lego left over from The Late Late Toy Show. There was. RTE sent them a big box of Lego for the club.
(Photos and story from Scoil Realt na Maidine on Facebook)
<<<<<<<
Nighttime in Listowel Christmas 2014
Scoil Realt na Maidine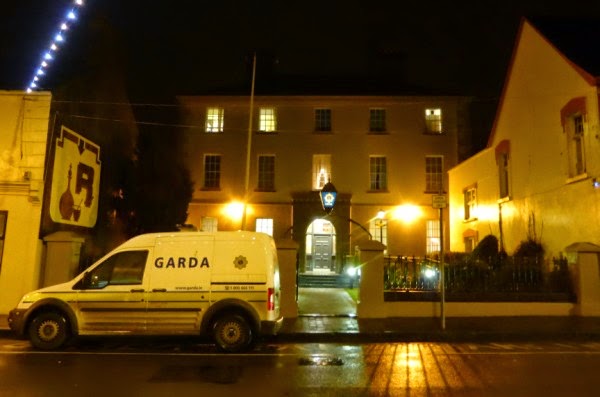 Listowel Garda Station

<<<<<<<

Listowel Post Office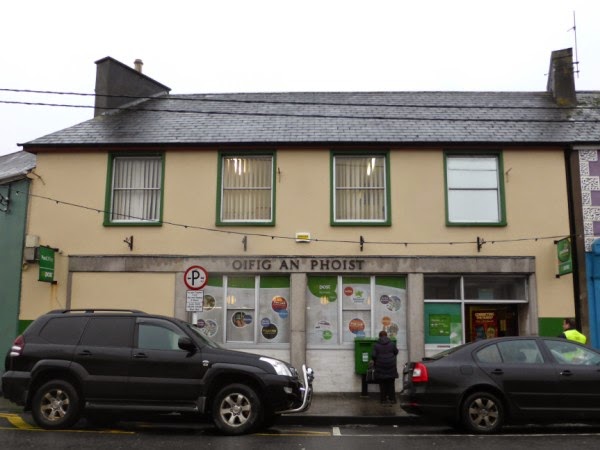 Billy Keane had the whole town talking with his article in Fridays' Irish Independent. I'm reproducing it here in its entirety
………..
"Heart of our town has been torn out by a move
decided hundreds of miles away
As bad as the English were back in the days of
the 1916 Rising, they did have some sense of the need for certain key components
in our towns. Schools, banks, churches, libraries and the post office were all
part of the fabric of small-town l
An Post has relocated our post
office here in Listowel from Upper William Street to a big Supervalu
supermarket complex. Supervalu is thriving as it is. The store is well run and
the staff are very friendly but the heart has now been torn out of our town.
I had better declare an interest
right now. I own a small pub, no more than a long stagger from the post office,
but the loss for me will be very small. John B's trades mostly by night when
the post office is closed.
Listowel is a heritage town, a town
with a soul. We box well above our weight with hugely successful writing and
racing festivals. We care for our town, with brightly painted shopfronts and a
hard-working Tidy Towns Committee.
There's a sense too that we are
only guardians of the buildings we live and work in. We owe a duty to those who
came before us to keep our town from dying out. An Post deals in figures, not
context. The words 'people or community or loyalty' do not appear on its
balance sheet.
There will be some who will
disagree with the history, but it could be said Irish freedom began in a post
office. Isn't it ironic then that the attempted relocation of the Irish town
centre is being planned and executed from the same post office. A few weeks
ago, it was announced that An Post has plans to establish an interpretative
centre in the GPO, where men died for Irish freedom in 1916. I suppose we
should be grateful An Post saved the building from fast food and amusement
arcades. But does An Post care about the communities from which it profits? Is
there any semblance of duty other than that of harvesting money, like some sort
of absentee landlord?
Dungarvan, Skibbereen, Carrick-on-Shannon,
Athy and Loughrea are next up for the An Post small-town makeover. Our sources
tell us the future of at least five other towns will be decided in the GPO. The
post office will remain as is in some towns, but many more will suffer the fate
of Listowel.
The attitude of those who occupy
GPO 2014 is that we're a commercial company and we can do whatever we like with
"our" post offices. I would say post offices are more than mere items
on a balance sheet. The post office is an integral part of small-town life.
For the record, here's the
proclamation from the GPO: "An Post is a commercial entity and we have to
ensure we remain competitive by ensuring the post office is in the area where
we can gain the maximum footfall. The Listowel post office will be run by local
people and there will be no loss of services, in the best quality premises,
with adequate parking."
There's a large free car park
within two minutes walk of the existing post office and lovely, local people
work there as it is. As for footfall, the Listowel post office does a mighty
trade.
It's all about the profit and loss
account but even then, like so many of our institutions, An Post has that side
of the equation all wrong. Bald figures on their own do not tell the whole
story. Towns need lively streets and people love chatting on their way to and
from the Post Office. A town should not be transported at the decision of a few
executives in some office far away.
The heart pumps the blood. Tear the
heart out and the town will die.
An Post was so sneaky and arrogant.
There was no consultation with the community. The dealings of An Post only came
to light when Donal Nolan of the 'Kerryman' broke the story this week. Most of
the post office staff in the greater North Kerry area only found out about the
relocation when they read the 'Kerryman'.
And you will not believe this. For
a company so faithful to the god of profit, An Post did not put the relocation
out to tender.
It should have gone public on this
months ago and allowed us to make proposals as a community or as individuals to
keep our post office. Why all the secrecy?
We know these plans were made a
long time ago. The town was the last to know. An Post will say it is a
commercial entity with no duty to disclose business decisions.
So who are all these people who
live and trade near the post office?
Sheahan's is the last pub and
grocery combo in our town. The shop is run by Conor O'Docherty and it's famous
for the lovely, freshly cut, crumbed ham. Sheahan's is just two doors away from
the post office. Conor will fight on.
"It's a huge blow but they
will not close us down." So proud of you, Conor boy.
Right next to the post office, is
the charity shop run by the excellent Irish Wheelchair Assocaiton. The future
of the shop is now very much at risk.
Next door are the Lawlees, who run
a thriving plant business. They're fierce busy with Christmas trees right now.
The Lawlees, like their hardy
plants, would survive in the North Pole but the big supermarket sells plants
too.
Back down again to the other side
and you have the Saddle Bar. Sean and his wife, Dara, worked all hours in the
United States and like my own parents bought a pub with their savings. Like the
Lawlees, they too have a young family.
I was in a shop lately and this old
lady was in front of me in the queue.
"How did you get on at your
eightieth last night?" asked the shopkeeper of the lady.
"Wonderful, wonderful,"
replied the octogenarian. "I was in the Saddle all night."
Such are the lives, the loves and
the laughter of a small town. What does An Post know of our town? Does it know
all of these people – or footfall as they call us. From bad comes good. Our
town has rallied together as one. The shock and the hurt will unite us and we
will survive.
We've been through recession, repression,
war and famine. Old Listowel will still be here, living and loving and trading
and battling, when all of us and all of you in An Post are long gone.
Irish Independent"