The NCBI charity shop which used to be called Mrs. Quins celebrated 10 years in town with a one day half price sale, a raffle and an in-shop all day party on Friday last. I bring you some photographs of the hard working staff who pulled out all the stops to make Friday a great day for their customers. Well done girls. You brought a bit of cheer to an otherwise dull and rainy day.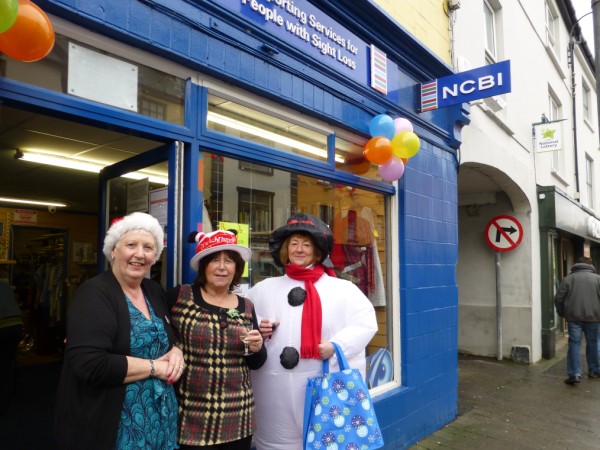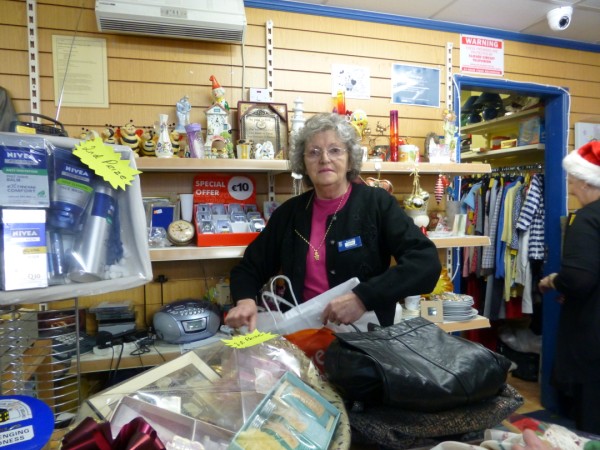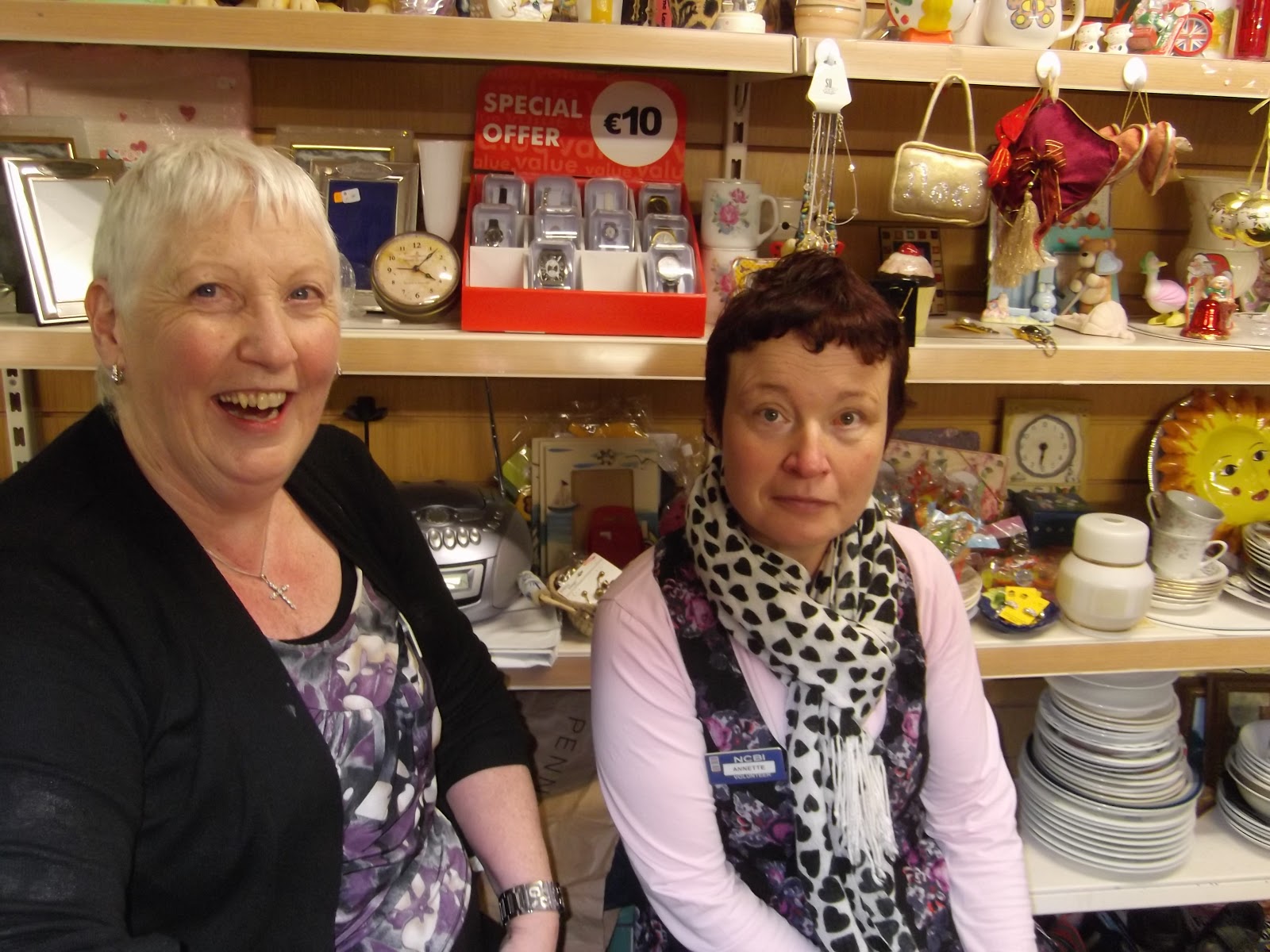 <<<<<<<
Joanne Dillon brings us a link to a good news story from the U.S.
http://queens.ny1.com/content/top_stories/174052/irish-day-of-action-volunteers-set-up-their-own-santa-s-workshop
<<<<<<
Paudie Carey wrote to me about this photo
This is what Paudie wrote;
"I just noticed the Holy communion picture on your Blog. My uncle (Paudie Carey, after whom I was named), is in the centre. I have marked up a picture to point him out. He emigrated to Australia circa 1970, married a girl from Dublin and had one girl (named Nora after my grandmother). He was killed at the age of 23 when he fell from the construction of a bridge on the Hopkins river. He was a strong swimmer (learned in the river Feale), but drowned as he wore heavy boots and a tool belt. His body was not found for about 3 weeks. The hardest thing for my grandparents at the time, is they never got to bury their son; no such thing as bringing home bodies back then or flying relatives out. Communication was bad at the time, only a handful of phones in Listowel. Guard Healy (neighbour) was asked to call toto tell my grandparents of his death but refused as he did not have the heart. I was my mother who got the hard task. Just goes to show how communication has changed the world. "


What a sad sad story! I'm grateful to Paudie for sharing the story with us. Maybe people reading this will remember the older Paudie who looked so sweet and dapper on his communion day in 1955.
May he rest in peace.
>>>>>>
Another photo taken at the Ballydonoghue Magazine launch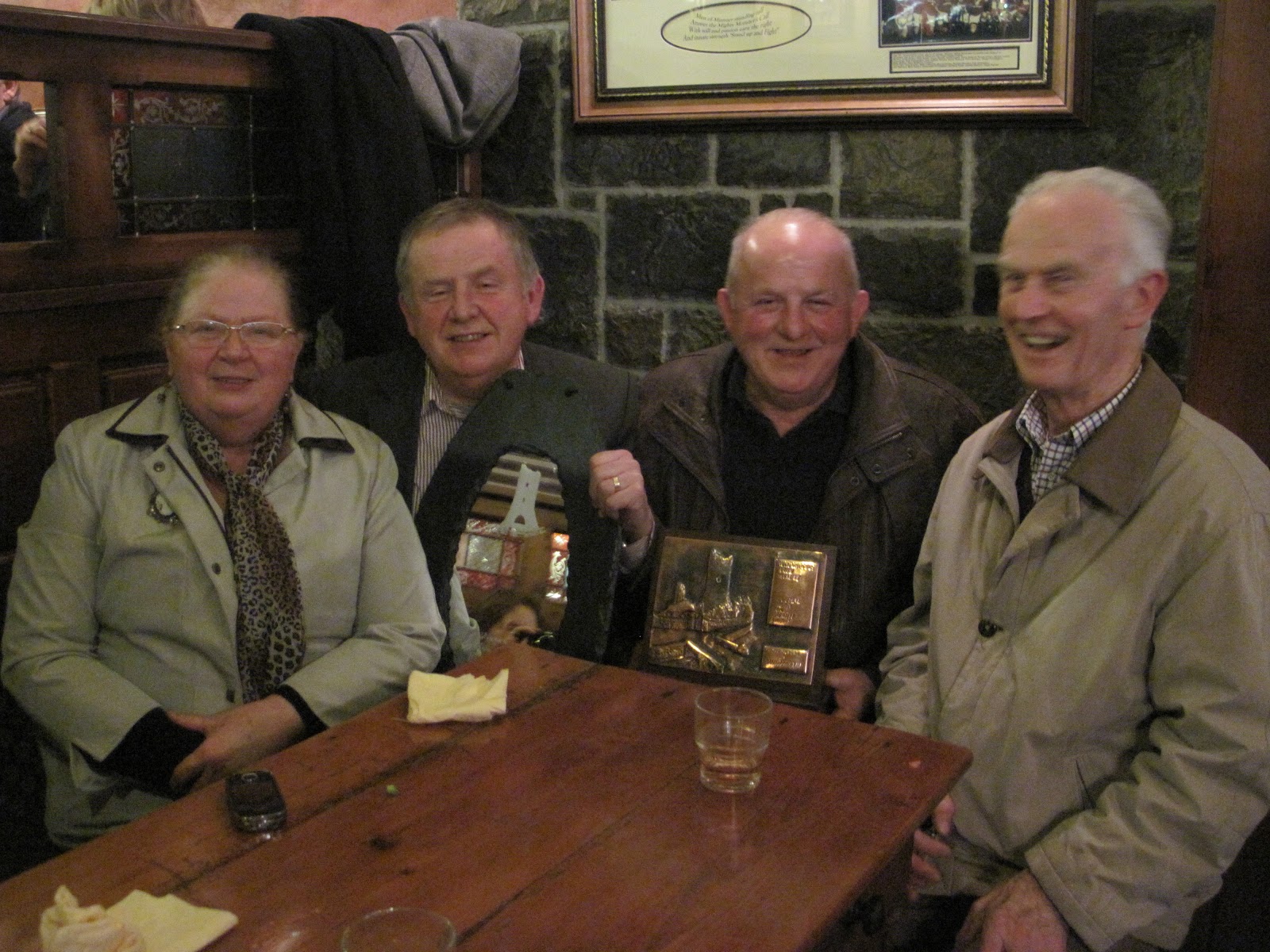 Noreen, Gerard and Dan Neville with their old teacher, Joseph Linnane
<<<<<
The unveiling of the Paddy Finucane plaque; video from Jer.
http://www.youtube.com/watch?v=XIEIEi66hSs
<<<<
http://www.britishpathe.com/video/post-early-dublin/query/ireland+christmas
This link should lead you to a Pathé clip of the GPO 1938 in an ad advising people to post early for Christmas. Listening to that voice I am transported back to the cinema of my childhood.
<<<<<
Páidí ÓSé; a life in pictures here
https://www.facebook.com/media/set/?set=a.419990914737324.99204.233111003425317&type=1
<<<<<<<
Don't bother reading this next bit if the variations in font size lately have not bothered you.
( Apologies to the people who care about style and consistency in format; Recently you will have noticed that text is often too big or too small and the formatting is all uneven. I have eventually discovered why this is happening despite my best efforts to tidy it up.
Blogger offers me a choice of text sizes, smallest, small, normal, large and largest. I always choose normal but recently normal can be either tiny or huge rather than normal. This happens because I have cut and pasted someone else's text and Blogger takes "normal" from there.
To cut a long story short, I will try cutting and pasting contributions into Word and formatting there before cutting and pasting again. That should eliminate the annoying variations in text size that have been the bane of my life in the past week. Thank you for your patience. No body has mentioned it to me so I'm delighted that my readers value substance over style.)