<<<<<<<<<<<<<
Newbridge House and Farm
Recently Éamon ÓMurchú visited Newbridge House and Farm in Donabate.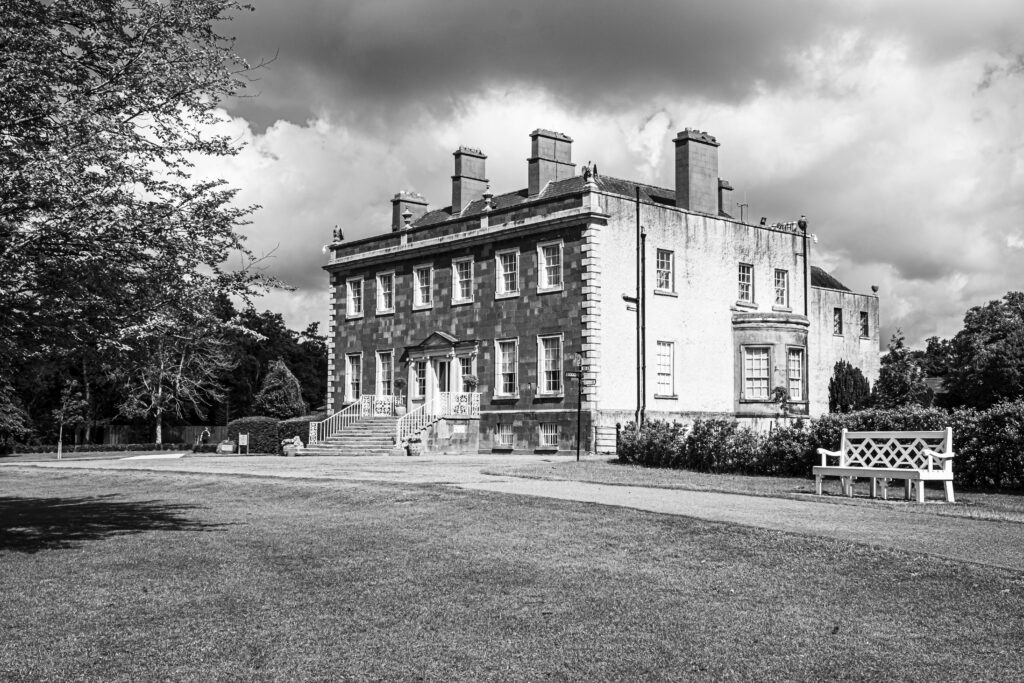 This is an exceptionally interesting visitor attraction bringing country life, old days and old ways within easy reach of Dublin.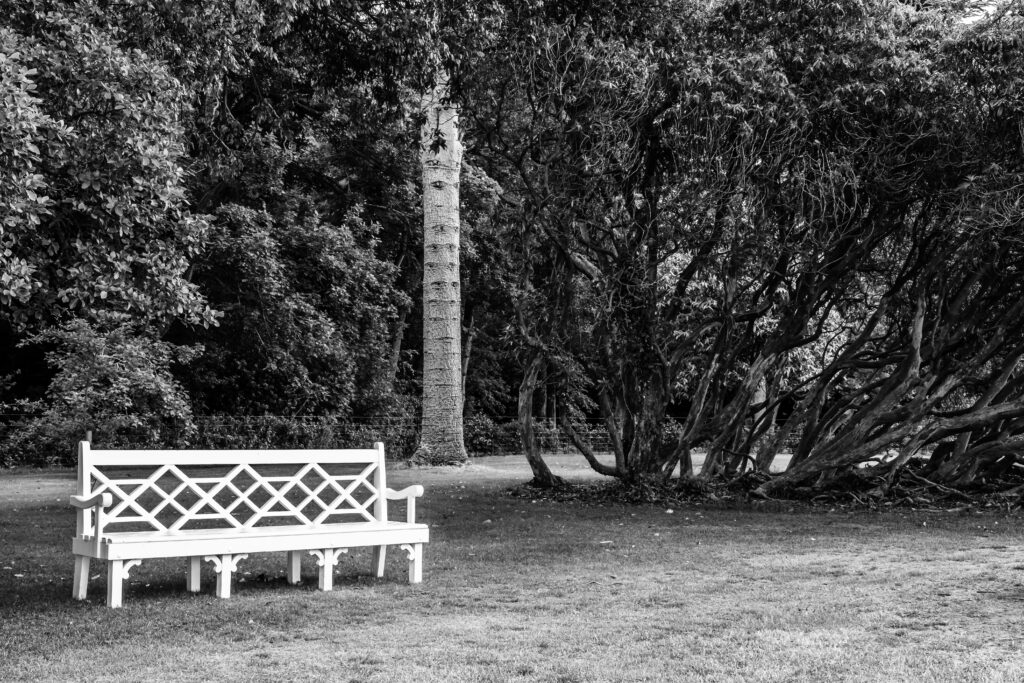 Look at the old milk churns. They are a throwback to days when cows were milked by hand and the milk taken by the farmer to the creamery.
A collection of rakes, spades, scythe, sickles, slash hook, a hay knife, a sleán, a push mower and an implement on the lower right that baffles me.
Could it be a whet stone?
<<<<<<<<<<<<
Memory Lane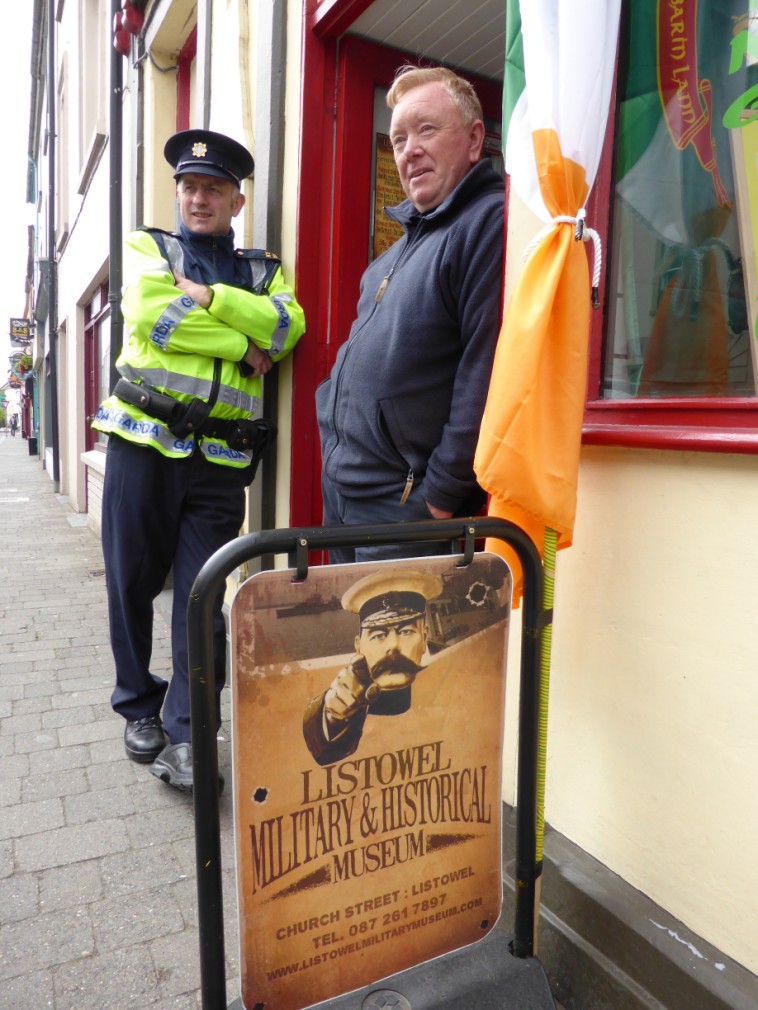 An old one of Jim Halpin chatting to a garda at the door of his military and historical museum.
<<<<<<<<<<<<<<
Wheelmaking
from Asdee National School in the Schools' Folklore Collection.
The wheel is made in the following way – the stock which is made of elm is first chipped with a hatchet – it is then put into the dell and turned. The dell is twisted round with a handle and the carpenter is at the other side with his chizels until he has it rounded enough. He then marks it with two lines at about two inches apart. The lines are used as a guide for mortising the wheel. He then gets a compass and centers his wheel so as to have his mortises even for the spokes. He then dresses his spokes which are made of oak. The spokes are prepared in the following way – they are first cut with a saw about two feet long by three inches broad and two inches in thickness. He first cuts the tenant which fits into the mortice. Then he rounds the spokes with a hatchet. After this he works a drawing-knife for to clean it. Next he works a spoke-shave in it and then he brings it to perfection with a smoothing-plane. When he has his spokes dressed he drives them into the stock. Then he gets a trammel for to get the round of the wheel for to give him a guide to mark his fellows. He then cuts the end of the spokes to fit into the fellows. The fellows are made into six parts and are a kind of bent to bring in the circle of the wheel. He then bores two holes on each fellow with an augur in order to fit them into the spokes. It is then taken to the forge and shod with an iron band.
COLLECTORMaureen D. O' Connor
AddressTullahennel South, Co. Kerry
INFORMANTWilliam Egan Age67 Address Tullahennel South, Co. Kerry
This account is full of the specific vocabulary of the wheelwright, words lost to us today.
<<<<<<<<<<<<
Today's Poem
Ar Scáth a Chéile a Mhaireann na Daoine
We live within the shadow of each other (Irish Proverb)
By John McGrath
Bang!
A finch against my window.
I felt the shudder as its world met mine,
Rushed to where it fell.
Sapped of sense and movement,
Eyes glazed, grey, lifeless,
Wings splayed, stone still.
I saw its small beak quiver,
Move as if to speak.
A tiny pulse throbbed in its downy throat.
Cupping it in my palm,
I felt the soft, warm beat within,
Willed life into stillness.
Restored by simple touch
It stirred, fluttered, faltered, flew
And healed the poet too.
<<<<<<<<<<<<<<
Good news on Parking in Ballybunion
(From Radio Kerry)
More public car parking is being provided in Ballybunion.
Kerry County Council says it will provide the free spaces at the Tintean Theatre carpark, located off Church Road.
The extra spaces will be available until the end of September and signage has been put in place to direct motorists to the car park.