Olive Stack's Christmas tribute to her hometown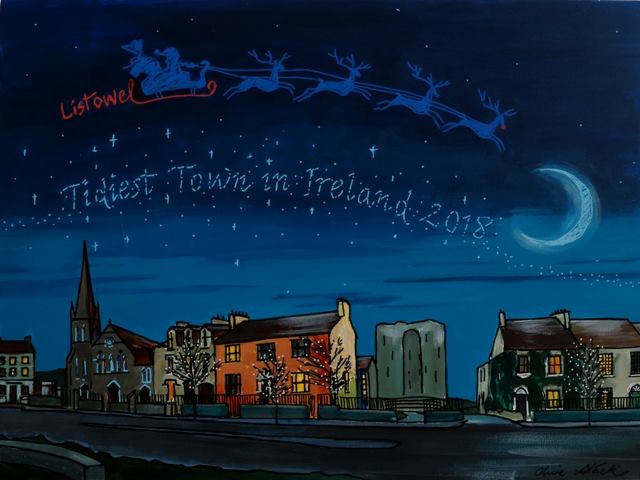 <<<<<<<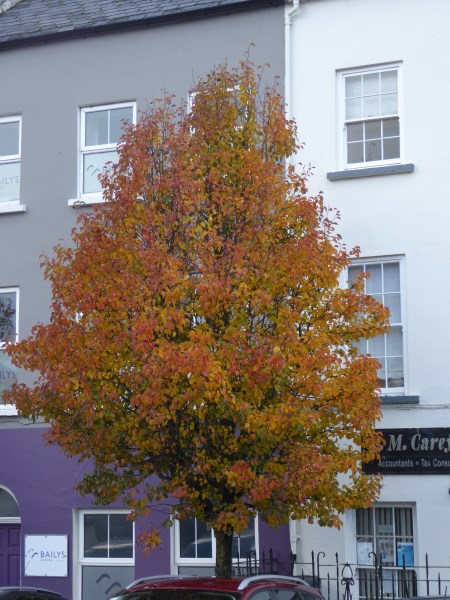 Tree in Listowel Town Square in November 2018
<<<<<<<<<
Pals Brigades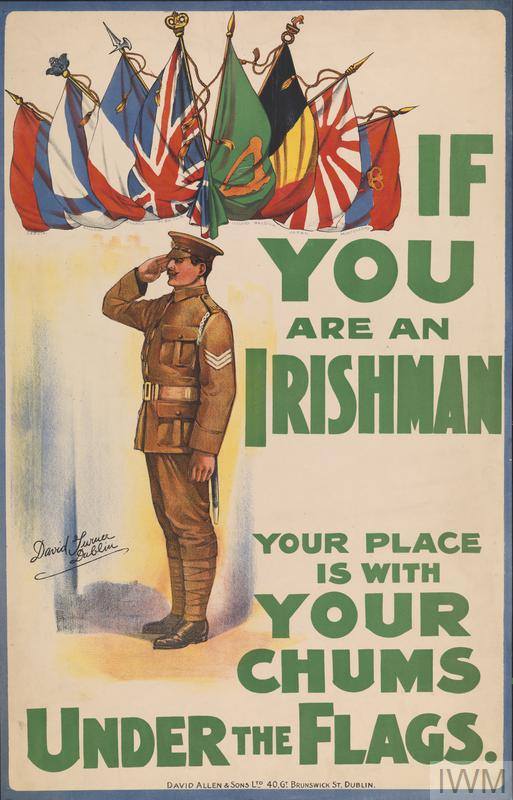 This is one of the recruiting posters from World War 1. This and other similar posters played on man's desire to be one of the gang. This policy of putting men from the same area together worked in that it cemented friendships between men who shared common memories and loyalties. It also formed a bond born out of shared experiences in the battlefield.
At his excellent lecture on Kerry and the Great War in Kerry Writers' Museum on Sunday November 11 2018 Tom Dillon told us several stories of men risking life and limb to save a friend from home.
Denis Baily of Tralee won the Military Cross for bravery. At the Battle of the Somme in 1916, he went out, under fire, to rescue a fellow Tralee soldier, Patrick Collingwood.
Paddy Kennelly from Ballybunion lay dying on the battlefield in Messines in 1917. The soldiers were under orders not to stop to help the wounded or they would be shot. Mickeen Cullens, a neighbour of Kennelly's recognised him, defied orders and hoisted the wounded soldier up on his shoulders and brought him to safety. Both men survived the war and remained friends back home.
<<<<<<<
Newmarket Co. Cork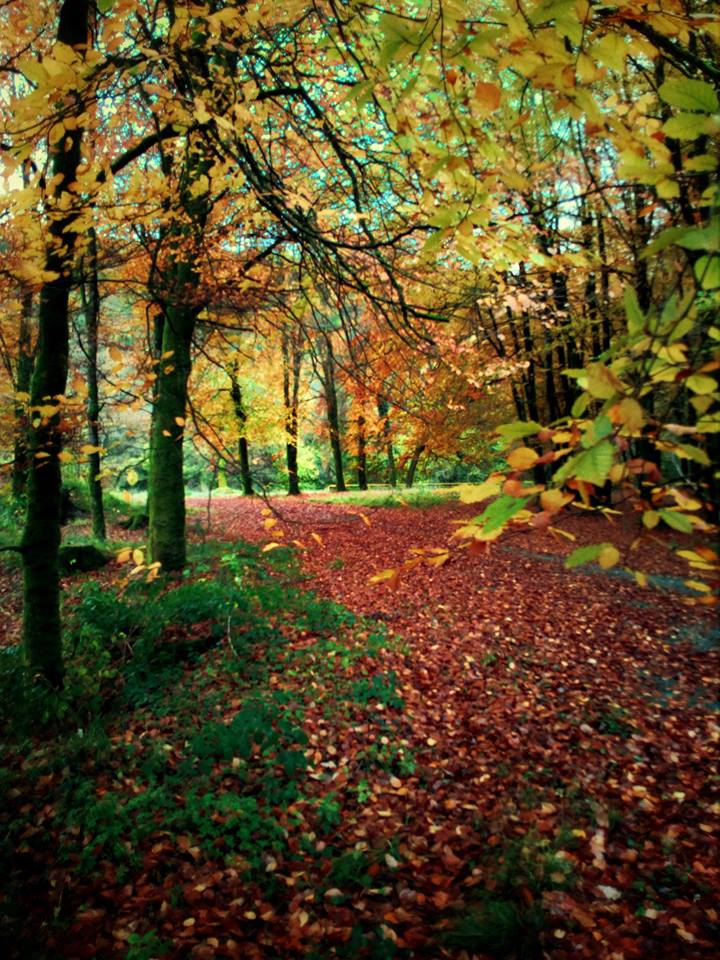 Just outside Newmarket, Co. Cork there is a lovely place called The Island Wood. Raymond O'Sullivan took this photo there.
Here is what he wrote on his Facebook page to accompany the photo;
Strabo, the Greek geographer, philosopher and historian who lived around the time of Christ, believed that in Ireland the limits of the habitable earth should be fixed. He described the natives as wholly savage and leading a wretched existence because of the cold. Other Classical writers also describe it as a cold and miserable place and go even further to to accuse us of cannibalism, endocannibalism (the ritual eating of relatives), incest and all forms of fornication. Opinions reflecting Classical prejudices to anyone living outside their narrow sphere, no doubt. It is clear that none of them ever set foot on our green and misty isle and definitely never stood on the bank of the Poll Fada on a sunny mid- November morning
<<<<<
Shannon Mouth (Dúchas Collection)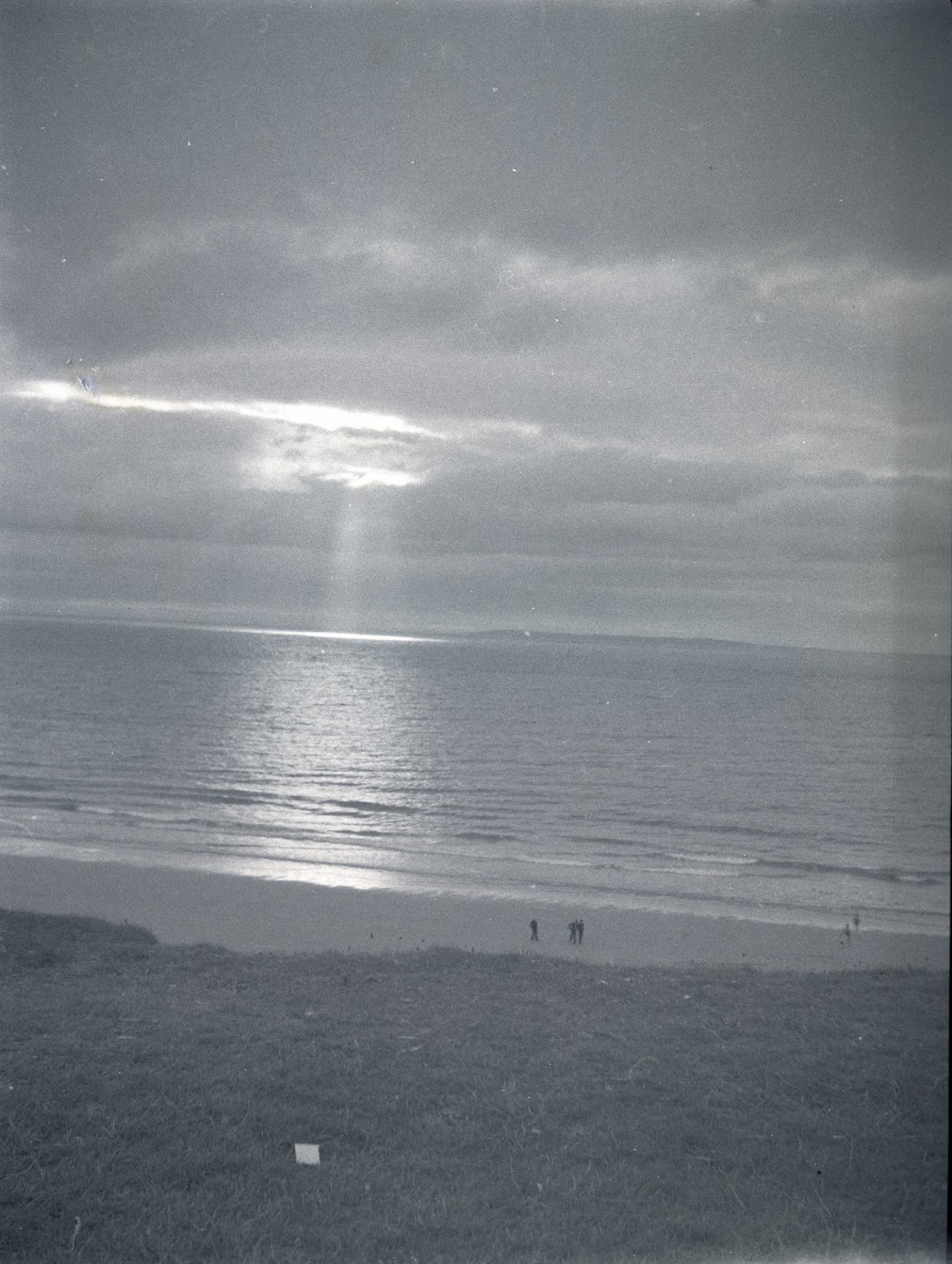 <<<<<<<
Field Names
Our ancestors had a name for every field. Maybe families still retain these names. Do farmers invent names for fields anymore?
Here is a contribution from a child in Ballylongford to the folklore commission and now preserved in the Dúchas Collection.
There are many names given to the different fields in our farm, such as, the "Well's Field," so called because there was a blessed well there one time. This well moved from where it was first, owing to a woman who washed clothes in it one time.
The Three Cornered Field, so called because there are three corners in it.
The Pound Meadow, this gets its name from cattle who were being pounded in it at night, long ago.
The New Field, is so called because it was a garden before, and now, cattle are being pounded there.
The Parkeen, this gets its name because it is a small field.
Griffin's Field, this gets it name from a family of Griffins who once lived there. This family left the place and it is now owned by my father.
The Fort Field, is so called because there was a fort there at one time. The ring of the fort is all that now remains to be seen, as the trees were cut down long ago.
The Long Field is so called because it is the longest field in our farm.
The Gate Field, this field is so called because there is a gate going in to it from the public road.
The Hill Field, is so called because it is a very hilly field.
These were told to me by my father who lives in the townland of Ahanagran about two miles from Ballylongford.
Collector Teresa Holly- Informant Patrick Holly, Relation parent, Age 60 Address- Aghanagran Middle, Co. Kerry, Location- Aghanagran Upper.
<<<<<<<<<
Christmas in Listowel
This year once more the local traders have a Christmas website up and running. It's worth while checking back every so often to see what's happening and what's on offer.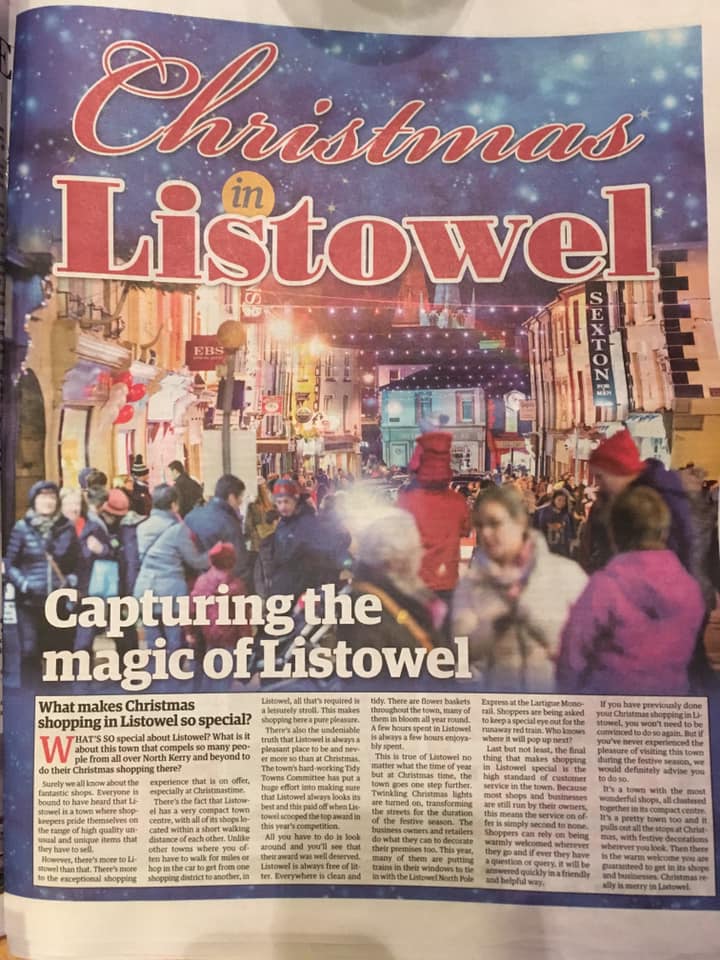 This is the Christmas supplement that came last week with Kerry's Eye. The eagle eyed will spot yours truly in the picture on the cover.