Photo Memories of O'Connells' Avenue


Maria Sham grew up in O'Connell's Avenue. Her father was Timmy Canty who worked in the creamery. Maria has fond memories of her old home, her family and neighbours in Listowel. She rooted out a few old photos.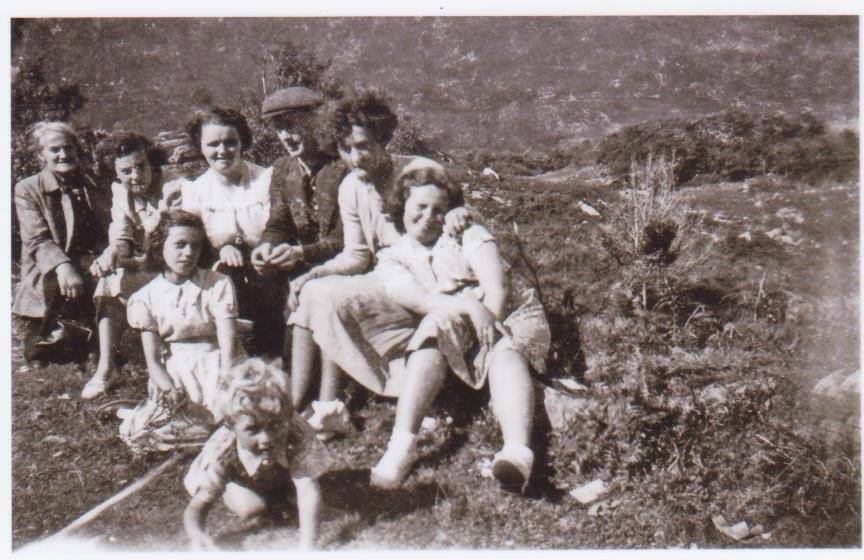 This is a Listowel group on an outing in Killarney. Maria thinks that the man was a driver from Malone's on Church St. Maria is sitting on the grass with the ribbon in her hair .
The others are:
Left to R, Nan Canty, Maria's grandmother, Betty Clancy, Molly Cooperager, Driver for Malones Church St, Maria's aunty Sarah Clancy, Joan Dillon they had a barber shop in the Small Square, Maria and Conny Clancy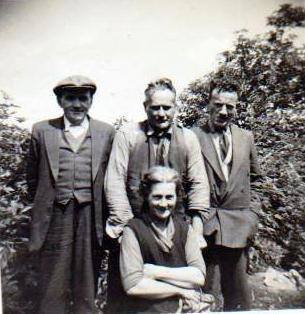 Mam Dad uncle Peter and neighbour Jack Hurley; R.I.P all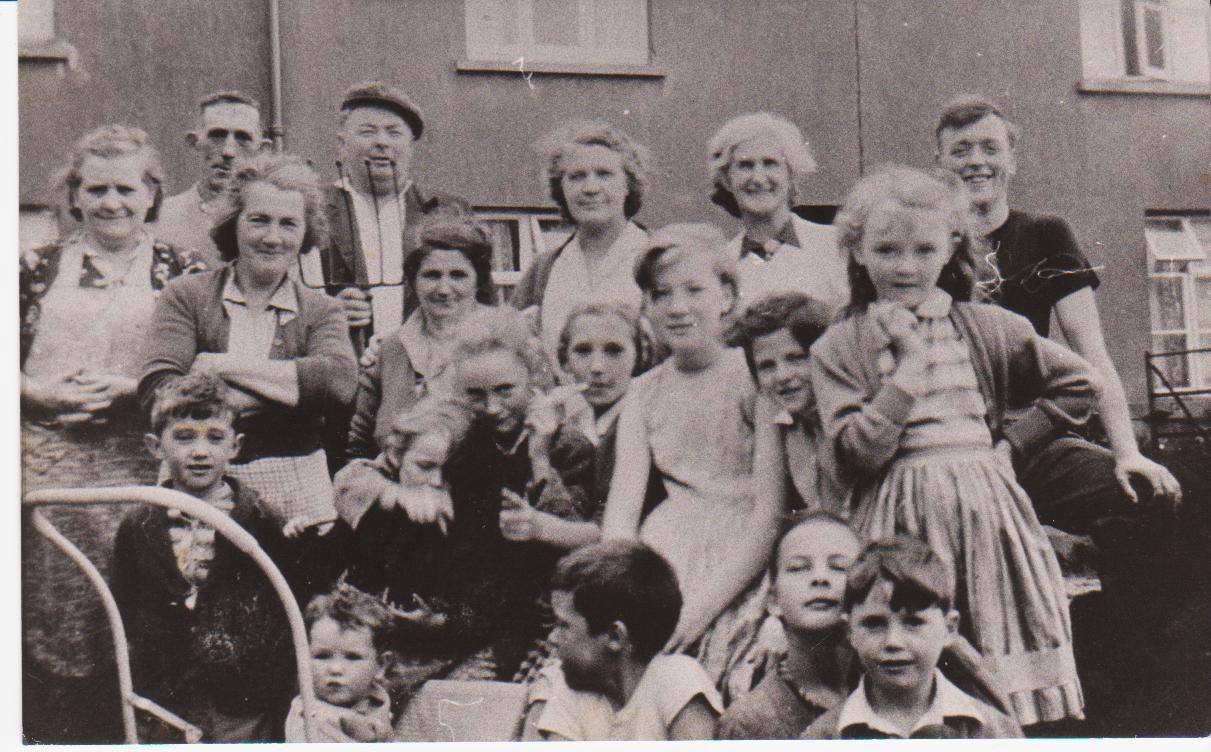 Friends and neighbours in O'Connell's Avenue.
Maria writes: I am going to name what I can.
Back Row left to R , Mrs Mary Galvin and Paddy Galvin,Tadhg Murphy with the fork, Mrs Murphy, Elly Nolan, man on right home from UK, Derick Woods,
next row my Mother, Birdie Canty,next to her woman with dark hair Nan Murphy, children boy on left Andy Hayes, Sheila O'Connor with arm around her sister Marie, Kay Galvin, next is Taig Murphy's Daughter cant remember the name, then a Flaherty, Breda Woods hollidaying from UK, in the pram might be Mars Fitzmaurice, Junie Canty my Brother, Noleen Reidy, little boy is Hayes cant remember the first name, lovely Neighbours




<<<<<<<<


Nancy


Do you remember my Christmas card story from December 22 2015?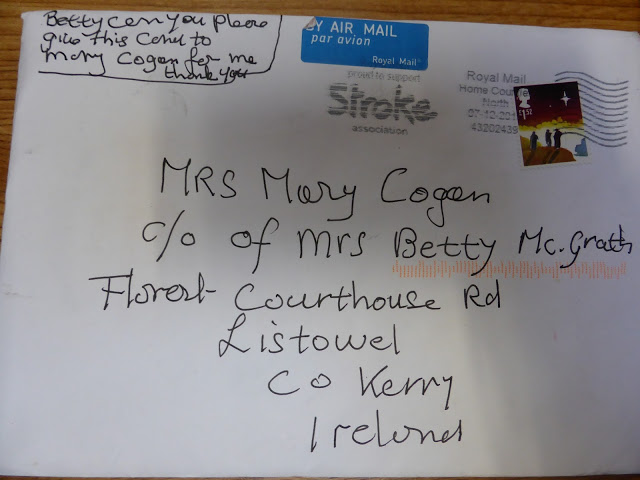 This is the sender, Nancy Kelly, formerly of O'Connell's Avenue and now living in England.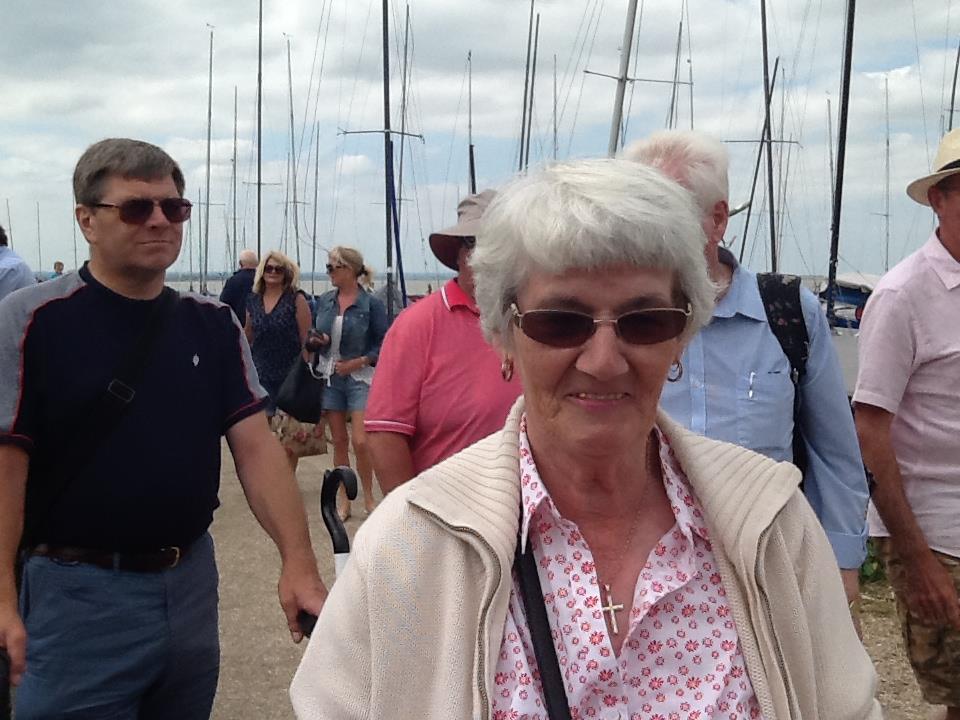 Nancy is legally blind but she loves the internet and particularly Facebook. She likes nothing better than to travel down memory lane to her childhood in Listowel.
<<<<<<<<<






This lovely little poem I came across lately will bring a tear to your eye
Father's Day by Leo
Cullen
Now he had pneumonia,
"Old man's friend," said the neighbours.
It was time to go. His doctor insisted,
So did his three daughters.
They hunted out his best clothes-
The previous year's Christmas presents
He hadn't worn since they'd bought them
Preferring the bunched up woolens
And suit waistcoats. Now he was decked-
Looking more washed out then snow-
In loose fawn gansey and pink shirt,
Standing for the last time at his door,
Quivering into his walking stick,
The door he'd passed through for forty years
Through which he'd carried shopping bags
And coal and schoolbags and medals and girls.
He saw the hospital up on the hill.
It didn't have the big extension
Those times he'd visited. His daughters stood
Unrelenting in the room behind him.
The ambulance drew up, the attendant got out,
Opening the door on high hinges,
Lowering the trolley, and he heard
"This one is his house, this is."
He drew himself up, his mouth forming
Words, his shadow growing thinner,
Slicing the sunlight on the hall floor. "I'm not,"
He said, "leaving here on a stretcher."
<<<<<<<


Listowel Town Square


I took this photo in summer. St. John's is in the background and between the two leafy trees is Tony O'Callaghan's Feale sculpture.
<<<<<<<<<


Notices from the Parish Newsletter
LISTOWEL
FAMILY RESOURCE CENTREtalk on effective communication with children
and teenagers will be given by David Coleman at Listowel Family Resource Centre
on Thursday. February 11 from 7-8,30pm. Booking – 10 euro per
family/student/carer/guardian and 15 euro per professional person. Further details from (068) 23584. Names are
currently being taken for a new five-week course entitled 'Parenting when separated'
commences at Listowel Family Resource Centre on February 22 at 7pm
LISTOWEL
COMMUNITYCENTRE FREE
30min Taster Classeson Monday 18th Jan. Spinning 7.00pm
and 7.30pm, Kettlebells 8.00and 8.30pm. Nutrition Workshops with Kerry Senior Team
Nutritionist Kevin Beasley starts 7.00pm Monday 25th
January. FREE for members. €10 non-members. Massive gym Membership Sale…WAS
€360 NOW ONLY AN AMAZING €277 Special Offer on Fitness Classes…Buy 7 and get 1
FREE!
KERRY STROKE SUPPORT GROUP for
those who have had a Stroke Meet the last Friday of each month from 11.15
am to 1.15 pm in Baile Mhuire Day Care
Centre, Caherslee Tralee Kerry. Various activities ; For further info
contact 087 3586451.


<<<<<<<


Name the Stars


I posted this yesterday because of the David Bowie connection. I didn't know who all the others were but ,in response to a request, I looked them up on the internet and here are the names;
Bob Geldof's wedding to Paula Yates in 1986. Back row, from left: Johnnie Fingers, Garry Roberts, Tony Hadley, John Taylor, Simon le Bon, Martin Kemp, George Michael, Gary Kemp, Simon Crowe, Steve Norman, Aled Jones. Seated, from left, Midge Ure, John Keeble, Paula Yates, Bob Geldof and David Bowie