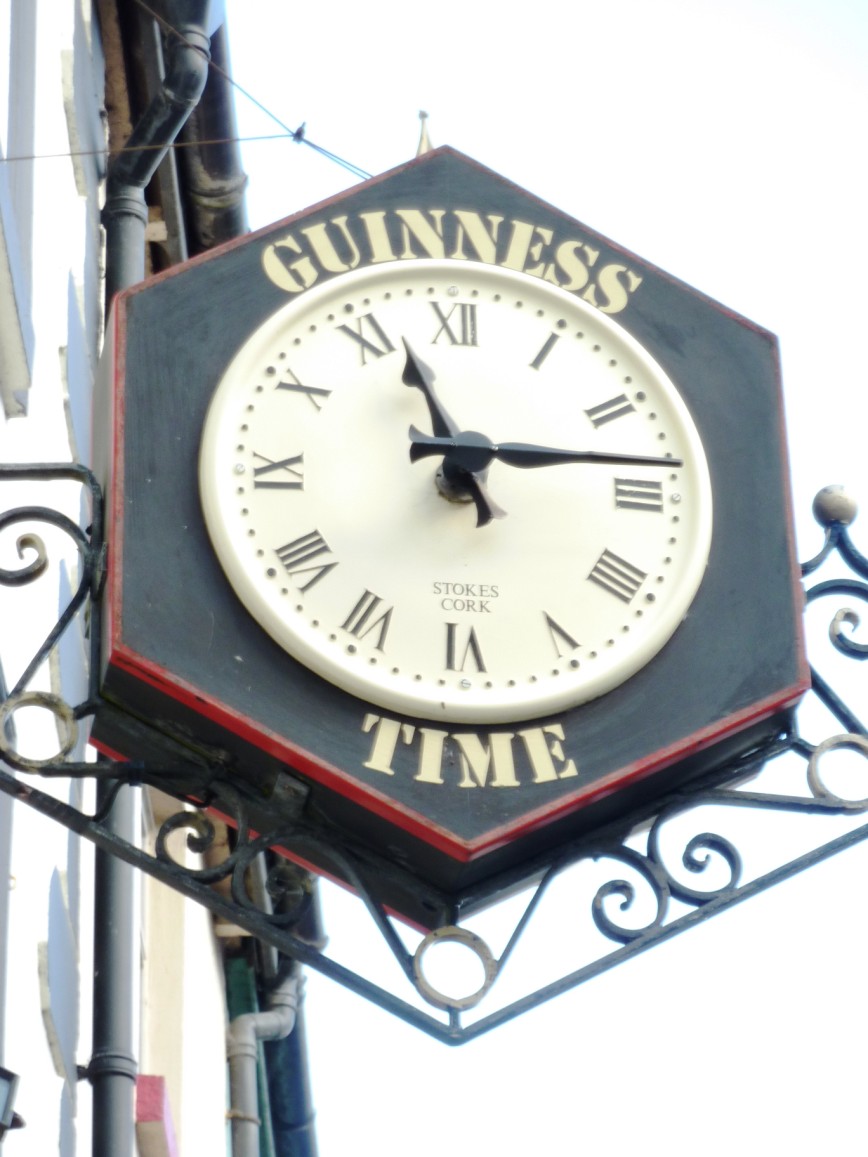 Do you all recognise this timepiece? It hangs outside Mai Fitz's on William Street. It should not be today's picture because I should have thought of taking a photo at our meeting on Monday night. I was so excited by the sight of the huge attendance that I forgot to fish out the camera and record the occasion. Apologies. Kerry's Eye did take a photo or two so I'll see if they will share.
The meeting was a great success.The over capacity crowd was very enthusiastic and ready for the challenge of preserving our history.
I'll outline the format of the night for those who couldn't make it. Ger Greaney, our hard working chairman, introduced the project and gave a bit of the background to its beginnings. Cara Trant then gave a presentation on the pilot project in Loughrea. She showed us all that it could be done. We can learn from any mistakes our Galway pioneers made and we can build on the model they have outlined for the work.
Ger was next up. He had diligently traced the history of one lesser known but mildly famous Listowel family. He was greatly helped in this research by all the hard work that had been done and is now shared on line by Robert Corridan. This family is the Stack family, formerly of 53 Church St. Michael Stack is a state senator for Philadelphia but his family originated in Listowel, Co. Kerry. Seven of the children from this family alone emigrated to the U.S. and have all done well in their adopted homes. Ger traced this family using on line records and he painted a fantastic picture for us of what could be done. Of course it will not be so easy to trace people less in the public eye.
It never ceases to fascinate me what can be found online. Only yesterday I found a marriage record for my great grandfather from 1839. This record had been kindly uploaded by another member of my extended family who was researching through church records for another ancestor.
Back to Monday night. With everyone fired with enthusiasm for looking back, we came to the highlight of the night, Vincent Carmody's slide show of pictures of North Kerry. Vincent presented to us a varied and interesting insight into North Kerry in the past. We saw a beached plane on Beale strand and what looked like half of North Kerry under its wing. We saw a photo of a fleet of naval warships sailing up the Shannon estuary. This sparked one of the audience to recount his mother's memories of the same sailors on a paper chase training exercise. He told us that the sailors had stayed in Tarbert for 6 months and had assimilated well into the local community. I heard on the radio yesterday that our own Irish soldiers are likewise bonding with the people of Tibnin today. We marvelled at progress as we saw a picture of the first car to be registered in Limerick as well as one of Mrs. Raymond in full regalia heading to town in her ass and cart. Many people in the audience recognised friends and relations, and in one or two cases themselves, in the photos.
A lively question and answer session ensued. Everyone agreed that it was a very enjoyable night. The next question is, Where to from here? All suggestions will be brought to the attention of the committee.
BTW I have not forgotten the bandsroom. Vincent is on it and will give me something to post on it shortly.