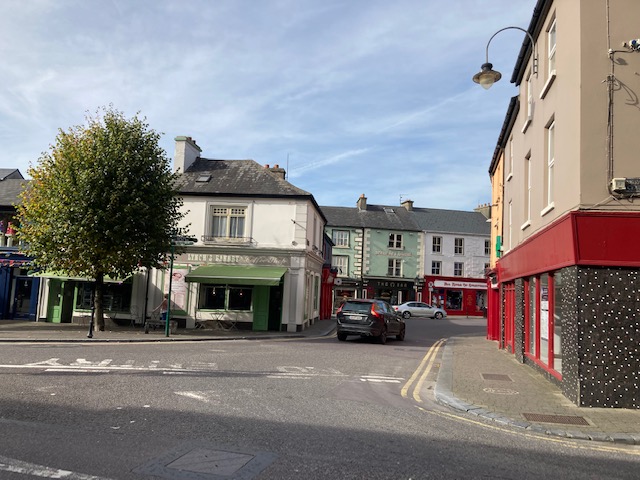 Scully's Corner
<<<<<<<<
From the Capuchin Annual Archive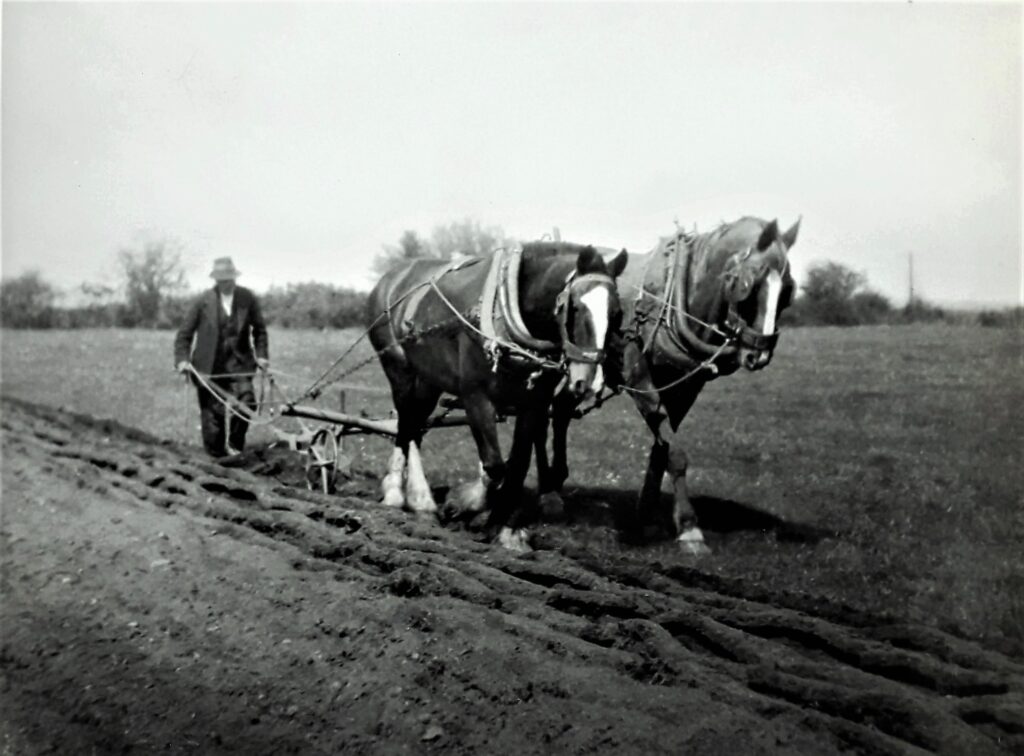 Horse-Drawn Ploughing, 1945
This is an image of a farmer with a traditional horse-drawn plough in rural Ireland. The image dates to about 1945. Attracting an annual attendance of nearly 300,000 people, the National Ploughing Championships is the flagship event for Irish agriculture and is one of the largest outdoor exhibition and agricultural trade shows in Europe. The event runs for three days.
The photograph forms part of a bound volume containing a collection titled 'Views of Irish life' intended for publication in 'The Capuchin Annual'.
<<<<<<<<<<
What I'm Reading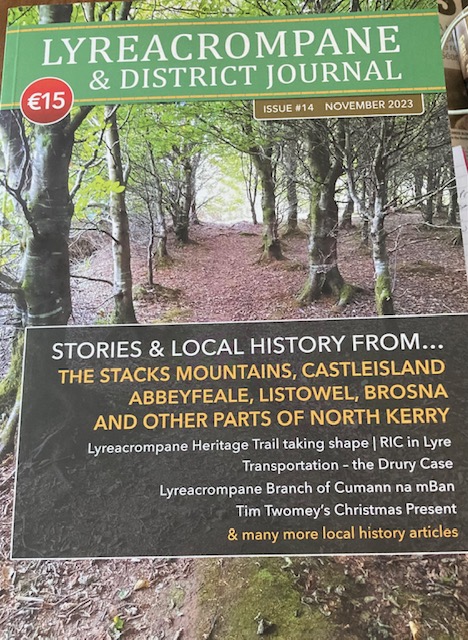 The Lyreacrompane and District Journal is full of interesting little stories.
I was happily reading these when I spied a photograph of my postman.
Pat Hickey's story is on page 12.
In 1979 Pat's grandfather made a find in a bog in Banemore…a casket of bog butter that could be 2,000 years old.
This is just one of the great and extraordinary tales in this marvellous journal. The best value in town at only €15.
<<<<<<<<
In Ballylongford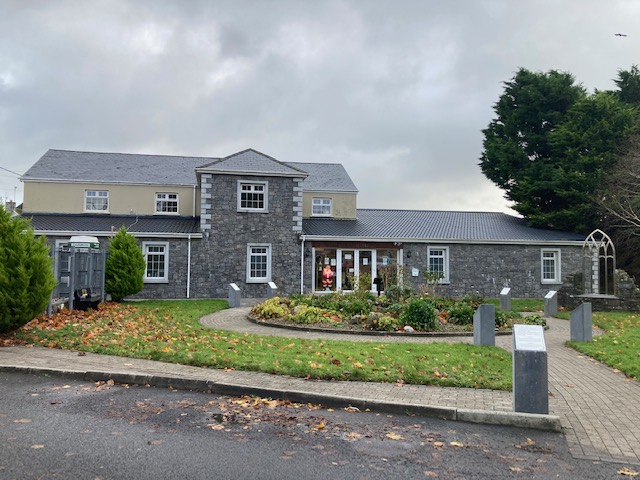 I was in Ballylongford last Sunday for the annual craft fair. The community centre where the fair was held shares a carpark with St. Michael's church.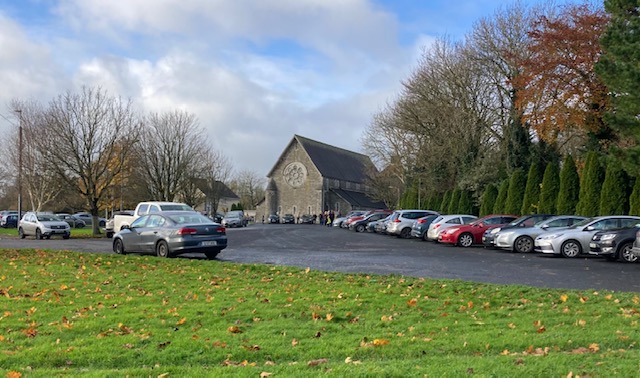 I arrived at mass time. Big mistake! Cars parked and some more abandoned everywhere. I'll know better next year.
<<<<<<<<
When Your Granny Played a Role in History
The Ballyseedy massacre has to be one of the the worst atrocities of a very bitter civil war in Kerry.
Here is Mick O'Callaghan's story;
Granny Curran and The Civil War
Granny Curran said her rosary nightly and prayed for people who died in wars. We were always very aware of the significance of her home place and civil war politics. My granny played a role in saving a man's life. On March 7th, 1923, nine republican prisoners, six from the jail in Tralee and three from the workhouse, were taken from Ballymullen army barracks in Tralee. They were taken in a lorry, lying down, to Ballyseedy, on the Killarney Road. They were secured by the hands and legs and to each other and arranged in a circle around a landmine at Ballyseedy and they were blown up.
This barbaric event was in reprisal for the killing of Capt. Michael Dunne, Capt. Edward Stapleton from Dublin, Lieut Patrick O Connor from Castleisland, Private Laurence O Connor from Causeway, and private Michael Galvin from Killarney. They were killed in a booby trap bomb set off by anti-treaty forces at Talbot Bridge near Knocknagoshel on March 6th1923.
One of the men at Ballyseedy, Stephen Fuller, was blown clear. He landed in a ditch, suffering burns and scars. He crossed the little river Lee and hid in Ballyseedy Woods. He followed the stream until he came to the gable of a house owned by Mike and Hannah Curran, my grandparents.
They took him in and hid him in the hayshed and tended to his wounds. The following day they took him to the home of Charlie Daly. His injuries were treated by a local doctor, Edmond Shanahan who found him in a dugout. He moved often in the coming months including to the Boyle and Burke families in the locality. Then he stayed in a dugout prepared by the Herlihy family for seven months until they were able to contact people who could get him to safety and back to health. The Dublin Guards scoured the country for Fuller but failed to find him.
He joined Fianna Fail led by Eamon De Valera in 1926 after a split with Sinn Fein. He returned to full time farming. Later he became a TD for North Kerry and won elections in 1937,1938, 1943.
My grandparents were not actively involved in any movement but just did the Christian thing in saving a man's life. They were shocked at the barbaric act that had been committed so close to them at Ballyseedy Cross.
This was a time when brutality was everywhere with pro and anti- treaty sides involved in terrible atrocities with brother fighting against brother and families split over civil war loyalties.
My first cousin Michael, who is now in his eighties and resides in Connecticut, lived with Granny Curran, and I asked him if he ever spoke to her about the Troubles and he wrote to me as follows: "She described the Stephen Fuller episode to me many times. It struck me as a one-off event. He came up along the river that runs behind our house and saw the gable in the distance and headed for it. She said they put him up – I think in a loft, maybe in one of the outhouses overnight and passed the word to wherever they needed it to go that he was there. I had the impression "they" came for him the next day in a pony and trap and took him away. As I say I think it was a one-time event. I don't believe she ran a "safe house" although it was safe for Stephen Fuller that night. She never impressed me as a fan of either side in the civil war. I think she was too practical for that.
She had a large family at home – my father was 14 at that time – and the civil war was an extension of what they went through with "the Tans". I think she just wanted to be left alone. She was sympathetic to Fuller on a human level but was shocked by the atrocious brutality of what the Free State did on that night – the tying of the men (I'm told) to a landmine.
But there was so much ambivalence. I think she admired Michael Collins for his looks. She talked about that.
I remember the crowning of Elizabeth II. Our grandmother (and every other female I knew) was enthralled by the spectacle. No resentment was shown about old issues.
Come to think of it, I teared up when the much older Elizabeth stood in Dublin, dressed in green, and gave a toast in Irish. And when she got into the joking back and forth with the fishmonger in the English Market in Cork it was more than I could take. There's so much more to all these relationships.
There was an RTE program presented by Pat Butler some years ago about Ballyseedy [a reprisal for an event in a field in Knocknagoshel]. My Auntie Kitty was interviewed for it and spoke about her mother's role and her reluctance to speak about her role in it confirming my cousin's story.
Our grandmother had a great interest in and knowledge of the family tree. At one point in my teen years, realising that she would not be around forever, I asked her about the ancestors, one by one, going back through the generations. She took me back three or four generations, I think. I wrote it down, drawing it as a family tree or chart and kept it. In fact, I was looking for it about six weeks ago to show to my granddaughter but couldn't find it. It was a pencil sketch of the tree as she described it to me. We were raised as Catholics but there were Protestants in our background and people with German ancestry. The name was Poff, and they lived in Killorglin. It may have been one of the Palatinate people".
Some five days after Ballyseedy another five republicans were chained to a landmine at Bahaghs near Cahirciveen, having their legs first being shot to prevent them from escaping. Five men were also chained to a mine in Countess Bridge in Killarney, but one Tadhg Coffey was blown clear. All this was done under the command of Major General Paddy O Daly, and all were exacting revenge for Knocknagoshel.
It is interesting that during his life as a public representative Stephen Fuller never spoke about the Ballyseedy massacre. He spoke publicly about it for the first time in 1980 in an interview with Robert Kee's ground-breaking BBC series Ireland: A television history. This happened a few years before his death.
In this interview, as on many other occasions, he never mentioned my grandparent's role in the rescue. They knew each other and respected their privacy.
He never wanted to influence his own family in their political beliefs. I remember reading that Stephen Fuller told his son that Civil War divisions should not be passed on to the next generation. He also stated that he bore no ill-will towards his captors or those who were involved in his extrajudicial attempted killing.
Granny Curran, like most women of her era, was a strong-willed person. She had her own strong religious and political beliefs, but they were not shared. She spoke about the five years she had spent in America at the turn of the century and how it had influenced her life and she in turn influenced us. We heard a lot of stories about different cultures and beliefs. Her chats with us during our formative years had a very positive influence on our attitude to people during our lives especially in respecting difference. We had regular lessons in tolerance and inclusion, and this was very important to her since they lived in a mixed religion area.
She said her rosaries and had the Stations in the house which were held with due respect and reverence. She was progressive in her thinking, but she never crossed the line with politics. She never wanted her political beliefs passed on to the next generation. As she often said to me 'You are too young for that information" or "somethings are best left unsaid and kept to yourself".
The Ballyseedy monument was opened in 1959 and the Curran family was represented but no mention was made of their involvement in the 1923 explosion or incident as it was euphemistically called. Ballyseedy was a sad event which happened long before we were born but the story has been part of the folklore of our lives down the years and whenever we pass the Ballyseedy monument on the way into Tralee we recall Granny Curran and the many memories we have of her long life.
It is interesting that the Curran and Fuller families, in Ireland and America, are still in contact. Although all members of the family are fully au fait with the tragedy of Ballyseedy, they never speak about it. Is binn béal ina thost.
Let the past look after itself as my granny used to say.
<<<<<<<<
A Poem
This poem by Robert Louis Stevenson was one of the first I learned by heart.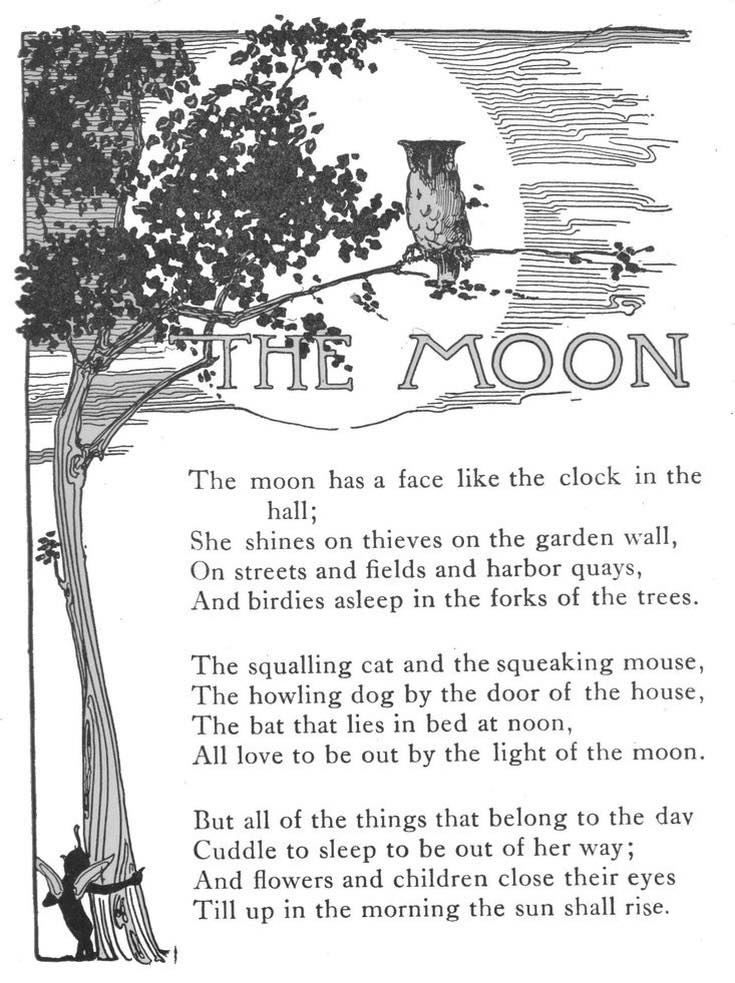 <<<<<<<<<<
A Fact
A sleeping man's snore can be as loud as 69 decibels, i.e. the same as a pneumatic drill.
<<<<<<<<<<