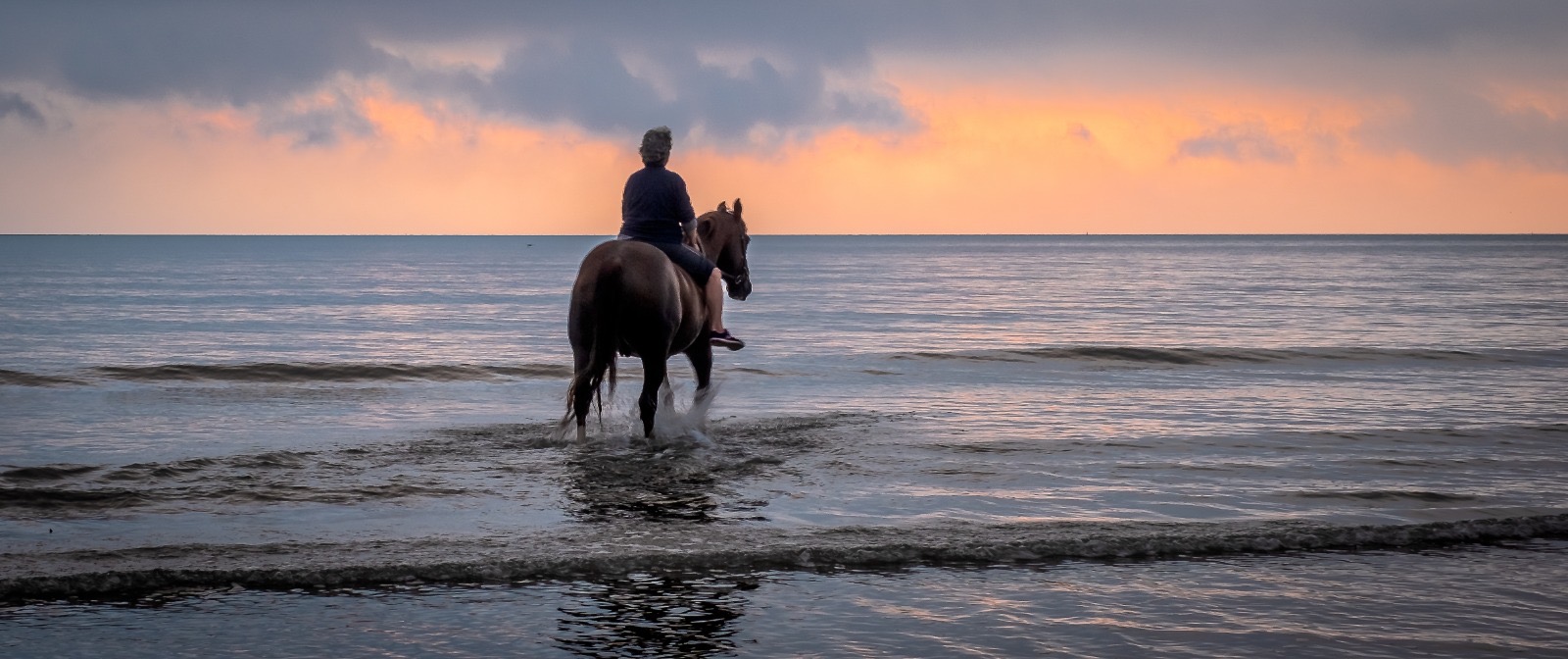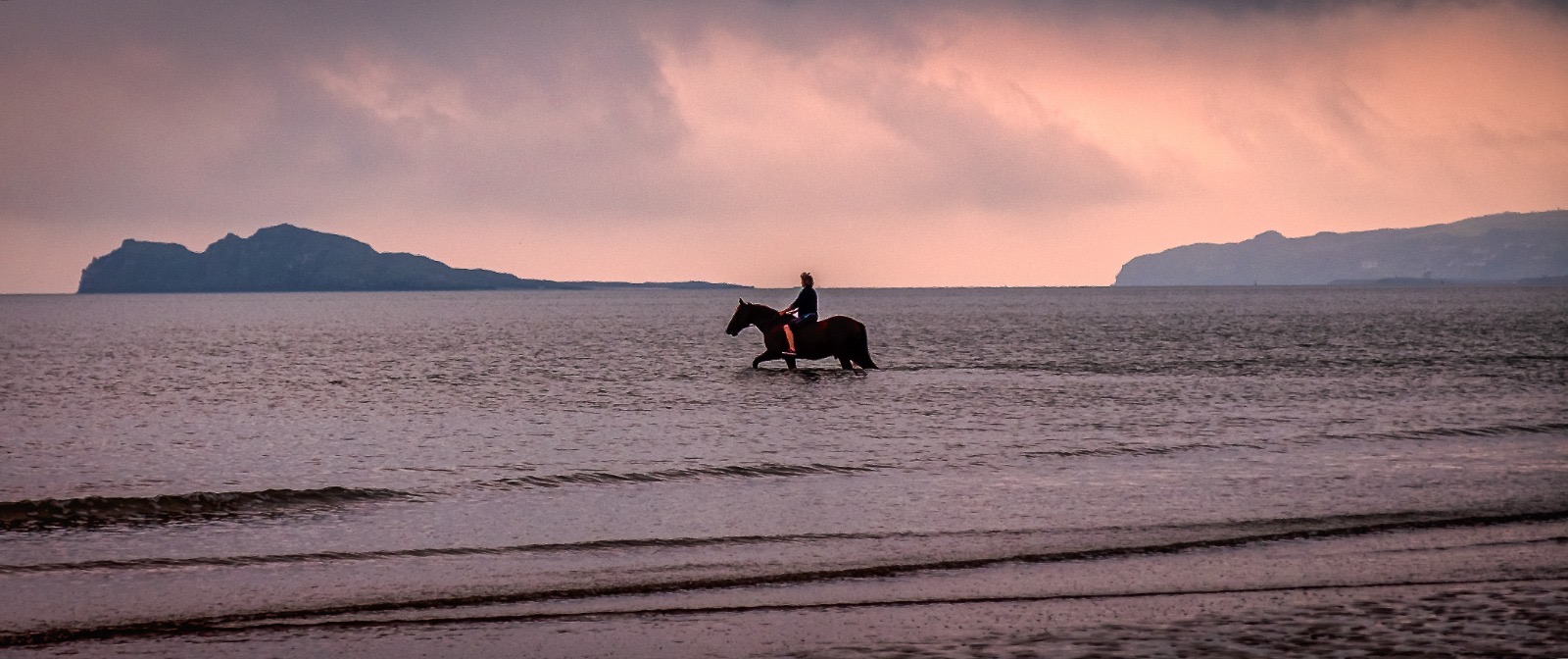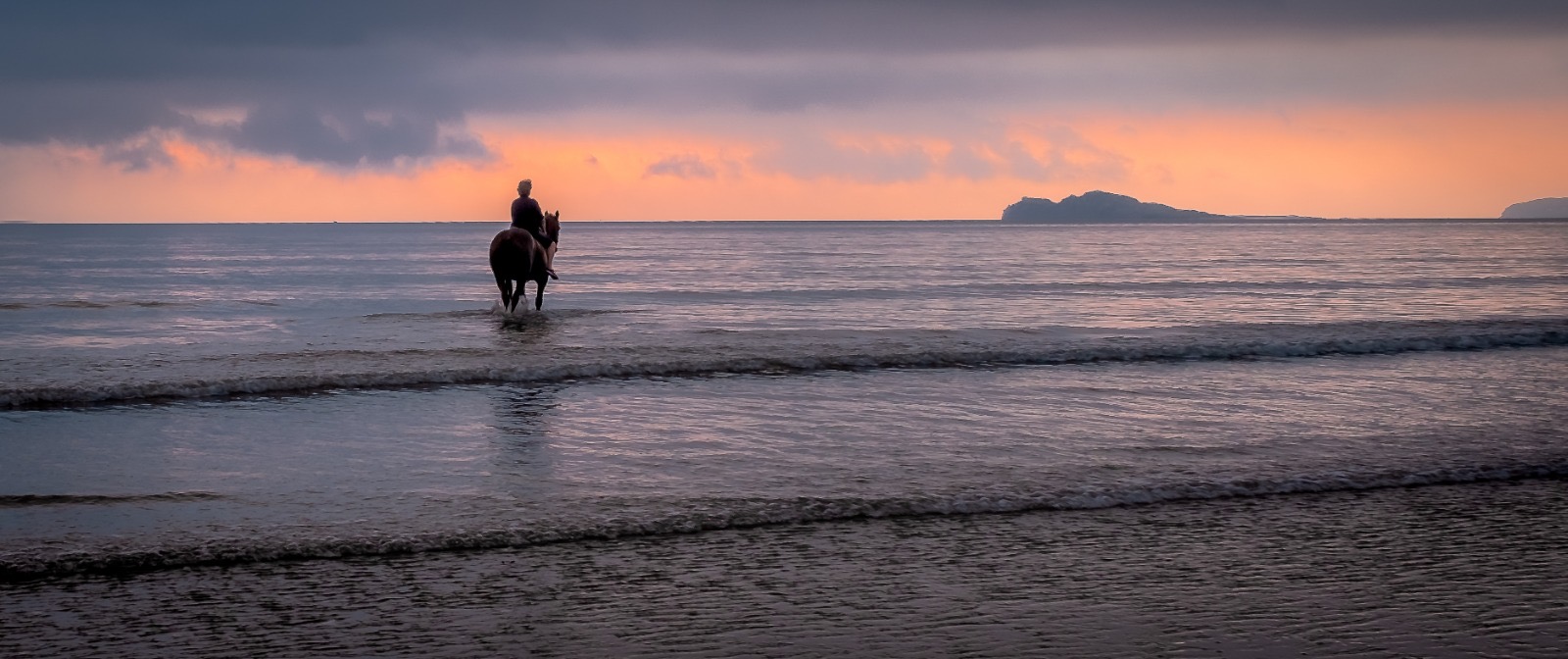 A horse and rider in the sea at sundown in Portmarnock captured by Eamon ÓMurchú
<<<<<<<<
Woodford Pottery Wows a New
Buyer
If you stop in Kanturk on your way to Cork you may have dined in The Vintage or you may have had a wander around the lovely nearby Presents of Mind. O'Brien Street in Kanturk is well worth stopping for. On one side is the lovely riverside park, with picnic benches and a wooden sculpture by Fear na Coillte. The other side of the street is the commercial side and it's here you will find Presents of Mind. If you are lucky, you will hit it on a day when my lovely friend, Lil, is in charge of the shop.
Recently I introduced Lil to Pat Murphy of Woodford Pottery and she was very taken with his unique tableware and very different items.
We visited Pat in his studio and he gave Lil a demonstration of his potting process.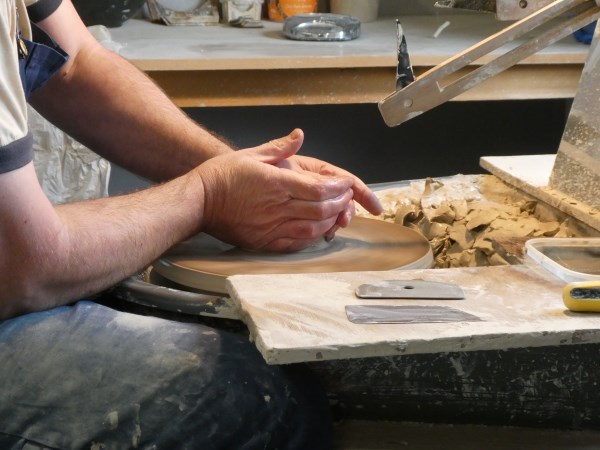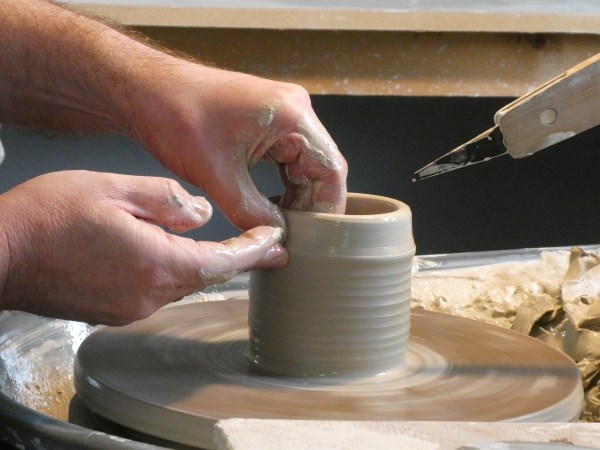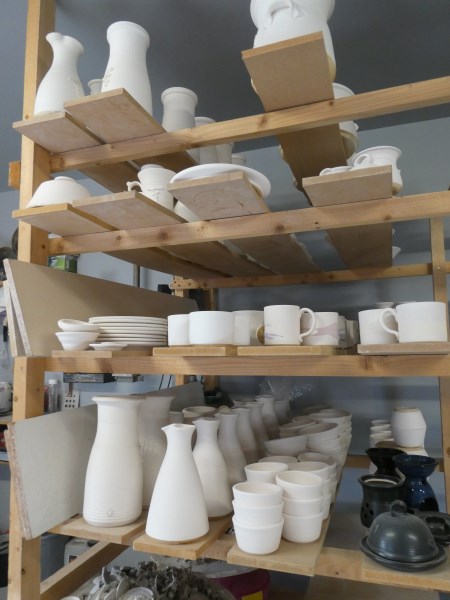 Even though he is a one man operation, Pat seems to constantly have a production line on his shelves. This lot is waiting to be glazed.
As well as beautiful and unusual tableware, Pat makes lovely gift items like oil burners, his new range of owls and, my favourite, Christmas nativities. This year he had added a more modern "crib" to his range as well.
Oil burners ready for a Christmas at home.
These owls are causing a bit of a sensation on Pat's Facebook page.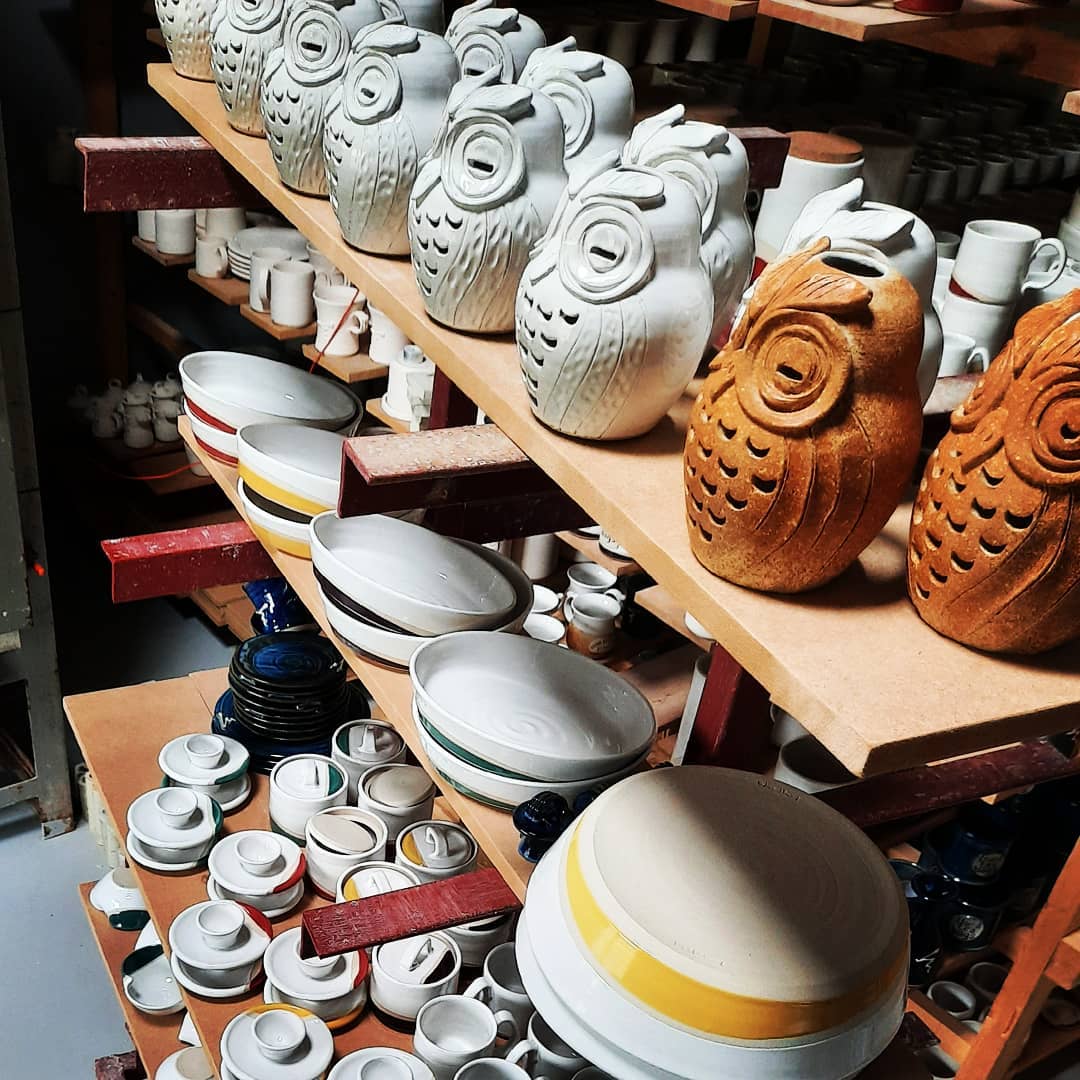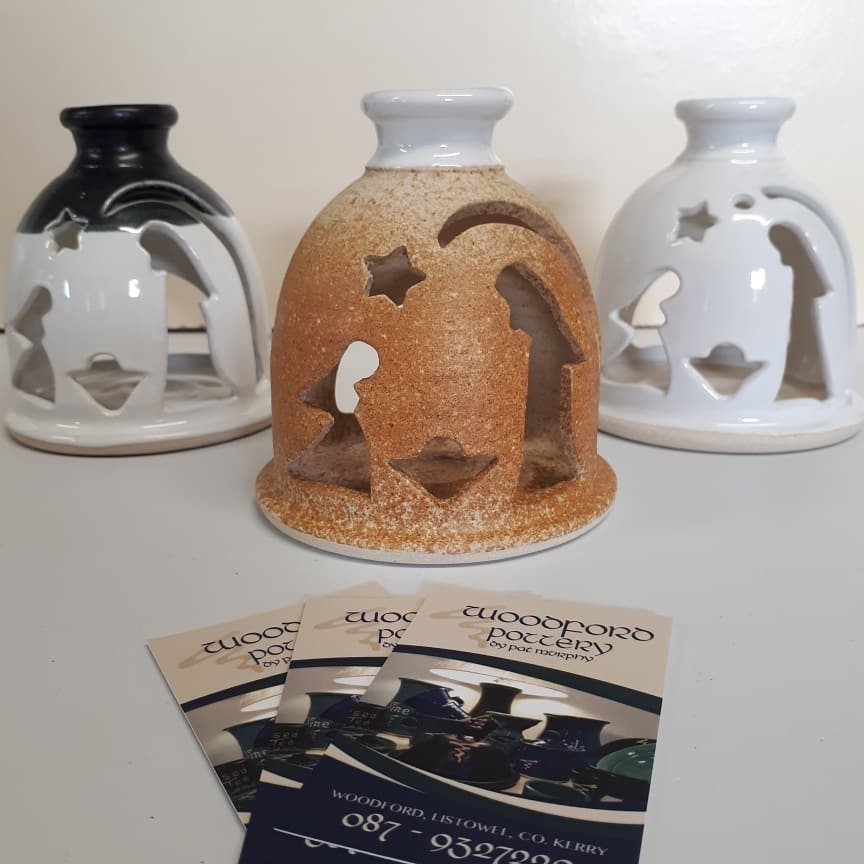 This is my kind of Christmas crib. I have the white one. I love it so much I never packed it away with the Christmas stuff. I've lit a tea light in it this summer as a kind of votive to pray for deliverance from the Corona virus.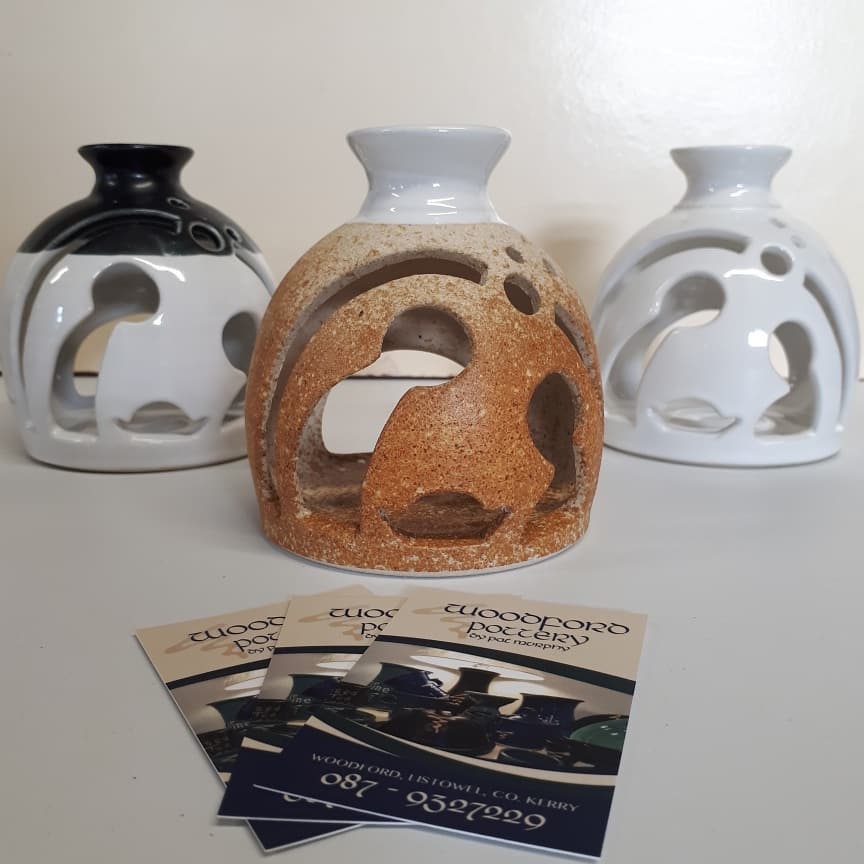 This crib is more popular with young people who like the more rounded, less traditional figures.
Pat, like all artists, is hit by the closure of gift shops and the cancellation of craft fairs. He is lucky in that he can sell from his shop at his studio in Woodford, Listowel.
If you do want to treat yourself or a friend to something lovely for Christmas, I'd advise you to get on it. Now that the Kanturk crowd have discovered him, these lovely pieces will sell out fast.
<<<<<<<
This Could Be the Start of Something Big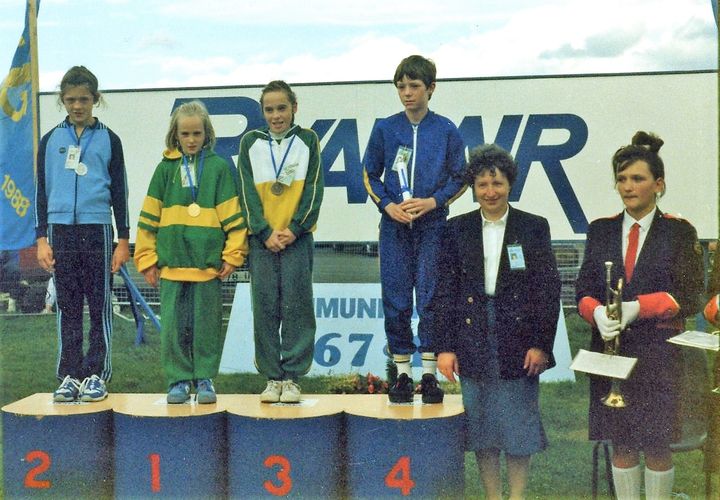 Photo: David Kissane on Facebook


Sinéad Kissane (Ardfert Kilmoyley) on the podium in Mosney after winning the gold medal in the U10 200m in 1988.
That moment in 2020 when you are a well respected TV Sports Journalist and your dad digs out that old photo when they couldn't find a tracksuit small enough for you when you won gold at the Community Games. Parents!
<<<<<<<<
Flying the flag
The Irish Standard Sept. 29 1917
FlAG STILL FLIES.
"It seems that it is considered necessary just now in England to hold on to the name Catholic, as others, who once repudiated it, are now appropriating it, and applying to us, with no friendly intent, the name Roman Catholic.
"A Catholic chaplain in the British army somewhere in France, put up a soldiers' hut and over it 'Catholic Soldiers' Hut.' Some Anglican parsons objected and demanded that the title be: 'Roman Catholic Soldiers' Hut.' Father Regan demurred. The matter was referred to the authorities.
Three Generals came along and ordered the change made. Father Regan refused and was threatened with reduced rank. He replied, 'What I have put up stands, or I and every Catholic Chaplain here will resign. Quad scripsi, scripsi.'
"The matter has been allowed to drop with Father Regan's flag still flying."—Columbian.