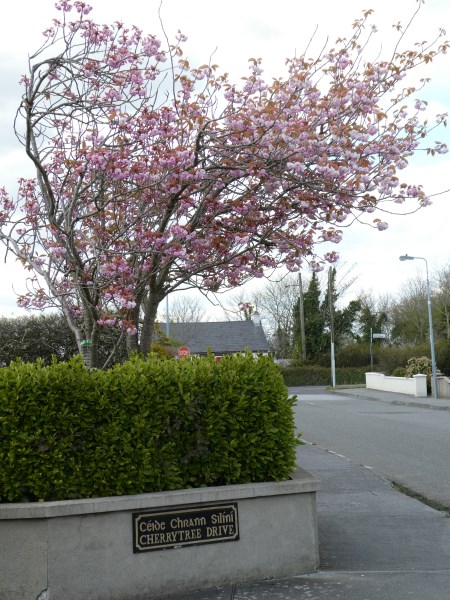 Cherry Blossom Time 2021
<<<<<<<<<
President Michael D. Higgins
Happy Birthday, a Uachtaráin
We, in Listowel, were honoured with a visit from our president on a few occasions. Here are some reminders.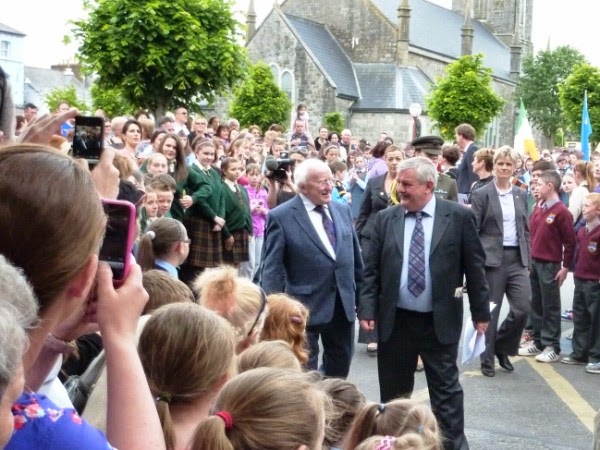 Opening Night Listowel Writers' Week, May 30 2012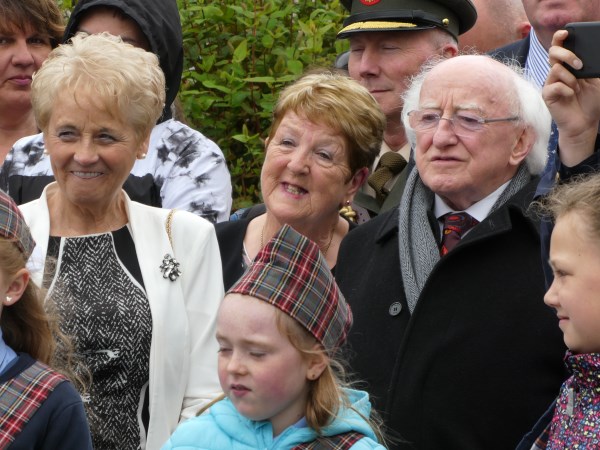 With Julie and Mary celebrating Listowel's win in Tidy Towns Competition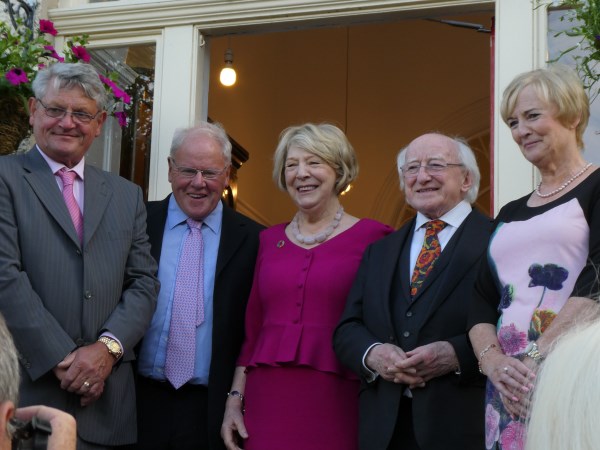 >>>>>>>>>>
I searched out these Listowel photos for you when I saw the below post on a Charleville Facebook page.
From Charleville Heritage Society
President Michael D Higgins and his Charleville connection his father was John Higgins he was employed here in Charleville at Owen Binchy and Sons grocer shop.
John married a local women Alice Canty from Liscarroll. This is what brought the Higgins to North Cork. John himself was a Clare man. John joined the local IRA. His active period was 1920 to 1923.
After the War of Independence John joined the anti-Treaty side
and Civil War roared on here in Charleville.
Families picking different sides and tearing families apart and the Higgins were no different John was anti-Treaty, but Michael D's uncles Peter and Michael were pro-Treaty.
After the war people tried to get back to normal but it didn't happen for John as he employer refused to give him his job back.
John paid a high price for standing up for what he believed in.
He was arrested in January 1923 during the Civil War and interned in the Curragh. He was released later the same year in December.
<<<<<<<<
Liam Dillon Remembered
My tribute to Liam evoked many happy memories and fond recollections for many people who knew him.
Here are just a few examples:
Hi Mary, very sad to hear of the passing of Liam Dillon. Liam and myself used to have great banter back in the day when I was a teenager. Coming from Colbert Street, John Joe's was our local shop. Sometimes Liam would ask me to help in the shop if it was extra busy, which I enjoyed. When I was coming to England in 1972, he gave me a few pounds as a leaving present, which was lovely of him, he really was a lovely man and I always called in to the shop to see him when I was home in Listowel. Ann was my Geography teacher in 5th and 6th year Secondary school. May their souls rest in peace. Regards. Rose Sheehan ( nee Shine ).
<<<<<<<
Hi Mary,
Lovely tribute to an old friend Liam Dillon. He was the ultimate gentleman and I always looked forward to meeting him and sharing a laugh. Whenever I went "home", my first Stop was at his shop on Church St. No Irish money in my pocket but Liam made sure I had everything I needed to begin my vacation on Colbert St. I have an old fashioned habit of leaving the front door open whenever I am there. Liam would be passing by and ramble in for a chat and a cup of tea. We would chat about my aunt who owned that house and laugh about her habit of always having the door open. Even here in the US, my door is always open to the chagrin of many of my friends. Listowel has lost one of their own and he will be remembered and revered by all who were fortunate to call him friend. May his gentle soul RIP
Marie Shaw
<<<<<<
Lovely words Mary. Eamon's eulogy was perfect. Delighted he quoted my father's poem, The Street.
Liam was very kind to my grandmother, Hannie Keane, No 45 Church Street.
Liam's mother and Hannie were great friends.
John Keane
104 Church Street
<<<<<<
Mary, thank you for publishing Eamonn Dillon's eulogy. I learned so much from it – amazing what a full life Liam and indeed Anne had. Liam had so many interests that I wasn't aware of. Definitely lives well-lived.
Kay Caball