<<<<<<<<<<
Some Public Seating in The Park and Garden of Europe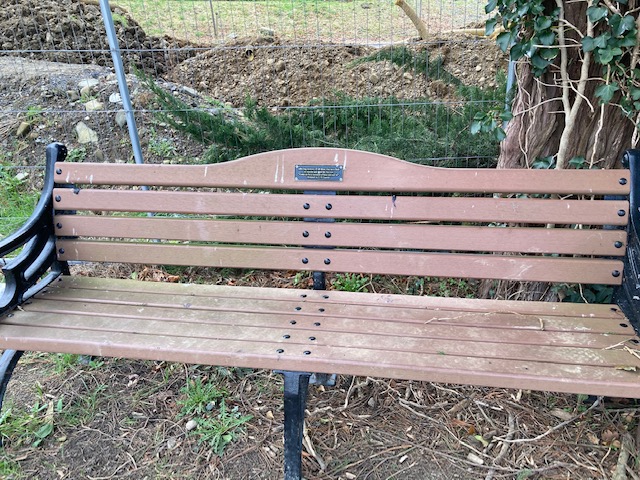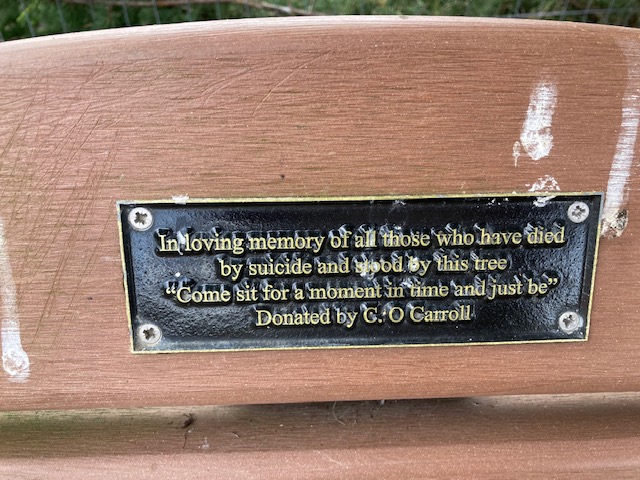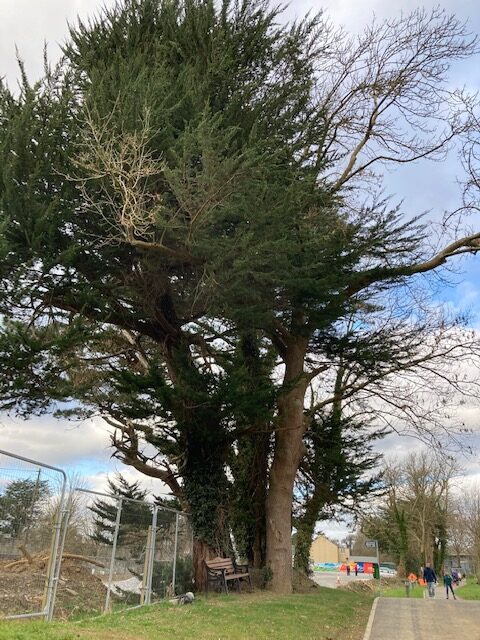 This bench under this massive tree which has obviously lived a long time is a memorial to those whose lives were cut short by suicide.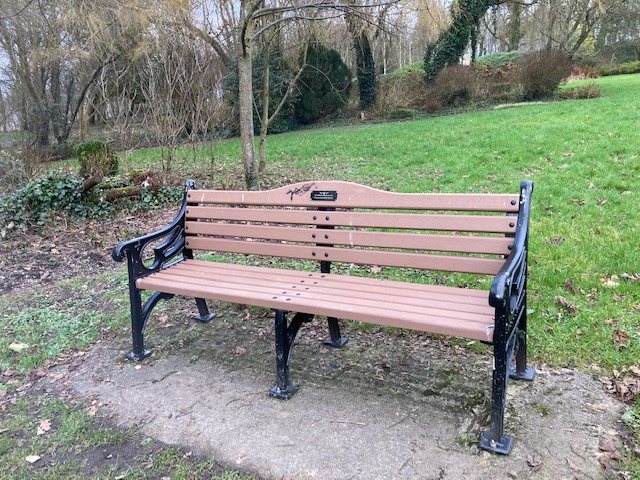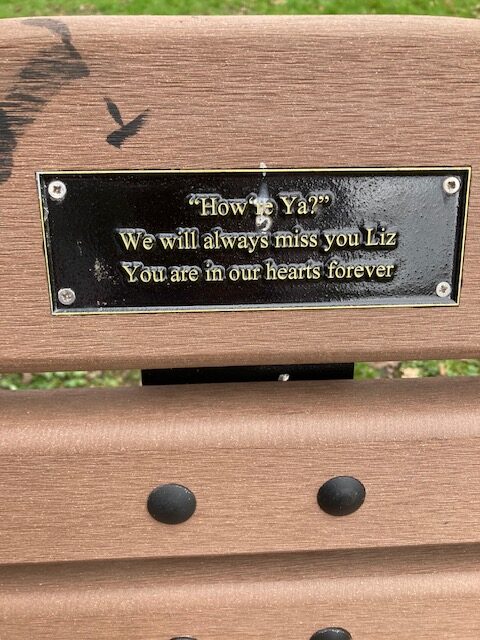 I don't know who Liz was but I know she was loved.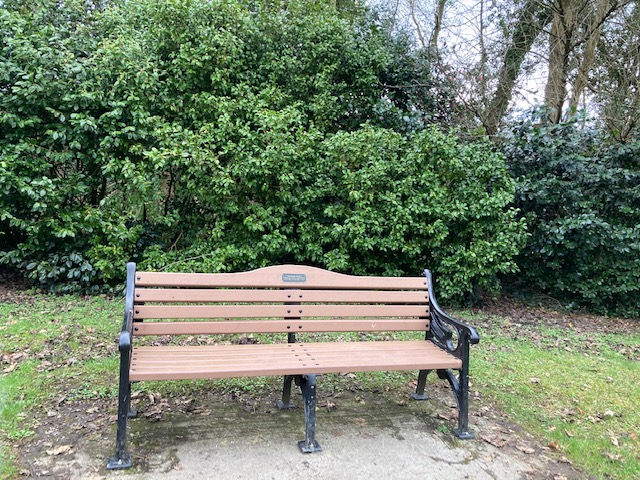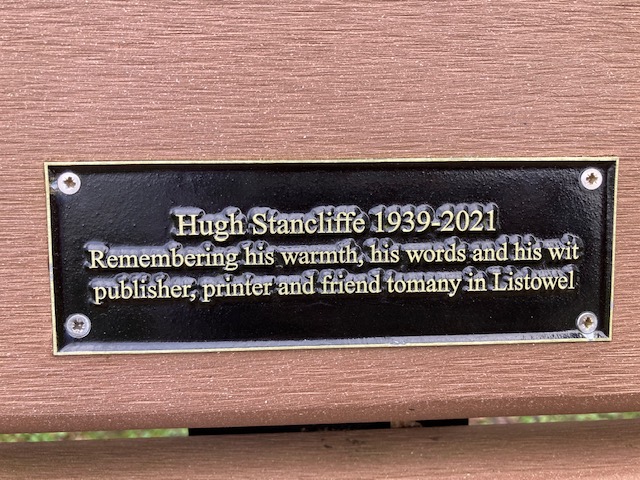 I knew Hugh. He helped me publish my book, Listowel Through a Lens. He was professional, kind and gentle with a complete novice nervously dipping her toe in the book publishing waters.
<<<<<<<<
The Shop on the Corner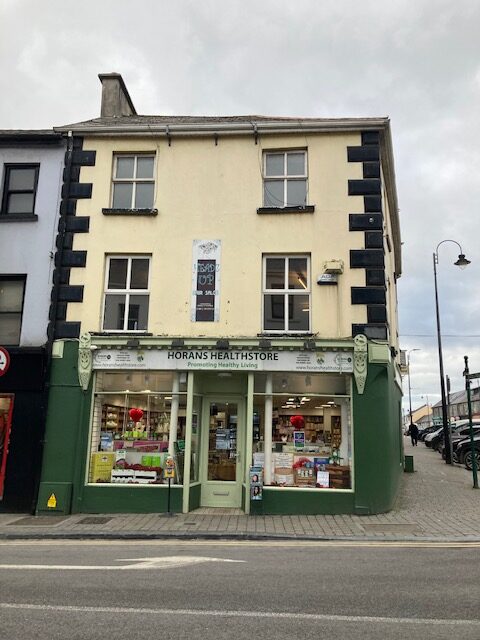 Horans Healthstore today has an interesting history, as told to us a few years ago by Vincent Carmody.
(Remember you can hear more Listowel stories from Vincent in Listowel Library today Feb. 17 2023 at 11.00 a.m.)
From the late 1800s and running well in the 1900s William and Florence (Haughton) Woods had a drapery shop. William put his name up before the people on the occasion of the 1899 local U.D.C.elections. It must have been a lonesome experience for him as he only received 14 votes and came last of 26 candidates fighting for one of 12 seats.
For a short time after the Woods the shop was taken over by Tom Walsh from Lyreacrompane. He operated there until he moved across the street and opened his new drapery in what had been Gibsons. Tom Walsh went forward was elected several times as a member of the Listowel Urban Council. In this regard it is worth recalling an unusual occurrence in the local elections of 1928. Up to closing time for the acceptance of nominations, the then Town Clerk and Returning Officer, Mrs Annie Gleeson had received no nomination.
The Council which at that time have consisted of 12 members had since the previous local election of 1925, through resignation, disqualification and other causes dwindled down to only three members, i.e. Thomas Walsh, Edward J. Gleeson and Patrick Brown. So in 1928, Mrs Gleeson in accordance with her powers, published a notice stating that as no candidates had been duly nominated for election, Messrs. Walsh, Gleeson and Brown would be declared elected. They afterwards became known as the Holy Trinity. None of the three put their names forward in the 1934 or subsequence elections.
Michael Fitzmaurice was next, having served a hardware apprenticeship in the town, after which he got married to Bridget Buckley and they had a stationary and newsagency in the house.
The house had a new tenant in the 1920s, John Scanlon opened it as a grocery and hardware establishment, also catering as a cycle agent. His billheads advertised it as 'The Corner House'.
The house reverted to a drapery establishment again during the 1930 and 1940s when it was occupied by a Stack family.
In the 1950s it converted into a shoe shop when it was bought and run by Paul Shanahan.
Today it's Horan's Heathstore.
<<<<<<<<<<<<<<<
Mosaics in St. Mary's
Mosaic art is absolutely fascinating. The firm who did the beautiful work in St. Marys were Oppenheimer.
The firm of Ludwig Oppenheimer was founded in Manchester in 1865 and operated until 1965. Ludwig Oppenheimer was born in 1830 in Brunswick in Germany. His family were merchant bankers in Hanover and he was sent to Manchester to improve his English. He lodged with a Scottish couple and fell in love with their niece Susan who was from Montrose. He was an orthodox Jew but converted to Christianity and his family cut their ties with him. He spent a year in Venice studying mosaics as an apprentice. On his return to England he married Susan and started the mosaic workshop.
They had six sons, five of whom eventually worked for the firm. The eldest Lehmann was born in 1869 and went to art school and won a scholarship for a year's study in Florence.
On his return he married a fellow student, Edith Newton, in 1892. He worked in his father's firm from a boy and was the main designer. On his father's death in 1900 he took over the firm and ran it with his brothers.
His younger brothers Louis, Albert and William all worked in the business. They travelled in Europe and Ireland seeking and gaining commissions including many prestigious projects.
In Ireland their main work was done in conjunction with the architect George Ashlin. Between 1856 and 1860 he was articled to E.W. Pugin whose sister Mary he married in 1860. In 1859 Pugin received a commission to build the church of SS Peter and Paul in Cork and he made Ashlin a partner with responsibility for their work in Ireland a position he retained until 1870.
The most important Irish commission they received was Cobh Cathedral. You can see their work there to this day.
Source: L. OPPENHEIMER LTD AND THE MOSAICS OF ERIC NEWTON ROBERT FIELD online essay.
The following mosaic pieces are in St. Mary's Listowel. They are only some of the many mosaics in our church.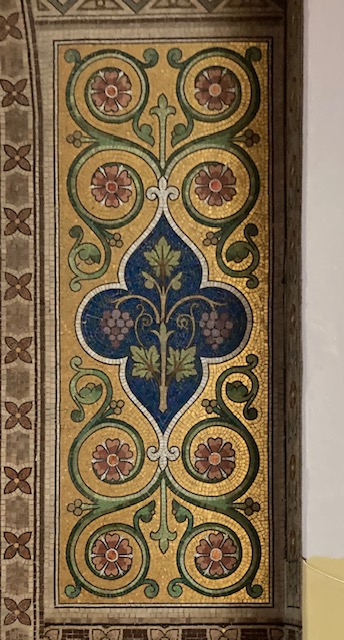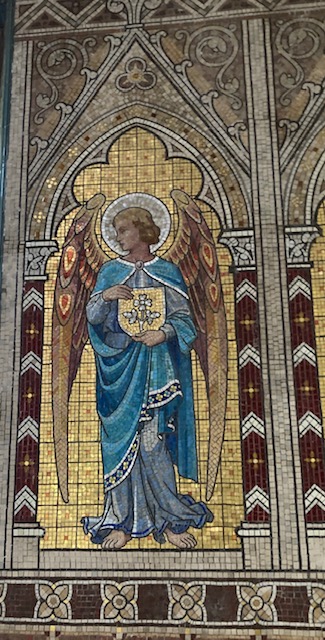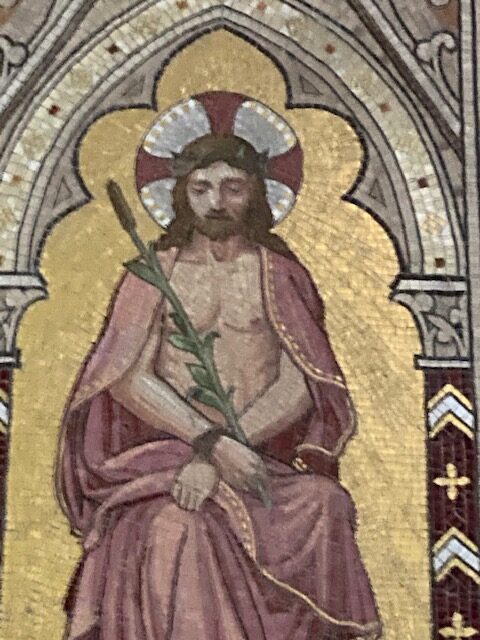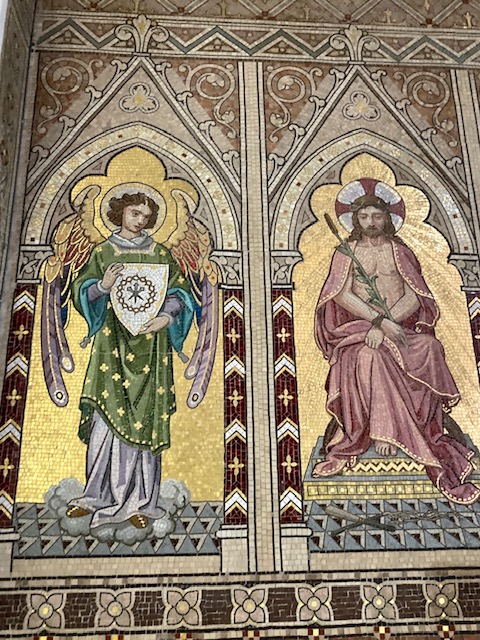 <<<<<<<<