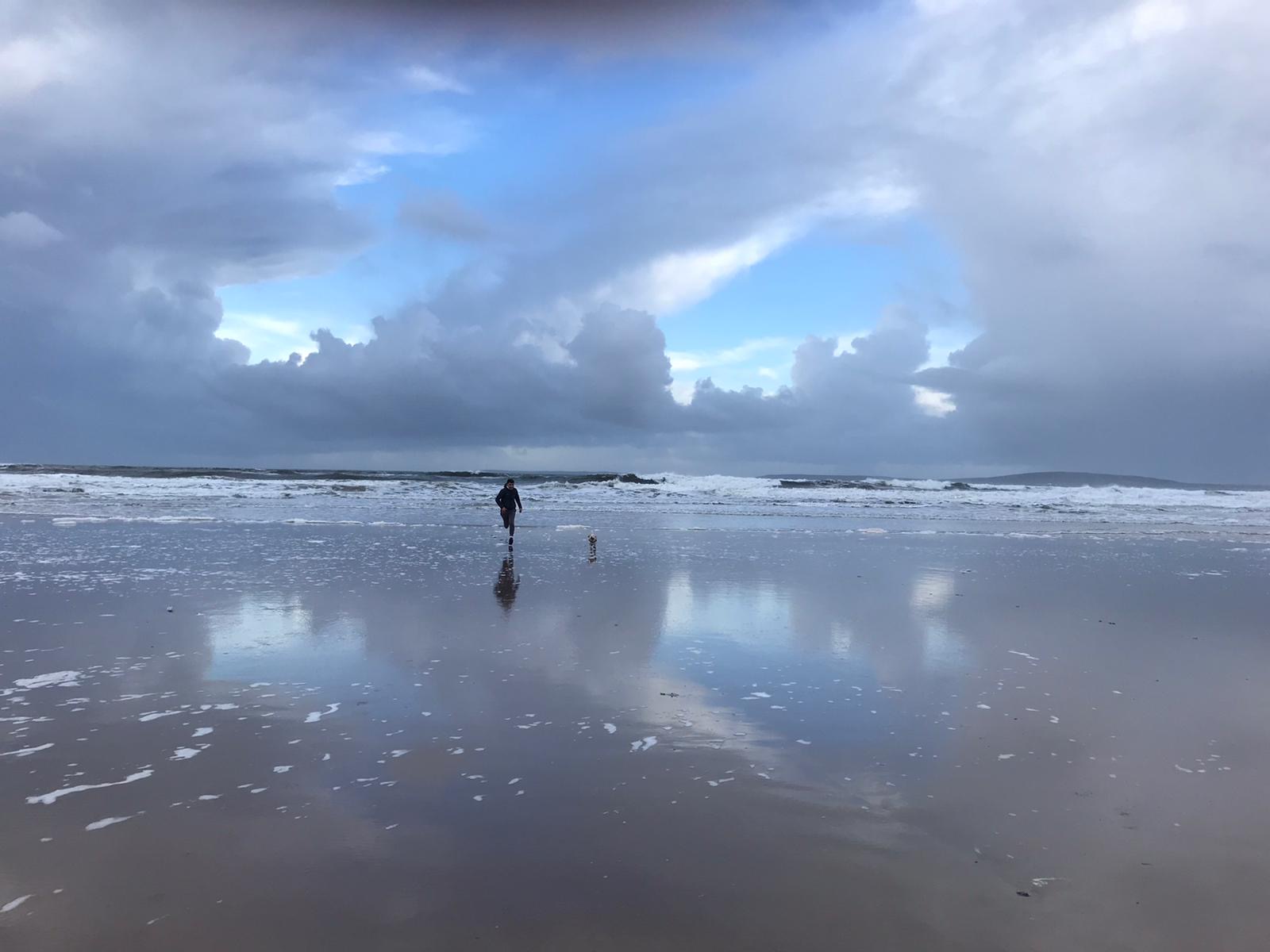 Ballybunion in December 2020
<<<<<<<<<<<<
REMINISCING
Tonight I 'm reminiscing
I have turned back the years
Removed the locks from both the doors
And forgot about my fears.
Removed the TV from the shelf
And put it out of sight
Replaced it with a radio
Commentating on a fight.
Put the mobile phone on silent
Took the handset off the wall
Tonight-The only interruption
Neighbours foot steps in the hall.
Reached up to the fuse board
Reversed the on off handle
Got an empty bottle from the press
And placed in it a candle.
Replaced the coal and briquettes
With a seasoned wooden log
And a couple of sods of well dried turf
Harvested from the local bog.
The lid from off the oven
I will heat until just right
Wrap in a woollen sweater
Place in the bed tonight.
Stare out through the window
Watch the snowflakes as they fall
Pretend its Christmas Eve again
And Santa's sure to call.
Will I read a passage from the book
Or pray the rosary instead?
Then go outside – melt a little snow
Before I go to bed.
Seamus Hora
<<<<<<<<<<
taken from the CCE magazine 'Treoir' (Winter '96)

Dan Mulvihill (left) with Frank Thornton
The lamented death and passing of Danny mulvihill of Chicago on February 5, 1996 removes from among us a kind hearted soul, a genial character, who devoted his entire life to promoting all that is good and great in our Irish Tradition
Daniel Joseph Mulvihill was born on November 15, 1899 in Kilbaha, Moyvane, Co. Kerry. He was the second child and first boy in a family of eleven children.
He attended school in Moyvane until 1915 when his mother passed away leaving his father with the responsibility of eleven children with the oldest 16 years and the youngest just an infant. Danny assumed the daily responsibility for the farm under his father's guidance.
Somewhere around 1918 he became an active volunteer in the Kerry Brigade of the Irish Republican Army. Because of his involvement and activities withe the old IRA, he was forced to leave Ireland in 1920.
His trip from Ireland landed him in Brooklyn, New York where he found a job with New York City Transit where he worked for a year before packing up and moving to Chicago where he would spend the rest of his life.
In Chicago, he worked as a conductor for the Surface Lines Transit Systems. After 12 years, he joined the Chicago Fire Department and retired as a Lieutenant in 1963.
Danny was ever proud of the Mulvihill name and in between jobs, he married Mary Agnes Mulvihill from Ballybunion, Co. Kerry. The Mulvihills had two children, Danny and Mary-Jane, the present Mid-West Regional Secretary for Comhaltas North America.
I will always remember the prominent role that Danny played in the founding of Comhaltas here in North America together with his lifelong friend and colleague – Comhaltas founding member, Frank Thornton, also from Moyvane. Culturlann na hÉireann, a permanent home for Comhaltas, was something that Danny worked for, hoped for, and envisioned, and he was proud to see it become a reality.
He was also proud of his native Kilbaha near Moyvane, Co. Kerry, an area steeped in Irish tradition. It was then known as newtownsandes, a thriving little village that straddles the North Kerry and West Limerick border. The name Mulvihill is a common name in the area. And a great many members of the Mulvihill clan found fame, if not fortune, in their adopted lands.
Martin Mulvihill, a renouned fiddle player, was born in the townland of Glenalappa in the parish of Moyvane. Before leaving for England and America he got his early lessons on the fiddle from Barney Enright, still happily with us. This early training stood him in good stead, for in later years as a talented teacher of music, he produced many All-ireland champions in New York. Jerry Mulvihill, the well known traditional dancer, als hails from the same area. This sprightly septuagenarin is still king of the concert stage. He has starred on two Comhaltas Tours of North America.
The famous Ahern family also hail from Moyvane. Father Pat Ahearn is now the artistic Director of Siamsa Tíre Folk Theatre in Tralee. He was also the producer of the first two concerts to North America in 1972 and 1973.
Knockanure is probably the best known townland in the parish of Moyvane. Its popularity stems from the famous ballad composed by Professor Brian McMahon of Listowel. 'The Valley of Knockanure' which commemorates the death of Walsh, Lyons and Dalton, in that townland during the War of Independence. Danny Mulvihill knew them personally before they gave their lives for Ireland. Thanks to Danny Mulvihill who raised the necessary funds in Chicago, a monument to the memory of Walsh, Lyons and Dalton now stands in that lonely valley of Knockaure, paying silent tribute to three hereos that he knew from his youthful years in Moyvane.
Moyvane famed in song and story also produced two very famous poets. The late Paddy Drury, a farm labourer whose gift of instant compositions is still talked about in the parish. Also our own genial Dan Keane, still happily with us, he seems to have inherited Paddy Drury's great gift as a poet, writer and collector of verse. Again I am grieved that Danny Mulvihill is no longer with us. To Mary-Jane, Danny and his immediate family, I offer my deepest sympathy on the loss of a kind and gentle soul.
For all the rest of us to mourn his passing, we should be encouraged by his life of dedication, his love of music and song from his beloved Moyvane, and area rich in lore and in culture, that gave to us and to Comhaltas such stalwarts as Danny Mulvihill and many others as well, who are indeed a credit to their parish and to Ireland.
<<<<<<<<<<
Opening Night Listowel Writers Week 2019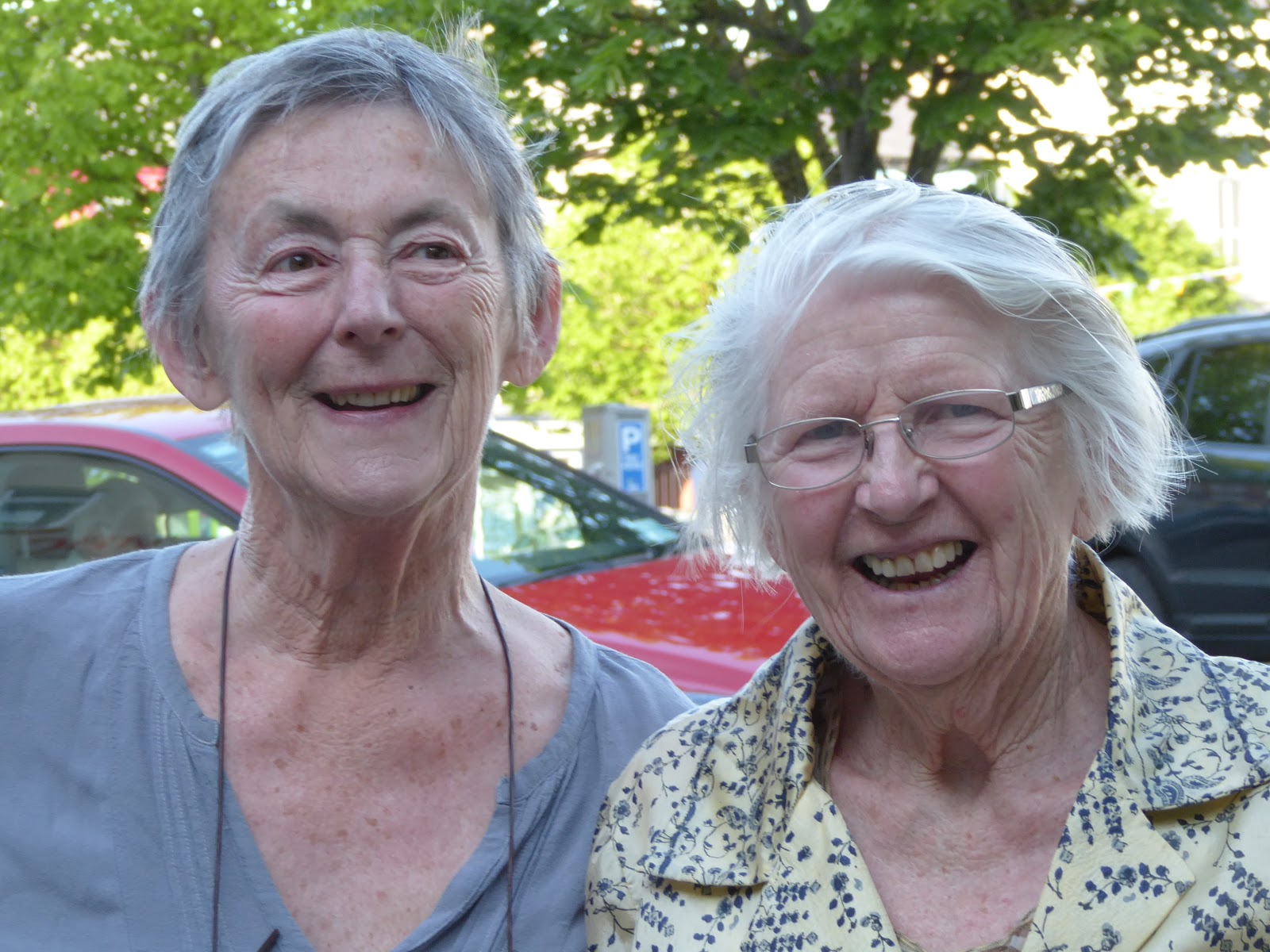 Former Minister Mary Banotti with Dr. Olive Pierse
Máire Logue and Eddie Moylan
Nora Sheahan and Betty Stack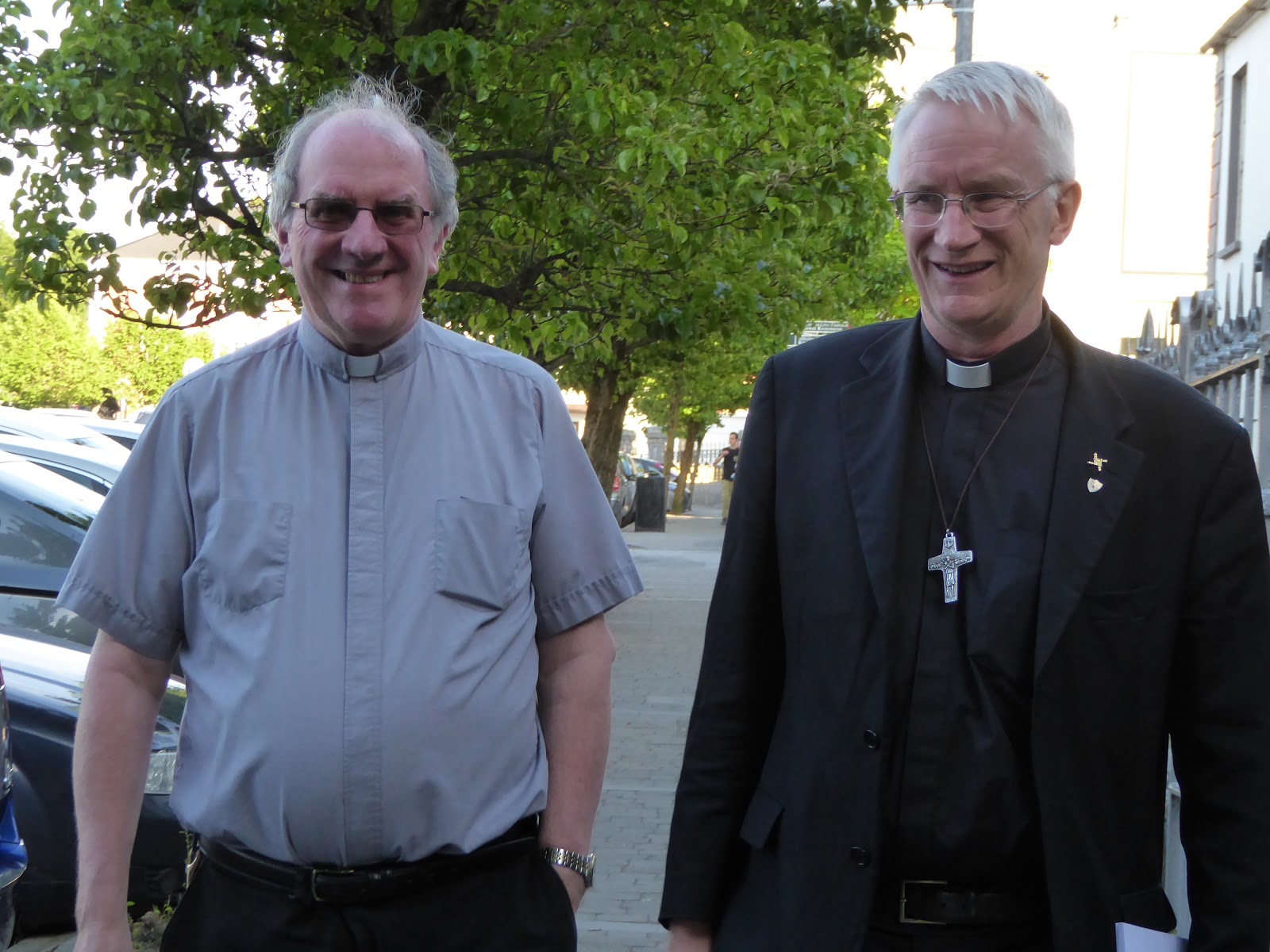 Canon Declan O'Connor and Bishop Ray Browne