Special Olympics is a movement which is well supported in Ireland.
http://en.wikipedia.org/wiki/Special_Olympics
Visit the local Eagles page here
https://www.facebook.com/pages/North-Kerry-Eagles/200229436658775
In 2003 Special Olympics came to Ireland and we, in Listowel got a chance to be part of it when we played host to Jordan and the torch passed through the town, carried by Gardaí.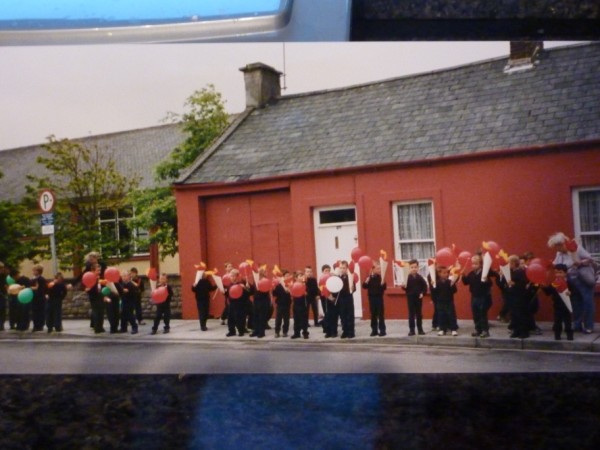 Boys from Scoil Realta na Maidine waiting for the torch.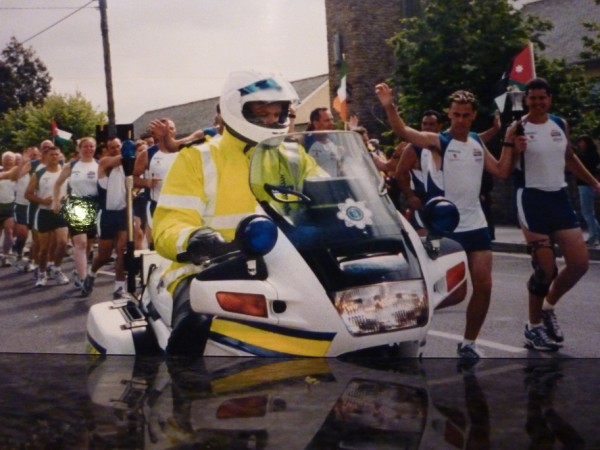 The torch arrives.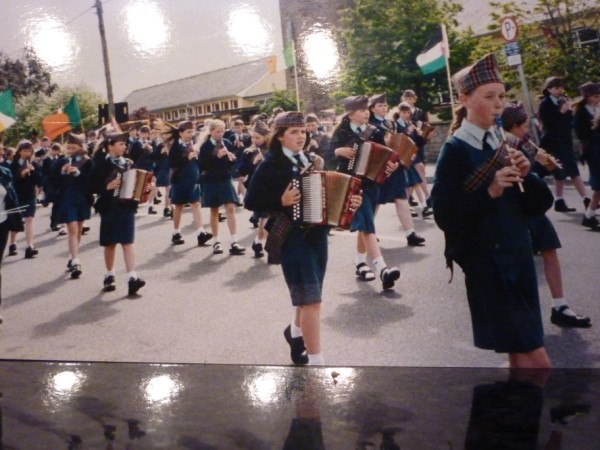 The convent school band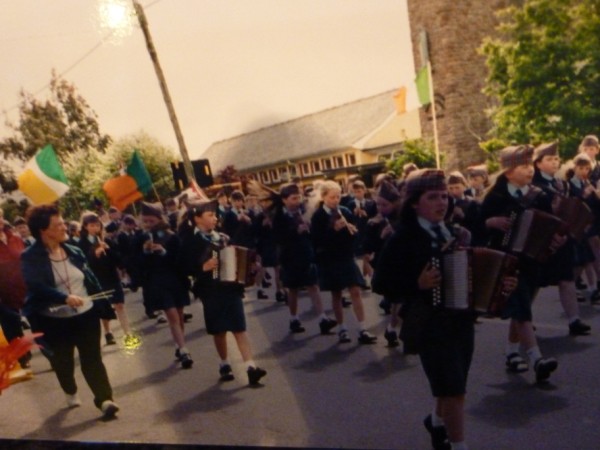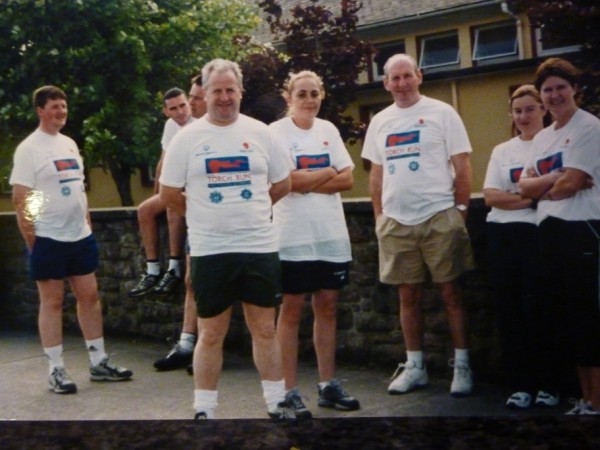 Local Gardaí waiting to run along with their colleagues bearing the torch.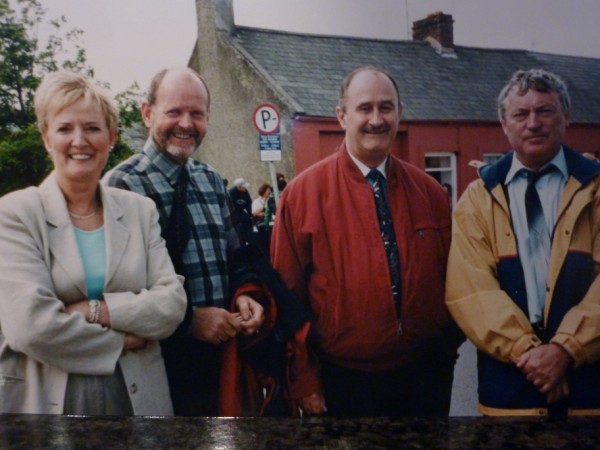 Teachers, Madeleine O'Sullivan, Cathal Fitzgerald, Tom O'Connor and P.J. Kenny.
>>>>>>>>
A recent sports story from Donal Nolan of The Kerryman
Wednesday April 04 2012
A LARGE contingent left Listowel on Wednesday morning to support local girl Savannah Mccarthy in her debut as Republic of Ireland captain against England in an international under-15 girls' schools soccer tournament in Dublin.
Clubmates and mentors at Listowel Celtic said it was a massive honour for the town to have a local girl as Irish captain. Savannah has long been one of the club's outstanding female players and was central also to the successes of the Listowel Community Games team in recent years.
"For Savannah and her family it is a great honour that she's captain," Dominic Scanlon said. "It is actually amazing to have someone from the town of Listowel captaining Ireland. On behalf of Listowel Celtic we're extremely proud of her and wish her the very best of luck in the tournament. She has been outstanding for us over the years."
The tournament is taking place in the Amateur Union League complex in Dublin and Savannah and her teams faced England in their first match on Wednesday morning, with a massive swell of Listowel support behind them. A busload of the young soccer star's school pals was among the supporters.
– DÓNAL NOLAN
This girl is amazing. I can't find any match report online but hopes were high, fueled by an early success, as reported in Radio Kerry.
2 Apr 2012
Soccer-Kerry Player Skippers Ireland To Success
Savanah McCarthy's debut as Republic Of Ireland captain has turned out to be a winning one.
The Irish Girls Schools have beaten the FAI selection in the Bob Doherty International Cup.
Listowel Celtic player McCarthy's team won 4-2 on penalties after the match ended 1 all.
>>>>>>>>
Also from The Kerryman this story of Listowel's greatest athlete, Jerry Kiernan:
Wednesday April 04 2012
IT was one of those unforgettable and wonderful Kerry sporting occasions. As an invited guest to the Kerry AAI awards on recently in the River Island Hotel, Castleisland I found myself in the company of many of our county's greatest athletic sportsmen and women, young and old. A host of awards were presented and I was afforded the great honour of presenting the Hall of Fame award to one of this county's greatest ever sportsmen and a hero to me, Olympian Jerry Kiernan.
The huge crowd rose to their feet to give this unassuming and pleasant North Kerry man a standing ovation. It was a long overdue accolade for this remarkable Kerry man whose achievements have never been fully acknowledged within his own county. Well done to the Riocht Athletic Club for hosting the event and those who organised this glittering occasion. Sheena Brosnan was responsible for a superb commemorative booklet of the occasion. Gneeveguilla's Paddy O'donoghue and Kerry AAI chairman Martin Fitzgerald were also deeply involved, and in his role as MC Denny Mcsweeney, one of the great athletic warriors in this county, ensured that everything ran like clock work. The whole night was a credit to one and all.
Jerry Kiernan was born in Brosna, where his father was a member of An Garda Síochána. A very promising footballer in his youth, he won a County Minor championship medal with Feale Rangers and also played for St Michael's College, Listowel. However, his great love for athletics was born as he watched the best runners in the world compete in the Tokyo Olympics of 1964. He was simply, as he says himself, 'born to run'.
He won his first medal in Duagh when he
fini s h e d second at a local sports meeting. Little did he realise that this was the beginning of what was to be one of the greatest running careers of any Kerry man. In fact Jerry's ninth place finish in the Los Angeles Olympic Marathon is the second highest placing ever achieved by an Irishman. John Tracy won the silver in the very same race.
As a youth Jerry won all the major underage titles, Kerry, Munster and All-ireland; his career was blossoming. He left Kerry at eighteen years of age to begin a teaching career in Dublin and joined the famous Clonliffe Harriers Athletic Club, with whom he won a host of All-ireland championships. His ability at a range of distances was astonishing. He was fractionally outside the world record for the ten miles, running this in 46.5 minutes. Jerry ran in four Dublin City Marathons, winning twice and setting the record time in 1982. Then, in a classic mile race in June 1976, the he became the first from the county and only the seventh Irishm a n to run under four minutes for the distance. Rod Dixon was the winner.
Kiernan competed all over the world despite his commitment to his teaching career. Halfmarathons, full marathons, 10km, the mile or 3,000 m (he held the then Irish record for this distance), Jerry took them all in his stride. He excelled at cross-country running and won All-irelands at Under-18, Under20 and senior level in 1984. He was a regular on the Irish team, winning close to sixty green singlets: a magnificent achievement. When the book of Kerry's greatest athletes is finally written, Jerry Kiernan will be right there at the very top.
In the Los Angeles Olympic Marathon of 1984 he proved beyond a doubt that he was equal to the world's very best. Finishing ninth, despite cramping a lot towards the finish, was an astonishing achievement when you consider that this was one of the greatest fields of marathon runners ever assembled: Carlos Lopez of Portugal won the gold in a new Olympic record time, John Treacy was second for Ireland, and Charlie Spedding of England was third. Other legendary names in the field of 105 athletes running shoulder to shoulder with the Brosna man that blistering hot day in Los Angeles included Alberto Salazar (USA), Takeshi So ( Japan), Rob de Castella (Australia), Joseph Nzau (Kenya) and the legendary Toshihiko Seko ( Japan).
We can only speculate what further greatness Jerry Kiernan would have achieved had he gone to America and become a full-time athlete.