Today is February 1st. feast of our second patron saint. According to one tradition Saint Brigid was born in Faughart, Co Louth, where there is a shrine and another holy well dedicated to her. The Saint founded a convent in Kildare in 470 that has now grown into a cathedral city. There are the remains of a small oratory known as Saint Brigid's fire temple, where a small eternal flame was kept alight for centuries in remembrance of her.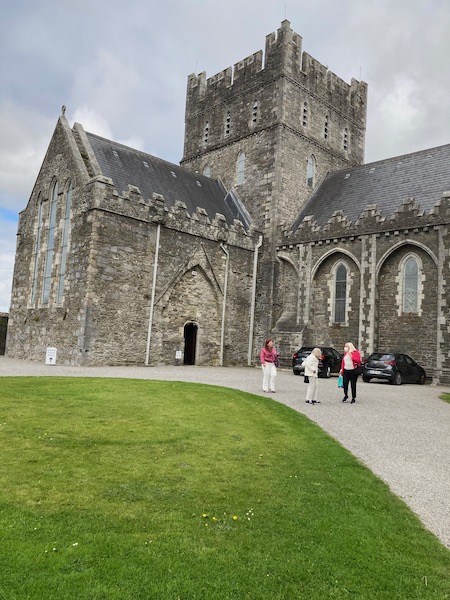 This is St. Brigid's in Kildare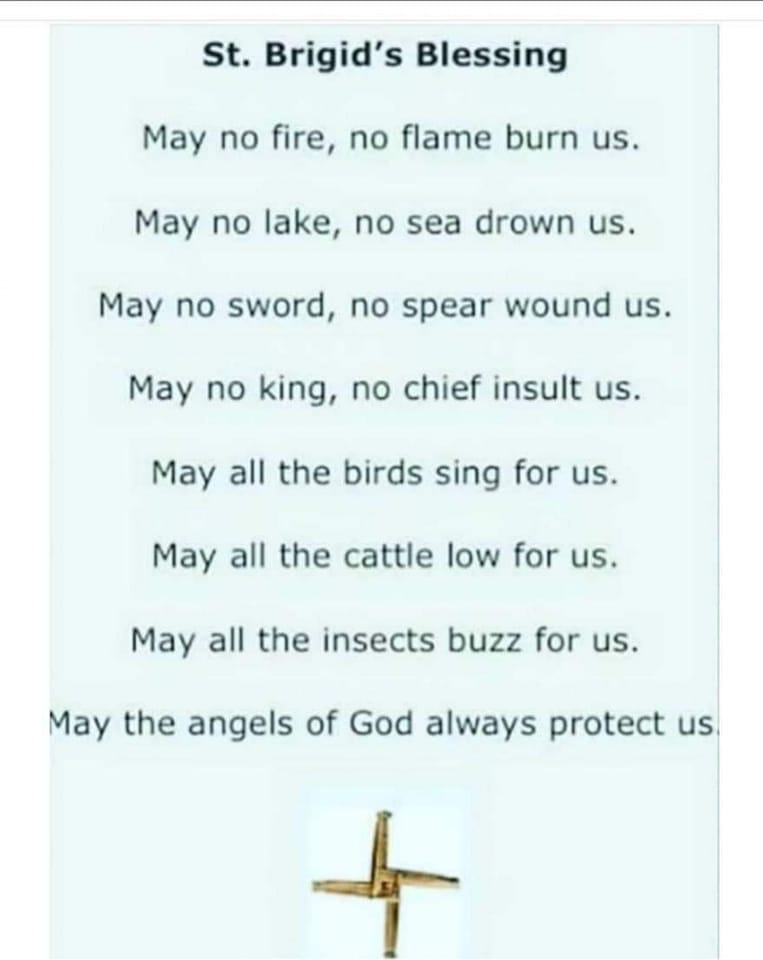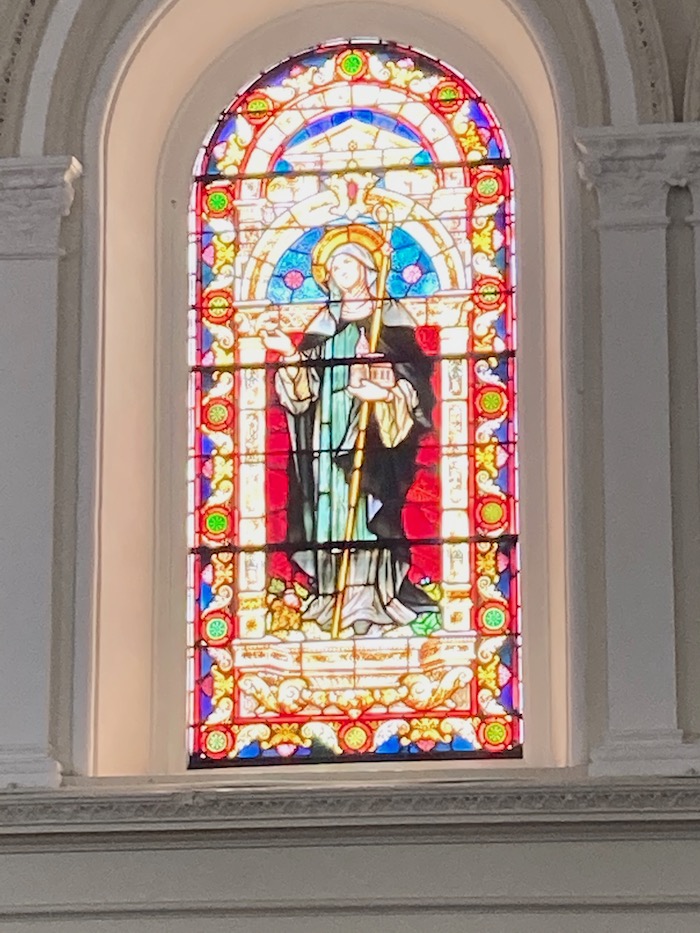 This window is in the Catholic church of St. Brigid in Kildare Town.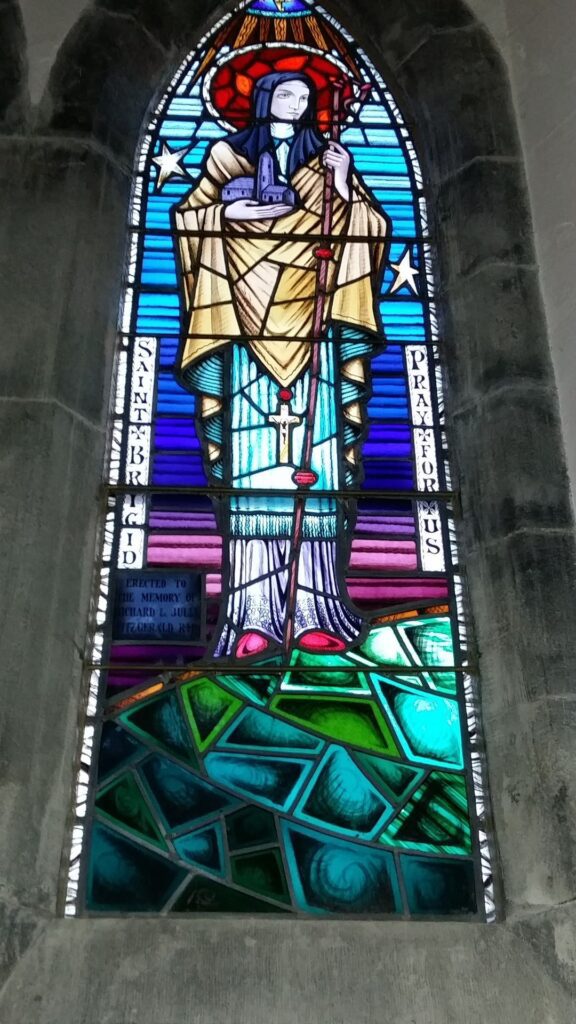 This is the St. Brigid stained glass window in St. John's church, Ballybunion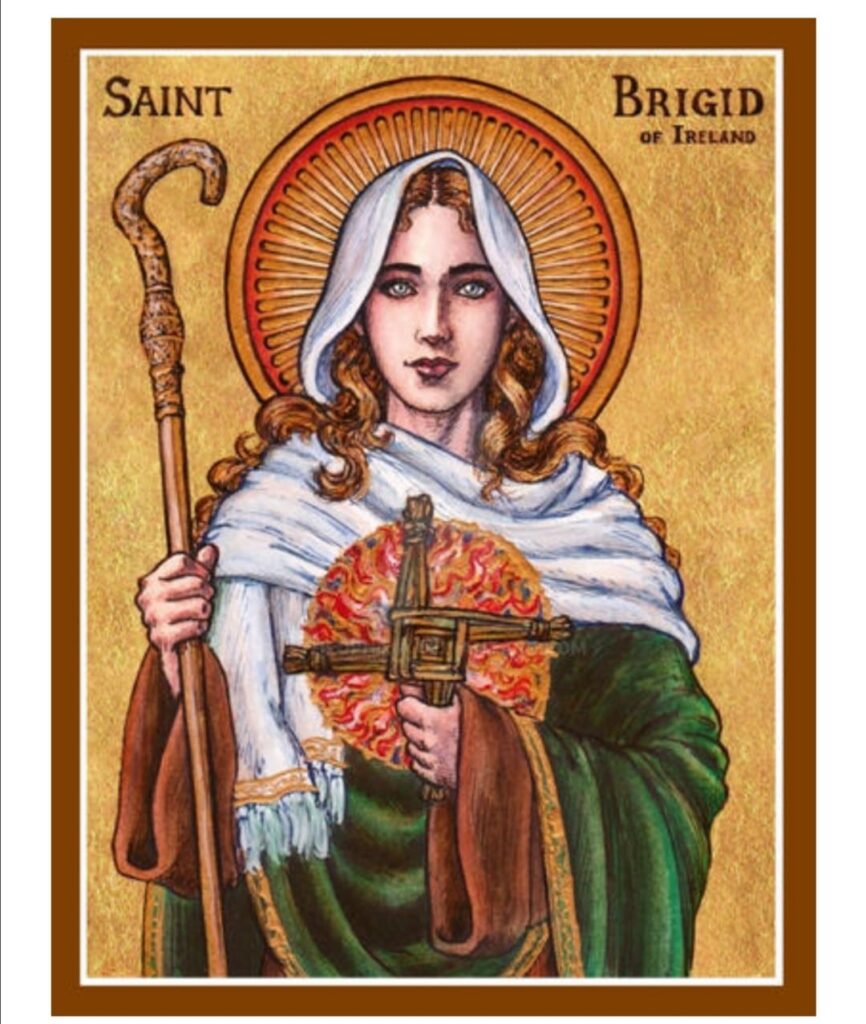 She is usually depicted either with her famous cross or a church which she built.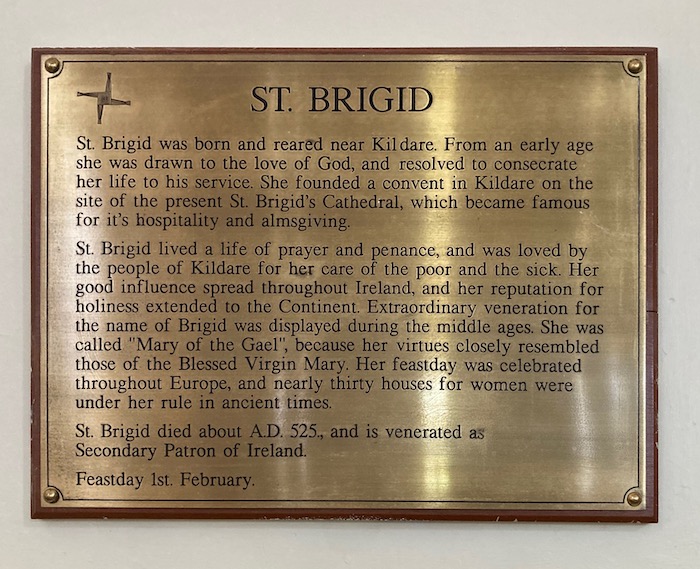 The Kildare crowd in their church plaque don't bother with the Co. Louth part of the legend. There she is all Kildare.
St Brigid's Cloak
Once when on a visit to my Kildare family I came upon this display in the Whitewater Shopping Centre in Newbridge.
This is St. Bridget with her marvellous cloak. The project was the work of a local knitting group.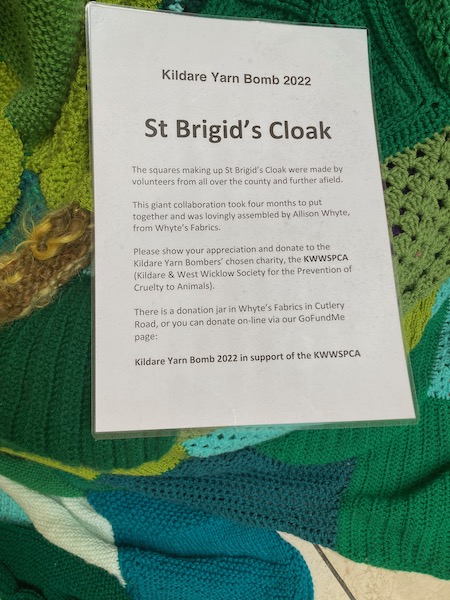 The story of the cloak is this. St. Bridget wanted to build a monastery so she approached the king of Leinster to give her a site. He laughed her off. Undaunted, she returned to him and asked only for "as much land as my cloak will cover" His majesty took one look at her small cloak and agreed to her request.
Then began her first miracle. She asked her followers to take her cloak and to walk North, South, East and West with it. The cloak grew and grew until it covered more than enough land to built her monastery. The king picked his jaw up from the floor, decided that this lady was blessed by God and there and then became her biggest fan and ardent supporter.
To celebrate this miracle one tradition is to leave a handkerchief (if anyone has one of these anymore) or piece of linen out overnight. St. Brigid will bless it and it will have curative powers from then on.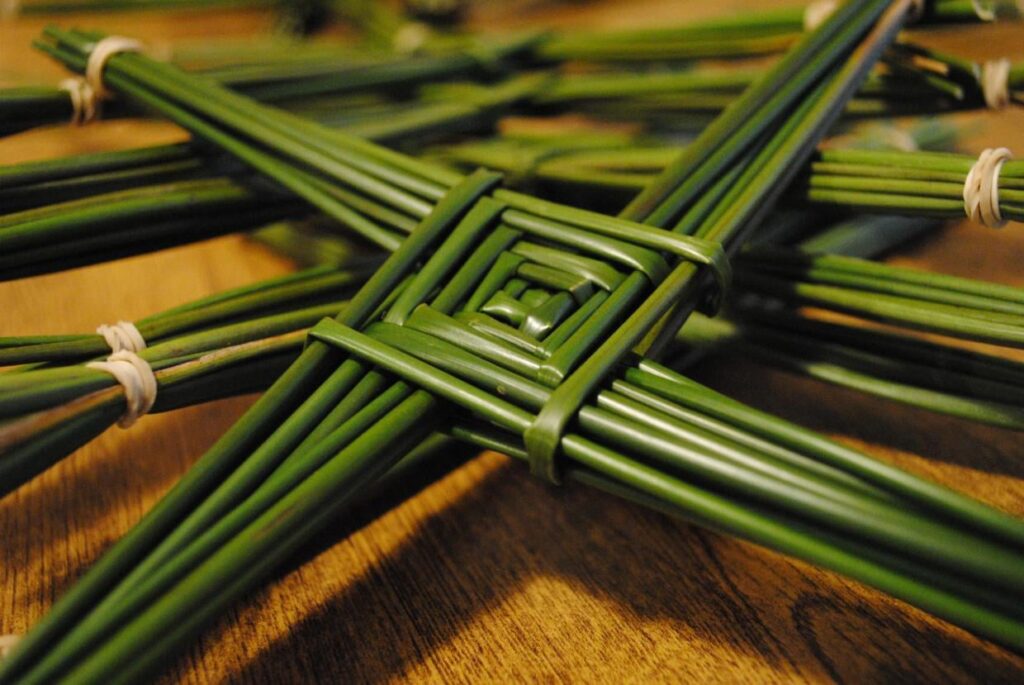 St. Brigid's Cross
Probably the most popular tradition associated with St. Bridget is the custom of making crosses from rushes and hanging them in houses to ward off dangers particularly the danger of fire.
St Bridget had n0 cross with her when she was in the bothán of a dying man whom she wished to convert to Christianity. She picked up the nearest thing, rushes on the floor, and fashioned a crude cross from these. Irish schoolchildren have been making flitters of their fingers emulating her feat ever since.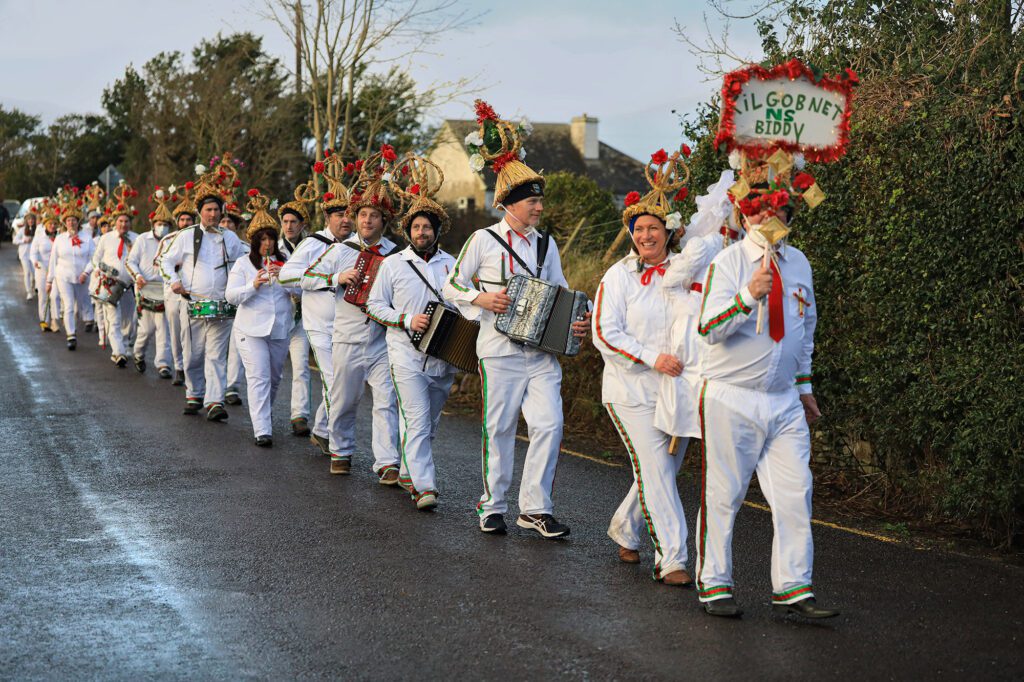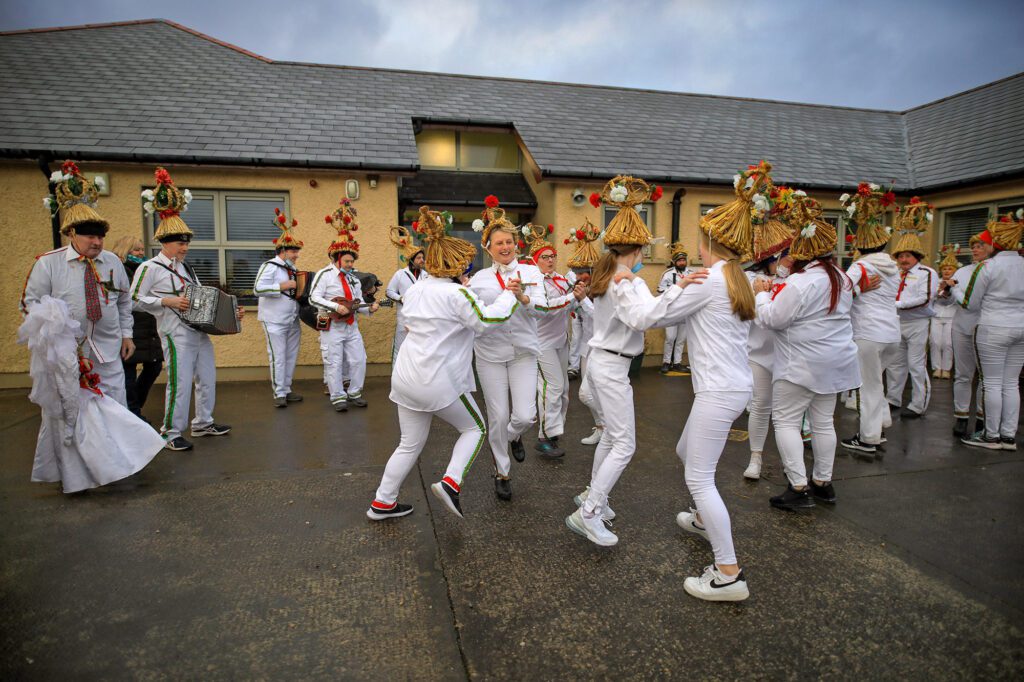 Valerie O'Sullivan took these photos of the mid Kerry crowd out on The Biddy last year. The tradition involves taking an effigy of St. Bridget (a Brídeóg) from house to house and having a bit of a hooley along the way. This tradition is related to mumming and the colourful hats are part of it all.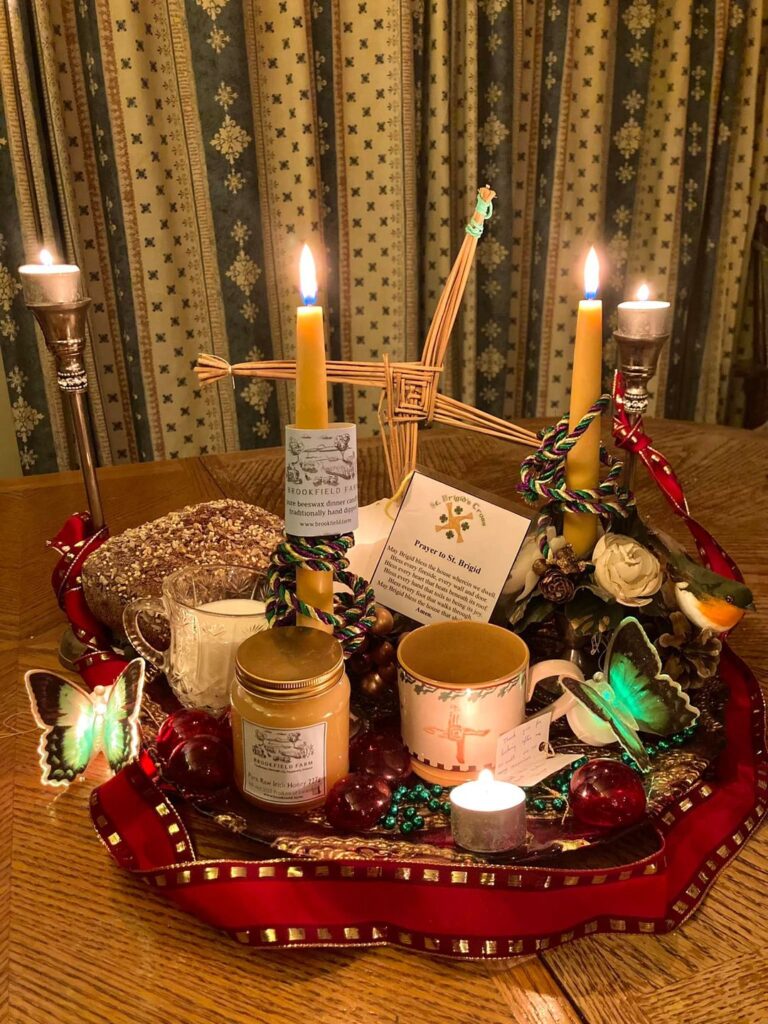 Some people make a St. Brigid shrine. This was Helen Dunlea's last year.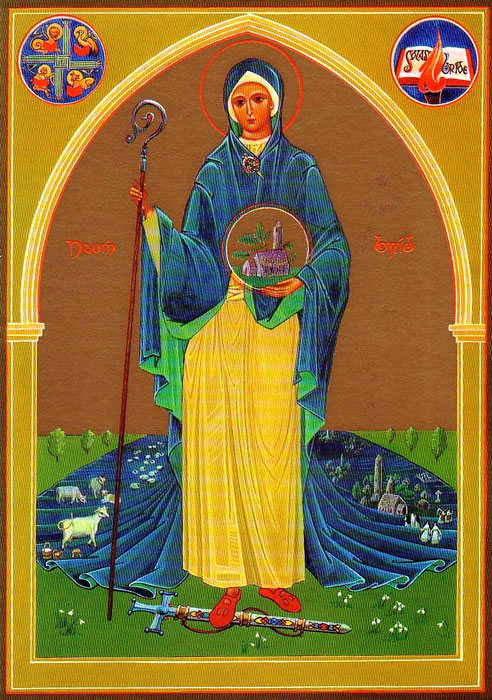 This is the St. Brigid icon by Sr. Aloysius McVeigh.
An icon is different to a picture in that it's purpose it to tell the whole story. If a picture paints a thousand words, an icon paints several thousands.
Some of the symbols are;
Sword under her foot…her love of peace
Animals…she was fond of sheep and cows and depended on these for food and nourishment
Monastery
Her fellow sisters
Bishop's Crosier…many traditions have it that Bridget was ordained a bishop
St. Brigid's Cross
St Brigid's Fire…Her fire was kept alight for decades, used for heating and cooking etc.
So now you know something about the saint responsible for our new national holiday.
I'm told that the name Bridget and derivatives has fallen out of fashion but her cult is now having a moment as we celebrate on our new national holiday.
Look at this beautiful piece of St. Brigid jewellery from Listowel goldsmith, Eileen Moylan. If you have a Bridget in your life, here is her birthday present sorted.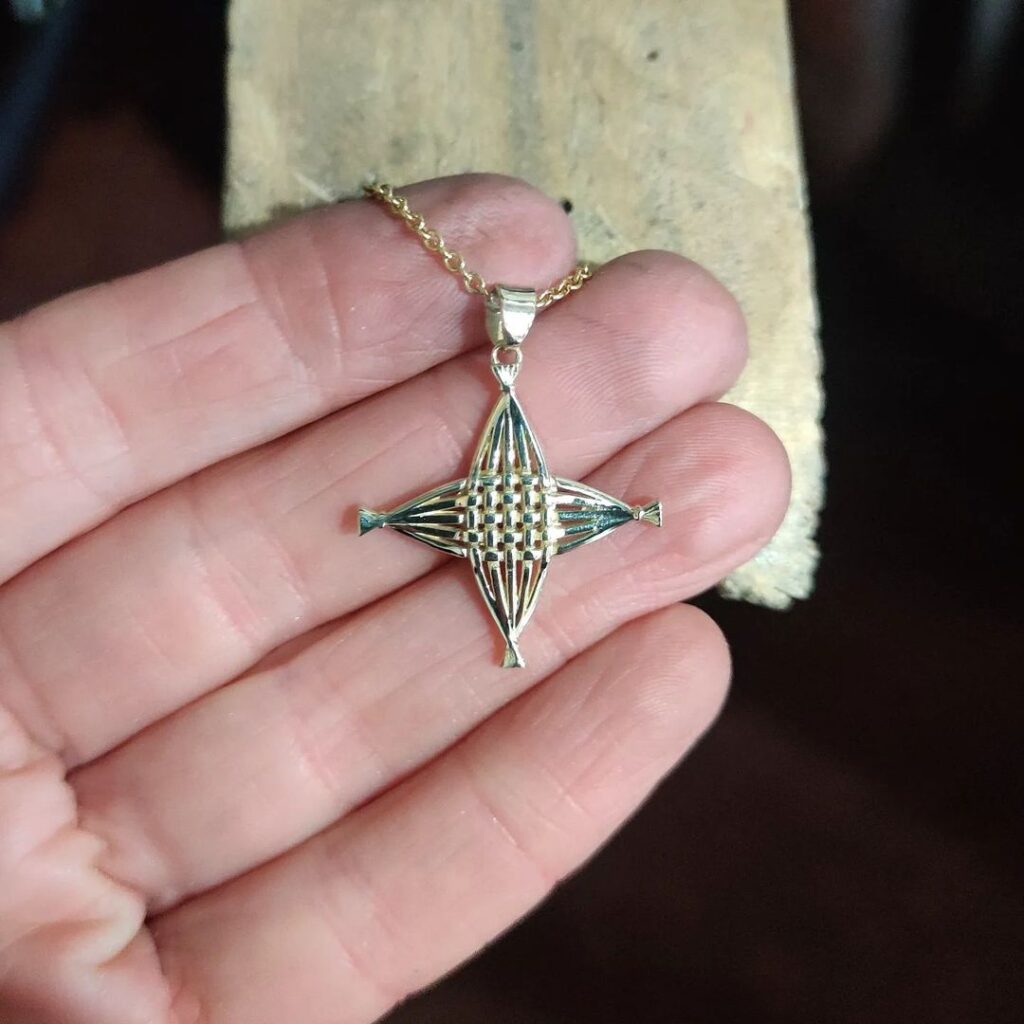 <<<<<<<<<<