After that flurry of activity over the weekend I am now returning to my normal pace of one post per day. I have lots of photos which I took over the weekend and I will share some of them in due course. But today I am sharing with you some stuff that people were kind enough to send us.
Our friend, Joanne Dillon was at the New York parade and she sent us this Smilebox of photos
Thank you Joanne.

<<<<<<<<<

I am posting Ed. O'Connor's email in its entirety

For those from Listowel who may have connections to western Massachusetts, particularly Holyoke, check out the following site for reports of yesterday's St. Patrick's Day parade in Holyoke….just for information, Holyoke was once called Ireland's Parish….it is a small city of about 40,000 souls which dramatically increases in size during parade weekend….they crown a colleen who wins a trip to Ireland as part of the prize…

Although Boston, New York and Chicago are much larger cities, the Holyoke parade is impressive especially if the weather is good as it was yesterday…..there can be up to half a million folks who watch the parade and the organizers always have a large number of floats and marching bands…

Check out www.masslive.com

Enjoyed watching your parade….

Ed O'Connor




Ed. is a good friend of listowelconnection and NKRO and he is coming to our festival this summer.

>>>>>>>>>

I'm glad so many people are enjoying the video clips of the Tea Dance. It was a great success. Kay O'Leary, the driving force behind the venture has sent me some photos and I took a few as well on Saturday. I'll share them with you during the week.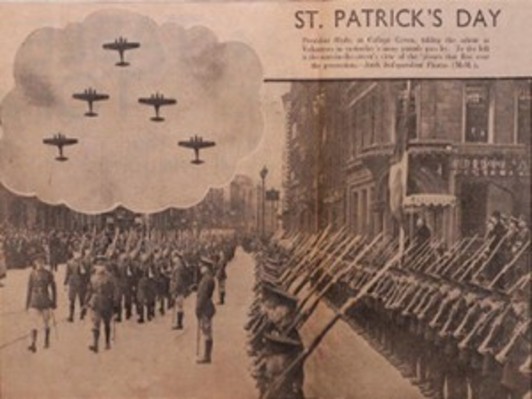 Meanwhile an old photo from a bygone St. Patrick's Day; Dublin 1939
I found the photo on the internet. The writing is indecipherable. I don't really know what is going on with those planes.
>>>>>>>
http://www.breakingnews.ie/archives/2012/0320/sport/aussie-rules-hero-stynes-loses-cancer-battle-544124.html
Very sad news breaking from Melbourne this morning. Jim Stynes, who blazed a trail for young Irishmen like our own Seán Whyte and Tadhg Kennelly has passed away at the age of 45. He is being awarded a state funeral, such was his status in his adopted city.
Ar dheis Dé go raibh a anam uasal dílis.