March 17 2021, St. Patrick's Day like no Other
Remembering other days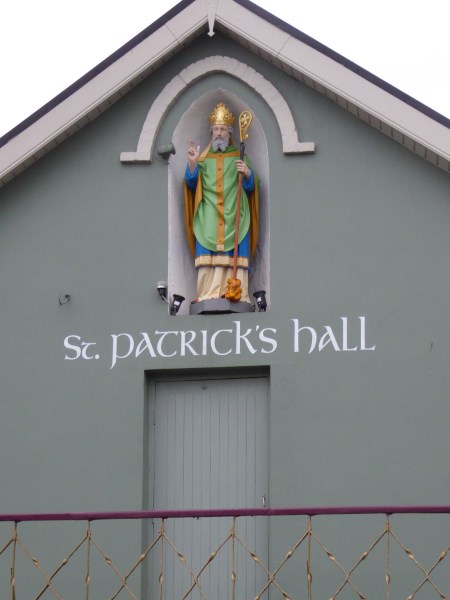 St. Patrick's Hall in Upper William Street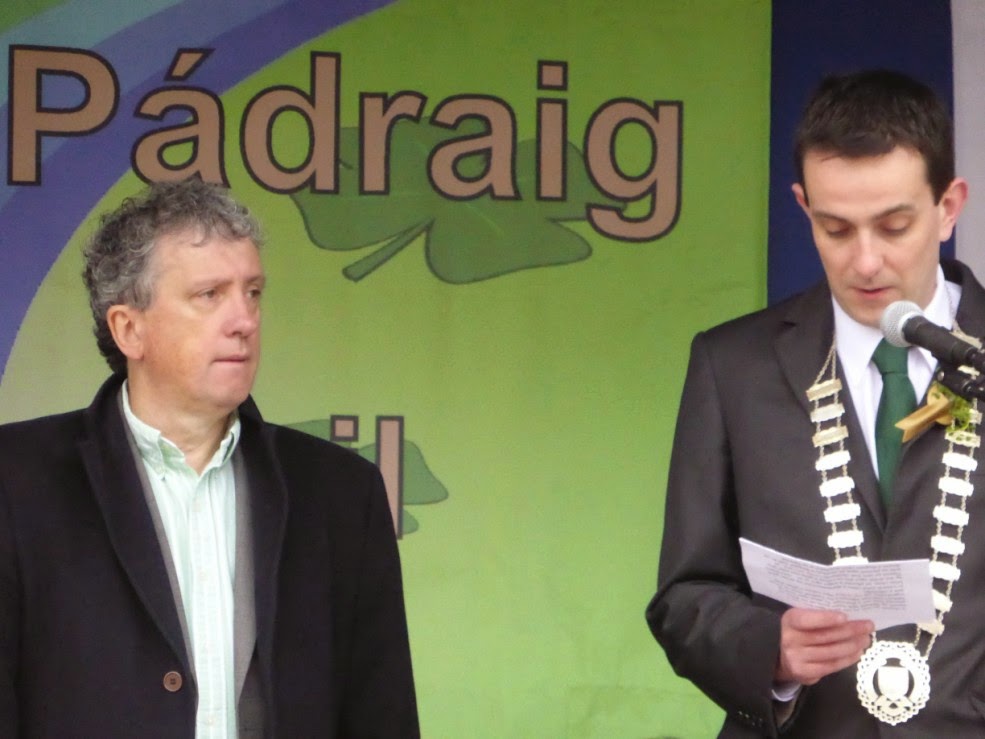 Billy Keane was the M.C and the mayor, on this occasion Jimmy Moloney, were on the viewing stage.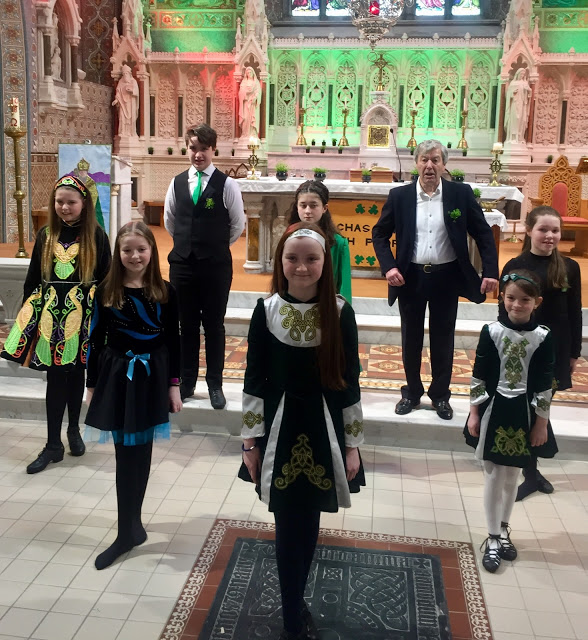 Jimmy Hickey is always busy on St. Patrick's Day. Here he is with his dancers in St. Mary's parish church.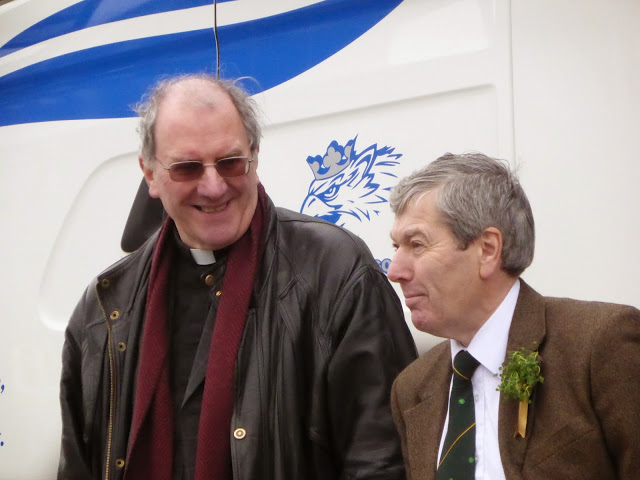 Jimmy and Canon Declan O'Connor in The Square
Liam Brennan took over from the late Michael Dowling as St. Patrick.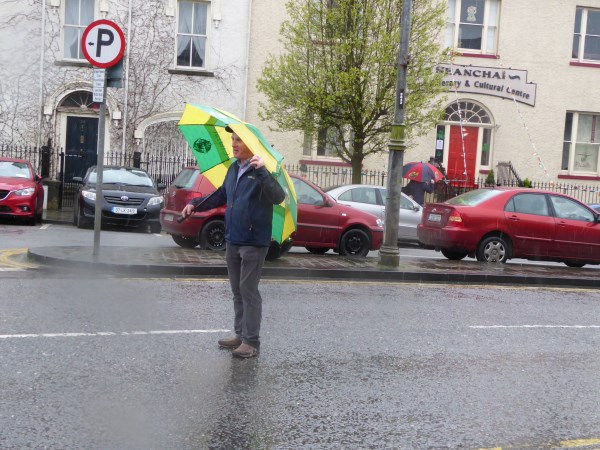 A cohort of volunteer stewards kept the parade on track.
Eugene Moriarty and Matt Mooney are stalwarts of the organising committee.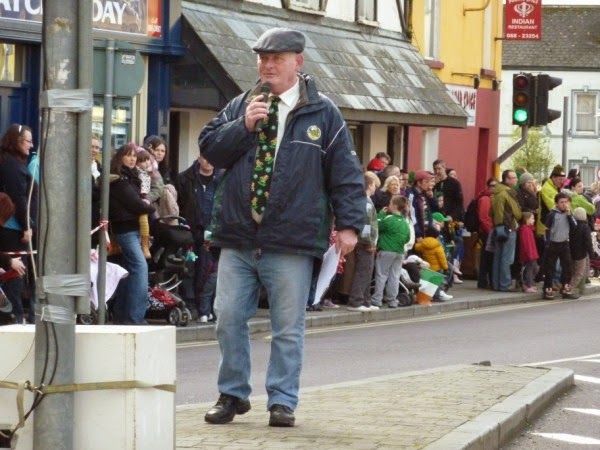 Seán Moriarty looks after the commentary in the Small Square.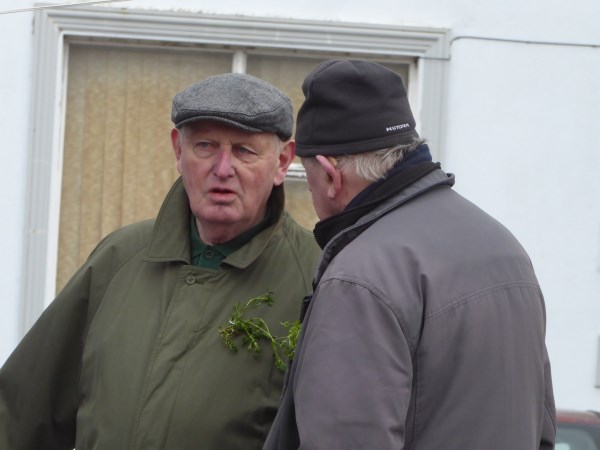 Tim O'Leary and Donal O'Sullivan always worked hard to make the day special for us all.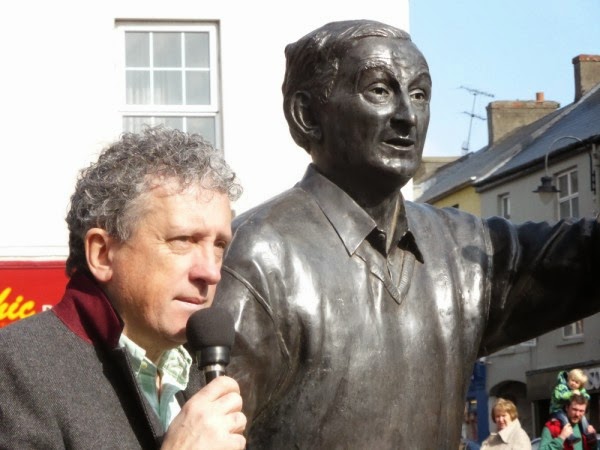 Billy is here doing a piece to camera for local videographer, Denis Carroll.
<<<<<<<<
Cornered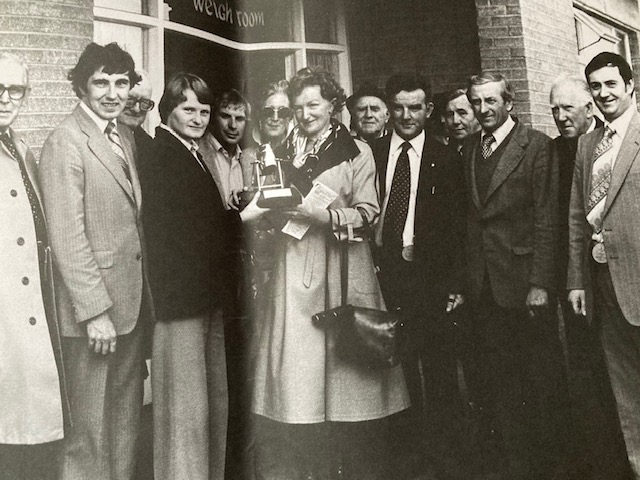 I published this photo last week. In it Barbara, wife of Dick Cotter, is presenting the Kingdom County Butter Churn Trophy to the winning owners, at Listowel Races in 1979. Barbara's husband, Dick, was the food sales manager at Kerry Group at the time. He is on the right in the photo.
Then I attempted to outline Dick's Listowel connection and I got it wrong. I missed a generation.
Here is Dick's email.
Tue, Mar 9, 9:55 PM (13 hours ago)
Hi Mary,
Just saw the current edition re the Races photo. Just to point that Jimmy Cotter was my GREAT grandfather, Timothy F (Tasty)
was my grandfather, (John) Arthur Cotter was my father, Cecil(ia) was my aunt.Thanks.
My grandmother was Rita (Buckley) from Finuge. One of her 6 sisters was Dora who married Sean O'Brien from Charleville. On
March 1st,1921 (100 years) ago, he was murdered in his house by 2 Tans .He was buried initially in Charleville but was subsequently dis-interred and is now buried in Listowel Cemetery (just inside the gate on right hand side) together with Dora,
their daughter ,Maureen and Maureen's husband, Eugeen O'Sullivan. The O'Sullivans had two daughters and one son, Brian.
All 3 were born over what is now John B.Keanes pub.
Sean O'Brien's murder is featured in North Cork's Fighting story (War of Independence).
Best wishes
Dick
The following 2 photos and text are from Vincent Carmody's Listowel, Snapshots of a Market Town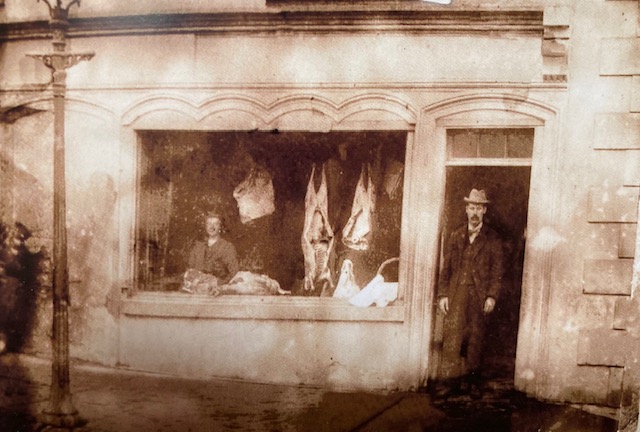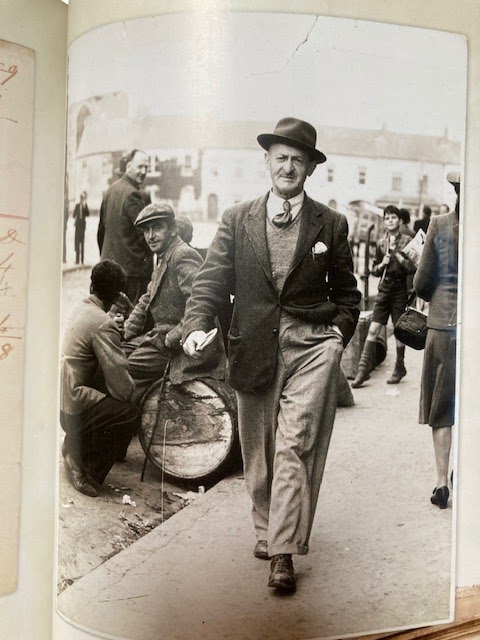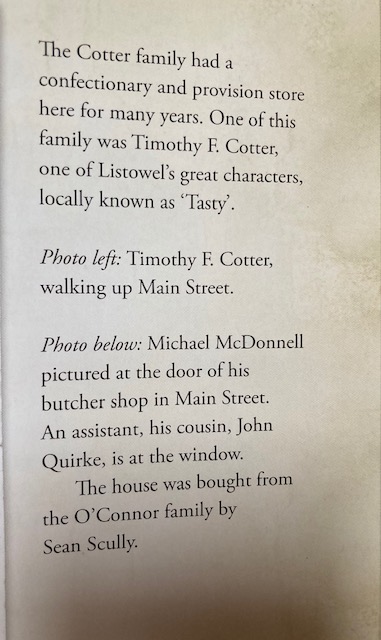 Dick Cotter puts it in a nutshell here;
Just to confirm the Cotter "dynasty"!
1. John Cotter B 1809-1866
2 James Cotter B 1843-1913
3 Timothy Cotter B 1881-1952 A.K.A Tasty!
4 (John)Arthur Cotter B 1912-1969 Sister; Cecilia Margaret B 1916-1971.
5 Richard Cotter B 1945-so far!

I know that some Listowel sources think that Tasty & Cecil were siblings but that is incorrect.
She married late in life to her childhood sweetheart Eugene O'Connell (brother of Thomas O'Connell, Bridge Road) in 1970.
They both died in UK in 1971 within a short time of each other (less than a year married)-sad.
Gene had served with British Army in Burma-WW2.
<<<<<
The shop has now been in the Scully family for as long as I am in town.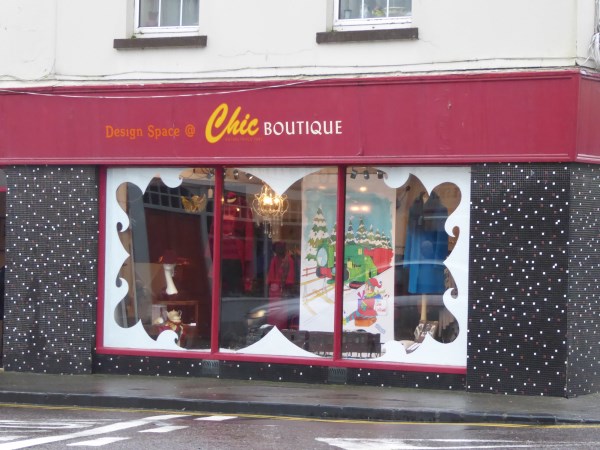 The shop as it is today is occupied by Chic Boutique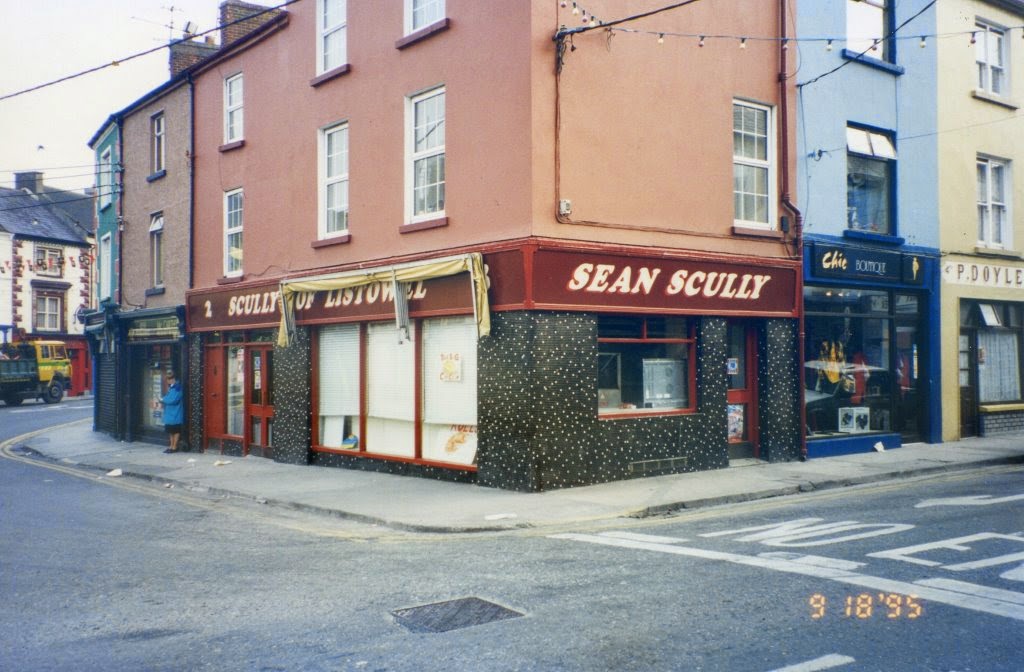 Photo by Pat del Savio
One of the many iterations of this corner shop