Swans at Beale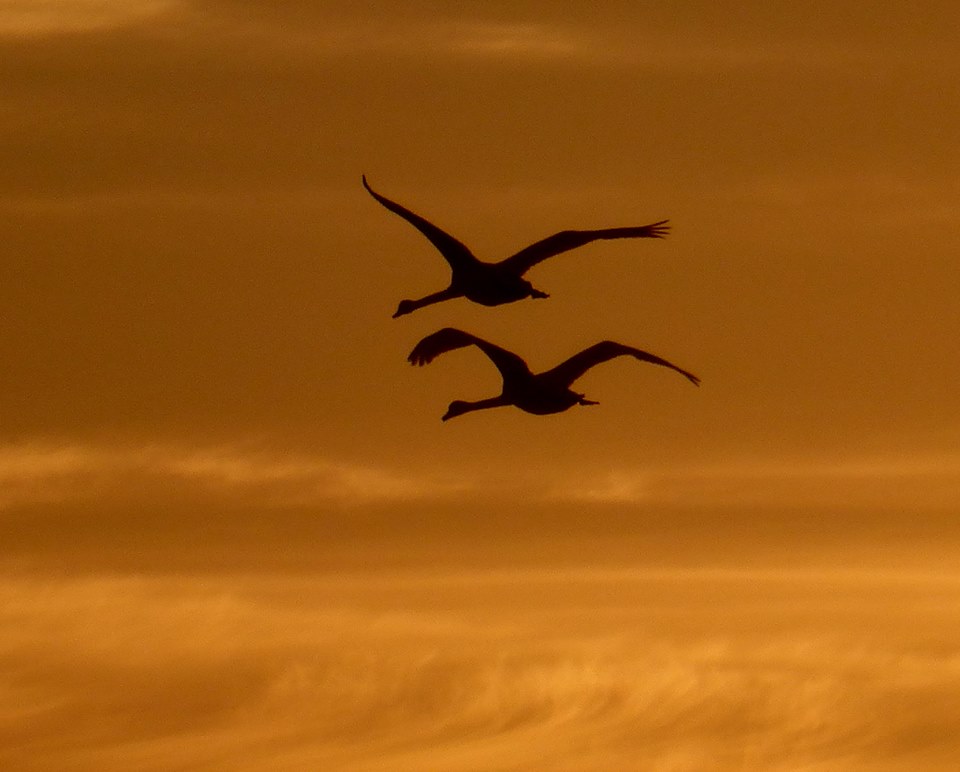 Photo; Ita Hannon


<<<<<<<<<<<




A Nun's View of Listowel Town Square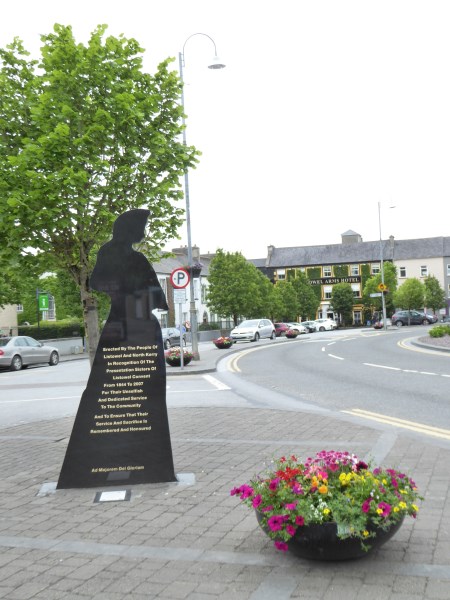 <<<<<<<<<<<<




A Listowel Shop with a Long Tradition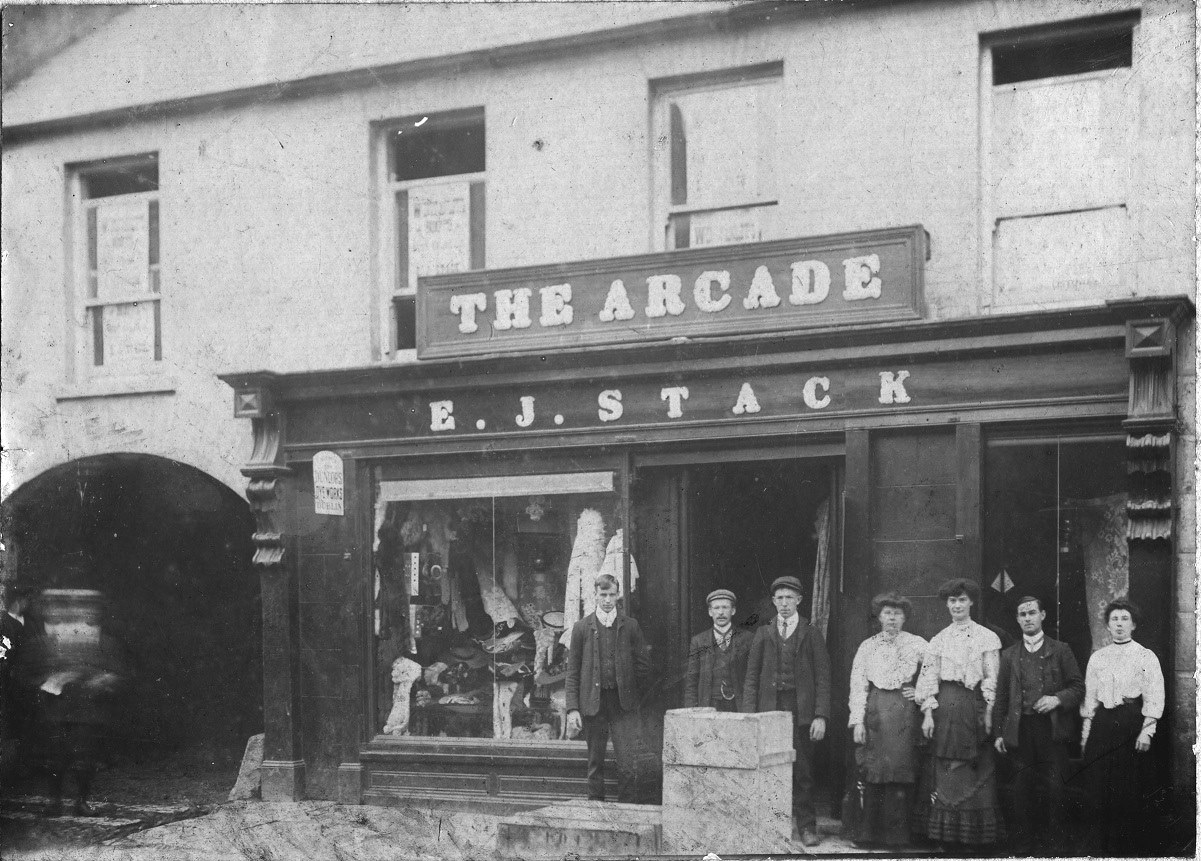 My great great grandfather, James Stack, born in 1816, had a drapery business where McKenna's shop now stands, on the corner of Market Street and William Street. James died in October of 1873, and his son, my great grandfather Edward J. Stack, bought the shop known as The Arcade on this day, June 15 1898, having rented the premises for some years before buying it.
The premises was originally a Ladies and Gentlemen's drapery and shoe shop and also had a household linens and lace department. The shop had a staff of about 17 people including Stack family members.
E.J.Stack died in 1910 leaving his widow Bridget and 9 children. My grandfather, Joseph Stack ran the business with his mother. Bridget Stack died in 1938, and Joseph Stack died in 1946.
My uncle Niall Stack and my father Stuart Stack took over the running of the business and started to sell furniture. Niall started a furniture manufacturing business and my father ran the shop until his sudden death in 1971 atthe age of 41. My mother Mary with the help of the late John Horgan from Finuge continued to run the business.
I left St Michael's College in 1972 to start working full time in the shop. Myself, my wife, Joan and my mother, Mary still run the furniture shop.
In a return to our roots, I opened a bedding and linen department offering quality bed linen to complement our range of fine furniture.
Ten years ago my daughter Jennifer moved in her successful business, Coco Ladies Boutique. We now have 2 businesses in the one premises – Furniture and Interiors and Ladies fashion.
Jennifer is the 6th generation of a Stack to be in our business and we look forward to serving the people of North Kerry and beyond for many more years to come. "We pride ourselves on our tradition of great, personalized customer service, and in this modern era of internet-shopping, we truly appreciate the support shown to our family-run business. We look forward to the future of shopping in North Kerry"
On behalf of the Stack Family, we thank you for your much valued support.
Damian Stack.
(Source for photos and text; Stack's, The Arcade )
<<<<<<<<
A Memory of Writers' Week 2018
The lady who writes this blog Kate Katharina came to Writers' Week and this is what she wrote about her experience.
There is something in the air in Listowel. For me, it was the smell of wild garlic and the way the leaves hanging over the River Feale caught the light.
The tiny town located in Ireland's South-West has a population of under 5000. But it has produced John B Keane, Brendan Kennelly, Bryan MacMahon and a host of other women and men of literary as well as musical note. The writers' festival was a glorious excuse for a reunion with two schoolfriends.
On the first morning, we took a walking tour. Our guide – a spirited and brilliant man of advanced age (the son, incidentally of the late Bryan MacMahon) – brought us to the Garden of Europe. The grounds, dating back to 1995, feature a monument to John B Keane, as well as Ireland's only Holocaust memorial.
Gesturing to the impeccably-kept lawns behind him, the guide said: "This used to be a dump. A place you'd come to shoot rats."
It didn't matter if it was true or not. It was about the twinkle in his eye and the implication that the town had stayed humble.
The line between fact and fiction is appropriately slippery in Listowel, where the truth lies between the lines. Perhaps this is the reason that so many of the writers who came said it was their favorite literary festival, by far.
Or perhaps they like it so much because it is a place where they are allowed to exalt the ordinary. During a tea party hosted by none other than Colm Tóibín, he described a conversation he had recently overheard between an older person and a staff member in a Vodafone store.
"Now, I don't want to send texts. But I want to receive them. Now, if I just turn it off, it can't do anything, can it? It won't ring, will it?" The utter terror of technology, Tóibín said. He wants to put it in a story.
For me, the days in Listowel were characterized not by terror but by awe. There was the surreal moment at a panel discussion when I recognized the shape of Margaret Drabble's head in front of me. Later she turned around, and the man beside her (my former English teacher, who would be interviewing her later) introduced us. "I taught them very little," he said, typically self-effacing. "Well you instilled a love of reading if they're here," she said, not missing a beat.
I sat beside the extraordinary artist Pauline Bewick during another event. She had a notebook open on her lap, full of striking, colorful sketches. Beside her was her daughter Poppy, herself an artist who, unlike her mother, works slowly and produces work that is startlingly life-like. They were a beautiful pair, gazelle-like, other-worldly and unassuming despite their huge success. I told Pauline about how our English teacher had inspired us to love literature. "You know that leaves me with a lump in my throat," she said. "It really does."
Another highlight was the poet Colette Bryce, who – to my shame – I'd never heard of. A Derry-born wordsmith, there was something about the gentle strength with which she read that lured me in. I bought her selected poems and was giddily excited when she looked up after signing it and said in a Northern lilt: "Thanks for coming, Kate."
Edna O'Brien, of course packed the room out. I couldn't even see her from where I was sitting. But I could hear her distinctive voice, and felt its warmth. "Enchantment is the novel's most important quality," she said. "It's what matters most." A literary titan whose work Ireland once banned, she would know.
On our last night, we went to see Forgotten, a one-man show written and sublimely performed by Pat Kinevane. It took place in St Johns, a church on the town's main square converted into a theatre.
My friend, himself a playwright, was seeing it for the second time. It was an intense, exhausting, brilliant performance. When it was over and we filed out of the church, the sun had gone down and the last of the light stretched across the sky.
I noticed my friend had a certain glow about him; a kind of exaltation was written across his face. "This is what good theatre can do," he said as we waited for the 11 o'clock bus back to Killarney. "It's what Edna O'Brien was taking about," he said. "A piece of art can enchant."
<<<<<<
Primary Health Care Centre planned for Listowel
Valley Healthcare, which is owned by the State-backed Irish Infrastructure Fund (IIF), has acquired two primary healthcare centre sites, in Cork and Kerry, for an undisclosed sum.
The centres in Clonakilty and Listowel brings its portfolio of centres to six. The IIF, which is jointly managed by AMP Capital and Irish Life Investment Managers, established Valley Healthcare last year to invest in primary care centres across Ireland.
Clonakilty and Listowel are the first greenfield sites for the fund. Both sites have planning permission and are ready for construction to begin. The sites will be occupied by the Health Service Executive (HSE), GP practices and other health-related services, when operational.
Source: Irish Times