Ireland's Best Small Town; Listowel 2015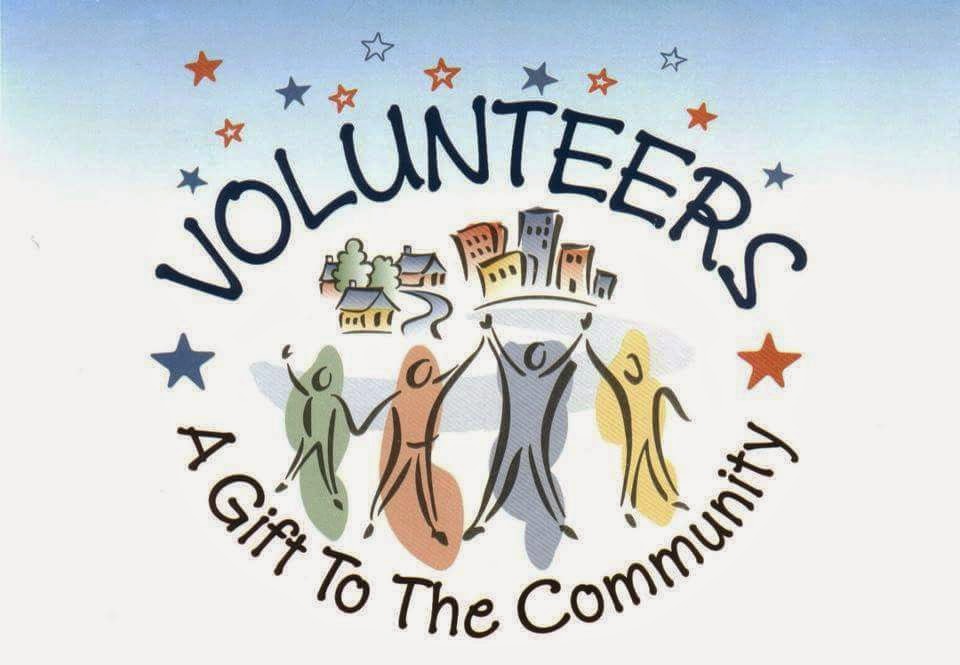 The great Listowel Tidy Towns Group are on a high since their win. They invited the whole town to share in their celebrations with a family fun day in The Square on Sunday Oct 4 2015. The photos were posted on Facebook.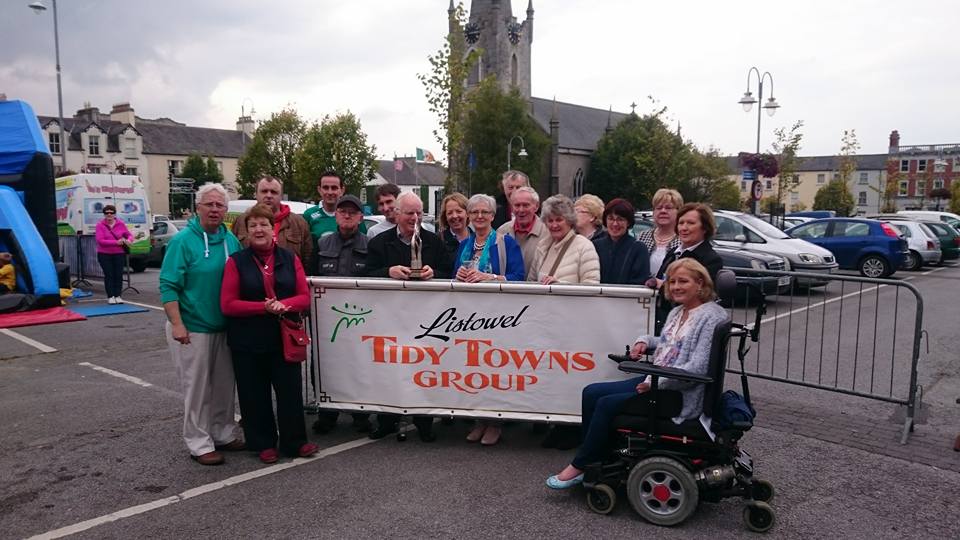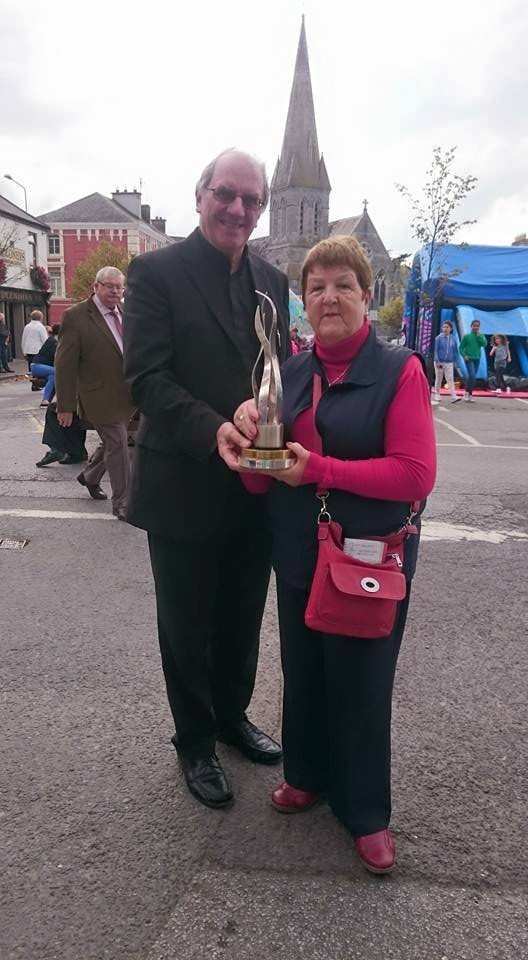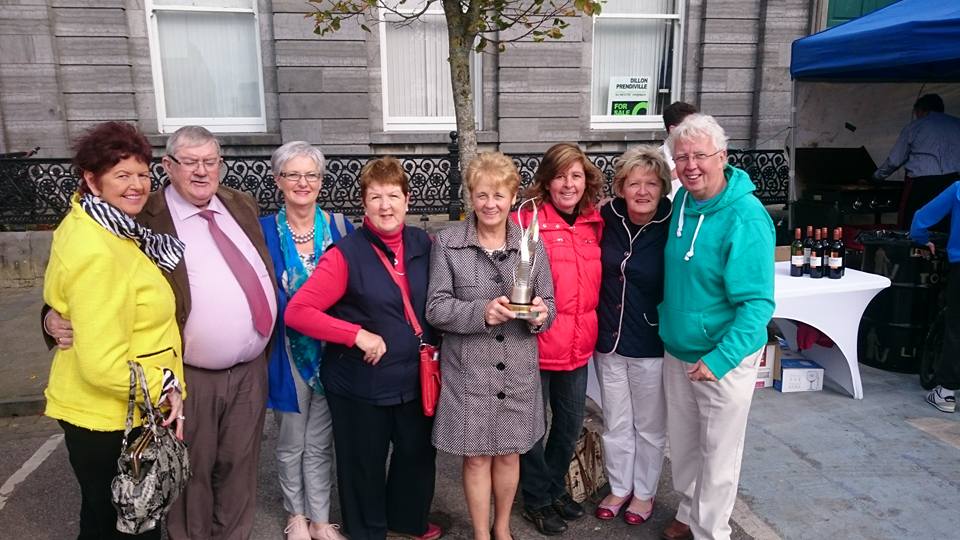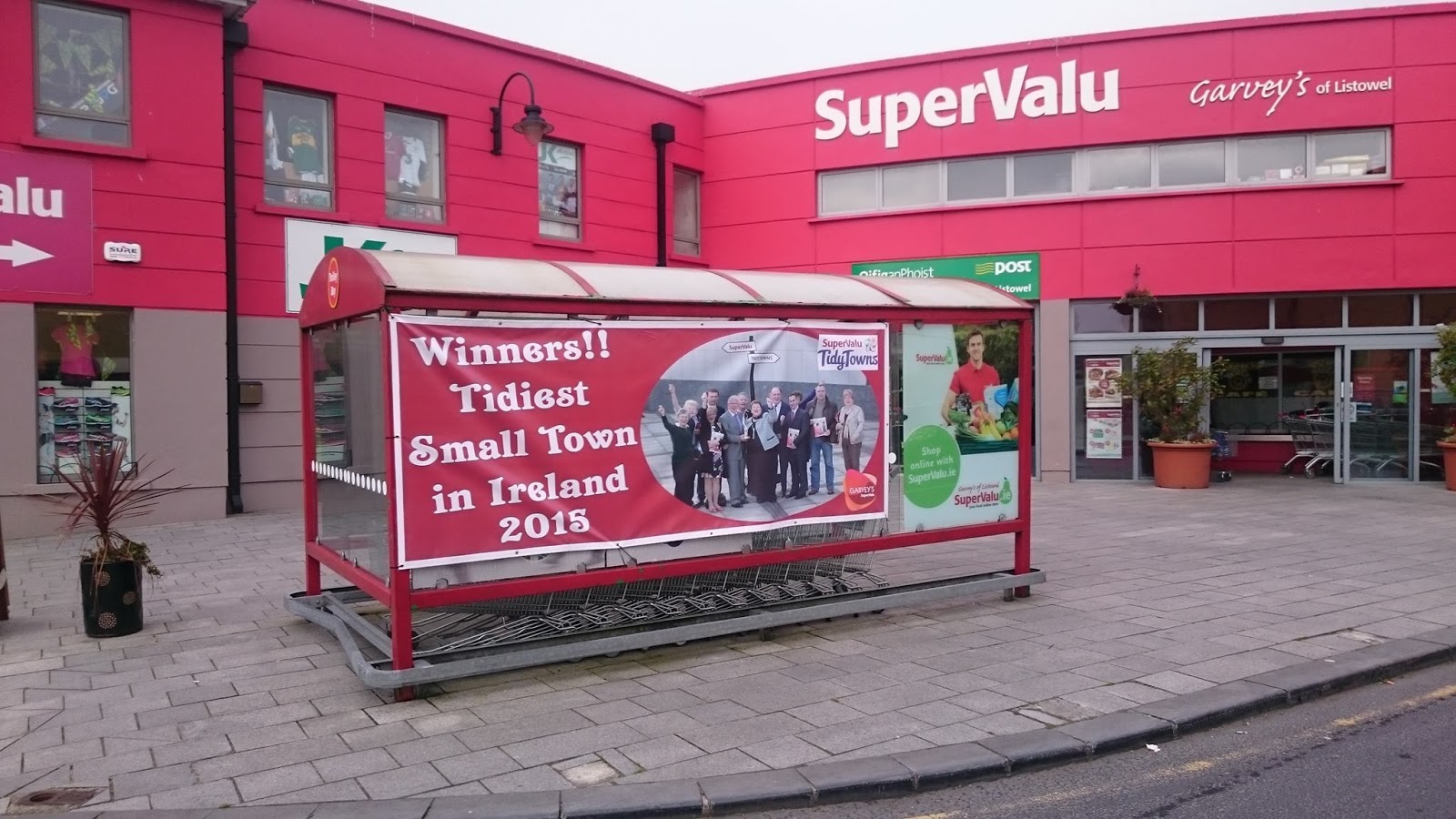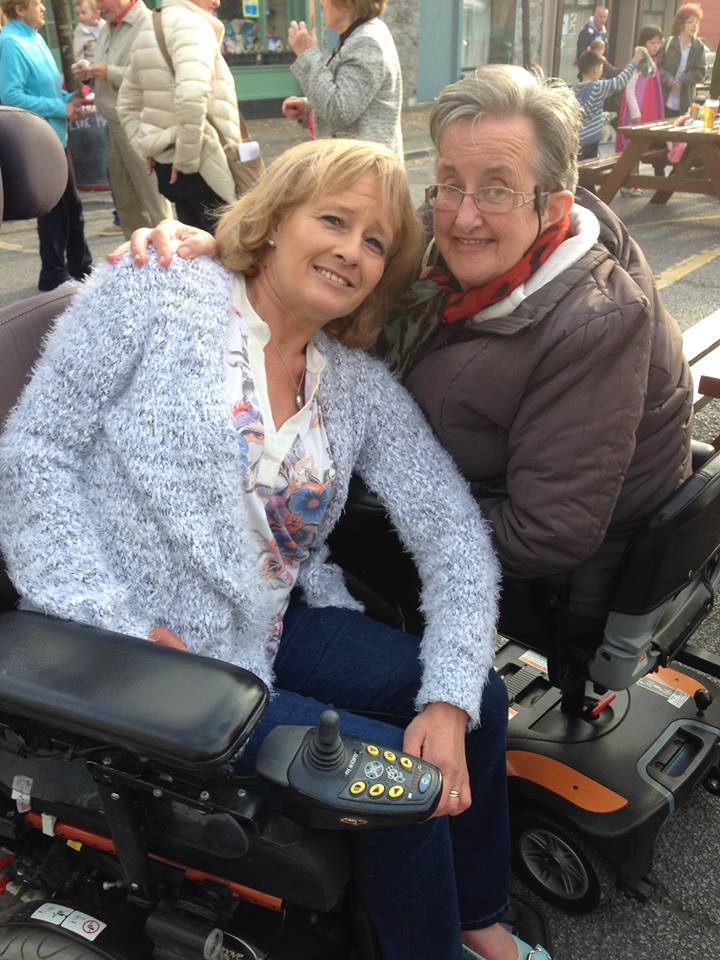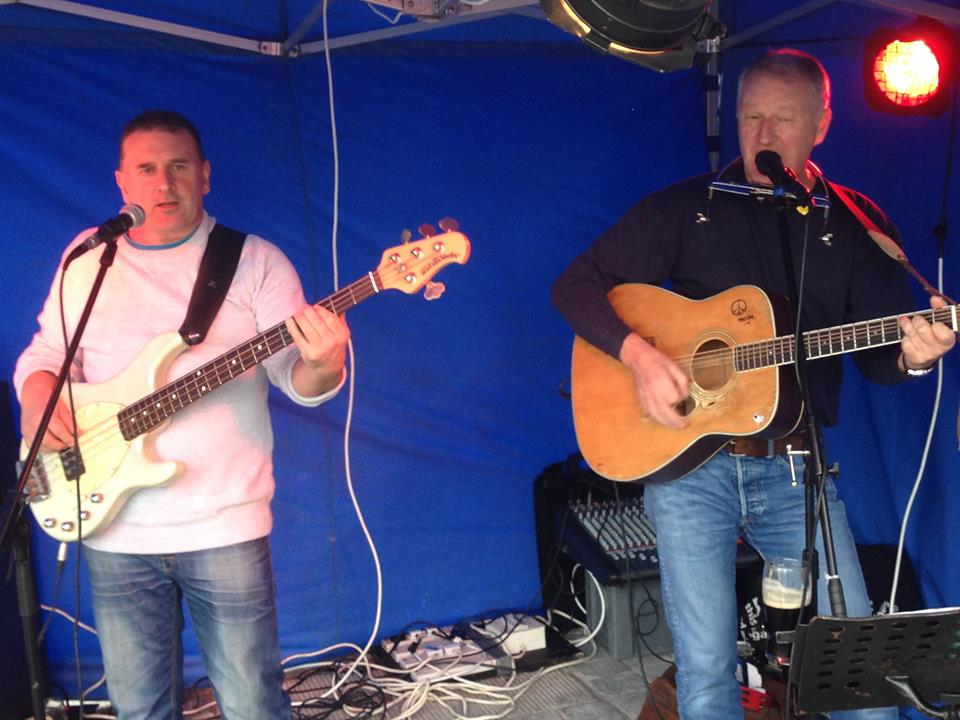 <<<<<<<<<
As well as keeping Listowel tidy, Listowel Tidy Towns run one of the best off course events at Listowel Harvest Festival of Racing. Below is my account of the event in 2015.
Saturday September 19 2015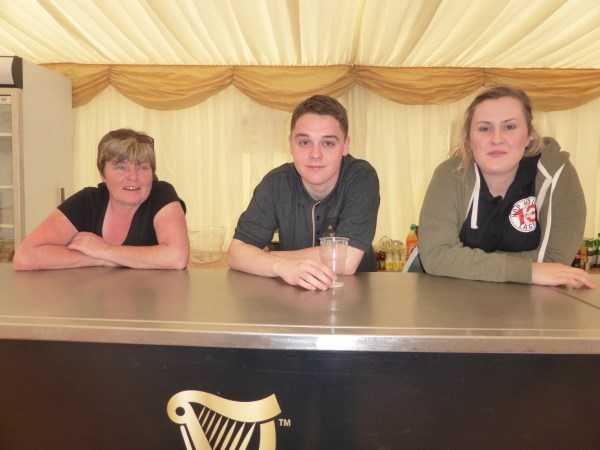 In the Guinness tent all is quiet. Soon it will all liven up when Listowel Tidy Towns Vintage fashion event starts up.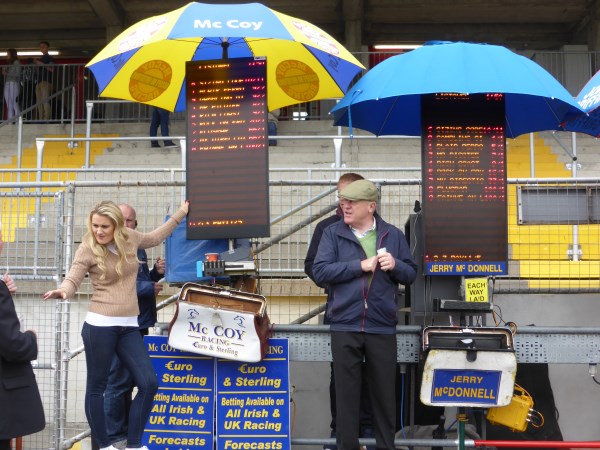 The bookies' ring is quiet too.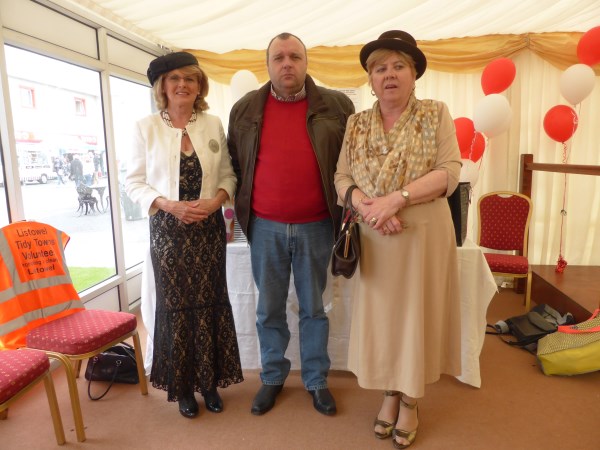 Members of Listowel Tidy Towns take a minute to pose for me before the excitement begins.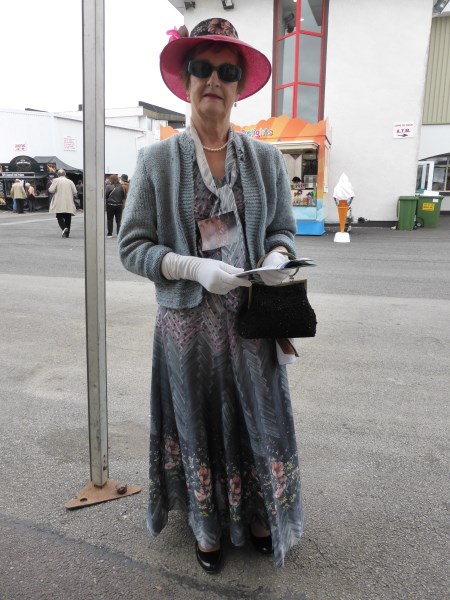 The first glamorous lady I met was Kay Twomey. Kay was wearing a beautiful maxi she had made herself on her old manual sewing machine. Kay loved sewing and she used to make many of her own and her children's clothes. She kept this dress because she wore it in Killarney at an ICA Make and model competition and it held happy memories for her.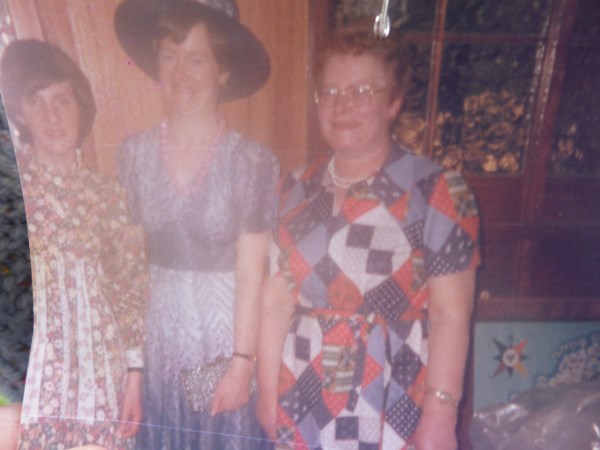 Kay brought an old photo of herself wearing the dress in the ICA competition.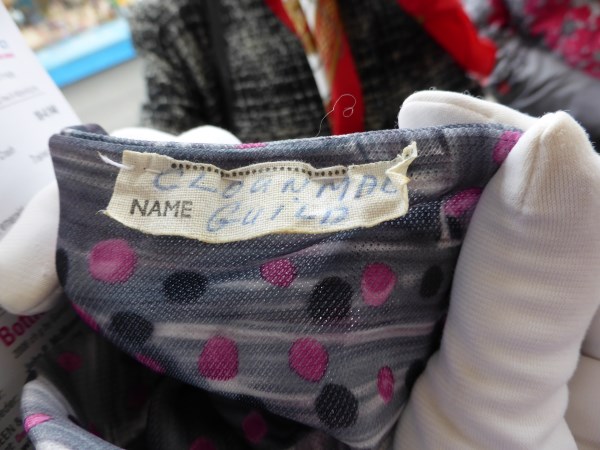 She showed me the lable saying that she was representing the Clounmacon Guild.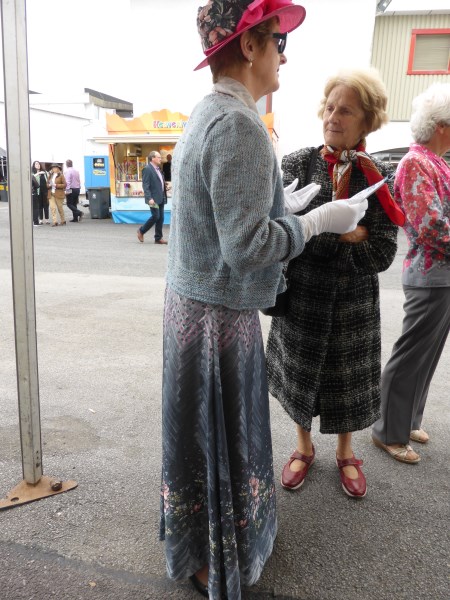 A Clounmacon lady, Anne Dillon, came by to admire the workmanship in Kay's creation.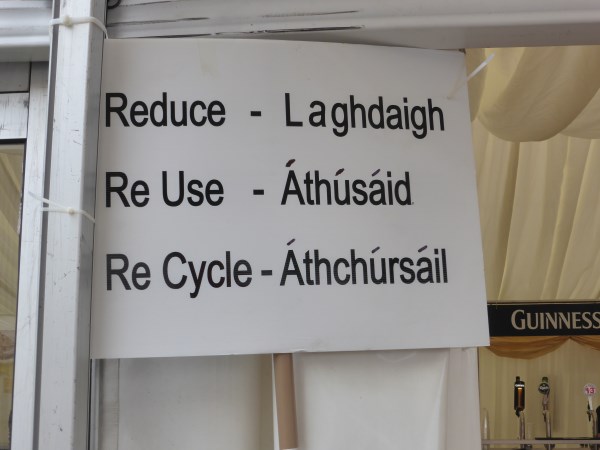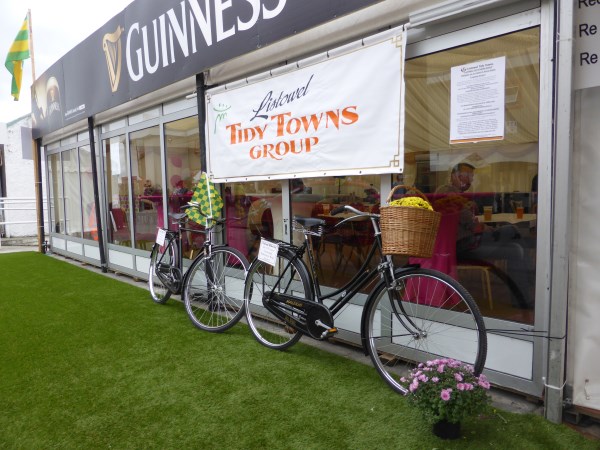 These vintage bikes were restored by John O'Connor of Listowel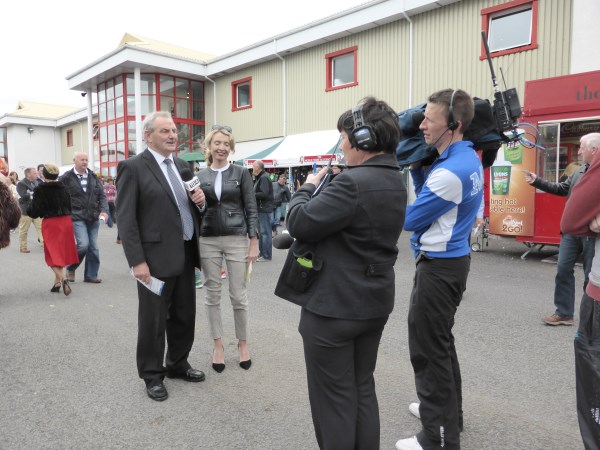 Orla Diffley of Upfront Media was doing her thing, advertising the event on TG4.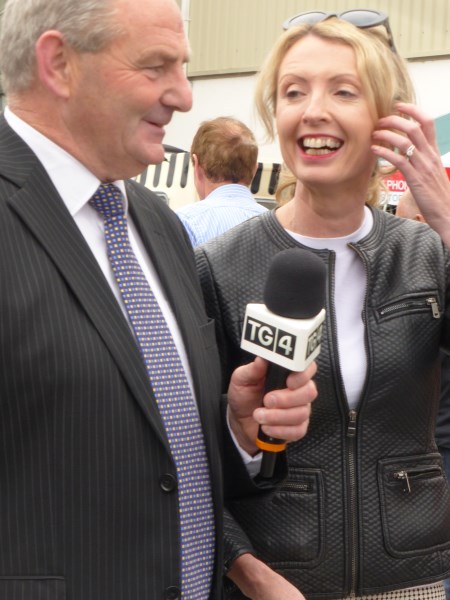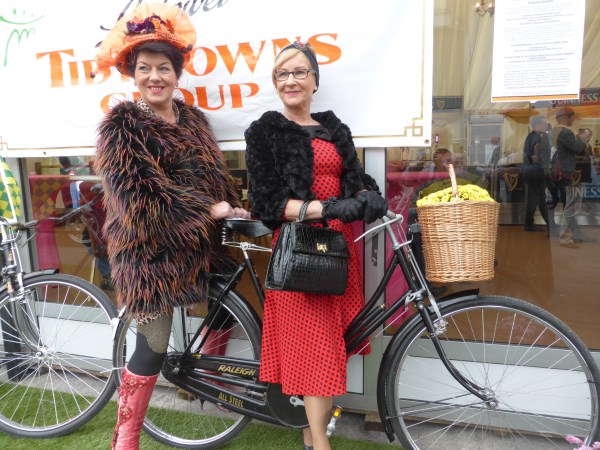 Betty McGrath and Eilish Stack look the part on the vintage Raleigh.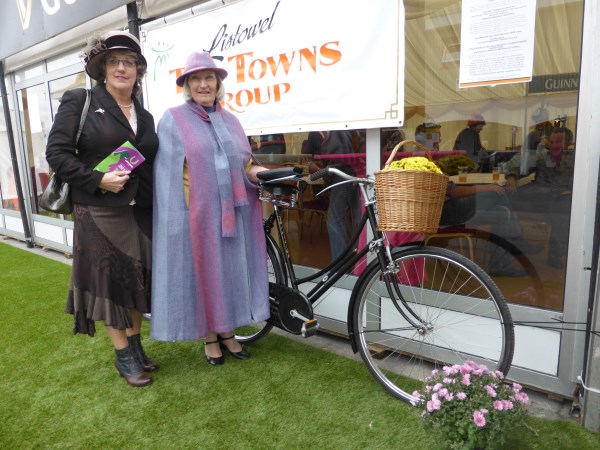 The Moriarty family supported the event in numbers.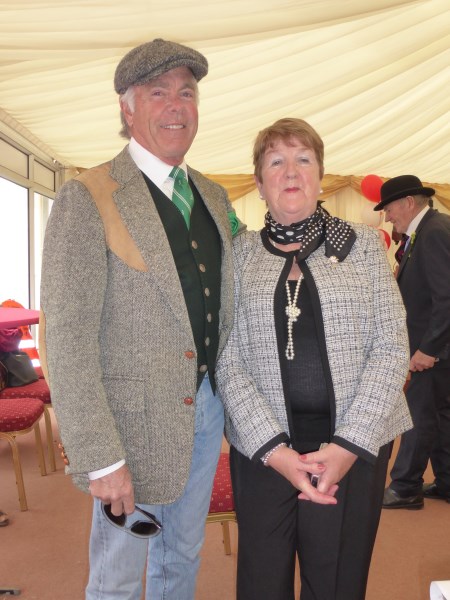 Mary Hanlon was taking the opportunity to pose with all the handsome men.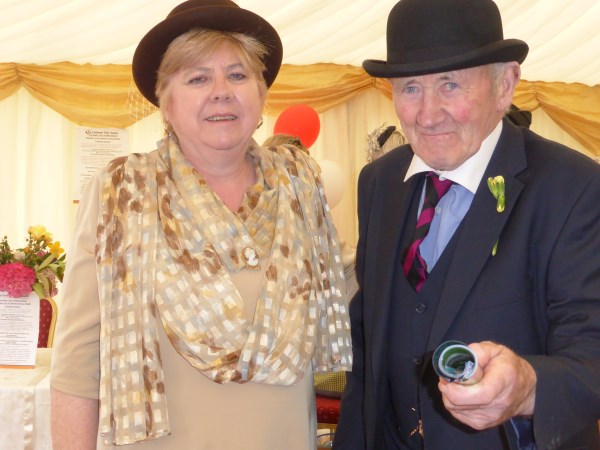 Imelda Murphy of Listowel Tidy Towns was resplendent in a vintage dress, worn originally by the late Mary John B. Joe Broderick, looking very dapper, was charming all the ladies.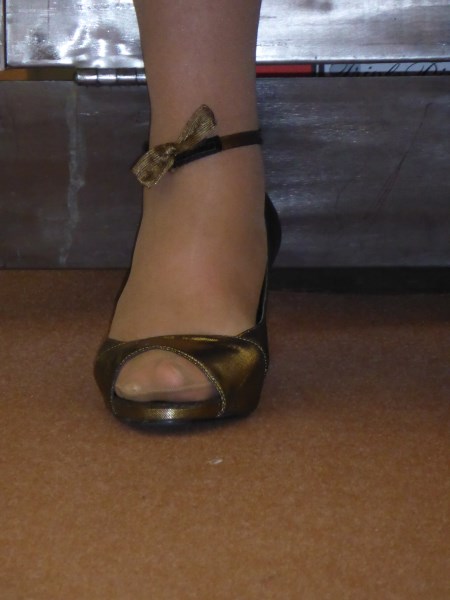 As with every best dressed event attention to detail was important, with shoes and other accessories playing a big part in the overall look.
( more tomorrow from the interviews and back stories)
<<<<<<<


Listowel Vocational School Trip to Killarney in 1961


This final tranche of Maureen Barrett's photos are photos of the teachers who went on the school outing. The captions are Maureen's.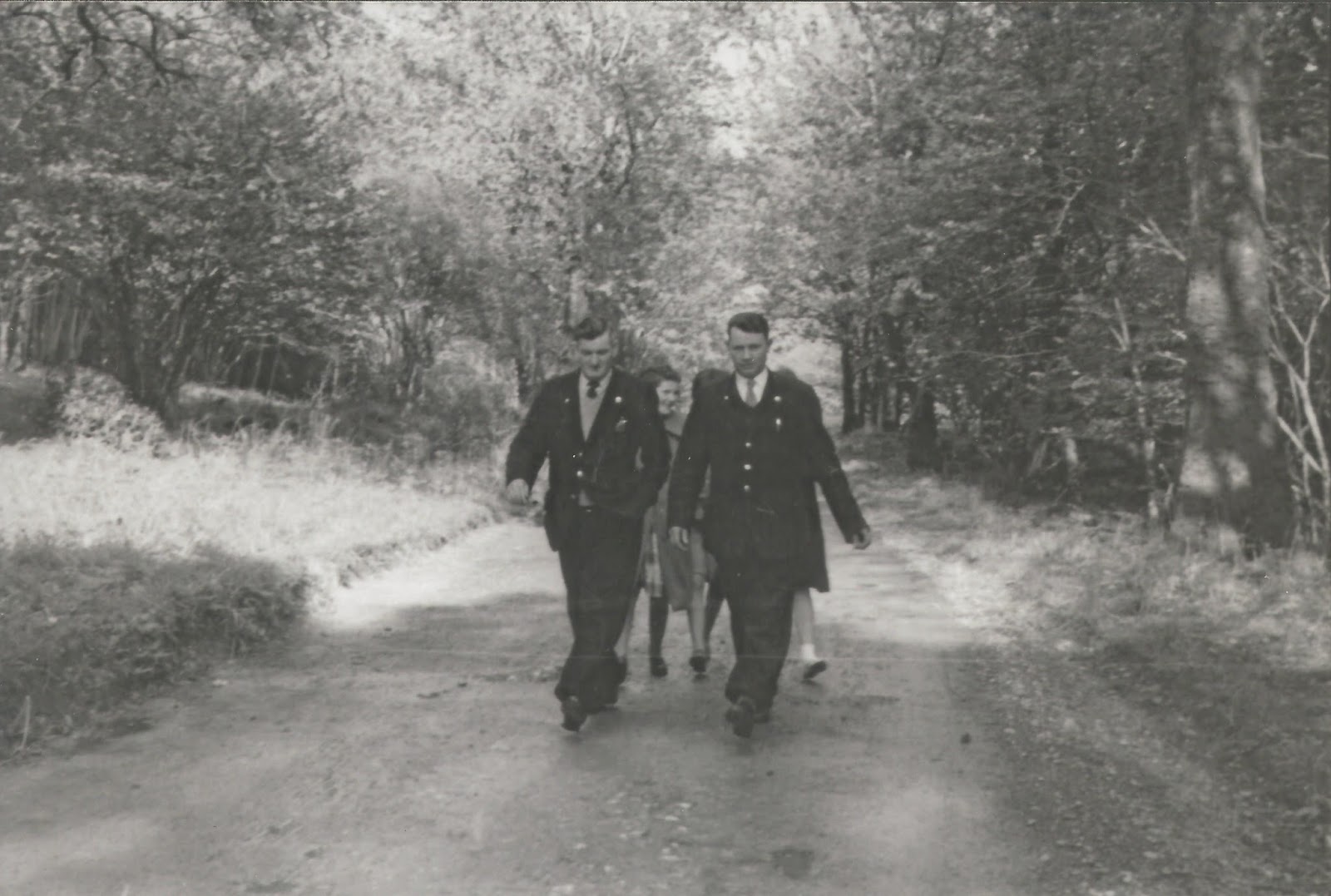 Maureen remembers these two men as the bus driver and conductor and she thinks they might have been C.I.E. employees.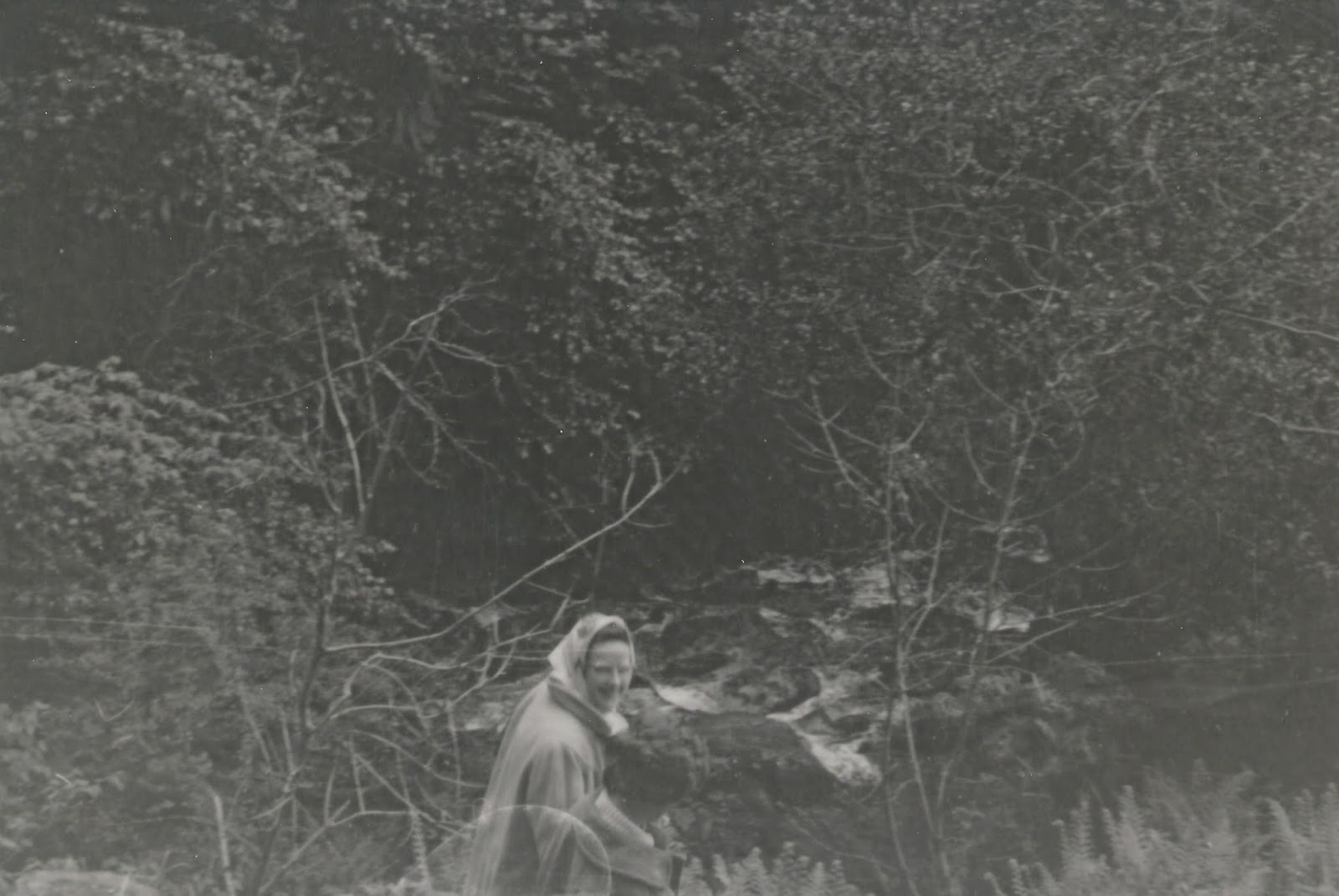 at Torc Waterfall:
Miss Burns- She substituted temporarily for someone on medical leave. Her father was Police Super.in Listowel at the time if I recall correctly.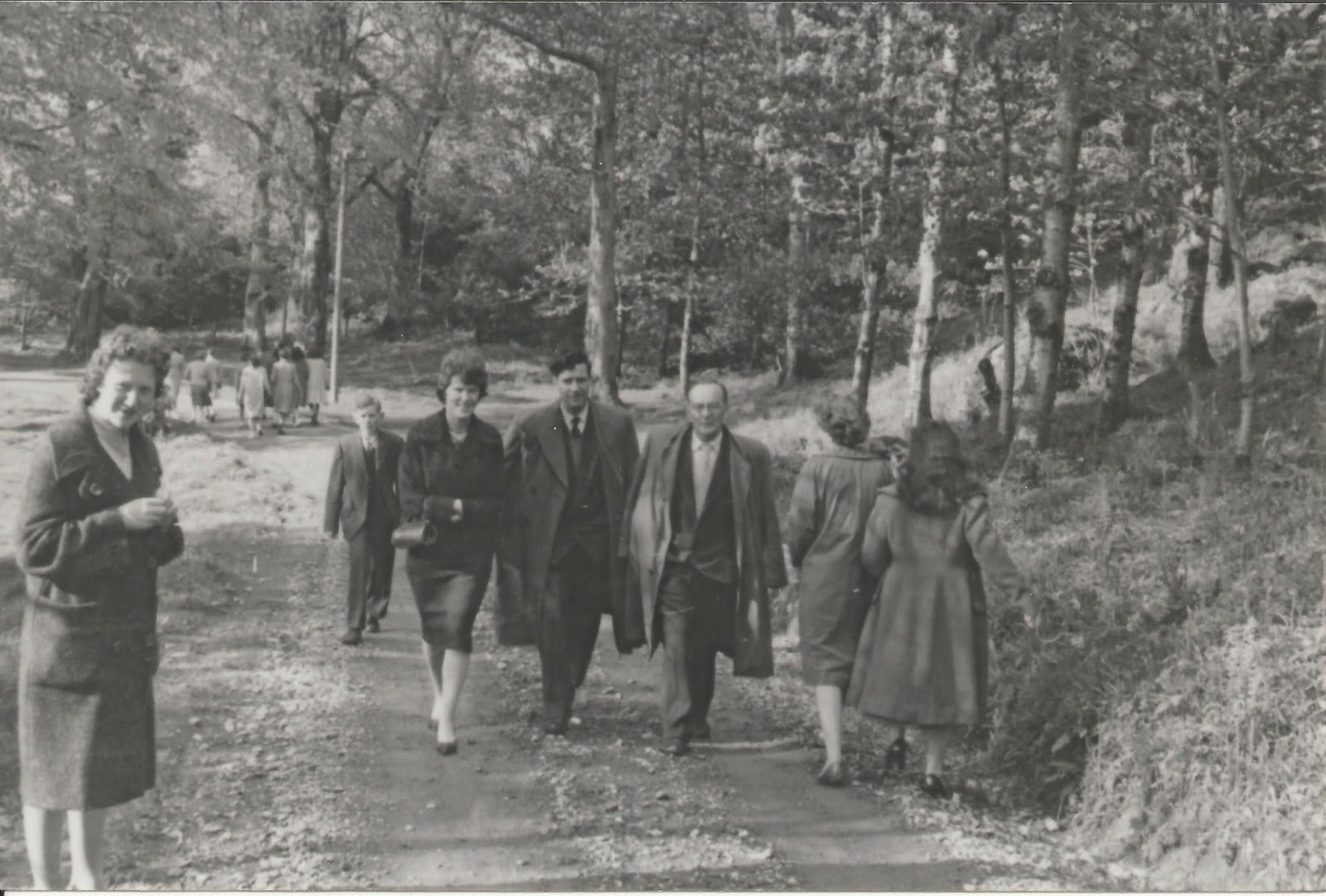 Miss Fitzgerald-who I think went on to become Mrs.Galvin, ? male teacher( can't remember his name), Harry Nielsen-was a shop teacher I think..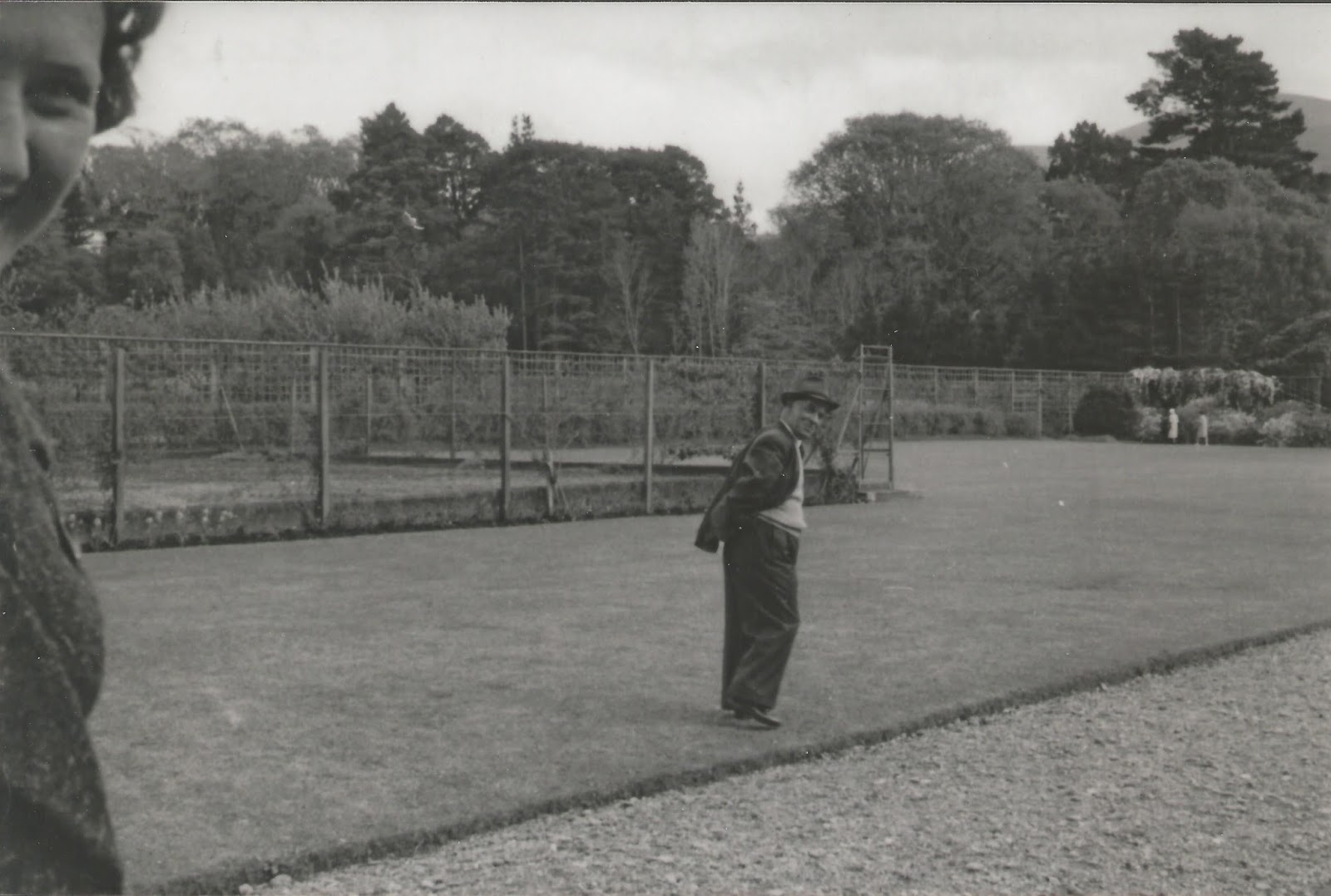 Paddy Drummond who was the school principal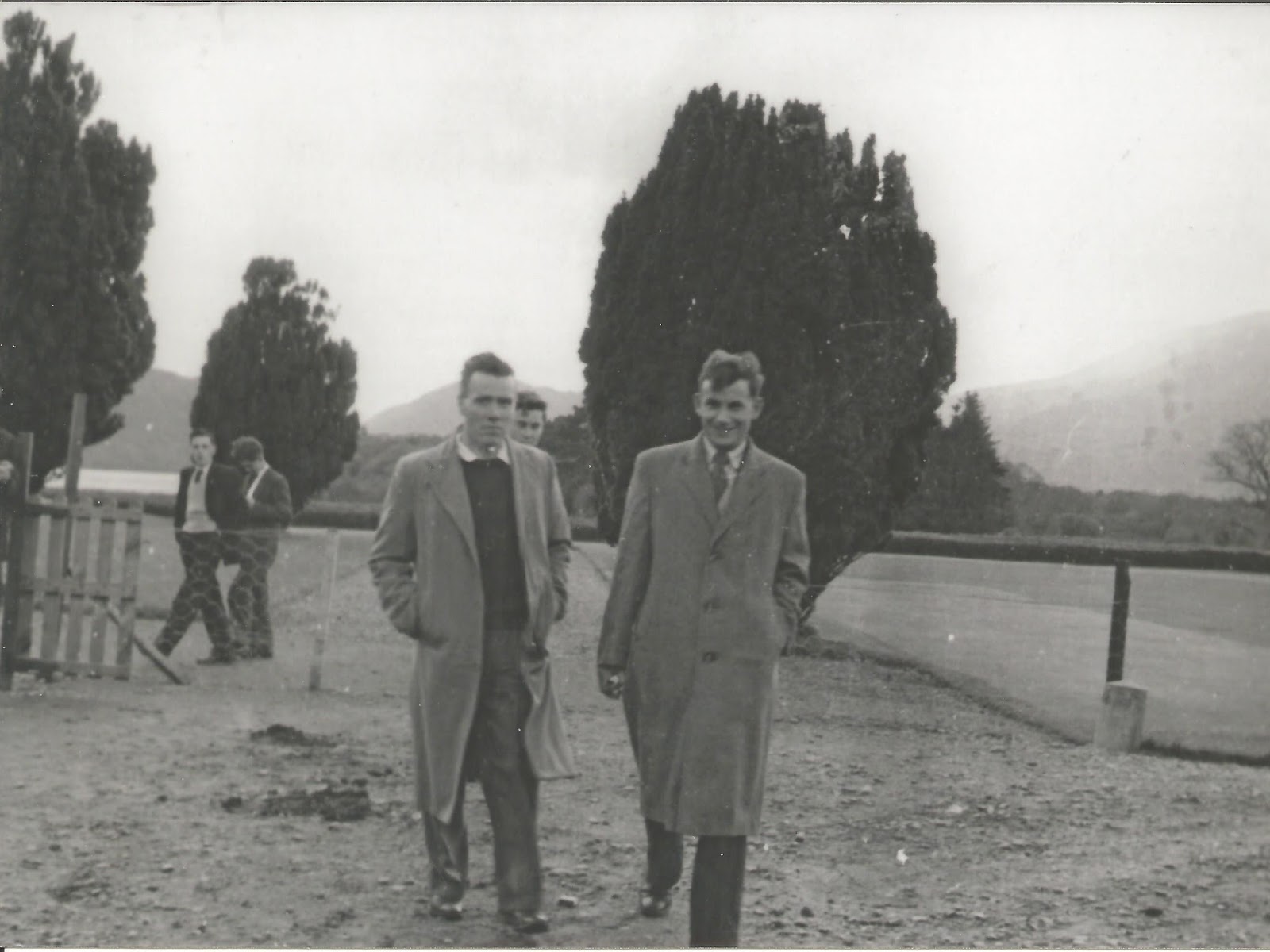 Dick Fitzgerald and Patsy O'Sullivan
<<<<<
News from St. Johns Parish, Tralee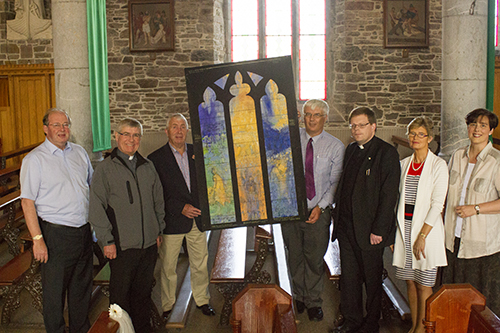 St. John's Parish Pastoral Council are planning a new Stained Glass Window in the church on the theme of Reconciliation and are seeking the support of parishioners and friends of Tralee at home and abroad. The window is being commissioned to coincide with the Tralee 800 celebrations in 2016. The artist is Tom Denny, of Tralee Denny family and a famous stained glass artist, who is giving his services as a contribution to the project. The central themes are reconciliation, healing and renewal. It will be the first stained glass window to be installed in St. Johns in over 60 years. A fundraising drive seeking to raise €20,000 was launched over the weekend of August 14-16th. Donations from individuals and businesses are welcome. Donation envelopes are available at the back of the Church and can be returned to St. John's Parish Centre.
Source: St. John's Parish Website