Today I have a little moral tale for you. I hope it gives you encouragement in these hard days of January when so many people seem to be struggling.
A family had twin boys whose only
resemblance to each other was their looks. If one felt it was too hot, the
other thought it was too cold. If one said the TV was too loud, the other
claimed the volume needed to be turned up. Opposite in every way, one was an
eternal optimist, the other a doom and gloom pessimist.
Just to see what would happen, on the
twins' birthday their father loaded the pessimist's room with every imaginable
toy and game. The optimist's room he loaded with horse manure.
That night the father passed by the
pessimist's room and found him sitting amid his new gifts crying bitterly.
"Why are you crying?" the
father asked.
"Because my friends will be
jealous, I'll have to read all these instructions before I can do anything with
this stuff, I'll constantly need batteries, and my toys will eventually get
broken." answered the pessimist twin.
Passing the optimist twin's room, the
father found him dancing for joy in the pile of manure. "What are you so
happy about?" he asked.
To which his optimist twin replied,
"There's got to be a pony in here somewhere!"
________________________________________________
Now another photo from St. Patrick's Hall
Does anyone know the history of this club?
Is the St. Michael's referred to St. Michael's College?
Might be one for Vincent.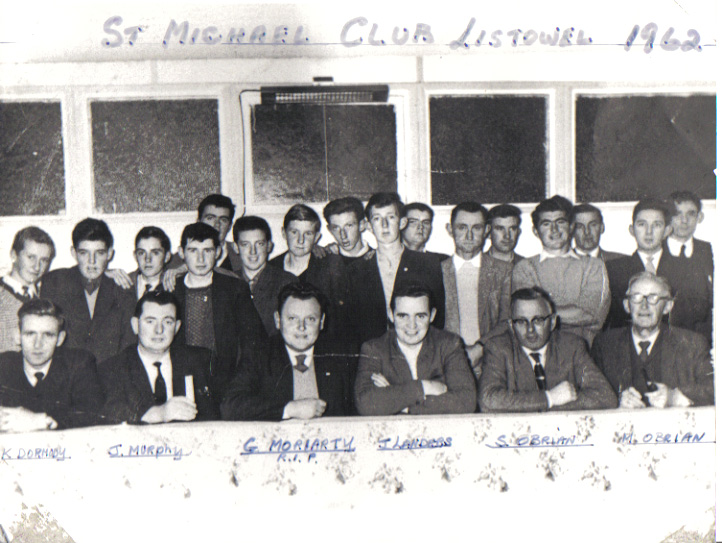 There are names under the men in front but they are hard to decipher.
Vincent has shed some light on my photo.
The club is St. Michael's Cycling Club.
The officers of the club in front are:
Ken Dermody,Jerome Murphy,Gene Moriarty, Johnny Landers, Sean O'Brien and Michael O'Brien
The names of the members will be known to many so you might email them to me to save me typing them all out.
__________________________________________________________
And now a more recent photo for my younger followers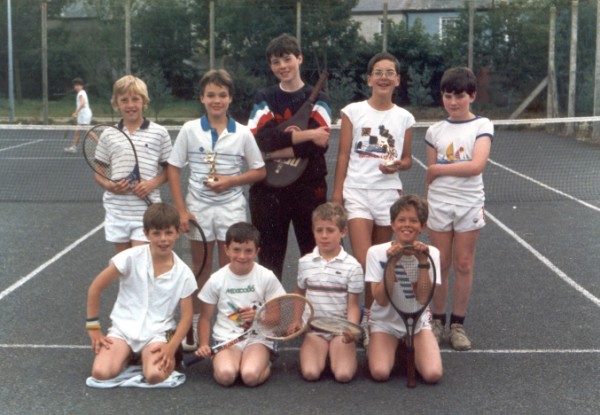 Winners of Listowel Tennis Club's boys juvenile competitions 1986
Back John Finnegan, Brian O'Shea, Tom Doyle, John MacAulliffe and Seamus Cronin.
Front: Des O'Sullivan, Bobby Cogan, Mikey Whelan and Nigel Quinlivan (or is it Sean Quinlivan?)