Cahirciveen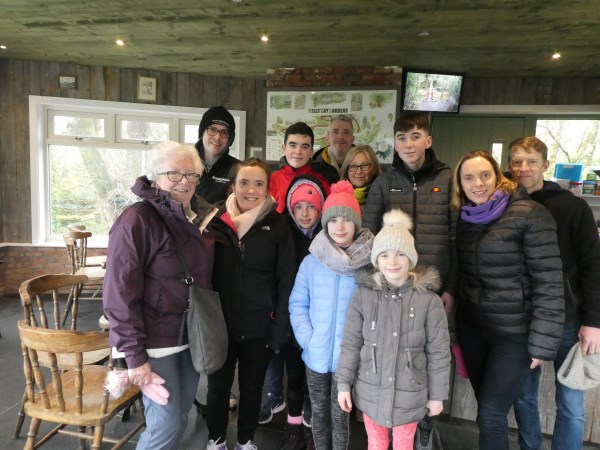 I recently spend a lovely weekend in Cahirciveen with my whole family. Here we are in Kells Bay Gardens on a wet and windy Saturday.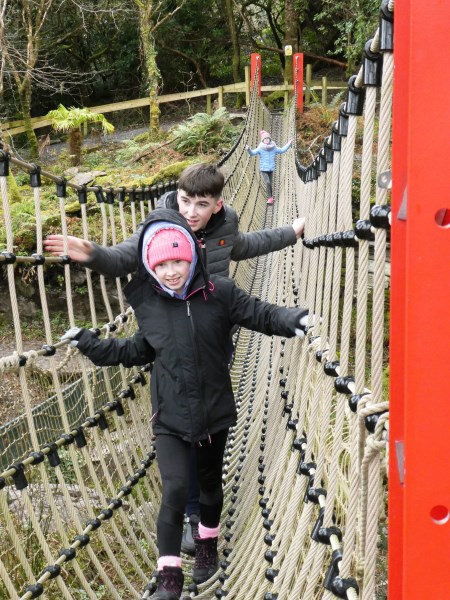 We all did the rope bridge crossing.


<<<<<<<<

Listowel Comes to Boston


If you live anywhere near Boston this will interest you.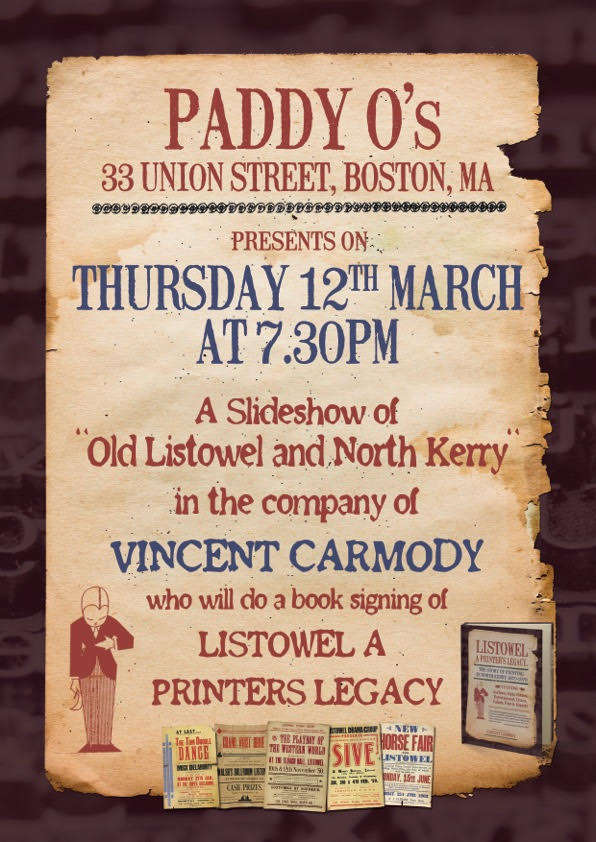 If you need to know a bit more about Vincent, here is a recent video from Listowel.ie
Vincent Carmody



<<<<<<<<<
Writers at Writers' Week


Movers and shakers of the Irish book world at Listowel Writers' Week 2019; Rick O'Shea, Colm Tóibín, John Boyne and Joseph O'Connor.
This year the festival runs from May 27 to May 31.
<<<<<<<<<<<




Obituary to a Priest from a Family of Priests in Australia
Catholic Freeman's Journal (Sydney, NSW)- Thu 29 Jun 1939
One of the oldest and best known Priests in the Archdiocese of Melbourne Rev. John Joseph Gallivan, died at Northcote early on Friday week in the eighty-third year of his age. On the previous Tuesday morning he attended the Jubilee Mass of Thanksgiving at St. Joseph's Home, Northcote, and was one of the assistant deacons to his Grace the Archbishop of Melbourne.
The announcement of his death caused deep regret throughout the Archdiocese, and especially at Northcote and Sunbury, where he had laboured untiringly for many years in the priesthood.
Born in Listowel. County Kerry, Ireland, on February 8 1856. Father Gallivan entered All Hallows College, Dublin, and was ordained on June 24, 1880. Had he lived another fortnight he would have celebrated his 59th year as a priest. He arrived In Melbourne on November 1 of the same year, and his first appointment was that of curate at Old Kilmore to Rev. M Farrelly. In May. 1886, he was appointed parish priest at Gisborne. twenty-five years later, Sunbury, with Bula attached, was made a separate parish, with Father Gallivan in charge and he remained there until 1923 completing forty-three years' service in the Kilmore, Gisborne and Sunbury districts —six years as curate and thirty-seven years as Parish Priest There was great regret in Sunbury when Father Gallivan left there to take charge of St Joseph a Parish, Northcote. This was in April, 1923.
In 1906 he revisited his native land after an absence of twenty six years. In June, 1930, he celebrated his sacerdotal golden jubilee, and his fellow-priests tendered him a dinner and
presented him with an address. A jubilee concert was held in the Northcote, Town Hall, and celebrations were also in Sunbury and Gisborne, where the jubilarian was most enthusiastically
welcomed.
The obsequies of the deceased priest took place at St. Joseph's Church, Northcote, his Grace Archbishop Mannix presiding and preaching the panegvric.
Among the priests who attended were Rev. P. Galvin. P.P of Katoomba, N.S.W. Rev D. Galvin, P.P. of Springwood, N.S.W. and Rev M Calvin, P.P.. of Footscray, nephews.
<<<<<<<<
The Fianna in Beale
Local Historical Landmark
In a place near the cliffs three fields from our school there is a mound of earth which is locally called "Darby's Bed" Leaba Diarmada. It is said that Fionn expected Grania's hand in marriage but instead of she marrying Fionn she married Dermot. Dermot and Grania had to fly from the wrath of Fionn. They travelled round the cliffs from Ballybunion and they crossed a chasm on a pig's back. This place is called Léim na Muice. On their travels they rested on a place only three fields from this school and ever since this lump of earth is locally called "Darby's Bed". We find on the Sopers' and Miners' maps that the right name for this place is "Diarmuid and Grania's bed". This place is in the townland of Kilconly.
Michael Lynch, VII, Doon, Ballybunion
June 27 1938
Information from people at home.