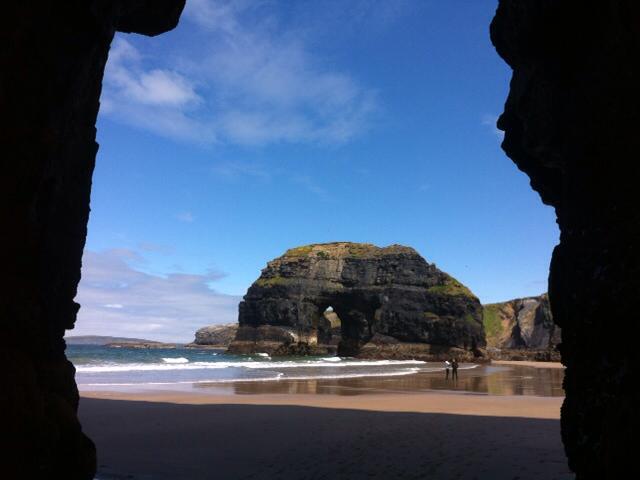 Ballybunion Sea Angling took this photo looking out from a cave on The Nun's beach. Is there anywhere on earth as lovely as Ballybunion? It is a geographer's paradise. It must have every coastal feature there is.
<<<<<
This is Isobel Barrett of Fairylawn Alpaca manning the desk at the lovely Original Kerry pop up shop. This shop operated in Tea Lane for the duration of Writers' Week and as well as crafts for sale it held workshops and demonstrations daily. I bought one of the beautiful wooden pens you see in the foreground of my picture. These pens are made in Moyvane by an enterprising 18 year old, Donnchadh O'Connor. My pen came in a gorgeous wooden box.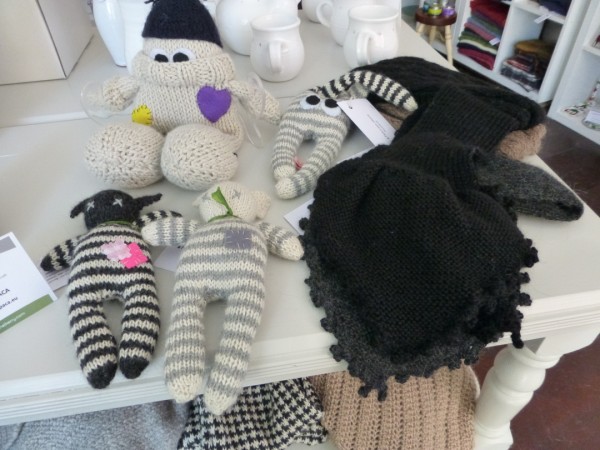 These are examples of Isobel's handmade toys and scarves. She also makes beautiful bags. As well as knitting her own products, Isobel spins her own alpaca yarn.
<<<<<<
Here are 2 more snaps I took at Amy Sheehy's launch
Stacks, mother and daughter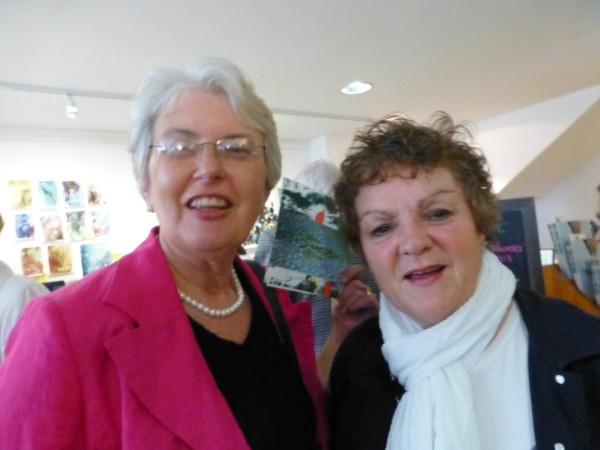 Old friends, Mairead O'Sullivan and Grace O'Sullivan aka Mrs. Mairead and Mrs Grace.
<<<<<<<<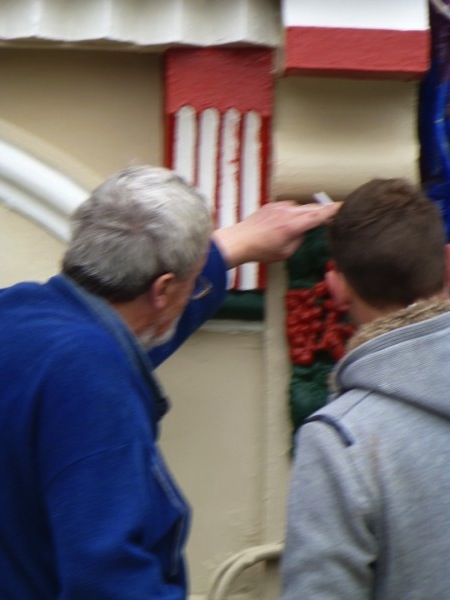 This is master painter, Fred Chute passing on his craft to his nephew, Francis.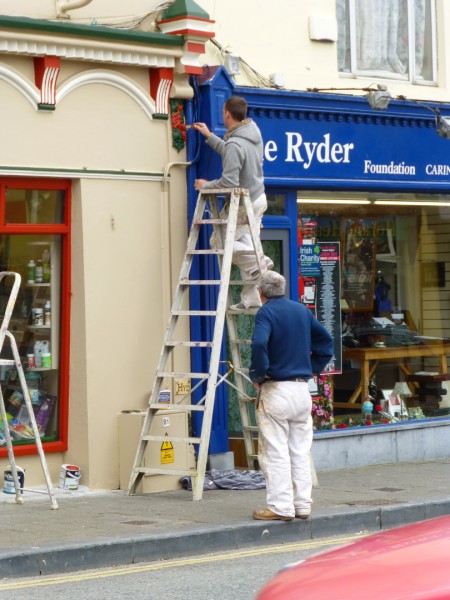 Under Fred's watchful eye, the next generation of Chute painters is learning how to paint the unique plasterwork of Pat MacAulliffe.
<<<<<<<
A new feature of this year's Writers' Week was Mike O'Donnell's live sketching of some of the participants. Using skills honed while sketching criminals in The Four Courts, he captured the essence of people like Máire Mhac an tSaoi and Rebecca Miller.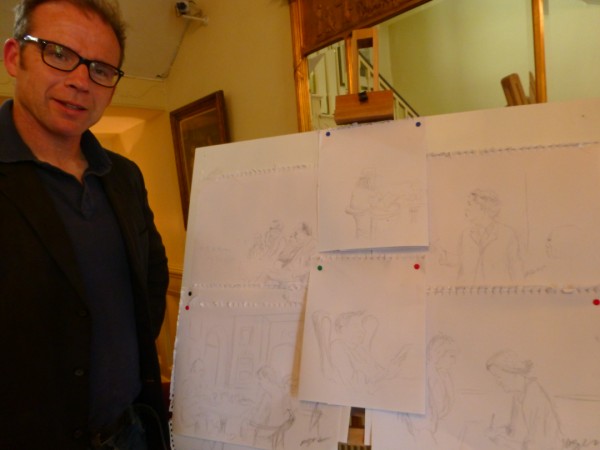 <<<<<<<<
I love Dermot Bolger even though he made me cry every night for a week when he read his poems of grieving for his wife on Book at Bedtime. He was described by Carlo Gebler who interviewed him at Writers' Week as a very generous publisher and writer. He displayed that same generosity to me by inviting me to pose with him for my photograph for the blog. On Dermot's right is committee member, Máire O'Connor.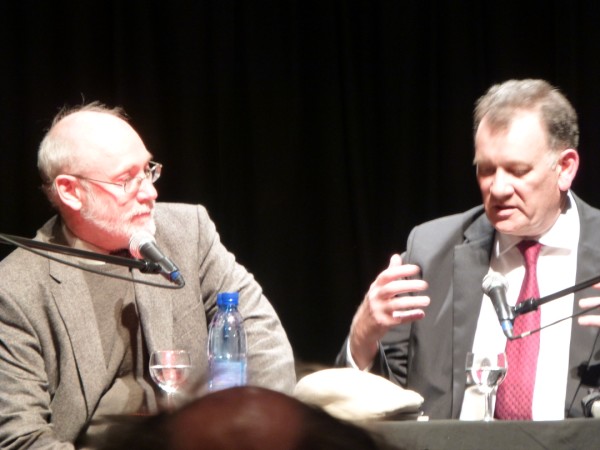 Carlo Gebler in conversation with Dermot Bolger

<<<<<
Something old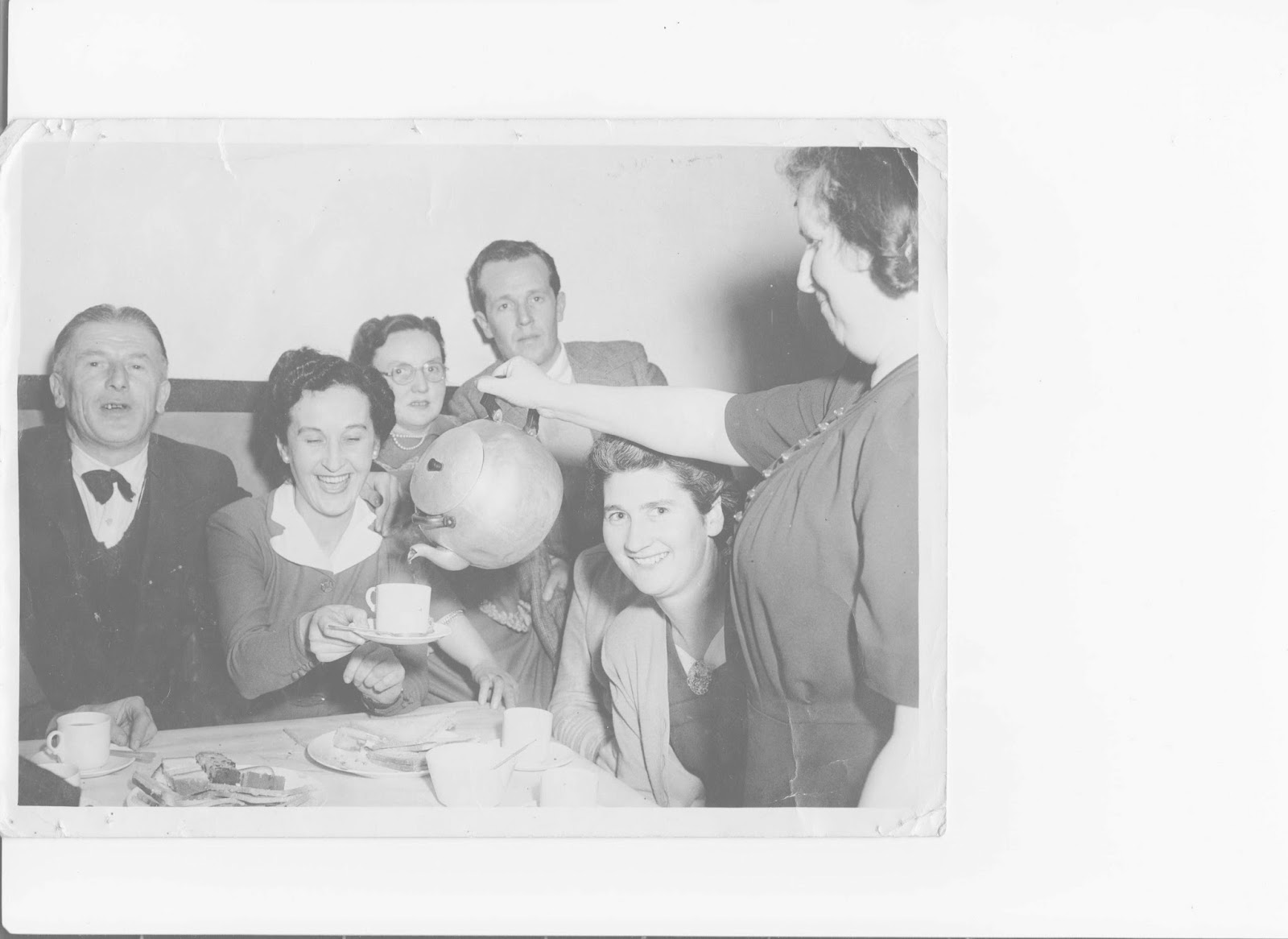 This is one of the photos Maura McMahon found among her late Aunty Maureen's treasures. Margaret Dillon who has a great memory for old Listowel faces, helped me with these names. The lady pouring the tea is Maisie Sweeney. The lady with the cup is Maureen MacMahon. In the back are Maureen (OQuigley) Tatten and her husband Derry Tatten. We have drawn a complete blank on the man on the far left as you look at the photo. At the risk of sounding a bit like a garda on Crimecall, the image is very clear. Someone must know him. The other lady is familiar to people as well but no definite identification yet.
The photo was probably taken at a Red Cross Social in the 1940s or 50s
<<<<<
This is Denis Carroll's photo from Friday nights's high jinx in John B.'s to mark Billy Keane's adoption into the Stack Clan. You too can be an adopted Stack for a very small fee.
Read all about it and their planned Clan Gathering HERE