"Bare Ruined Choirs where late the sweet birds sang"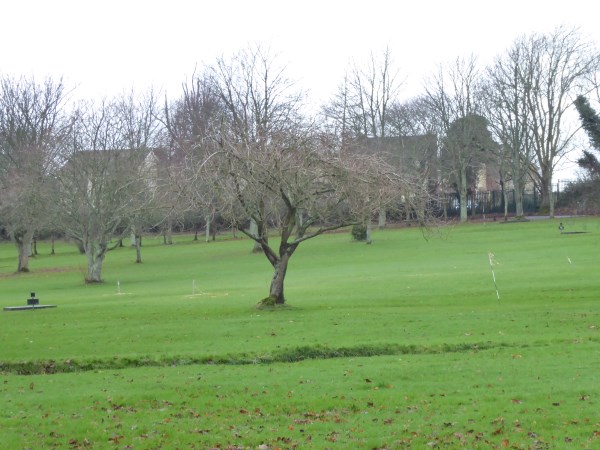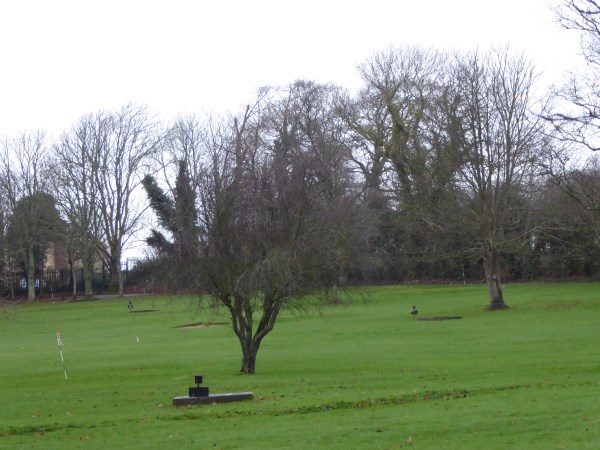 Trees in the pitch and putt course in January 2017
<<<<<<<<<<<
Old Friends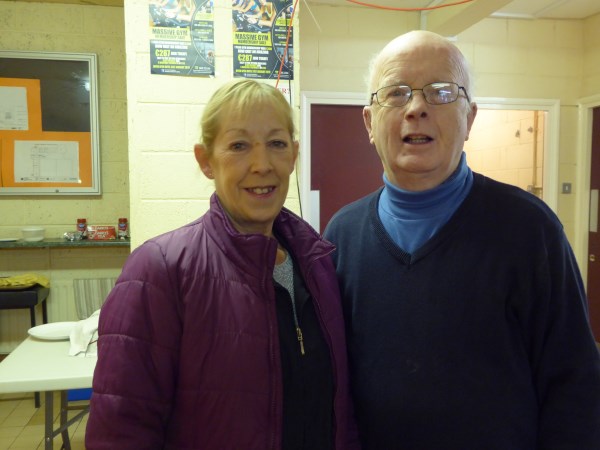 I snapped Junior with Helen Loughnane at the badminton tournament in the community centre. Junior was helping to run the tournament and Helen was part of the catering corps.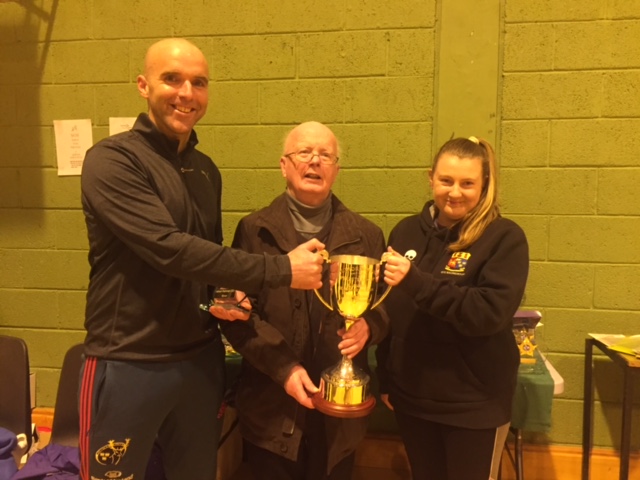 Tom Bourke sent me this photo of Junior presenting his new cup for his old competition to the Cork winners.
<<<<<<<


Maria Sham continues her memories as she remembers some foods they ate in her Listowel childhood.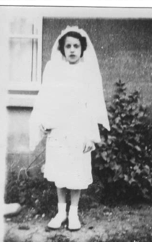 Maria on her confirmation day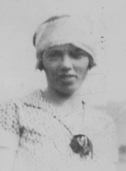 Maria's mother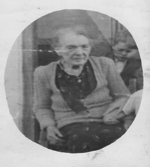 Maria's Nan Moloney
Happy days
When Lent came
along we would give up eating certain things such as sweets and save our
pennies. On Easter Monday we would take
off for a picnic. We would take whatever we could; lemonade, bread and
maybe cake, nothing fancy, our pennies would not stretch so far.
My dad worked at
the creamery and when we were old enough he would take us in his truck with
him. There were no restrictions then. He would go to all the small creameries
to collect the milk. I remember in Ballylongford dad would go for a pint with
the other workers and I would have to wait in the creamery for him and he would
put a whole measure of cream for me to drink. Today I don't have to wonder why
I have high cholesterol! He took my cousin Kathleen and me to pick mushrooms.
They were plentiful early in the morning; he used to say he had never seen
anyone run as fast as me to get the best ones.
I remember mam
going to Tralee with him in the lorry and spending the day in Woolworths. She
would always bring Doreen and me lovely slides for our hair. They had stars
attached to them. Her trip would not be complete without chips and peas at the
Brass Rail.
When it was
blackberry season I would go with my cousin Betty and friends to pick them. We
would pick gallons full and eat as many more and go home our mouths all black
from the juice. On one occasion I lifted a blackberry bush and to my surprise I
saw something bigger then a butterfly with big eyes.and wings. It turned and looked
at me. Nobody believed me, but to this day I am convinced it was a fairy. Nobody
will change my mind.
Often mam would
send Doreen and me to Foleys or Louis O'Connell's. They had orchards and for 6d
we would get a bag full of beautiful apples. On the way home we would sit under
a tree and enjoy some of the apples. We had to save some for mam as she made
the best apple pie I have yet tasted.
Milk did not come
in bottles then and because dad worked at the creamery we were entitled to a
full gallon of milk every day. Dad would make sure it was pasteurised. I think
there was a lot of TB in Ireland then due to unpasteurised milk. Mam was
able to help the neighbours out and give them some milk. When it got sour she
would make soda bread with it.
On Sunday we
always had a lovely dinner, roast beef or lamb sometimes veal with green garden
peas which had to be soaked the night before, so on Saturday night the routine
was soak the peas and make the jelly. Also on Saturday mam would make a currant
loaf, a huge one.
<<<<<<<


Ballylongfond in the Snow, Early January 2017


<<<<<<<,


An Honour for Local Cyclist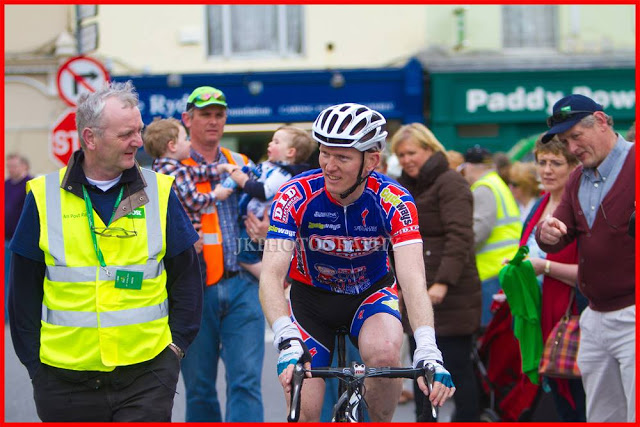 Photo of Eugene surrounded by the Moriartys by John Kelliher
"Cycling Ireland has announced the appointment of Eugene Moriarty, a member of the Institute of Directors, as the latest addition to the Board. He replaces Senan Turnbull who stepped down in November as an Appointed Director. Former international cyclist, Moriarty, is very accomplished in both the sporting and professional realms. Originally from Listowel, Co. Kerry, Moriarty has competed at the top level of the sport, finishing fifth in the Road Race at the B World Championships in Uruguay in 1999, contributing to the qualification of a slot for Ireland in the Olympics in Sydney in 2000.

Currently residing in the Netherlands Moriarty has a range of professional qualifications from both the academic and business sides. He holds an honours degree in medical sciences, qualified as an accountant via the ACCA and has worked in asset management for the last number of years. He has extensive experience across a range of areas from finance, legal and IT to reporting and governance.

Speaking about the appointment of Moriarty to the Board, Cycling Ireland President Ciaran McKenna expressed his delight saying – "Eugene will bring a wealth of cycling and business experience to the Board, particularly in the area of Corporate Governance and Organisational Reform – with them being his two areas of expertise."

Moriarty is looking forward to joining the Board of Cycling Ireland – "I am flattered and honoured to have been approached to serve as a member of the Board of Directors of Cycling Ireland. I look forward to working together with my fellow directors, our members and our highly skilled and dedicated team at the Kelly Roche House, and beyond, to continue to build on the significant achievements of this great organisation for the benefit of our current and future generations."

This appointment brings to eight the number of members on the Cycling Ireland Board of Directors. At the 2016 AGM the Memorandums and Articles were passed with a ruling to increase the Board of Directors to ten, once approved two further members will be appointed to the Board." Source; Cycling Ireland website