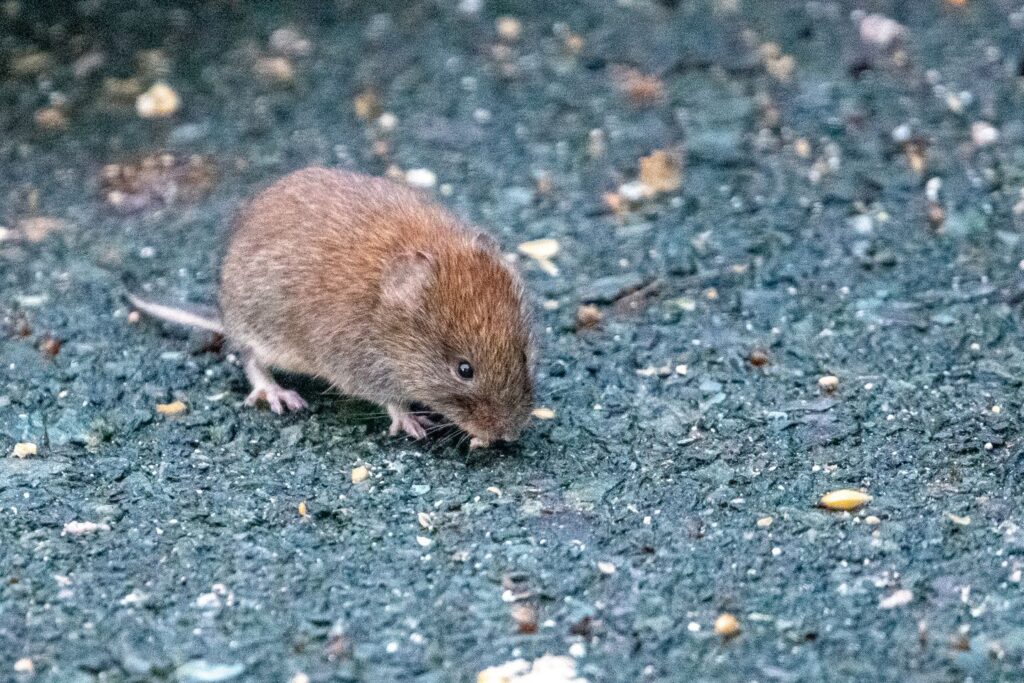 Criostóir Grayson is an excellent wildlife photographer. He is lucky to have this little lady in his garden. Here is what Conserve Ireland says about the bank vole.
Bank voles are very small rodents which are often mistaken for mice. They have small compact bodies generally about 15cm from head to tip including a 5cm long tail and can weigh from 15 to 40 grams, they have small eyes and ears and a blunt nose. Their tails are shorter than mice and are covered in fur with their blunt noses also being the main physical difference between the two. The fur is a chestnut red or brown on the upper body with their undersides being a bluff to grey colour. Juveniles will have a more grey to brown fur colouration. The fore feet have four toes while the slightly larger five toed hind feet leave small tracks up to 2cm in length which are quite similar to the footprints of mice. Bank voles are not a particularly vocal species but will emit a limited range of squeaks when communicating using high frequency ultrasound which humans cannot hear. The bank vole has a well developed sense of smell which is important for receiving information on individuals who have used territorial scent markings in an area.
<<<<<<<<<<<
Join us Online in St. Mary's, Listowel at Christmas 2021

All masses will be live-streamed on the parish website
<<<<<<<<<<<<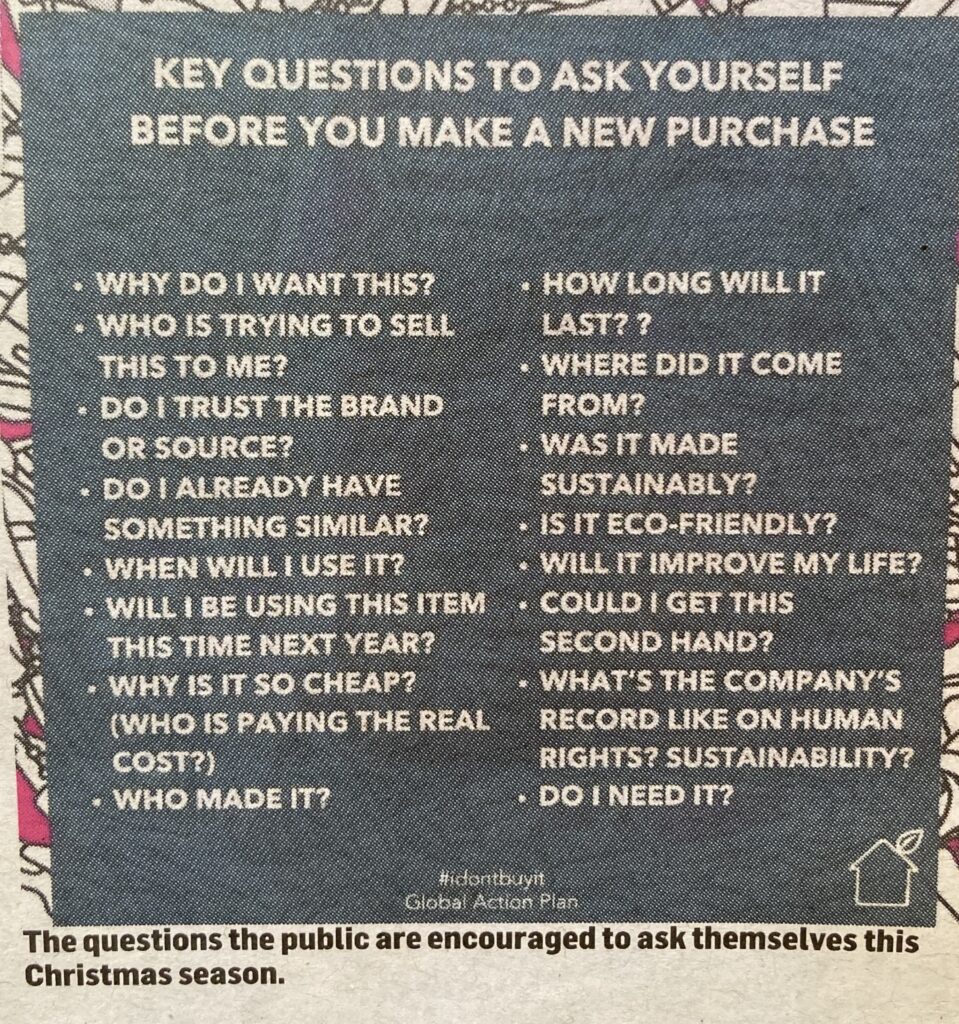 Above is advice from a campaign called Don't Buy It. Apt at Christmastime.
<<<<<<<<<
Cavendish's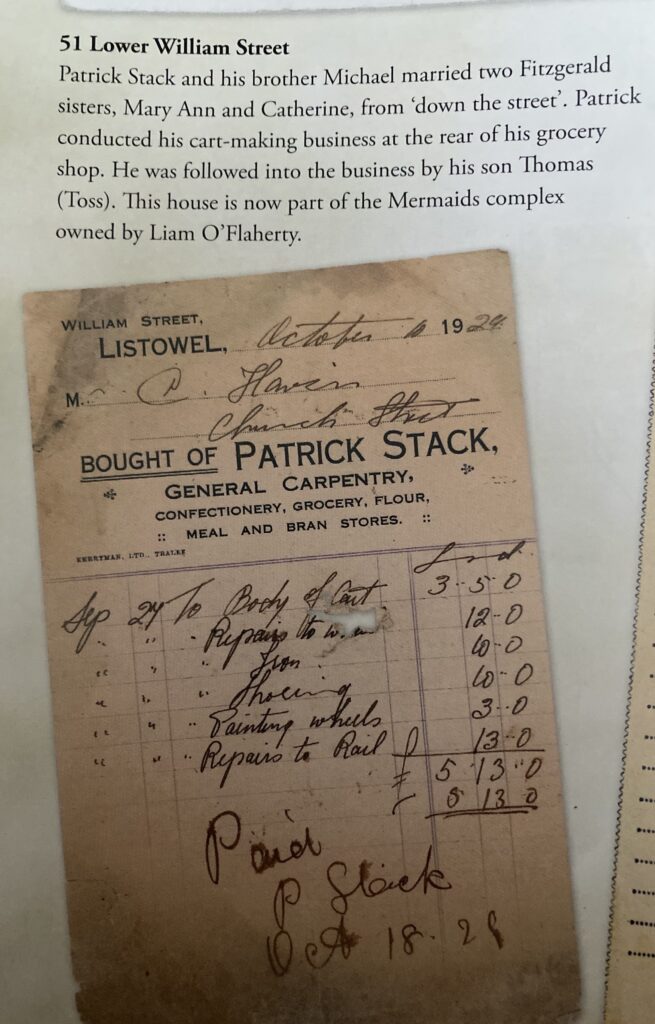 Gerard Stack who wrote to us about Walsh's shop came from the above shop. Like many other shops in Listowel there was a shop on the street and a totally unrelated business, often run by the man of the house, in the back of the premises.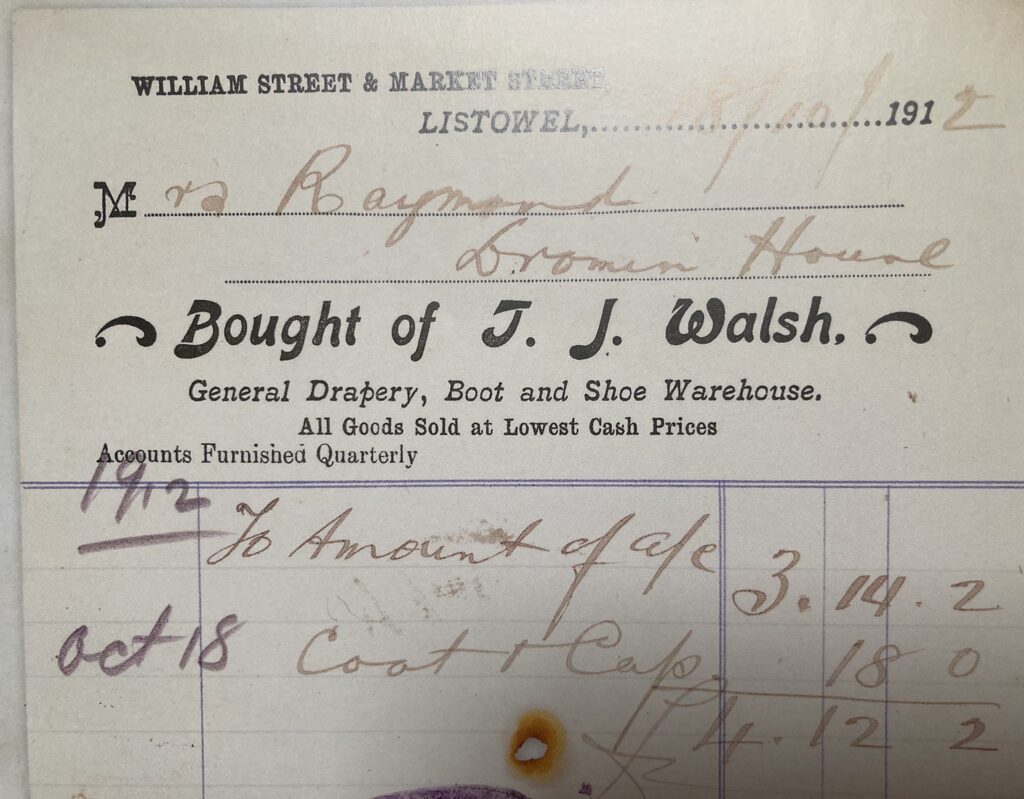 Now Walsh's shop was in the premises that is now Chutes' Stores/ Milano. It used to be Cavendish's. This was a popular TV and electrical brand. Anyway, Gerard remembers that, at Christmas this big shop sold bikes and toys. They invited the nearby children in to try out the toys and this party was sometimes covered by The Kerryman.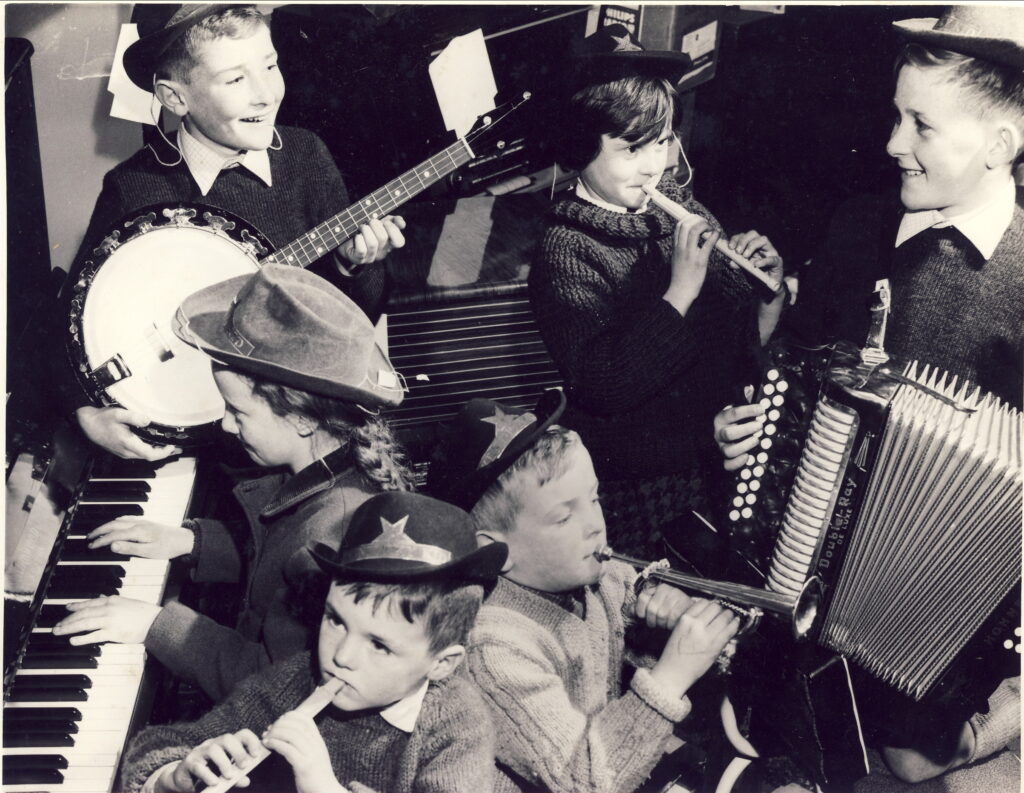 I told this story to Pierce Walsh (no relation). He thought maybe he was too far from the shop to get the golden ticket. He was in Church Street. He did remember, however, that, for one Christmas before he went to South Africa, Xavier MacAuliffe had a toy shop. Does anyone else have memories of that one?
Back in 1920;
Dave O'Sullivan found this great old ad.
<<<<<<<<<<<<
Don't They Know it's Christmas Time?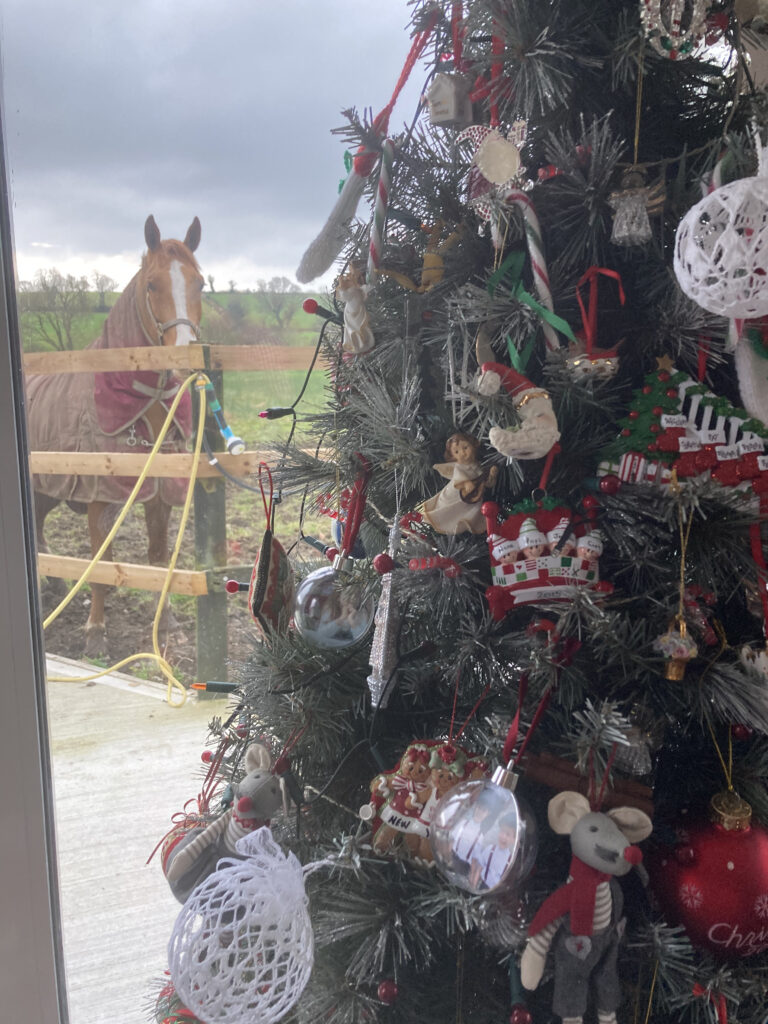 I was home in Kanturk when I snapped this picture of Woody looking longingly through the window at his family's Christmas tree.
Meanwhile thousands of miles away another EPA horse is living the dream. He is to appear in a Hollywood movie with Dwayne Johnson.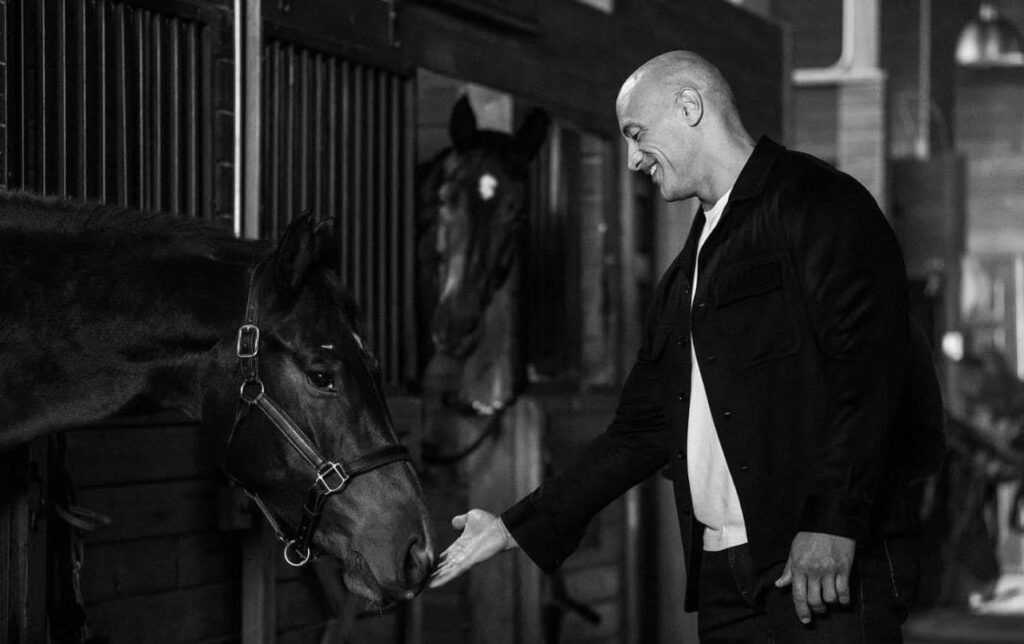 His new owner sent a picture of the co stars at their first meeting; The Rock and EPA Cullen.
<<<<<<<<<<<
CHRISTMAS EVE IN KERRY
Butte Independent 1927
"Tis Christmas Eve in Kerry, and the Pooka is at rest
Contented in his stable eating hay;
The crystal snow is gleaming on the mountains of the West,
And a lonesome sea is sobbing far away;
But I know a star is watching o'er the bogland and the stream,
And 'tis coming, coming, coming o'er the foam;
And 'tis twinkling o'er the prairie with a message and a dream
Of Christmas in my dear old Kerry home.
'Tis Christmas Eve in Kerry, and the happy mermaids croon
The songs, of youth and hope that never die;
Oh never more on that dear shore for you and me, aroon.
The rapture of that olden lullaby:
But the candle lights are gleaming on a hillside far away.
And peace is in the blue December gloam;
And o'er the sea of memory I hear the pipers play
At Christmas in my dear old Kerry home.
'Tis Christmas Eve in Kerry, oh I hear the fairies' lyre
Anear the gates of slumber calling sweet.
Calling softly, calling ever to the land of young desire,
To the pattering of childhood's happy feet;
But a sleepless sea is throbbing, and the stars are watching' true
As they journey to the wanderers who roam —
Oh the sea, the stars shall bring me tender memories of you
On Christmas Eve in my dear old Kerry home.

D. M. BROSNAN, Close, Castleisland, Co. Kerry.
<<<<<<<<<<<<
Take a look at this old footage
John B. Keane remembered in John Lynch videos
<<<<<<<<<<
Slán Tamall
I'm taking my leave of you today for 2021. A big shout out to all my helpers, supporters, my technical support team, my researchers and contributors. There would be no Listowel Connection without you. Thank you to everyone who wrote to me, met me or in any way offered a word of thanks, support and encouragement. It is all appreciated.
Have a lovely peaceful Christmas.
Go mbeirimid go léir beo ag an am seo arís.
<<<<<<<<<<<<<