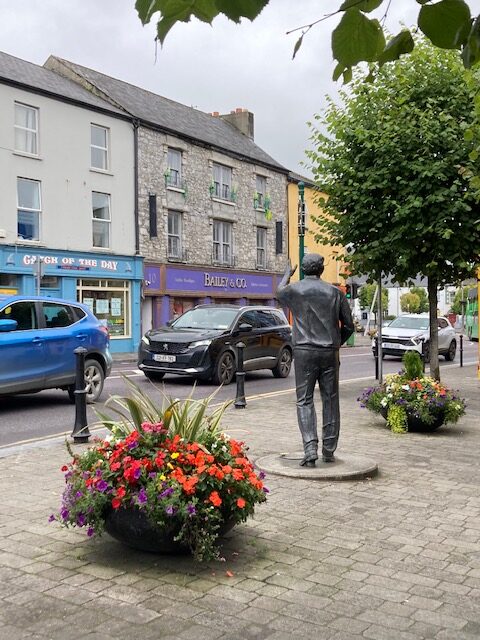 Main Street in July 2023
<<<<<<<<<<<<<
A Piece of GAA History with a Listowel Connection
A gaelic football team from New York, composed entirely of US-born players, won the All-Ireland Junior Championship on July 16 vs. Kilkenny. The captain of the team, Danny Corridan, is the son of Listowel native, Richard Corridan. Rich is the son of the late Dr. Robert & Ella Corridan of The Square, and he emigrated to New York in 1983, where he still resides.
Rich was one of the early members of Shannon Gaels GAA, a Queens-based GAA club which was started in 2004 and for which two of his (now adult) sons have played since they were little. Danny, now 25, has played GAA since he was 6 years old and has played with other New York teams that have travelled to Ireland over the years, including the Feile football team when he was 13, the College team, and the World Games team, in addition to the New York Junior team.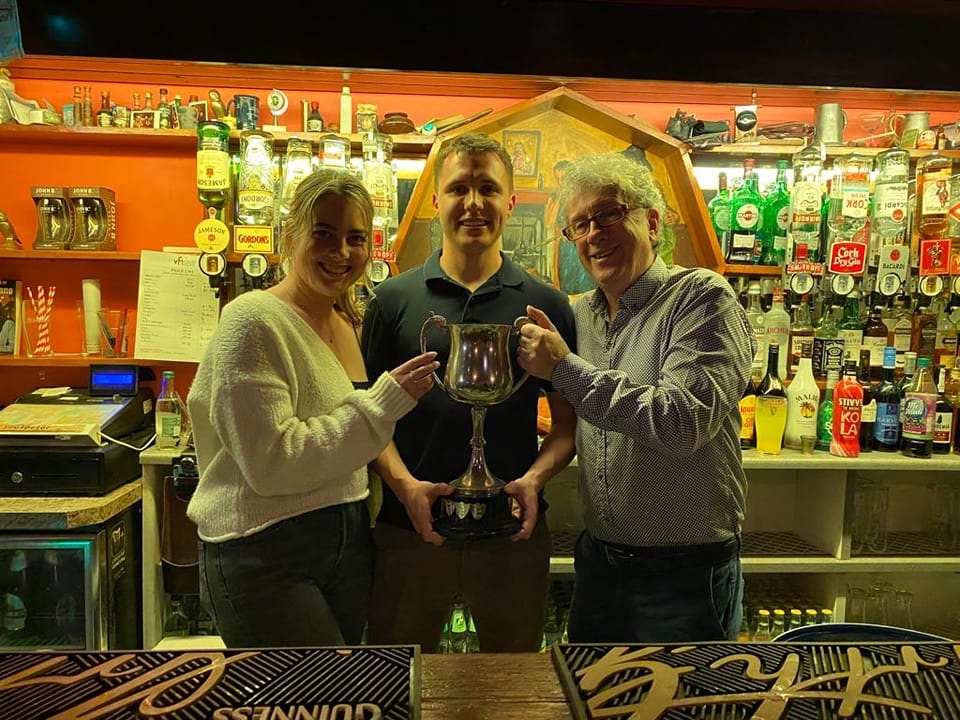 After the big win, Danny and his girlfriend Erin spent a few days in Listowel visiting with aunts, uncles and cousins. He paid a visit to John Bs where Erin was briefly a guest bartender and also fitted in a climb of Carrantuohill, Killarney races, and a visit to Skellig Michael.
Dan is a frequent visitor to Ireland and even spent a semester at UCD while studying for his degree in Civil Engineering.
Rich and his American wife, Marge, have three sons and one grandchild and live in Queens.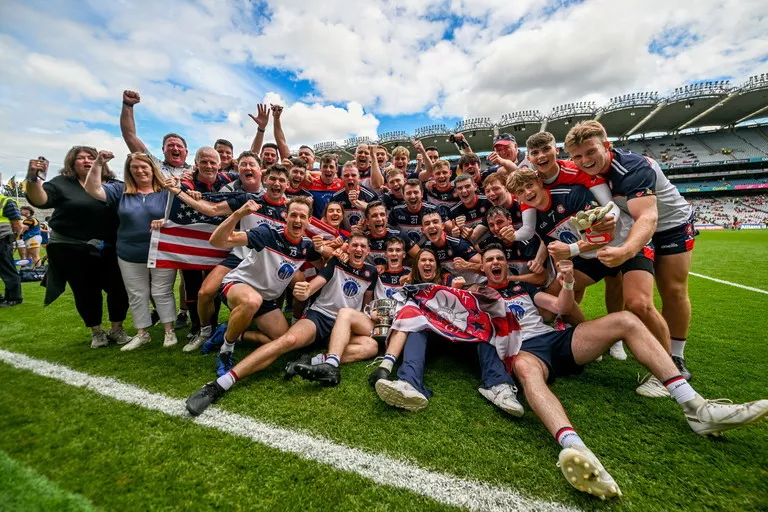 New York players and staff celebrate their All-Ireland Junior Football Championship final win over Kilkenny at Croke Park in Dublin. Photo: David Fitzgerald/Sportsfile
The "county " anthem on the day was Frank Sinatra's New York, New York.
Richard is a credit to the Corridan family and their great love and respect for Irish history and traditions. The loyalty and sacrifice of all the families involved in bringing all of these young men to this level of footballing skills is admirable. This is thanks in no small part to Richard and Robert Corridan of Listowel. You have achieved a truly amazing feat.
<<<<<<<<<<
A Few More Names
Muireann O'Sullivan has been studying the photo of her old classmates and she has a few more names for us.
That class picture is a blast from the past!! Not sure of the year but we finished primary school in 1974!! How time flies! I am definite about some of the identities and those I am no fully convinced of I will denote with an *. Hopefully you will receive lots of replies and definite names.

Front row: Audrey Sheehy, *Eleanor Browne, *Christine O Driscoll
Middle row: Marie O' Halloran. *Avril O Driscoll ……, Eleanor Costello *Ann Kennelly ….. Mary Daly – Margaret Stack ….. Annette O Gorman – Phyllis O Mahony
Back row: Norma Doyle, *Kate Kennelly ….. Noreen Canavan, Helen Daly, Máire Óg Hourigan, Dana Mulvihill, *Joan McElligott RIP …. Muireann Moloney, Ann Gammell
<<<<<<<<<<<
Volunteering for Saint Vincent de Paul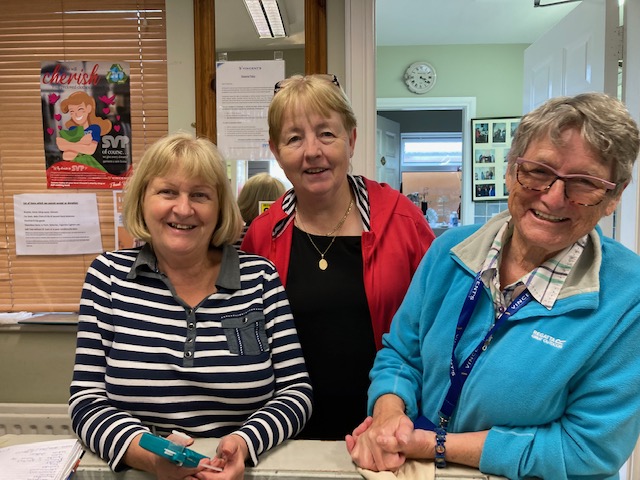 The ever smiling Helen, Mary and Eileen were minding the shop on the day I called.
<<<<<<<<<
August 15 2023
August 15, always a red letter day in Ballybunion's calendar. Let's hope this year is dry.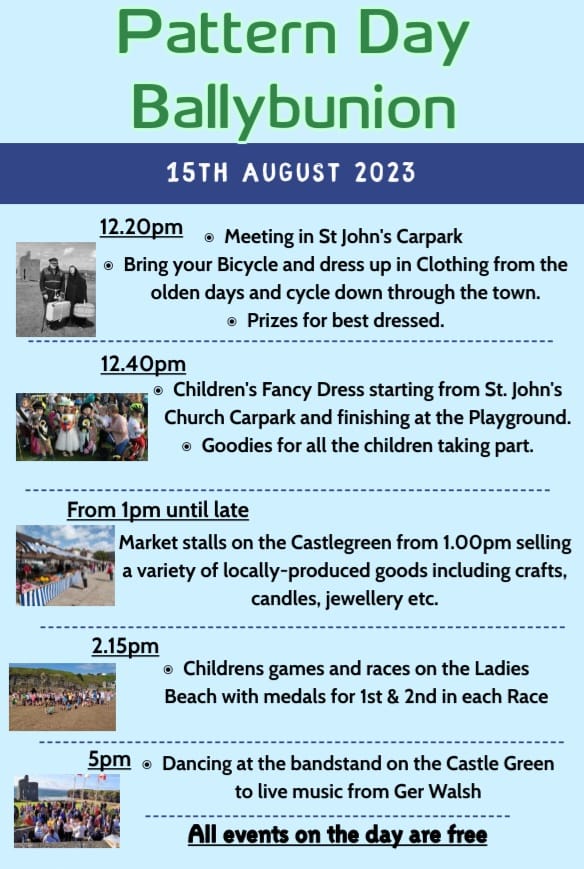 <<<<<<<<<<
Back chat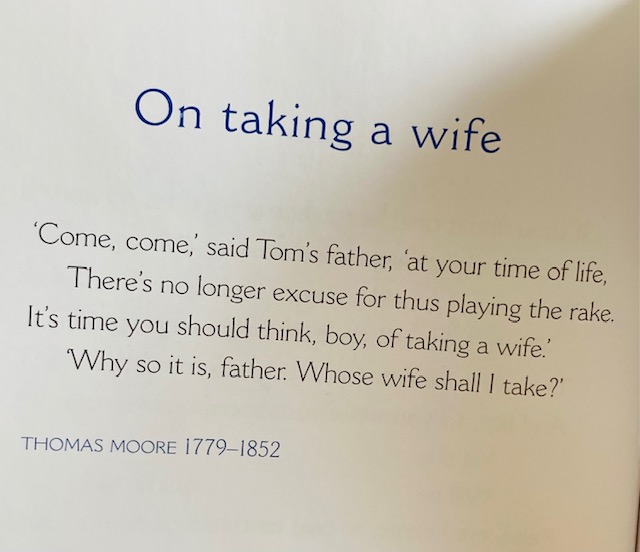 <<<<<<<<