Halloween
Our Celtic ancestors called this feast Samhain. It was a time of transition from light to darkness. They believed that the boundaries between the living world and the world of the dead were very thin at this time. They believed that the spirits of the troubled dead sometimes returned to avenge old wrongs or to settle a score.
In Christian times we subsumed some of these old beliefs and this time of year became a time of remembrance for our dead loved ones and a time of prayer and respect for the departed.
These grisly pictures are suited to the day that's in it.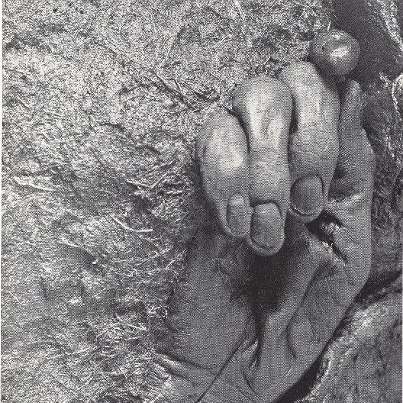 Bogs are great places for preserving bodies.
On Saturday, 26th April 1952, peat cutters from Grauballe,
Denmark came across a well preserved body. He was called Grauballe Man
after the location he was found in. He was estimated to have died between A.D.
210 and 410. This is his exceptionally well preserved hand. He was so well
preserved that the body was first studied in the police laboratory at Aarhus,
as they assumed that the man had died in the recent past. His body now resides
in the Museum of Prehistory at Aarhus, where he lies in exactly the posture in
which he was found in the peat bog.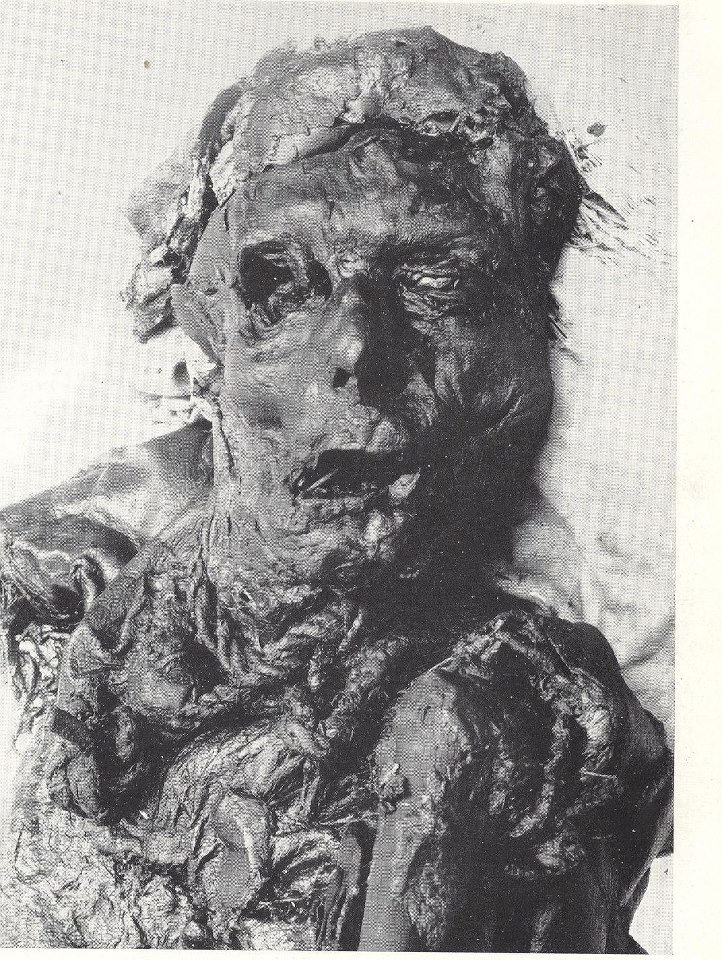 This is a photo of Borre Fen man as he was found, with the
halter around his neck. He was found at Borre Fen, Denmark in 1946. The dead
Iron Age man was exceptionally well preserved. He had been brought to the bog
naked except for the rope around his neck. He had a reddish stubble on his face
which showed that he had not shaved on his last day alive. Two more bog bodies
were found in this area in 1947 and 1948.
Probably the most famous bog body is this fellow below; the Tollund Man.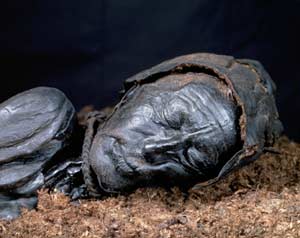 More on him here http://en.wikipedia.org/wiki/Tollund_Man
>>>>>>
Calling all Mulvihills
Did you know that you have your very own newsletter?
I did not know this piece of information until Jer emailed me a copy. It looks to me like it is a print publication but you can also have it sent to you by email. It does not appear to be available on line.
This is the voice of your clan chief
"Our e-mailing list now stands at 652 individuals. Most of
these folks receive The Mulvihill Voice newsletter on a
quarterly basis. In addition, we snail-mail a number of
copies to folks who prefer that format. I think that it is
reasonable to believe that, with sharing of the newsletter,
we are reaching the majority of Mulvihill families,
particularly in the U.S.
The Clan"s private website currently hosts 260 members. It
provides a repository for pictures, stories, and files of
general interest. The site also contains a popular blog that
allows members to interact and share. It"s fascinating to see
all those old pictures, and read those stories that are so
much a part of our heritage. Over a dozen folks have now
contributed their complete family trees to the site, which
becomes a resource for others looking to explore their own
ancestry. I would encourage anyone who has not yet done
so, to contact me with your e-mail address so that I can
send you an invitation to join. It"s free!

Not everything is free, however. Last year we initiated a
Contributions program to cover continuing Clan expenses,
and it was pretty well received (considering the state of the
economy). As you can see from the "Thermometer"on page
2, we are over halfway to our goal. Our most grateful
THANKS! to those folks who have responded most
generously. Besides offsetting general Clan expenses,
including the newsletter, we hope to reach a point where we
can endow some specific projects to explore and preserve
exceptional Clan sites or records, particularly in Ireland.
Please contact our Treasurer if you would like to make a
contribution. Every little bit counts! "


For those of you interested in receiving the Mulvihill Voice here are the contact details
The Mulvihill Voice
Box 2772

Sag Harbor, NY 11963 USA


mulvihillvoice@hotmail.com

Please send your contact info to:
Thomas C. Mulvihill, Membership
8821 Misty Creek Drive
Sarasota, Florida 34141
mm2000@comcast.net
941-929-9093
>>>>>
It is mid term break and I am on Nana duties. For the next few days I have scheduled some posts "I made earlier".
Kay Caball who grew up within a stone's throw of The Cows' Lawn has written its history and she has very kindly shared her work with us. I will start serializing the account tomorrow but first a few photos from Childer's Park, aka The Cows' Lawn as it looks today.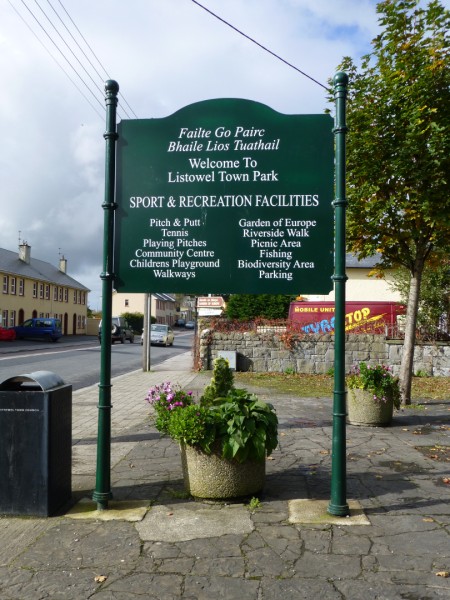 Sign at the entrance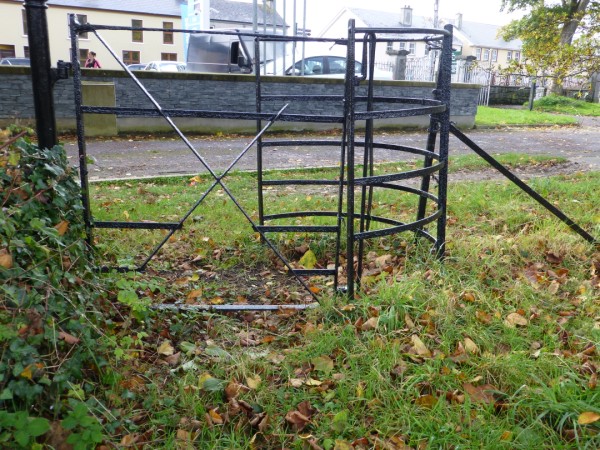 This is a very old gate now going nowhere. This type of gate did not close with a latch, nor could it be locked with a key. It was ingeniously designed to allow humans easy access but to keep animals out. I searched on the internet and, while I found lots of examples of this type of gate from all over the world, I could not find a name for it.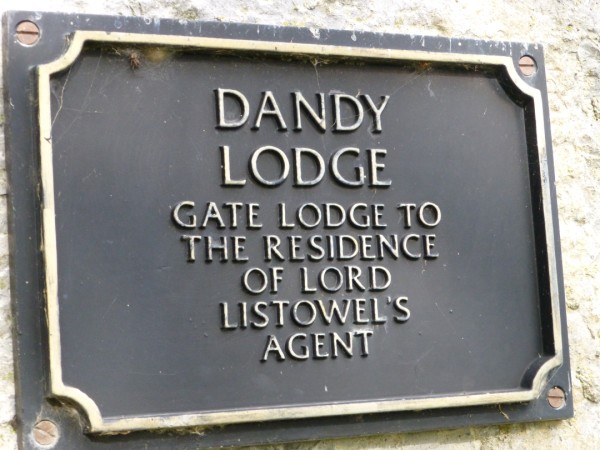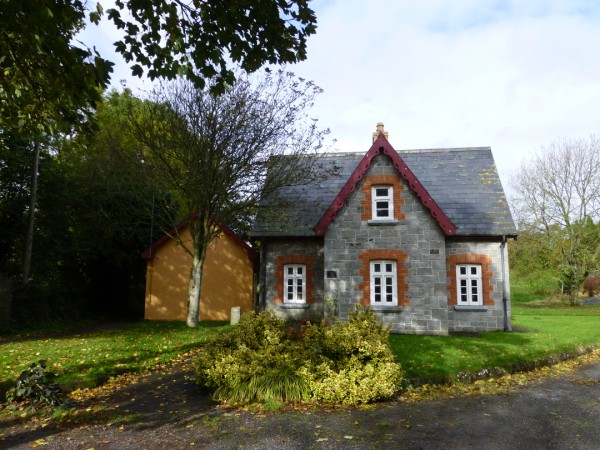 This was reconstructed from the stones taken from an old house on Bridge Road, allegedly the oldest house in Listowel. I could find no one to tell me when it first came to be called The Dandy Lodge. I suspect it may have been in fairly recent times.
Today it is located facing the entrance to the park, hiding the rather unsightly Pitch and Putt clubhouse
<<<<<<<<
I went to the bank on Friday and there it was, gone! At least, Bank of Ireland, Listowel as I knew it was gone and in its place the beginnings of a DIY bank. YUCK! Gone is the personal touch and in its place machines. Progress?
>>>>>
John Summers writes from Sydney apropos Fr. Sneider, the world's oldest full time teacher;
"So lovely to see the tribute to Fr Schneider in Listowel Connection. He is truly one of those men of real gentle Christian wisdom and a model for we lesser mortals who try to teach those pupils the Good Lord has placed before us in our classrooms.
I had the privilege very early in my career of working at Alos here in Sydney ( remember we Aussies have to shorten everything St Joseph's College becomes Joeys, St Ignatius becomes Iggies and so on) I the 1980s and Fr Schneider was then a bit of a legend.
Isn't good to come across a good news story about so many priests, sisters and brothers who tried their best, were good and kind people to their students and who left an impact on their communities. May be the terrible darkness of abuse in the churches may allow the light of good people like Fr Schneider glow even brighter like a candle in a darkened room."