On Monday I was in Cearnóg dentists'. While waiting, I spotted 3 pictures of old Listowel decorating the walls of the waiting room. One was of the big bridge which is pretty much the same today as it was in the early 20th century.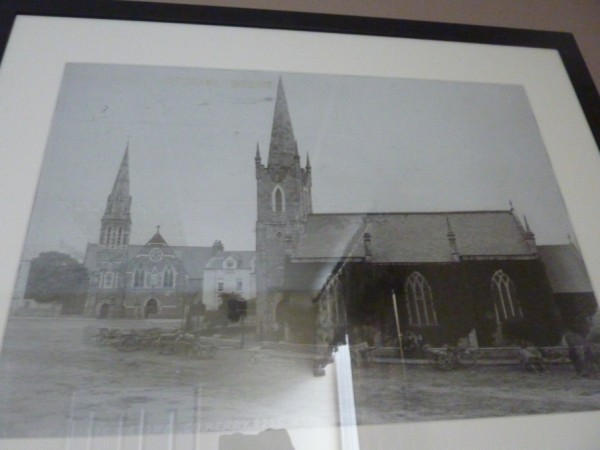 This is a picture from the lawrence collection of the 2 churches in The Square. Since it is a picture of a picture the quality is very poor but you can see St. John's covered in ivy, with a low wall and railing all round.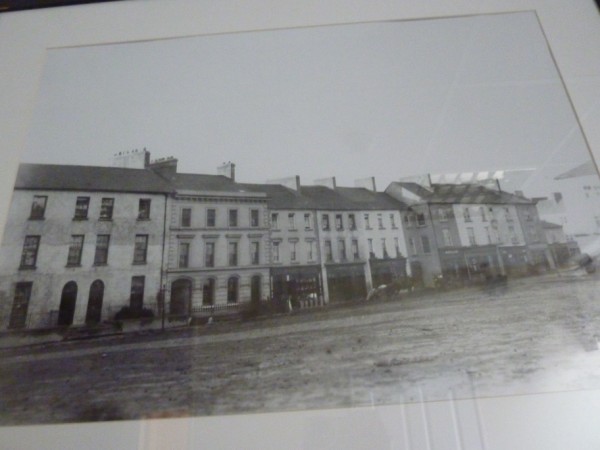 Now this is a far more interesting photo. It is probably one of the first photographs of The Square. It was taken by James Raymond of Dromin House, sometime before 1870 and was photographed not on a negative but onto a glass plate. The photograph itself is part of Vincent Carmody's Irish Originals collection. You will notice the windows in Robert Moloney's are not bricked out as it predates the window tax.
Old photos remind me to remind you of Saturday's scanning session in Spar. NKRO will be there from 10.00 a.m. until 2.00p.m. so please root out those old snaps. We love getting them.
Jimmy Moloney can't be there on Saturday but he has very kindly shared some precious memories from the family album with us. These and others are on the NKRO website.
The first is the staff of Moloneys garage in the 1950s. The second is North Kerry Fianna Fáil with De Valera, also in the 1950s. Thank you, Jimmy.
————-
If you have some old silver that you were thinking of trading in for cash, read Eileen Moylan's latest blogpost first
http://www.eileenmoylan.com/2012/02/is-your-silver-too-valuable-to-scrap/?utm_source=dlvr.it&utm_medium=twitter
_________________________________________________________________
It has been confirmed that Uachtarán na hEireann, Michael D. Higgins will open this year's Listowel Writers' Week.