John B. Keane remembers Clounmacon (continued)
If Meen is the lowest part of Clounmacon then Dromin is the highest. For most of his life my father ascended and descended this formidable height as he walked to and from school. There was a time when he was driven by Mrs. Griffin in her famous Baby Ford. She hailed from Dingle and was a first cousin to the patriot Thomas Ashe. Dan Daly, the other teacher, hailed from Dunquin, west of Dingle and spoke the most beautiful Irish. Michael Keane, later principal of Listowel Boys' School, also taught in Clounmacon in my father's time for a while. Michael Foley and Bernie Long were the last principals to teach there. Mrs. Griffin was a doughty woman. Short in patience perhaps, but magnanimous of heart, she nearly always drove at the wrong side of the road. In those days it didn't matter since there was no other motor car regularly transversing the Listowel to Clounmacon road.
We always knew at home when there would be a station in Clounmacon. My father would arrive late in the evening, maith go leor, reciting poetry and singing songs.
If I was asked to furnish one distinguishing trait in the Clounmacon people as a whole I would plump for generosity. Always during Listowel Race Week the younger members of the Keane household would accidentally contrive to meet up with Clounmacon men who had remained on in town after the races. We always scored. They used let us mind their cattle too, even when they didn't need minding, during the great fair when Church Street, from Cotters's corner to Ballygoloughue Cross, would be chock-o-block with cattle. Black pollies, Shorthorns and Whiteheads were the bovine fashions of the time with the odd Dexter and Kerry too.
An abiding memory of Clounmacon spirit and heart their great win over Tarbert in the North Kerry football final of 1954, beautifully captured in verse by the inimitable Dan Keane. I also remember when Clounmacon didn't have a team of their own. Thady Scanlon and myself were selected at midfield for Listowel in a North Kerry quarter-final against Ballyduff, a powerful force in those days. The man that was marking Thady stood at six feet whereas Thady hadn't a great deal with five. Thady annihilated him with sheer courage although we only managed to draw. What Thady lacked in height he more than made up in spirit. He was a wise man who said "it's not the size of the dog in the fight but the size of the fight in the dog". This applies especially to Clounmacon and the fighting spirit of its footballers.
Let me conclude by saying how thankful I am to the editors for inviting me to contribute to this most praiseworthy venture and let me assure them that it is indeed, a labour of love.
(This article was published in Scéal Cluain Mheacain, a publication brought out to celebrate the opening of Clounmacon Sportsfield in 1992.)
<<<<<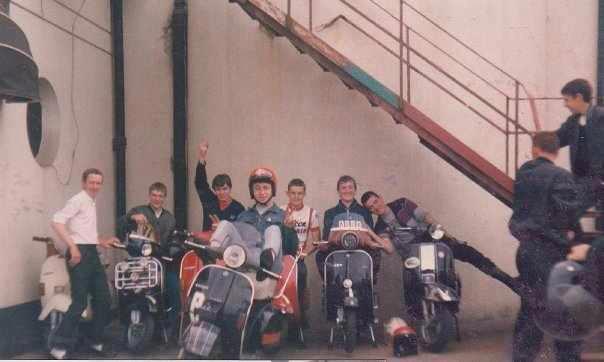 This photo was taken in Bray in the 1980s
>>>>>>
A Love story to lift even the hardest heart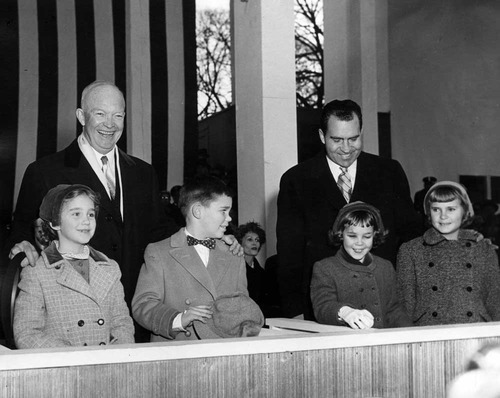 Inaugural Love
When President Dwight D. Eisenhower and Vice President Richard Nixon were inaugurated in 1957, photographers captured an image of them on the Inaugural Parade viewing stand with the President's grandchildren, Anne and David Eisenhower, and the VP's daughters, Julie and Tricia Nixon.
David Eisenhower and Julie Nixon Eisenhower are now married, and in the most recent book that they co-authored, they recall that the event may have been the start of their lifelong romance.
David Eisenhower writes in "Going Home to Glory" that in one version of "the resulting photograph, I am staring intently at Julie and she is looking at me."
-from the Eisenhower Library
<<<<<<<
Remember this photo from the 1940s sheet found by Maurice MacMahon?
This is an extract from the email Martin Stack wrote me about it
"Last week was my first time to go on and have a look at your blog that I have heard so much about. I think it was a case of Murphy's Law as you put out a question as to who was the man standing at the door of McKennas. In fact that man was my uncle John Stack, (form Cahirdown) he would have been in his 20's at that time and worked for a number of years there before moving to Tralee for a short time (working in Latchfords) before finally moving to Limerick (working for Boyd's) getting married to Ita who is still alive and well, they have two boys Ger and Billy. John died about 12 years ago."
Martin's father, Tom Stack, is still alive and well and living in William St. He was thrilled to see the photograph of his late brother and Dick Kiely whom he also knew very well.
<<<<<<
A group of children in Cherrytree Drive in 1987. Seems like yesterday!
Gerard Nugent, Kieran Croghan, Michael Nugent, Gavin Buckley, Miriam Croghan, Bobby Cogan, Ciara O'Regan holding her sister, Mairead, Mary Salmon, Denise Clifford, Anne Cogan behind Clíona, Charlene Clifford behind Laura Nugent, Sarah (friend of Mary Salmon) and…..