Bridge Road, July 2018
<<<<<<<<
My old Friends Remembered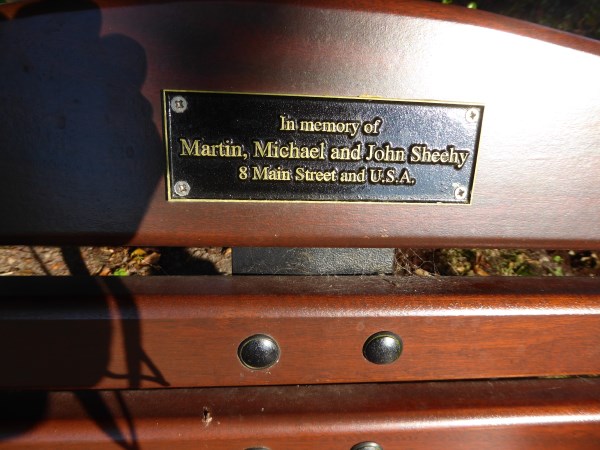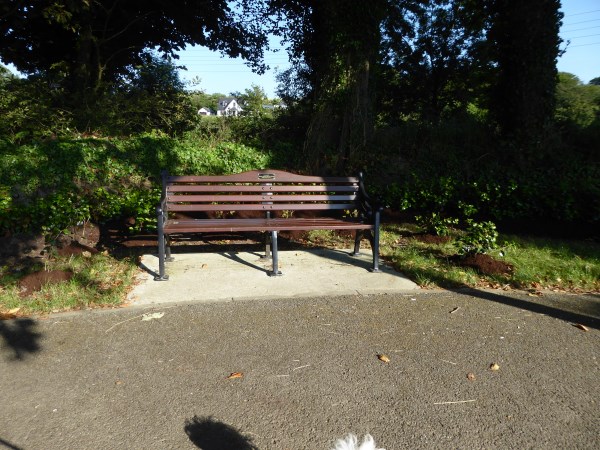 There is a lovely little shady corner in Listowel Town Park dedicated to the memory of three great Listowel brothers. I first came to know Martin, Michael and John Sheehy through the internet where I came to know them as men who retained a great love for their native Listowel even though they all had spent more years away from it than in it.
I "met" John first when I started contributing to the Listowel thread of Boards.ie. My contributions to that forum were very much an early form of this blog. I used to post photographs and snippets of news and John invariable replied and encouraged me. There was a time when he used to return "home' every year but that time had passed by the time I knew him so we never met.
John still retained a great grá for his hometown. His time growing up in Main Street and summering in Ballybuinion held very special memories for him. Of course his twin brother Jerry still lives here and once when I posted a photo of Jerry, John emailed me to tell me to urge him to wear his cap because it was getting very cold.
I kept up a correspondence with John right up to his untimely death. He shared many stories and photographs with me over the years and I regarded him as a friend.
The Sheehy brothers were one of those extraordinary Listowel families who raised bands of really intelligent men. Marty was probably the brightest of them. If I recall correctly he achieved a first in Ireland in Leaving Cert Greek (or was it Latin?). He went on to forge a very successful career in medicine and later medical insurance in the U.S. I met him often on his annual trips home. He was very appreciative of what I do and gave me every encouragement to keep going with the news from home.
Michael used to come every year for Listowel Races. He and his family were regulars every day on the racecourse. He told me once that Listowel Connection was one of the highlights of his day.
They have all passed to their eternal reward now. Whenever I am in the park I will sit on their seat now and remember them and say a prayer. I think they'd like that.
<<<<<<<<
Beautiful Paintwork at Altered Images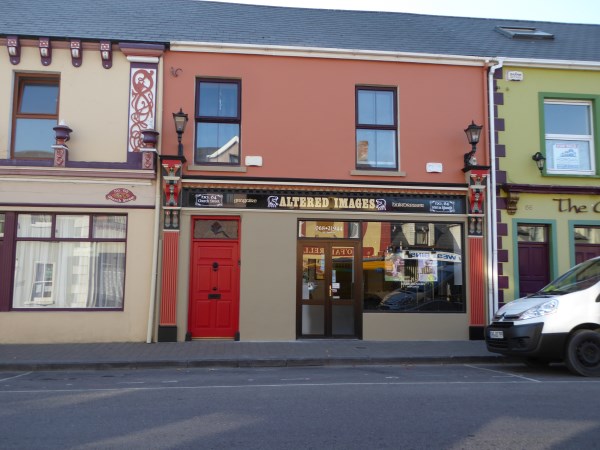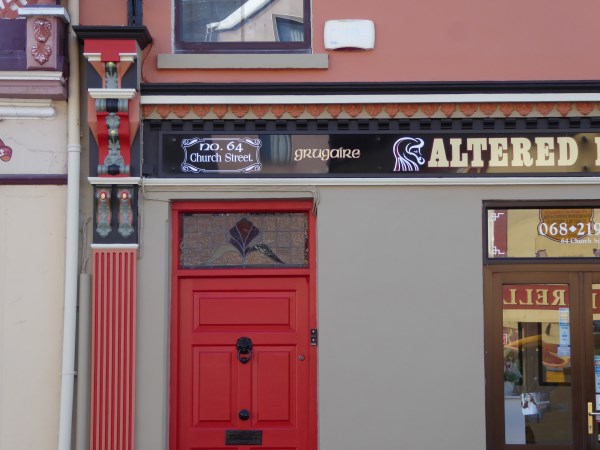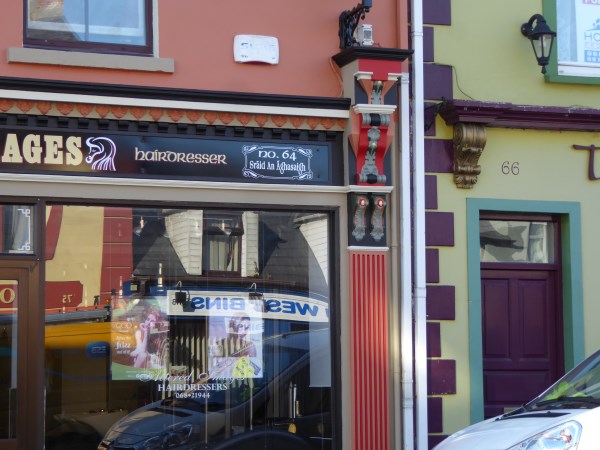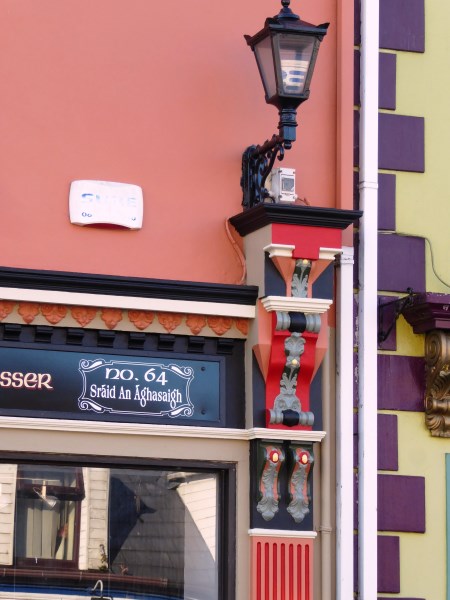 I was delighted last week to spot Fred Chute back painting again. This beautiful painting of the plaster work of Pat McAuliffe is done best by a Chute and Fred is the best of them all.
I hear that we are going to see many more of these old facades preserved, repaired and repainted in the future. They will add greatly to the overall beauty of our lovely town.
<<<<<<<<<<
Strange Tales from the Petty Sessions
Did you read lately how Stormy Daniels was arrested for allowing a person to touch her while she was performing in a skimpy costume?
She broke an Ohio law that says that nude employees cannot touch or be touched by patrons other than family members while on the premise of a "sexually-oriented" establishment where they appear on regular basis.
The charges were later dropped.
Believe it or not our ancestors were very quick to take to the law to sort out their disputes and Kay Caball found some very interesting cases when she read through some of the transcripts of the Petty Sessions courts.
Nothing as ludicrous as the Ohio law but some interesting cases nonetheless and you can read about them in Kay's very interesting Kerry Ancestors' blogpost:
"Did your Kerry Ancestor pawn a coat, own a wandering pig, or 'commit a breach of the Sabbath'? While Genealogy in its purest form is defined in the English Dictionary as 'a line of descent of a person or family from earliest known ancestor', my training in Family History and Genealogy goes much further. We don't just concentrate on the dry details of date of birth, marriage and death without trying to find out how the person lived, in what circumstances, what was going on in their lives around their Kerry location at the time they lived and/or emigrated. And lots more – if we can get a flavour of their personality, all the better.
One way of doing this is checking the Petty Session Registers.
The Petty Sessions handled the bulk of lesser legal cases, both criminal and civil. They were presided over by Justices of the Peace, who were unpaid and often without any formal legal training. The position did not have a wage, so the role was usually taken by those with their own income – in practice usually prominent landowners or gentlemen. Justice was pronounced summarily at these courts, in other words, without a jury."
This is just a flavour. Read the full post here;
<<<<<<<<<<
Molly at Convent Cross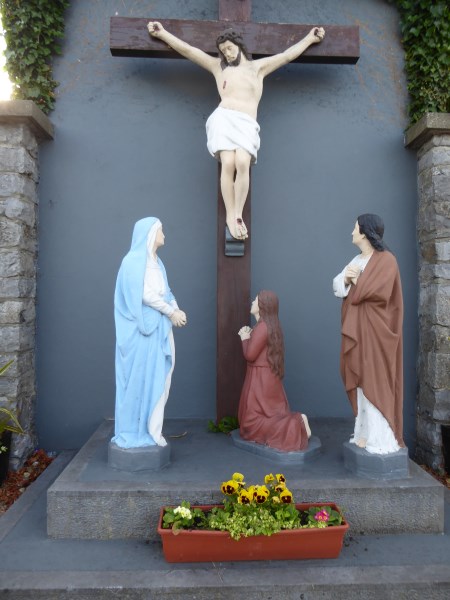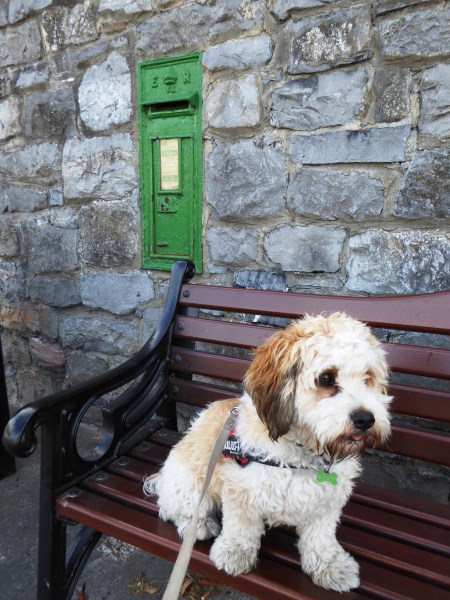 One of the advantages of having a dog is that it forces you to get out and walk. While Molly is with me for her Kerry holiday she obligingly poses for me at local landmarks. Here she is on the seat beside one of the oldest postboxes in town.
A Fun Fact about a postbox
For three weeks in 1979 Ballymacra, Co Antrim had the world's most inconvenient post box.
In March 1979 workmen replaced the telegraph pole to which the pillar box was affixed. The workmen did not have the keys needed to release the clips that held the box in place so they raised the box over the top of the old pole and slipped it down the new one.
The new pole was thicker than the old one and the box came to rest 9 feet above the ground. It remained there for 3 weeks and in that time people using the post box accessed it by stepladder.
Source: Foster's Irish Oddities by Allen Foster