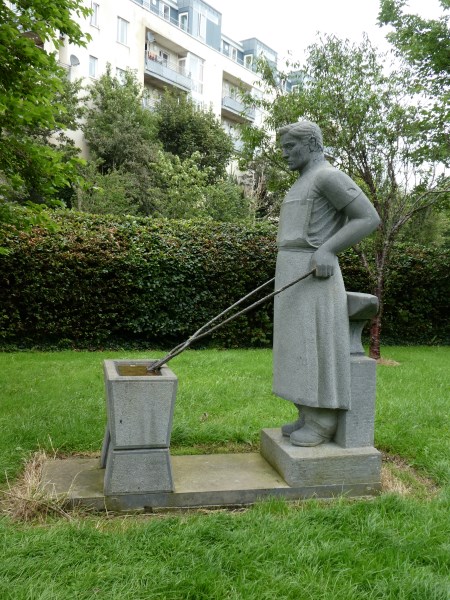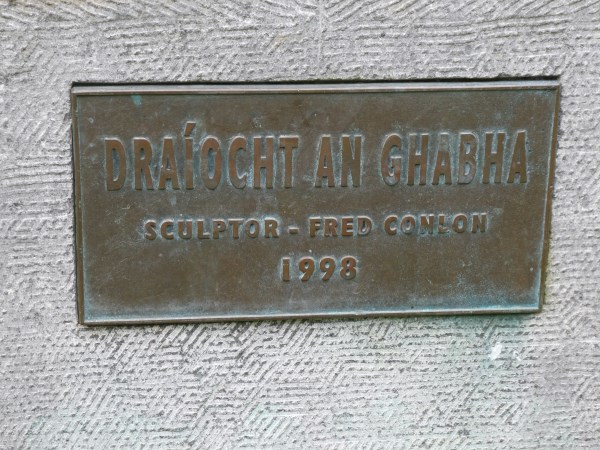 Blacksmith sculpture in Tralee Town Park
<<<<<<
An Old Autograph Book
During a recent clearcut of the attic at my old home this treasure turned up.
It is my mother's autograph book. It is nearly 100 years old. In my mother's day and in mine we didn't collect autographs of famous people. We never met any famous people. We used to write in each other's books. Usually we wrote silly little rhymes or pieces of doggerel. Here are two examples from my mother's book. It was common practice as well to only put your initials or to put no name at all.
<<<<<<<<,


Down Memory Lane with The Kerryman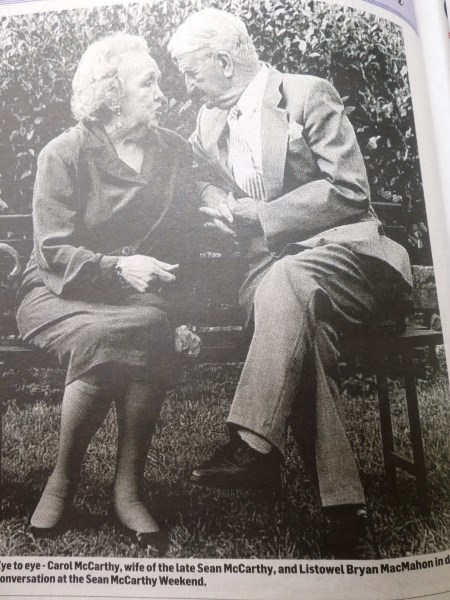 <<<<<
Memories of the Convent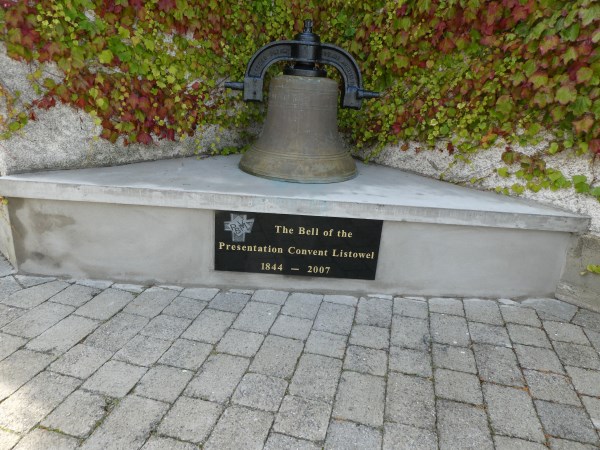 The images of the Convent Chapel bell brought back memories to Vincent Carmody.
It was a long time tradition for people growing up in Upper William Street (Patrick Street) to attend Sunday Morning Mass at the Convent Chapel at 7.00 pm , and for the more devout, weekly morning Mass at 7.00 pm. These attendees would have been 'called to prayer' by the peeling of the bell, which is now on public view on the side-yard of our Parish Church. This bell, been smaller in size than the bell in St. Mary's Parish Church also had a more tinny tone than the full throated bell of the Church in the Square.
The Convent bell, was operated by the pulling of an attached rope, this was located close the Sacristy, which was at the back of the Sanctuary. The ringing of this bell was mostly the preserve and duty of the Sacristan, Sr. Aloysius.
For one year, back in the mid 1950s, (c 1956), I was an Altar Server. My mother decreed that, as my father, his two brothers and my two older brothers had donned the surplice and the soutane of the Convent Chapel, then I would have to follow in their footsteps. So, when arrangements were made, I had to undergo a crash course in the old form of the Latin Mass. For this I was coached by Tony Dillon, a senior altar server at the Convent. When I was deemed proficient I then had to go before Sr. Aloysius for the oral exam, The Latin, was learned off like a parrot without any knowledge of what it meant, even today 60 years on, much is still remembered, 'Introibo ad Altare Dei', Mae Culpa, Mae Maxima Culpa etc etc. Practical training followed before been allowed to doing any serving.
I enjoyed my year and a memory of it came back to me some years ago, on this occasion I had spoken to a group on Kathy Buckley's time in the White House, at a question and answers after the talk, I was asked if there was anyone in life that I had met and afterwards regretted that I had not spoken to them of their earlier life. I thought and said yes. An elderly couple used attend daily morning mass at the Convent Chapel in my time as a server, their names, Ned and Anne Gleeson, Anne was blind and she would link Ned as they went, they were daily communicants and many a morning I held the paten under their chins as they received, years later as I developed a love of local history I found out that Ned Gleeson was the man who delivered the Listowel Town Commissioners address of welcome to Charles Steward Parnell, on his famous visit to Listowel in 1891. In racing parlance, that would have been a story, straight from the horse's mouth.
<<<<<<<<
Thank You, Folks
These lovely people took the guided walking tour on Saturday. We got on so well that I gave them a copy of my book from 2009. They had never been to Listowel before except for when Janet made a brief stop here during her cycle from Malin to Mizen and fell in love with our lovely town and vowed to come back.
They went to the trouble of finding out my address and sent me these. I hope they are keeping their promise and checking in with the blog so that they can see that I received the flowers and I am truly bowled over by their kindness.