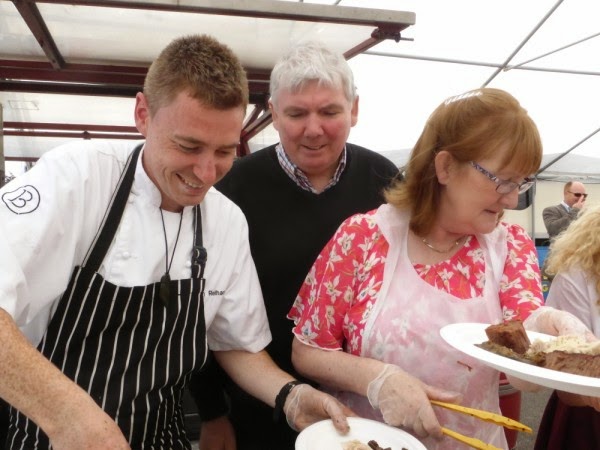 John Relihan, Fr. Pat Moore and Nina Hayes
When Duagh put on a festival, they do it in style. I was at their summer festival on Saturday last, Aug 9 2014 and I thoroughly enjoyed myself.
The festival was all about food and particularly about a local lad, John Relihan, who has made a name for himself as a chef. We were told that he was on Eastenders too, but I don't know in what capacity he appeared in the soap.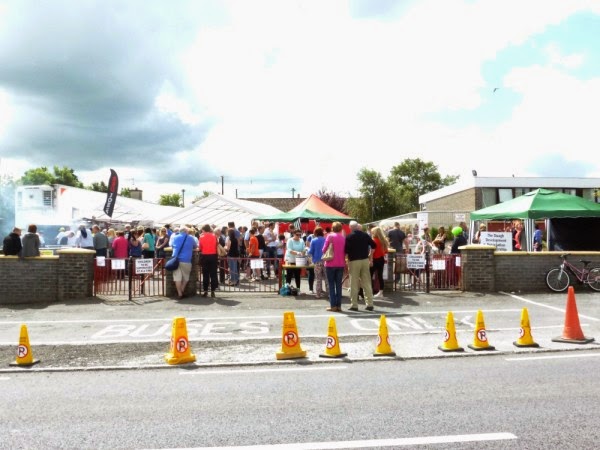 This was the scene at the school gate where hundreds of people were queueing to get in. For €10 (all money going towards the restoration of the church bell tower) you got a wristband that entitled you to all you could eat of the barbecue, cookery demonstrations, competitions, face painting, balloon twisting, a craft fair and a chance to meet up with friends and acquaintances.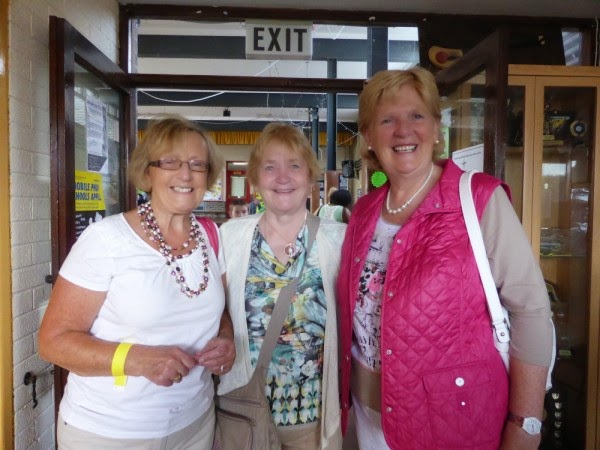 I met Marie, Ena and Catherine and we hung out for the afternoon.
My friend, Helen O'Connor was very proud to be photographed with her famous godson, The Jamie Oliver trained chef, John Relihan.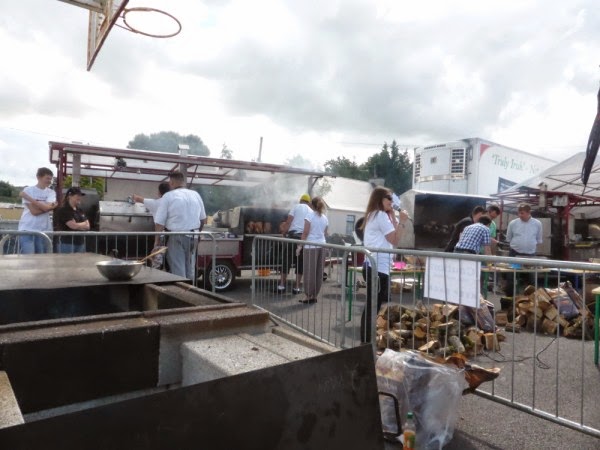 This was the Duagh schoolyard with chefs everywhere and animals cooking everywhere you looked.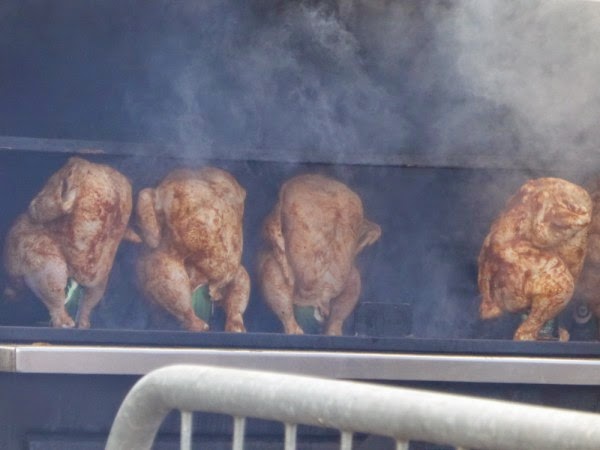 If you look closely you will see that the chickens have a can stuffed where the sun doesn't shine!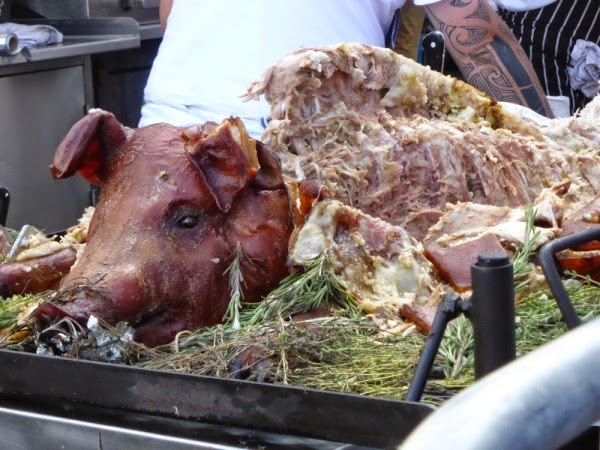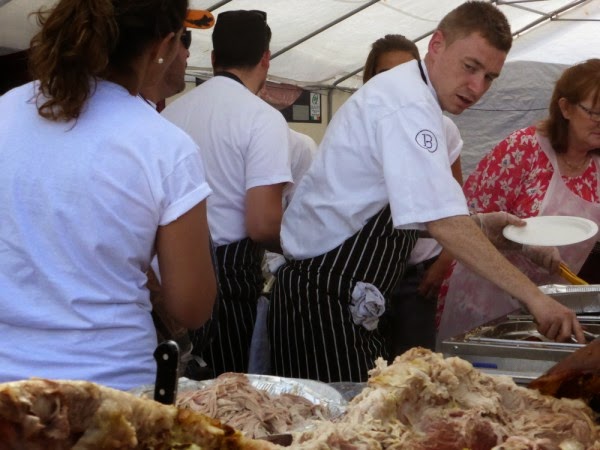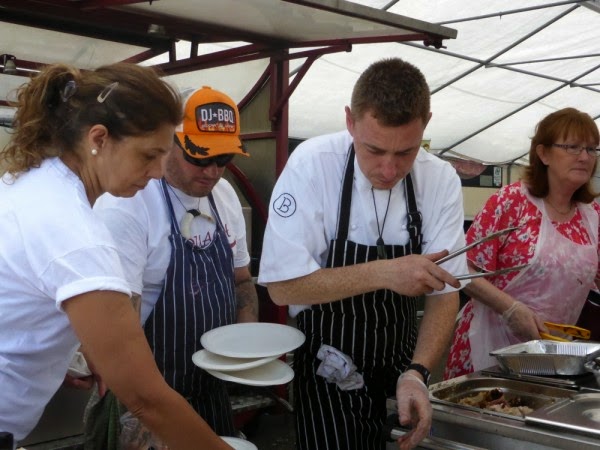 Above is the production line. I was snapping away as I queued for my dinner.
<<<<<<
Can't Cook;Wont Cook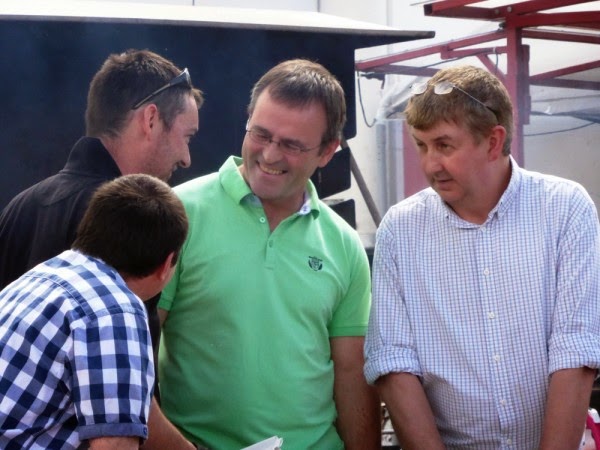 The three Ready, Steady Cook contestants get some last minute instructions from Brendan O'Connor of BBQ Joe's.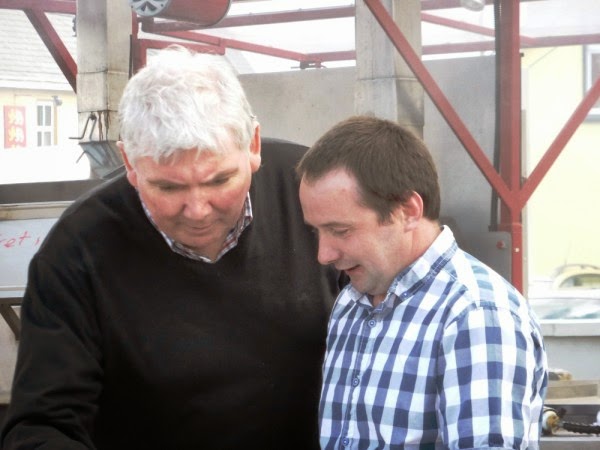 Is Jerry getting a little helping hand or is it a case of the blind leading the blind.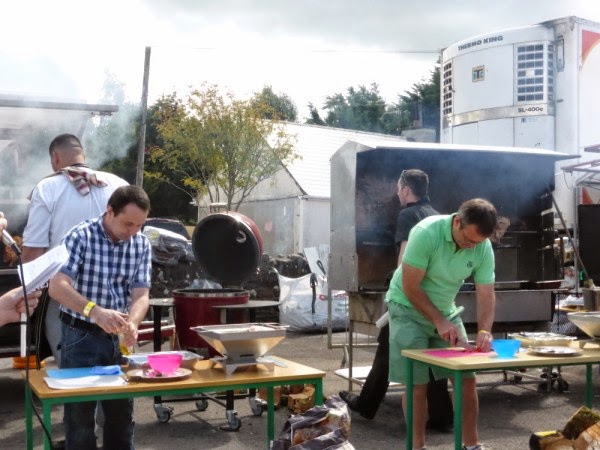 Duagh Cooks get down to business.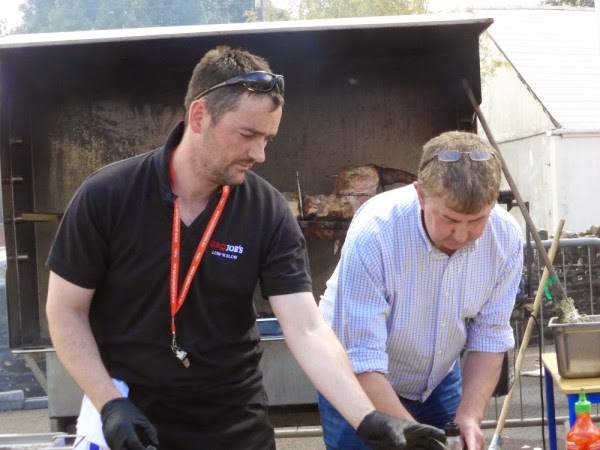 Brendan keeps the contestants on track.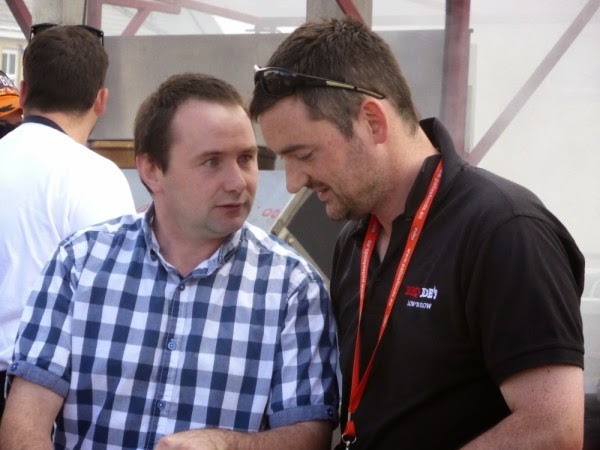 Jerry seems to be very pally with this judge.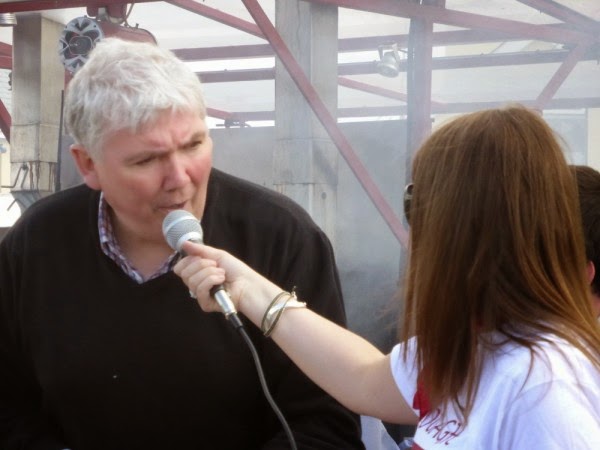 Fr. Moore is interviewed about his cooking credentials. He tells a few tall tales of early rising and bread baking before breakfast.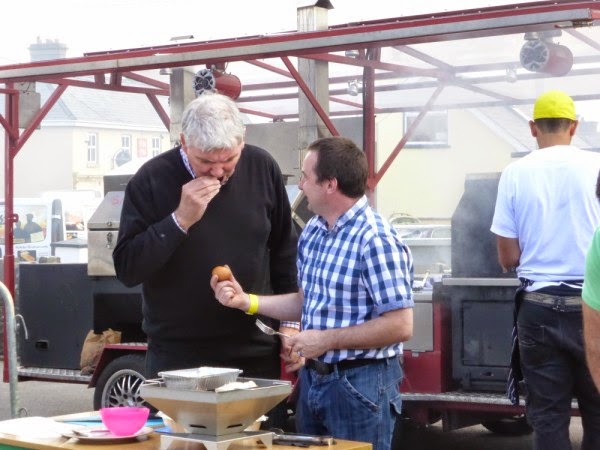 How does it taste?
Should I add an egg?
<<<<<<
Demonstration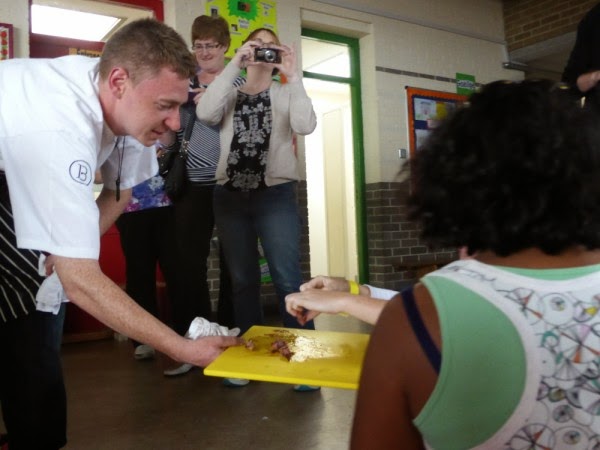 John Relihan and Brendan O'Connor gave food demonstrations and we got to taste.
The festival went on late into the evening and there was a second day of festivities on Sunday.
Well done to everyone involved. It was a huge success.
<<<<<<<
Duagh is also famous for footballers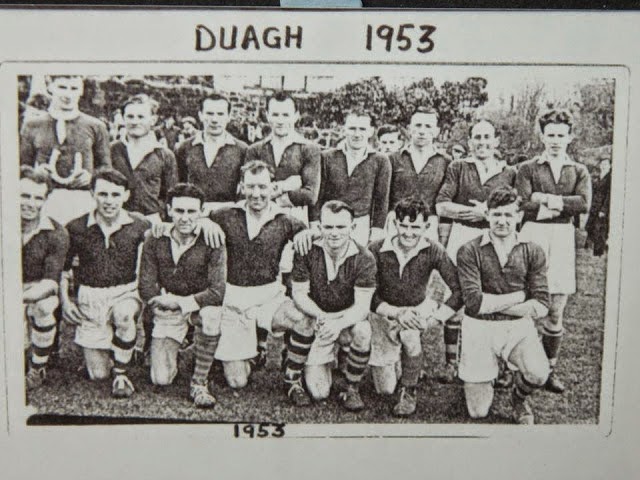 <<<<<<<<<<
War Story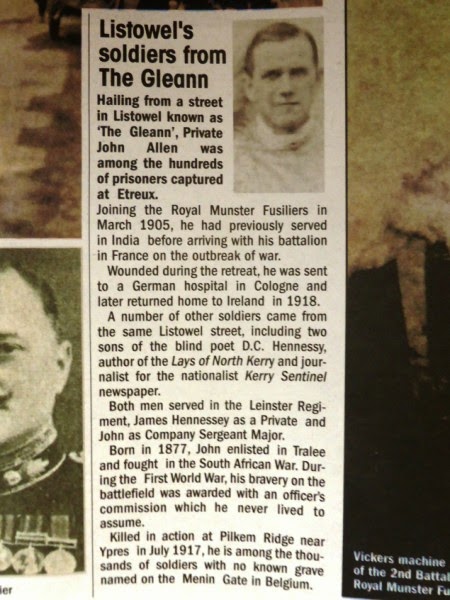 From Kerry's Eye
<<<<<<<<<
Then and Now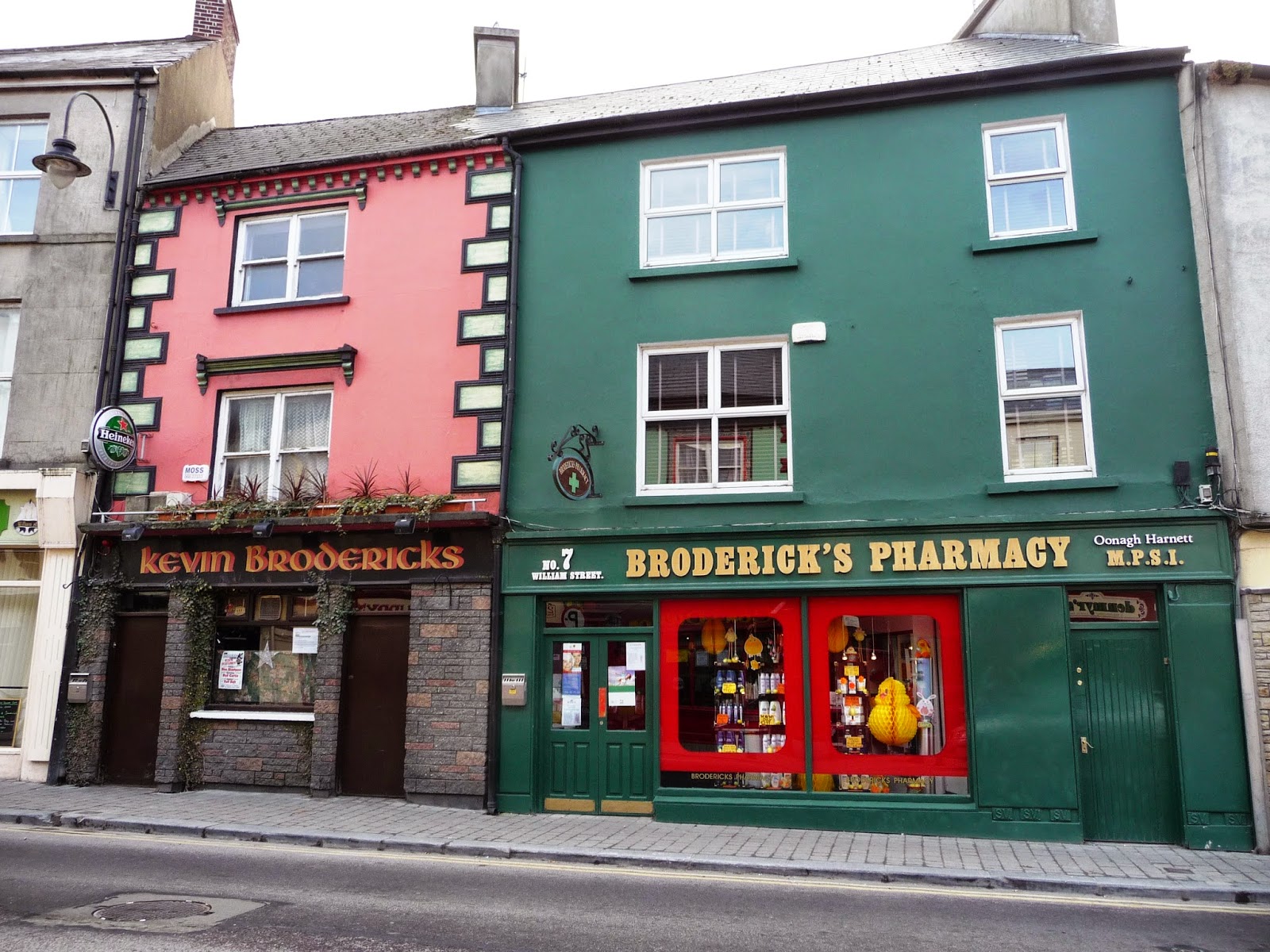 2010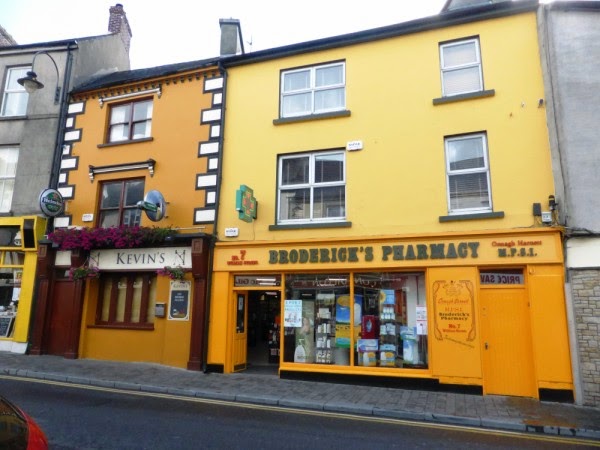 2014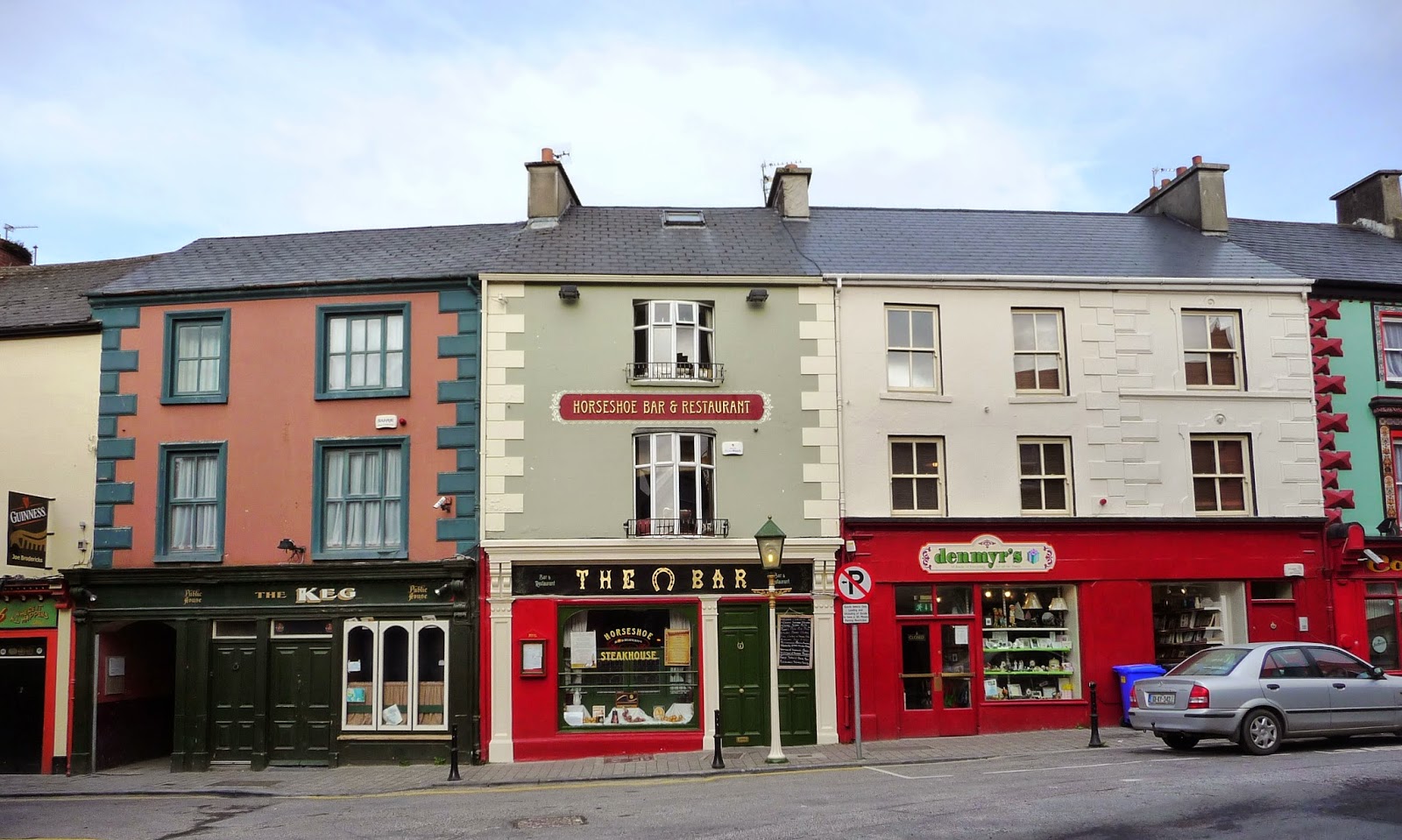 2010
2014

<<<<<<<<<<

River Feale August 9 2014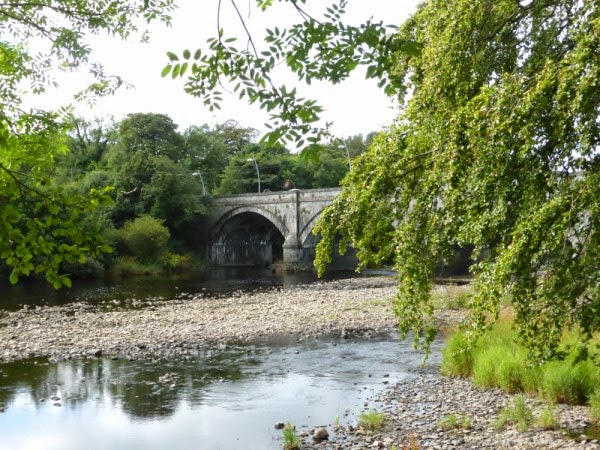 The level of water in the river is very low.
<<<<<<<<<
Rory McIlroy in heaven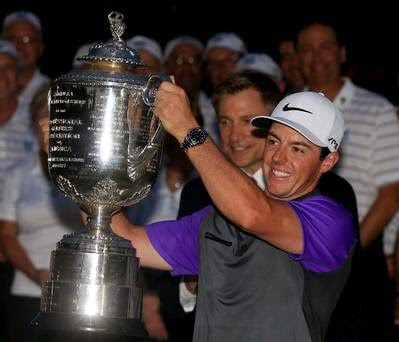 (Photo from the internet)
Definition of VALHALLA
1
: the great hall in Norse mythology where heroes slain in battle are received
2
: a place of honor, glory, or happiness : heaven <an academic's Valhalla>
These are the two definitions of Valhalla in Miriam Webster Dictionary. Both are apt for the players in Valhalla, Kentucky after Rory's super win on August 10 2014.
<<<<<<
Fleadh Cheoil na hEireann Sligo 2014
Tomorrow night (Tuesday) in the Clarion Hotel Sligo the very talented Singer from the Ballydonoghue/Lisselton branch of comhaltas Karen Trench (Walsh) will receive prestigious Bardic award. We congratulate you Karen on your award and shows how highly you are thought of in Comhaltas. We hope you enjoy your night and we have no doubt that you with your children Aoife,Tom, Fionnuala, and Meabh will put on a beautiful performance and fly the Kerry Flag with pride.
Comhghairdeachas Karen from the Kerry County Board of Comhaltas and everyone throughout Kerry.
Bardic Awards
Comhaltas honours a number of significant performers from the traditional music world at Fleadh Cheoil na hÉireann every year.
This year eight people are receiving these prestigious awards. The awards will be presented in the Clarion Hotel and the concert will involve performances from each ceannródaí and guests.
Receiving Bardic Awards are
Brian Conway, U.S.
Paddy Mc Donagh, Sligo
Neansaí Ní Choistealbha, Galway
Pat Mc Cabe, Monaghan
Con Herbert, Limerick – button accordion
Karen Walsh, Kerry – singer
Mary Kelly, Kilkenny – harpist
Willie Fogarty, Tipperary – button accordion
(photo and caption from the official CCE webpage)