Happy Easter 2015 to all friends of Listowel Connection
Eileen Moylan of Claddagh Design writes a very interesting and entertaining blog.
she is writing about Easter and her research has thrown up a few weird and wonderful Irish Easter customs and superstitions.
Random Traditions!
As with most Irish occasions, some of the traditions associated with
Easter are just downright weird! Here is a selection of our favourites…
The Herring's funeral:Since many people will have eaten fish, fish and
more fish during the 46 days of lent, it's no surprise that they're quite sick
of it by Easter Sunday. As a joke, local butchers host a 'funeral' for one of
the most common types of fish – herring – so that people can bid it a not so
sad farewell until the next time Lent comes around!
Holy Eggs:For farming and rural homes where chickens are kept, any eggs laid by
hens on Good Friday are marked with a cross and put away until Easter Sunday.
On Sunday morning at breakfast, each member of the household must eat one of
the 'holy' eggs as a blessing.
Spoilin meith na hInide:During Lent, a small piece of meat is kept and
hung up on a wall, as a symbol of temptation. On Easter Sunday, the piece is
taken down and burned in the fire to give the house a tantalising aroma ahead
of the feast to come later in the day.
Cluideog:The tradition of the Cluideog involves the children of the household
in rural areas, who take some fresh eggs out to the corner of their land and
roast them on a makeshift cooking contraption. It is not known why this is
done, although it may be a throwback to some old Irish piseogs (spells or
curses).
And a few more:
If you get a haircut on Good Friday, it is said to prevent headaches.
Children born on Good Friday are supposedly born with the gift of
healing.
People who pass away on Good Friday are given automatic admission into
heaven.
Many families conduct a cake dance – whoever has the best dance gets
the first slice of cake.
Rural families sow a small amount of seeds to symbolise spring,
growth, and rebirth.
<<<<<<<<<<<<<
The Calvary at Convent Cross for Good Friday, March 3 2015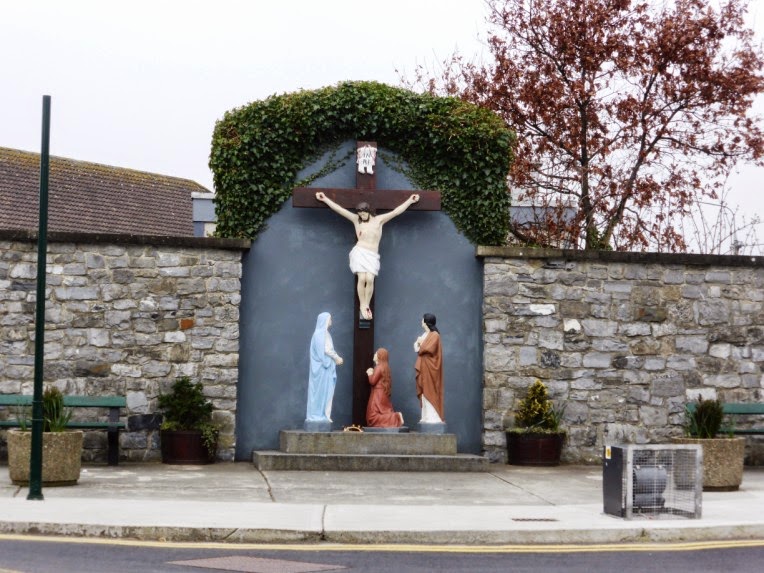 This is the calvary at Convent Cross. The low wall that used to surround the scene has been taken away. The road now runs in a smooth semi circle rather then the very dangerous v that was there.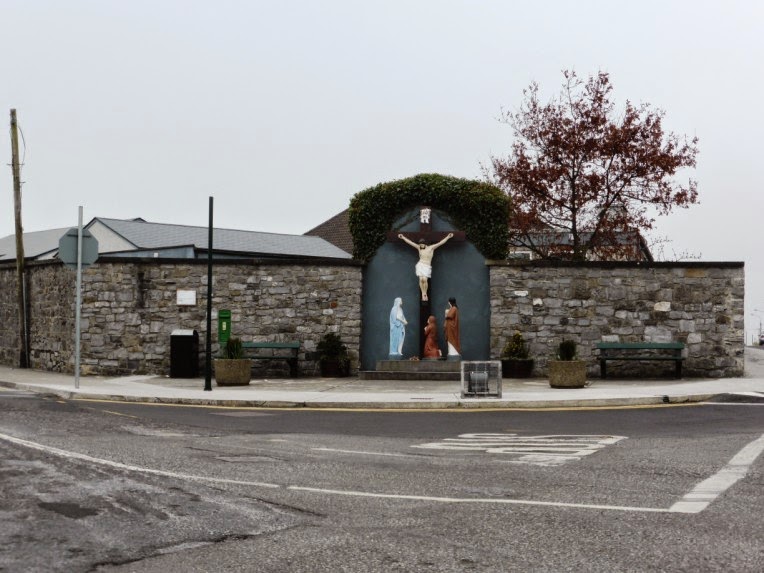 Drivers now have a clear view of traffic coming from Ballybunion Road.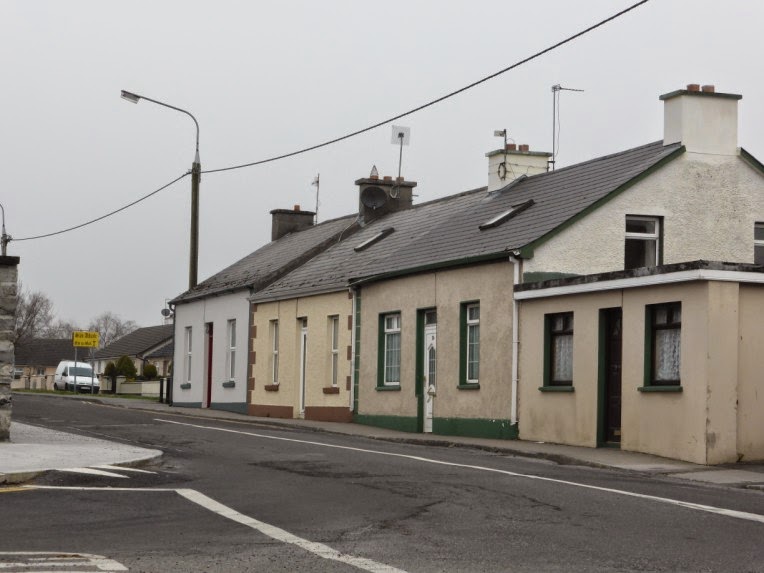 These are the houses an the Ballybunion Rd at Convent Cross with the place that used to be Albert Kennedy's shop in the foreground.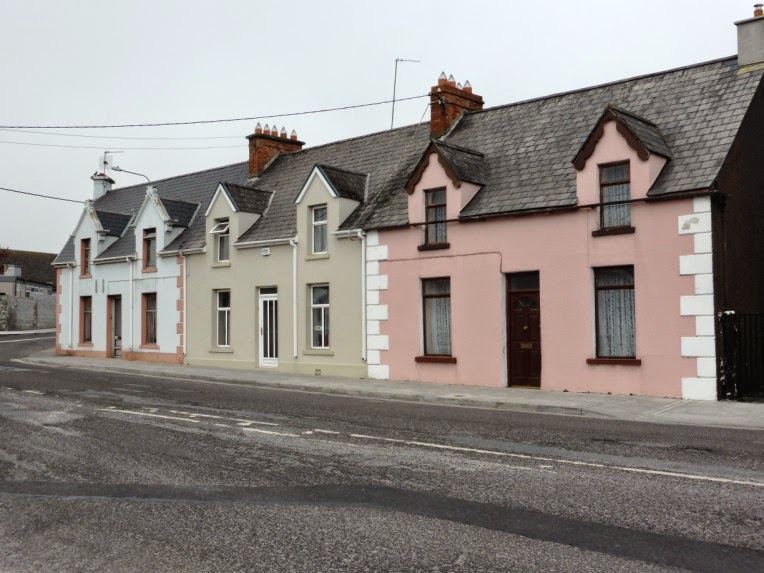 These very pretty houses are on Convent Street at Convent Cross.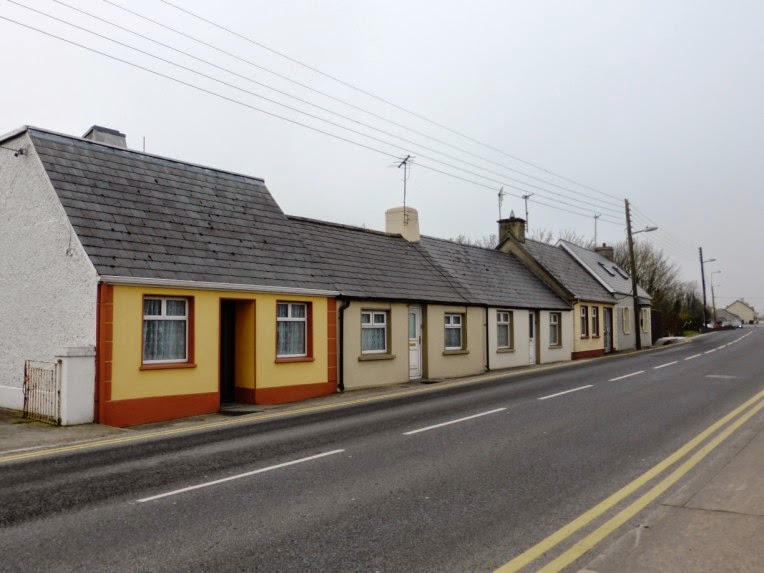 These are houses on the Greenville road at the cross.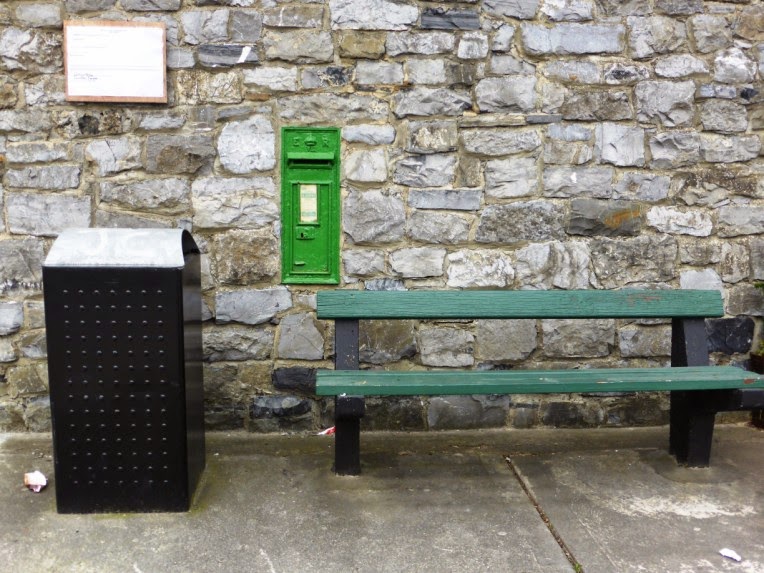 A bench, a post box, a bin and a sign seeking planning permission for a sign for the secondary school, all outside the old stone wall at Convent Cross, Listowel, at Easter 2015.
<<<<<
On the road to Ballybunion