Two little girls in Kerry colours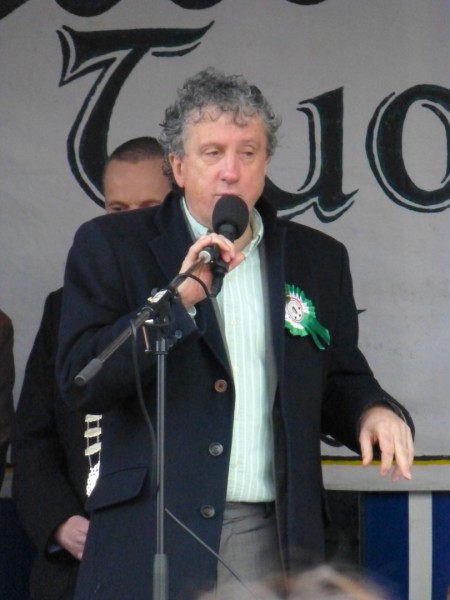 Billy Keane M.C.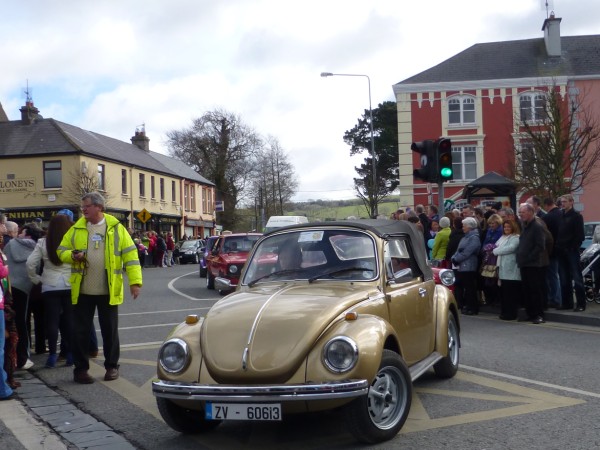 One of the many old cars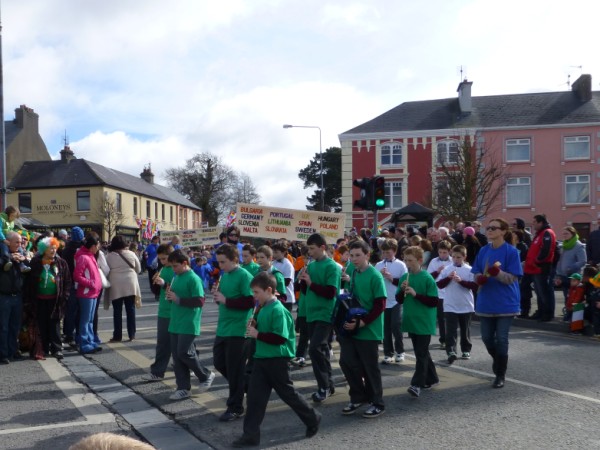 Scoil Realta na Maidine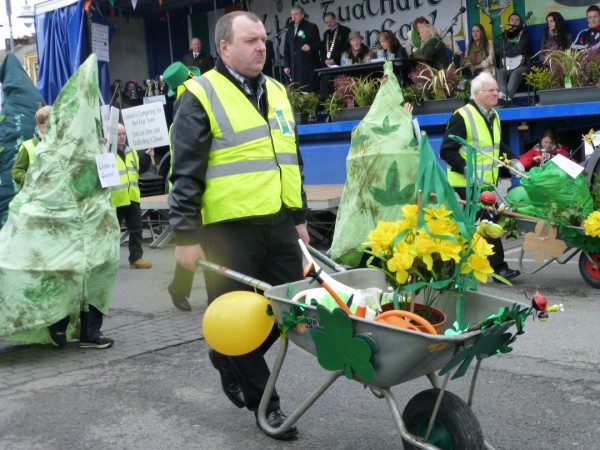 Listowel Tidy Town Group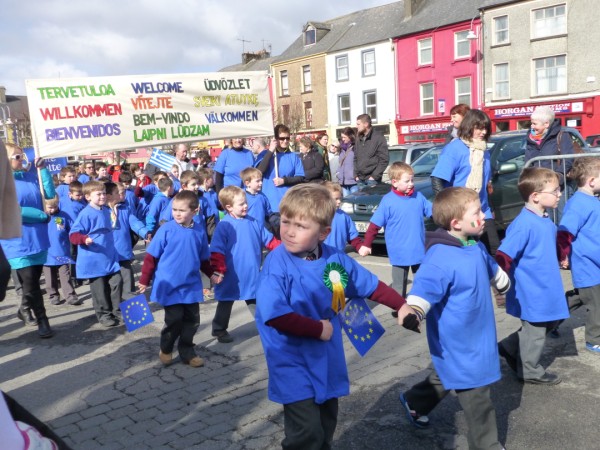 Boys Primary School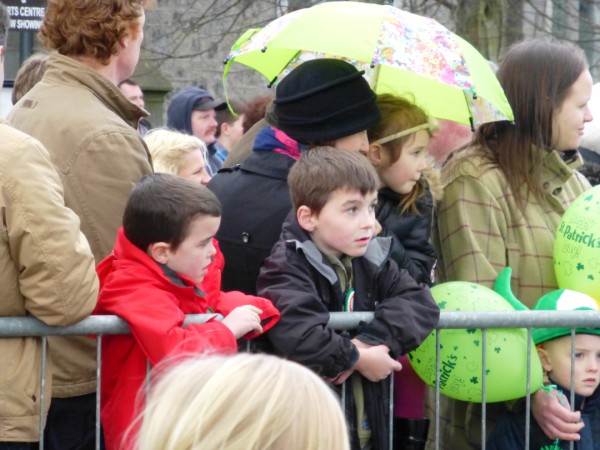 watching it all

>>>>>>>>>
Fealegood"s video of the parade. Enjoy!!!
http://www.youtube.com/watch?v=My3TjmDoTuU&feature=share
The Holyoke parade is here
http://www.masslive.com/st-patricks-day/index.ssf/2013/03/2013_holyoke_st_patricks_parad_3.html
<<<<<
Breezy Point Irish united in building for the future
The Irish Examiner
By Mary Regan, Political Correspondent, New York
"It's east Ireland over here," explained Jim Killoran in his green baseball cap on his way to Mass.Others have nicknamed this place "the Irish Riviera". But it didn't feel like your typical St Patrick's Day.
Here in Breezy Point in Queens, New York, the mostly Irish residents have been coming to terms with the devastation left by Hurricane Sandy which battered down their seaside homes last October. Their St Patrick's Day was not a celebration of craic and ceoil and culture of the old sod, but more a quiet appreciation of the spirit that has helped them slowly rebuild their neighbourhood — one of the worst affected by the severe weather that hit the East Coast of America five months ago.
More than 700 were evacuated and some 126 houses here burnt to the ground by a fire that struck with the storm. The wrecked houses, most with battered American flags out front, now have marks of red, green or amber, showing whether they are still too dangerous to enter, or whether people could start moving back in.


The Irish community gathered in the St Thomas Moore Church yesterday and for the St Patrick's Day Mass and prayed to "remain strong and generous" as they rebuild their "lives and homes". Taoiseach Enda Kenny joined them at the church after taking a stroll along the streets where piles of rubble showed signs of the lives people had previously enjoyed in their homes
For Valerie Gilson, both the Irish tricolour and American flag mark the front of where her home once was. She is still waiting for the demolition of what remains of her house, which was bought by her family, who moved from Corbally in Limerick. "One of the things we found in the house that wasn't destroyed was our Irish flag. We put it on the flagpole at the end of the wall — the American flag and the Irish flag — it helped us to see where our home was because all the landmarks had been destroyed," she said. "It is one of the things that comes from the Irish. We always hung together, we always helped each other out, but also helped other communities that needed it. It was nice to see all that help coming back to us." Brian Heffernan, from Waterford, and his wife, Carmel, from Limerick, who emigrated in the 1980s, are hoping to move back into their home here in the next two months. It was not destroyed, but severely damaged. Brian says there had been phenomenal support from Irish volunteers who have helped with gutting homes and reconstruction efforts. "There's a lot of comradery in the community, everyone helping everybody," he said. As the church gathering moved next door to the Monsignor Connolly Hall for tea and soda bread, the Taoiseach explained to them the meaning of the word "meitheal": "It means the gathering of communities or a community effort," he said. "That's why what happened here, from an Irish perspective, is something that is deep with us, within our DNA if you like, to help others." Meanwhile, Jim Killoran, whose parents came from Sligo, was chatting to people he has helped through his Habitats for Humanity volunteer group. He said the generosity of spirit has helped the people here through the difficult time and they "will rise again; we'll celebrate next St Patrick's Day with everyone in their home". Valerie said that, regardless, some treasures of her Irish heritage have been saved. "My mother had from her great grandmother a little teapot that had come from Ireland. We took that out and some other things from my grandmother's and we are just waiting for it to be demolished," she said. But she hopes to be back in the house this time next year: "It would be nice, I hope so. But on St Patrick's Day we will be celebrating, no matter where we are."
<<<<<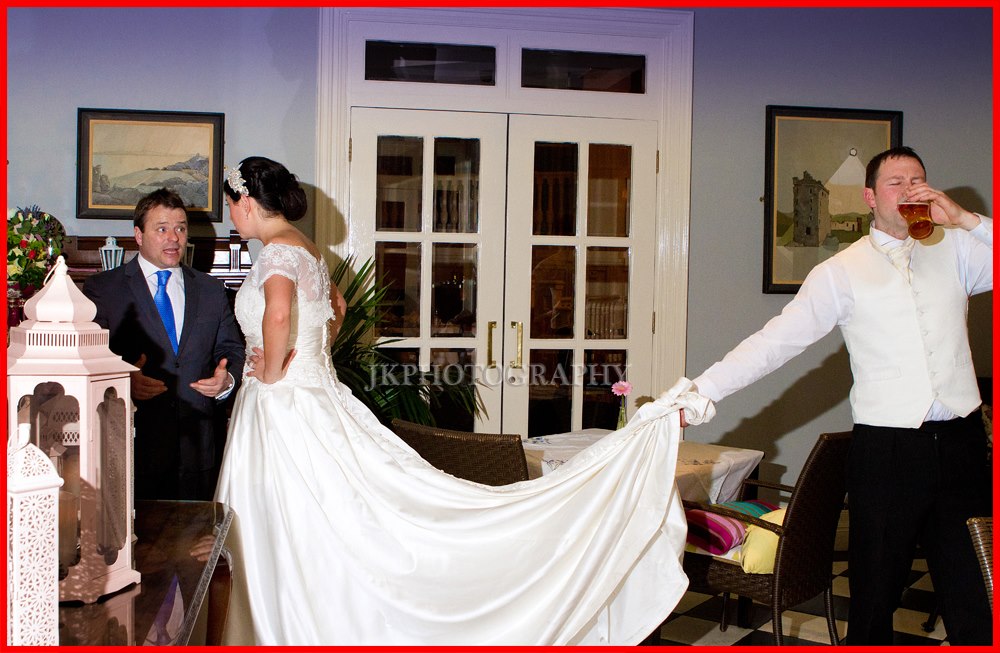 John Kelliher took this priceless photo.